The Big Oh! Box Review January 2017 – Adult Subscription Box
The Big Oh! Box it is a quarterly subscription box for quality adult products organized around a theme for you or you and a playmate to enjoy. Each box will contain the necessary tools needed to get down and dirty and then clean again. From self satisfaction, partner play, BDSM & many other pleasures. They kindly sent me this box for review.
Adult subscription boxes are a funny thing. They are a little bit taboo and a whole lot exciting. I struggled with them at first, should I review them, should I not review them…..etc. But then I figured, YES, I should review them. I am here to show you all your subscription box options, and for some of you, this might be the type of subscription box you are most interested in.
I review the quarterly subscription, which in my opinion, although not received often enough, is the better option. I want the box with the most items in it, and this is it. Yes, I would love to receive it more often. But quarterly is better than never.
Here's a look at the items we received this month:
Kinklab T-Cups Nipple Suction Set
Twist the night away and turn up the heat with KinkLab's newest sensation toy: The T-cups nipple suction set. Each turn of the screw adds a delicious degree of succulent suction to your nipples, neck, or other sensitive spots. Stick them to your skin and turn the handle to the left to create a vigorous vacuum, perfect for teasing and pleasing, fore, during, or after-play.
Sportsheets Sex Sling
Soft, comfort neck rest and fully adjustable straps allow you to get a leg up on your sex life. The support reduces leg fatigue and lower back pressure while the angle created enhances G-spot stimulation during penetration.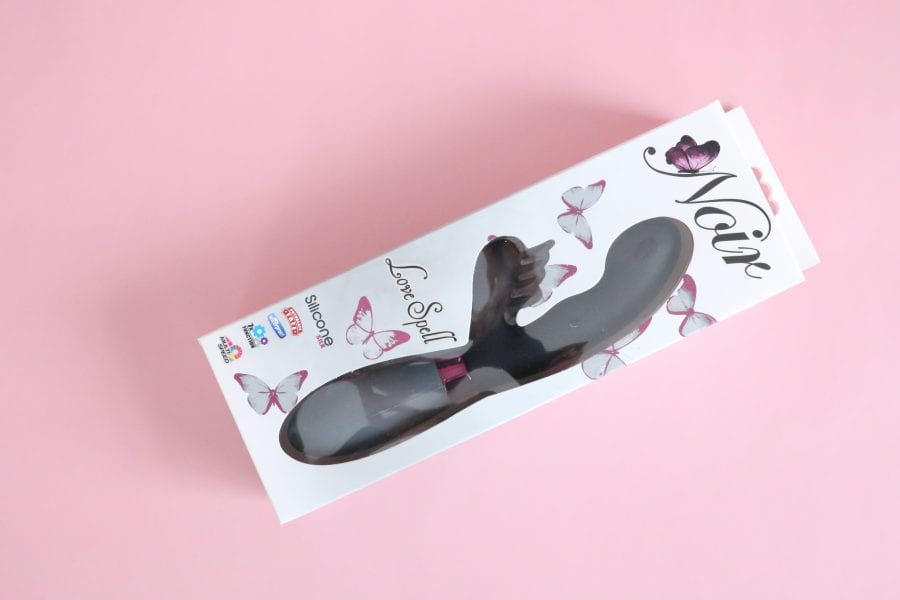 Curve Novelties Love Spell Noir
7 sensuous patterns of pulsating vibration. Dual motors deliver double the decadence. Ridged stimulator adds thrilling sensation. Ultra-premium SiliconeSilk feels sinfully smooth on delicate skin. 100% Waterproof up to 30 minutes for bath time indulgence. Available in Midnight or Dusky Rose.
Pjur Basic Water
BASIC Water is an economical choice for a quality water-based personal lubricant made with quality ingredients. This less expensive personal lubricant is hypoallergenic, latex condom safe, and ideal for daily use. Medical grade ingredients and the unique formula makes it a very affordable gentle water-based personal lubricant.
Candy Nipple Tassels
The sweetest accessory you can own! This Candy Nipple Tassels are adorned with tasty little candies just like the old-fashioned candy necklaces. Comfortable stretch-elastic holds the candy in place. Make yourself sexy and delicious! One size fits most.
Kinklab Jawbreaker Gag
The new Jawbreaker Gag offers a sweet variation on an item long utilized in fetish sex. Rather than strapping the classic rubber ball into the mouth, this new version uses a ball made from real, edible jawbreaker candy.
Jo 12Volt
Joyfully jolt yourself with buzzing pleasure using JO VOLT. An exciting topical stimulant available in two strengths; 9V (regular strength) and 12V (maximum strength). This oil-based formula is glycerin, paraben and glycol free, making it an ideal choice for sensitive skin types. Apply a little during foreplay, toy play or solo-play for added pleasure. A little goes a long way.
The Big Oh! Box Review January 2017 – Final Thoughts
This month's box has a different feel than the others I have reviewed. It's a little more kinky, but still pretty classy. Yes, I refer to Adult subscription boxes as classy because, if done right, they certainly can be. In my opinion, adult toys can be classy or trashy, and I'm happy to report that all of my boxes from The Big Oh! have been classy. This month's box is a little out of my comfort zone, but I certainly appreciate that they switched things up a bit. The Big Oh! Box is probably my favourite adult subscription box. If I had to recommend just one, this would be it.
PS – The Big Oh! Box would be the PERFECT Valentine's Day gift!
XOXO
Explore.
Save.
Enjoy!
Sign up for a free account on A Year of Boxes to receive exclusive offers, be added to our monthly mailing list, and much more! We are always adding features to improve the experience for our users, from their valuable feedback!
Join Today!