The Gift Refinery Review Fall 2020
The Gift Refinery is a Canadian Seasonal Subscription Box delivering 7-10 full sized products they know you'll love from Canadian Artisans & Businesses. Delivered to your door every March, June, September & December, each season promises to introduce you to lifestyle products you cannot live without! From Accessories, Bath + Body, Beauty, Fashion, Home Decor, Jewelry and Make Up. They kindly sent us this box for review.
Every so often I come across a box that gets me very excited and gives me all the good vibes. The Gift Refinery is one of those boxes. I've been following this subscription for a little while now and am very impressed with what I have seen thus far.
Today will be my very first review for The Gift Refinery and I hope there are many more to come because I am already a huge fan.
Subscription Details
When you sign up for The Gift Refinery subscription you have three options to choose from, a quarterly subscription, an annual subscription or a one-time purchase.
The Gift Refinery subscription boxes will contain 7-10 quality items from the amazing Canadian artisans, brands & businesses you love! From beauty (makeup, skincare & haircare), jewelry, stationary, wellness, pantry items, housewares & more! Each luxury lifestyle box is curated by boss babe Jessica Avellino. If it isn't something that she would love or use, she will not be sending it out to her #TGR babes.
Here's a closer look at the items we received in the Fall The Gift Refinery…..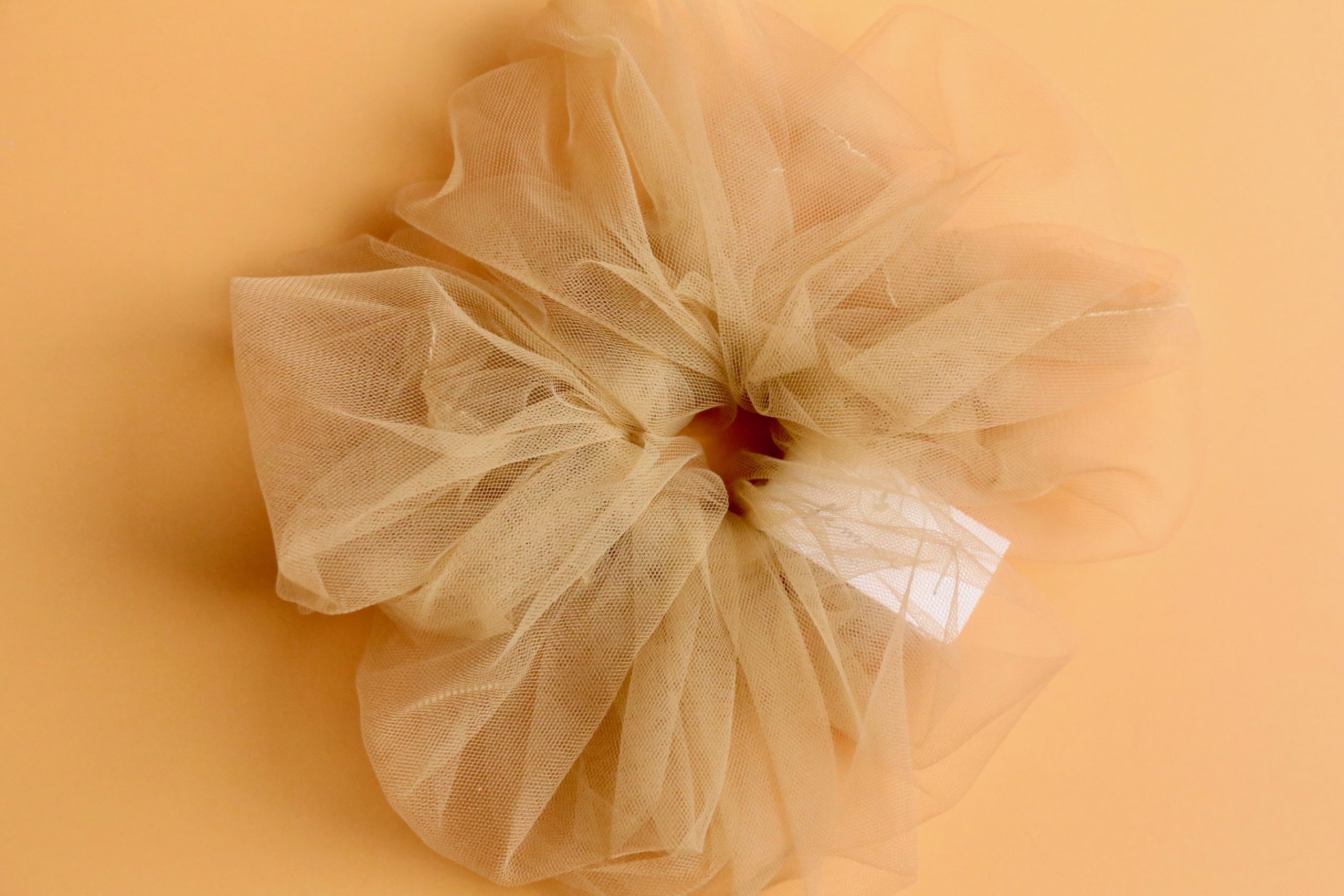 Femme Faire Cloud Scrunchie ($22)
First up we have this oversized scrunchie made of ultra soft tulle from Femme Faire. It was available in two different colors – ivory and toffee. It was the first thing I saw when I opened the box and it made for such a great first impression. I mean, how can you not love it!
It's such a great accessory for Fall. The color is perfect and the oversized style combined with the tulle makes it so unique.
Living Apothecary Radiance Tea  ($48)
Radiance is a mineral packed tea tonic to help you radiate from within. Our take on a 'skin tea'. Elevating hydration by nourishing you entirely to feed your skin. Because, we believe that skin health starts from within. The vitamins and minerals found within this tonic will provide the building blocks to achieve a radiant glow.
I saw a spoiler for this tea but I didn't realize the jar was SO big until I had it in my hands. This is a very generous size. I believe it has 100 servings in it which means it will last at least a few months. It's a blend of rooibos, oatstraw, nettle, dandelion root, and hibiscus. You are to use 1 teaspoon per 250ml of hot water. Steep covered for 3-5 minutes.
Mellow Solstice Pink Himalayan Salt Bath Soak ($18)
Perfect to revive and re-energize. The invigorating scent of lemongrass and sweet orange essentials oils lighten your mood and awaken your mind. Himalayan pink salt eases sore muscles, relives tension and is a source of essential minerals, naturally detoxifying the body. Coconut milk powder nourishes for soft and healthy skin.
This bath soak sounds absolutely lovely and it smells wonderful. The sweet orange gives it a bright, energizing scent which I love. A spa night, or two, or three are definitely in my future so this will come in handy.
Oatbox Apple & Cranberry Granola ($28)
Our gluten-free granolas are not only certified gluten-free but also nut-free, kosher and vegan. Just as delicious as our traditional blends, we create them from gluten-free oats and simple ingredients such as fruits, seeds and natural sweeteners. Our Apple & Cranberry flavour reminds us of a lightly sweetened apple crumble and is one of our subscriber favourites.
I don't know about you, but I love apple & cranberry flavoured foods this time of year. It's the perfect flavour for a Fall box, and I happen to be a huge fan of Oatbox granola. I particularly like using it as a topping on my smoothie bowls or sprinkled on coconut yogurt. I also love a small bowl with my morning coffee.
Oh Sierra Lightroom Presets ($25)
Here we have a code for a set of Oh Sierra presets. I haven't been able to access the website as of yet but I am very excited to get it figured out because I use presets on a daily basis.
Sann & Droves Blue Light Blocking Glasses ($29.99)
Here we have some beautiful blue light blocking glasses from Sand & Droves. They were available in tortoise shell or classic black and I received tortoise shell. I absolutely LOVE the style of the frame. It's a bit bigger than the pair of glasses I currently own and the shape itself is slightly different. I sit at my computer for a good part of the day so blue light blocking glasses are a must. In fact, I'm thinking of purchasing the black pair because they are just so darn cute I kinda want them in both colors.
The Hair Routine Repair Treatment ($38)
Restores hair mass with a unique formulation that includes regenerative ingredients such as keratin, oats, corn, wheat, soy proteins, and oat amino acids. It is blended with cocoa butter, coconut, meadowfoam seed oils, vitamin E, panthenol, white nettle flower, ginseng, and gleditsia australis seed extract to regain volume and strength.
I don't know about you but the change of seasons always takes a toll on my hair. Even more so now that I am dealing with post-pregnancy hair issues. So….I am more than happy to receive a repair treatment. It will also give me an excuse to hang out in the shower just a little bit longer:)
Directions: After you shampoo your hair and rinse it off, spread the mask throughout your damp hair and wait for 5 to 10 minutes. Rinse off and condition your hair to seal the cuticles and trap the treatment in the strands.
Twenty20 Skincare Lavender Vanilla Lip Balm ($3)
Our lip balm is specially formulated with Shea Butter so your lips can benefit from all of its healing and moisturizing properties. Our lip balms are also 100% percent natural, hand-made and free from fillers and emulsifiers!
Lip balm is something I am always happy to receive. I use it all day, every day and I like to have it with me at all times. This one has a lovely scent and left my lips feeling very soft and moisturized.
VIVA Scandinavia Classic Ella Tea Cup ($17.95)
A daily ritual is what sets you up for the day or helps you unwind when the day is through. Bring a little beauty into your daily ritual with this cup and saucer set. The deep forest pine hue will evoke a feeling of true ease. Find serenity with Ella.
I'm tempted to say this is my favorite item in the Fall box. This adorable little tea cup set is giving me all the feels. It's a lovely item for Fall and it's perfect for my morning ritual – a hot cup of decaf first thing in the morning before the sun comes up. I love this set so much that I've already snooped on the VIVA website to see what other goodies I can order.
The Gift Refinery Review Fall 2020 – Final Thoughts
It's official….I am in love with the Fall box from The Gift Refinery. I had a pretty good feeling that I was going to love this box and I was right. They have all their bases covered, reasonable price point, great value, beautiful packaging, a strong vision for the box itself, and a lovely selection of products. I especially like that they feature Canadian brands as it allowed me to discover a few new companies of which I will be purchasing from in the near future. The Gift Refinery has the makings to be one of the best lifestyle boxes based in Canada.
-AYOB Sarah