The Gift Refinery Review Winter 2021
The Gift Refinery is a Canadian Seasonal Subscription Box delivering 7-10 full sized products they know you'll love from Canadian Artisans & Businesses. Delivered to your door every March, June, September & December, each season promises to introduce you to lifestyle products you cannot live without! From Accessories, Bath + Body, Beauty, Fashion, Home Decor, Jewelry and Make Up. They kindly sent us this box for review.
Today we are having a look at the Winter 2021 The Gift Refinery Box. A beautiful subscription box based right here in Canada. I've been reviewing this one for over a year now, and I've really come to love it. The Winter Box includes a lovely selection of items with just a hint of Wintery goodness. There are a couple products in particular that I am very excited about!
Subscription Details
When you sign up for The Gift Refinery subscription you have three options to choose from, a quarterly subscription, an annual subscription or a one-time purchase.
The Gift Refinery subscription boxes will contain 7-10 quality items from the amazing Canadian artisans, brands & businesses you love! From beauty (makeup, skincare & haircare), jewelry, stationary, wellness, pantry items, housewares & more! Each luxury lifestyle box is curated by boss babe Jessica Avellino. If it isn't something that she would love or use, she will not be sending it out to her #TGR babes.
Here's a closer look at the items I received in the Winter The Gift Refinery box…
Aija Candle Studio Travel Organic Soy Candle: $18 CAD
Meet Aija – Hand-poured in small batches in London, Ontario, Aija Candle Studio creates their products with only the best natural ingredients. These organic soy candles are softer on the nose, and last 3 times longer than a traditional candle.
Aija advocates for a slow lifestyle and being as present as possible, because it's really the simple moments that make life memorable.
Our Hello Winter box features their Travel Organic Soy Candle in a surprise scent of earth or warmth!
I am always happy to receive candles, which I'm sure you all know about me by now, and the thing I'm most excited about when it comes to this one in particular is the fact that it is "softer on the nose, and lasts 3 times longer than traditional candles". I LOVE burning candles but I don't like for them to be too overpowering.
Eluo Beauty Forma Rosea Facial Polish: $54 CAD
Meet Eluo – born out of the desire to start a new dialogue around beauty. They believe the way you cleanse and care for your skin is much more than a multi-step product application, it's an opportunity to show yourself care — and we couldn't agree more.
Our Hello Winter box features their Forma Rosea facial polish, a multi-tasking powder blend that can be used as a mask or polish to refine and hydrate the skin.
I'm really loving face masks as of late, and try to incorporate them into my "self-love" routine on a regular basis. This one in particular gets amazing reviews and I've actually been following this brand for a while so I'm excited to test out one of their products.
EVIO Beauty Group Did I make myself clear? Lip Serum: $19 CAD
Meet Evio – Evio Beauty was founded by Brandi Leifso after living in a women's shelter in Vancouver, due to domestic violence. It was there that Brandi truly became an advocate for change and armed herself with beauty products to build a platform to evoke change in the world.
Brandi's powerful story has informed the way Evio redefines luxury beauty to be kind, conscious, and affordable — fuelled to "do the right thing, even when no one is looking."
Our Hello Winter box features their lip serum, a soothing formula packed with the healing power of hemp and peppermint to keep lips supple and hydrated.
The perfect product for a Winter box. My lips definitely need a little extra TLC right now, and I happen to love anything "peppermint" scented.
Imaya Beauty Retinoic Face Oil: $60 CAD
Meet Imaya – Imaya Beauty is a Toronto-based skincare brand that provides 100% natural, non-toxic, anti-aging skincare for sensitive, dry and acne-prone skin. It was founded in collaboration with Amazonian producers in Peru to support the conservation and reforestation of the Amazon Rainforest.
Our Hello Winter box features Retinoic Face Oil, made from 100% sustainably wild harvested Aguaje oil. This formula leaves the skin radiant and soft, and reduces the appearance of fine lines, sun spots and blemishes.
I haven't given this face oil a try yet but it's next on my list. I've never heard of Aguaje Oil before and am excited to learn more about it. Face oil is one of my favorite items to receive in boxes.
Lake & Oak Tea Co. Cacao Mylk: $18 CAD
Meet Lake & Oak Tea Co. – Lake & Oak is a proudly female owned and nutritionist formulated brand. They are dedicated to fostering self care rituals that help bring a little joy and balance into your life.
Our Hello Winter box features their Cocoa Mylk, choc-full of adaptogens and raw cacao power. Chaga mushroom, maca and cacao lift the spirits, target stress and promote a glow from within. Just whisk, warm with milk and sweeten to your liking – it's your chocolatey hygge in a cup.
YES! I was SO excited to see this Cacao Mylk in the box because it's something I have been wanting to try for quite some time now. I've actually been following Lake & Oak on Instagram and have my eye on a few of their products.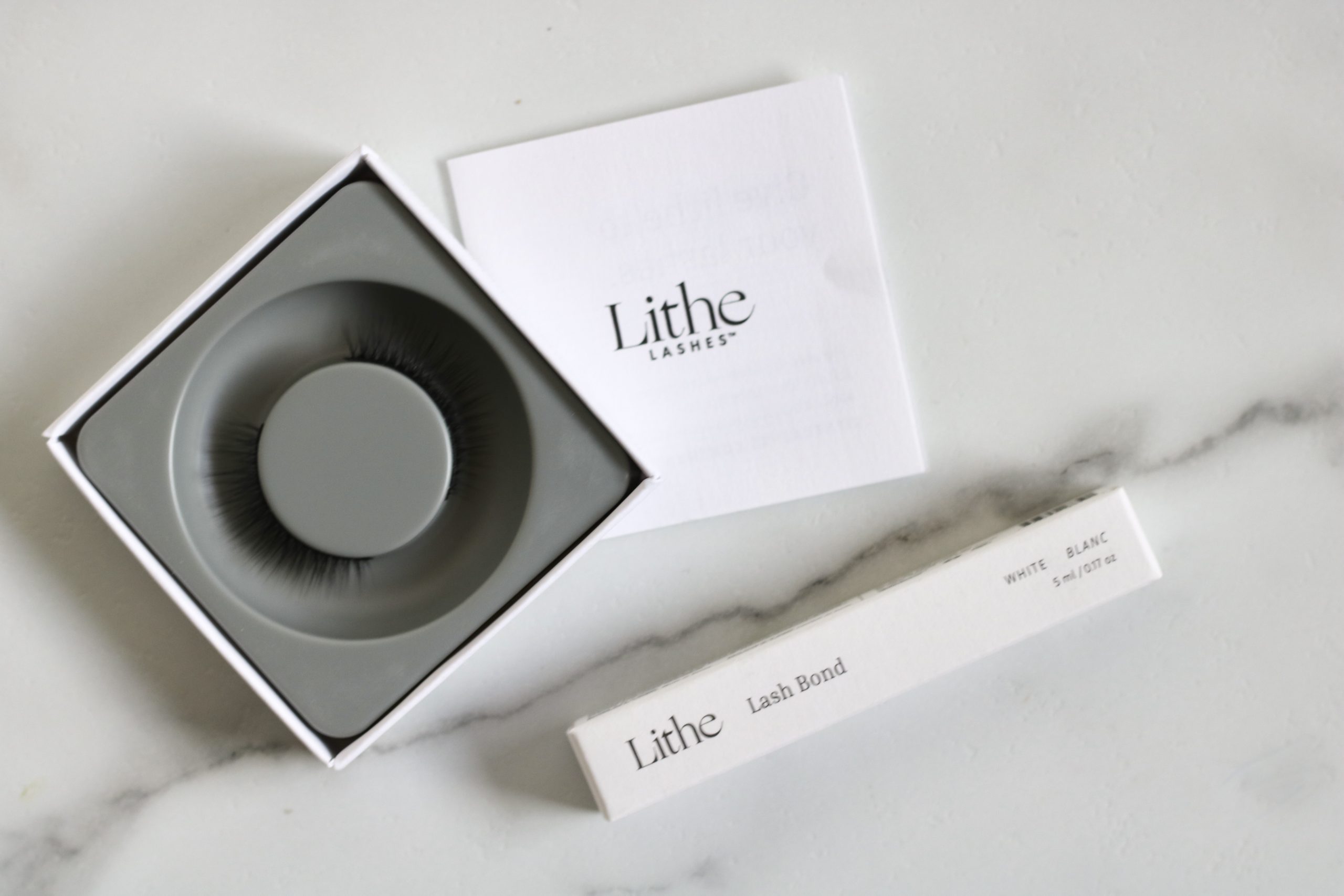 Lithe Lashes 02 Everyday Round Lashes & White Lash Bond: $40 CAD
Meet Lithe – Toronto-based & female-founded, Lithe Lashes is an up-and-coming brand looking to set new trends in the world of falsies. Inspired by the way natural lashes grow, Lithe embraces this quality, offering a line of vegan, cruelty-free, and pro quality lashes & accessories for everyday use.
Our Hello Winter box features Lithe's 02 Everyday Round Lashes and White Lash Bond — perfect for holiday glam that highlights your natural beauty.
This isn't necessarily something I will get use out of as I don't wear false lashes, but…….if I were ever to give them a try, this would be the set I would want to wear. They look SO lovely! Unlike any lashes I have received to date. They look soft, full and somewhat natural. Not too in-your-face or over the top.
MIFA Eucalyptus Coco Body Wash: $35 CAD
Meet MIFA – a 100% natural body care brand based in Vancouver, carrying a unique line of aromatherapeutic and affordable luxury products for the bath, body, and home. MIFA is rewriting the rules of natural beauty by using only traditional botanicals, modern plant extracts, and skin-loving essential oils and without the use of any synthetic ingredients, fragrances, fillers, or toxins.
Our Hello Winter box features MIFA's Eucalyptus Coco Body Wash — with a rich and luxurious lather that will cleanse, moisturize, and relax you with its aromatherapeutic benefits.
I have received this body wash before and absolutely love it. The scent is wonderful and the size is very generous. I already have it in my shower.
Mintier Oil-based Breath Mint: $19.99 CAD
Meet Mintier – Mintier is the world's first oil-based breath mint. Founded with hopes of revolutionizing an age-old category with the simple thought of, "there must be a better way." Mintier is a total game changer with one serving lasting up to 60 minutes of fresh breath.
Our Hello Winter box features their 100% natural breath mint made with premium food-grade oils with a MCT8 Coconut Oil Base, peppermint, spearmint, clove, lemon, and cinnamon oil.
I love this! A breath freshener I can actually feel good about. I stopped chewing gum a few years ago, which is a conversation for another day, and have been on the hunt for more natural ways to freshen my breath. Very excited to try this.
Pokoloko Solid Fringed Alpaca Throw: $65 CAD
Meet Pokoloko – POKO products are ethically traded through personal travel adventures — each item has a story that enriches all by connecting maker, collector and earth. How beautiful us that?!
Pokoloko curates unique high-quality artisanal goods from around the world, for the home and life of thoughtful consumers who like to collect and give beautiful and meaningful items… Sound like someone you know?
Our Hello Winter box features their Fringed Alpaca Throw, which can be used as a blanket, wrapped as a shawl, or draped as a scarf. Stay tuned for our blog post this season on how to care for this stunning piece!
Lastly we have this gorgeous throw! Subscription boxes always feel extra special when they include beautiful home decor items. This one looks and feels so luxurious. It's the perfect cozy winter accessory or decor piece and I will get a ton of use out of it!
The Gift Refinery Review Winter 2021 – Final Thoughts
Wow…..the Winter The Gift Refinery box is packed full and features so many wonderful brands. There are a few I am familiar with and a few I've been wanting to try – like Eluo and Lake & Oak. It has a wintery vibe, amazing value and a great mixture of products. I feel like I could create a cozy little self-love evening at home using most of the items. I can make myself a cup of Cacao Mylk, light the candle, run a bath, apply the face mask, pamper my skin and lips afterwards and then cozy up with the throw. Doesn't that just sound SO wonderful!
-AYOB Sarah