The Good Lane Review Summer 2022
The Good Lane is a seasonal subscription box bringing high-quality, ethical, eco-friendly products right to your door. Discover and learn the story behind socially conscious brands that are making a difference. They kindly sent us this box for review.
The Good Lane is still a fairly new subscription box, they haven't quite been shipping a year. And this will only be my third time reviewing it, but overall I would say that I am a huge fan. They focus on high quality, eco-friendly products and that is something I very much appreciate.
Subscription Details
Each The Good Lane box includes 5-8 sustainably and ethically sourced items. From home goods to natural cosmetics to eco-friendly swaps to lifestyle and wellness products they make every effort to source products you'll love from brands you'll feel good about supporting. In every box they include at least one eco-friendly swap as well as feature an artist.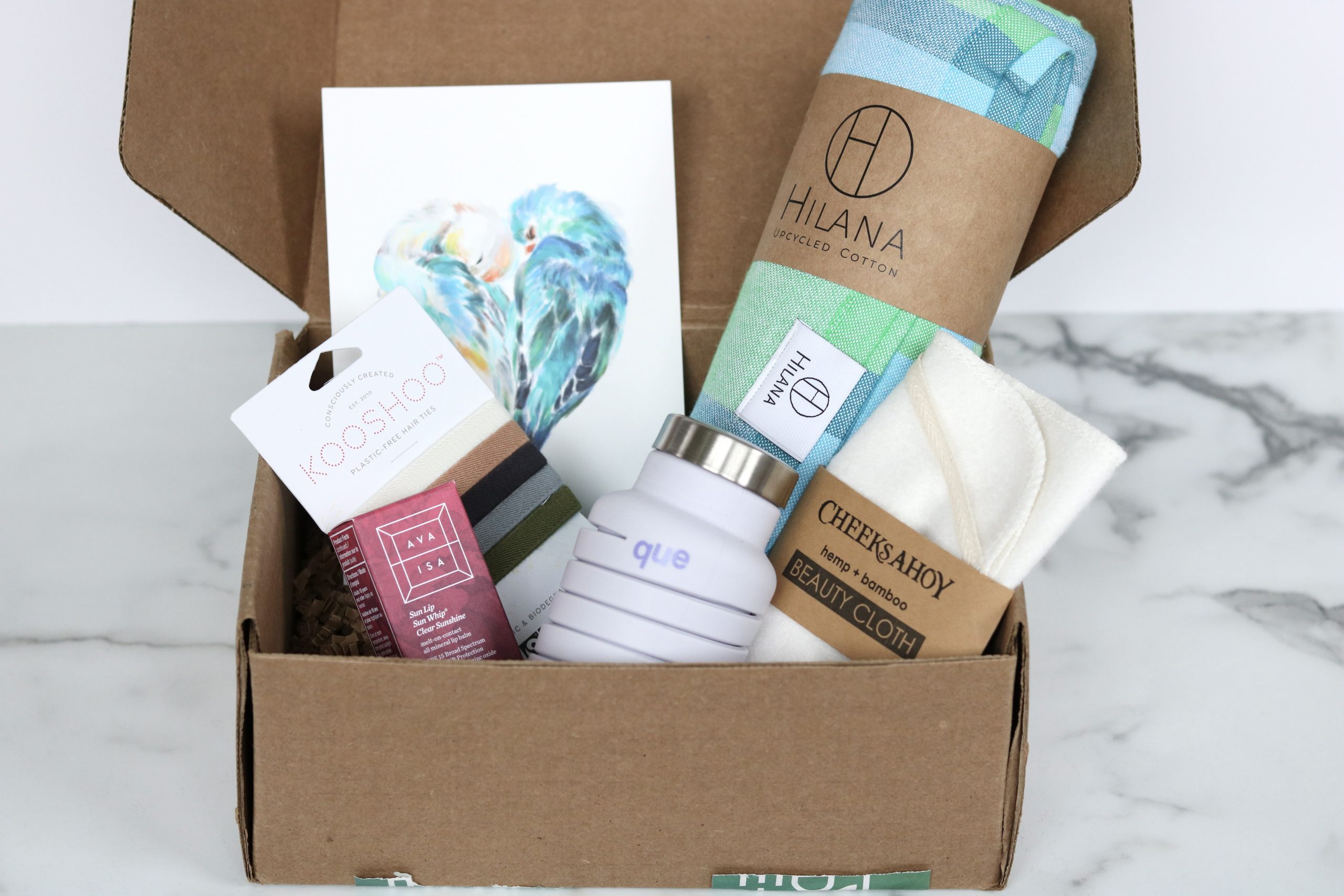 Here's a closer look at the Summer The Good Lane box….
HILANA Upcycled Cotton – Turkish Towel
TGL Summer Box includes a go-to summer essential – a super soft, ultra lightweight and absorbent beach towel from HILANA. This beautiful Turkish towel is ethically crafted from recycled cotton and features hand tied tassels. This towel is perfect for all of your summer adventures, pool lounging, picnicking and more! 
We are off to a great start with this upcycled towel. Not only is is pretty, but it is eco-friendly and it is PERFECT for Summer! I am going to use this for the pool, or days spent at the beach.
Cheeks Ahoy – Hemp + Bamboo Beauty Cloth
Cheeks Ahoy is a small business based out of Peterborough, Ontario that creates zero waste, reusable essentials for your home. TGL Summer Box includes a super soft hemp + bamboo fleece beauty cloth which is hypoallergenic and perfect for oil cleansing and removing makeup. Did you know hemp and bamboo are some of the most sustainable fabrics?
I am happy to see this beauty cloth in the box because I have officially made the switch from disposable wipes to reusable cloths, and let me tell you, they are GREAT at removing makeup and also leave my skin feeling clean and soft.
I got myself a 2-tier organizer with sliding drawers for under the bathroom sink and I keep a stash of these in one of the drawers.
Que Factory – Collapsible Water Bottle
Ditch plastic bottles and stay hydrated this summer! Introducing the Que Bottle, the perfect water bottle for when you're on the go. Made with food grade silicone and stainless steel, the Que bottle is collapsible and can easily be packed or stored when not in use. 
I have received one of these genius little collapsible bottles before but not in this beautiful/chic white color and I am absolutely LOVING it! I bring at least one (usually two) water bottles with us every time we leave the house so we will definitely get use out of this.
The Sunscreen Company – Ava Isa Sun Lip Sun Whip SPF 15
Your lips can burn too! Protect yourself, wear a lip balm with SPF!  In the Summer Box you'll find an all mineral vegan lip balm that is infused with plant-based oils- and contains a whopping 20% zinc oxide for active UVA and UVB protection. Made in Canada by The Sunscreen Company this lip balm melts with your natural body heat to go from a balm like texture to a moisture-preserving wash of hydration (with SPF protection!). Get the best of both worlds. 
Yes, yes, yes. This is something I was in need of, and what a great product for a Summer box. I always forget about my lips when it comes to sun protection, this will be going in my purse ASAP so that I have it will me at all times.
Triple Studio – Love Bird Watercolor Art Print
Every TGL seasonal box features an artist. In the Summer Box you'll find a beautiful 5×7 "Lovebird" print from artist Crystal Ho, who owns Triple Studio. Crystal does amazing water-colour paintings of animals and truly captures every detail, really bringing the animal to life.
Awe, this is the prettiest art print, and the colours are so calming. I love that the birds are in the shape of a heart (hearts are my thing) and I love the pretty blues and greens.
KOOSHOO – Plastic Free Hair Ties
Hair ties are always needed for those on the go summer days! In TLG Summer box you'll find the world's first plastic-free, zero waste, ethically made, and super functional hair ties! KOOSHOO Hair Ties are a great eco-friendly alternative to traditional hair ties and last longer because of the unique way they're made – with stretchy, sustainably sourced natural tree rubber. 
I was introduced to these hair ties a couple months ago and I absolutely LOVE them. Such a great eco-friendly find and I love the colours. They work well in my hair, they have the right amount of stretch and good hold.
The Good Lane Review Summer 2022 – Final Thoughts
The Summer 2022 The Good Lane Box is lovely. That is the word that comes to mind. It is thoughtful, perfect for Summer, and features some really great brands. I am already a fan of KOOSHOO, HILANA and Que, and I'm excited to test out products from "new to me" brands The Sunscreen Company and Cheeks Ahoy. A lovely box from a lovely company. The Good Lane has done a wonderful job!
-AYOB Sarah