The Innocent Baker Review August 2019
The Innocent Baker is Canada's FIRST Gourmet Baking Box! The box comes straight into your home every month complete with pre-measured artisanal ingredients, an easy-to-follow, step-by-step themed recipe card and a surprise gift to assist you on the road to making delicious desserts for friends and family! They kindly sent us this box for review.
The Innocent Baker has become one of my favourite Canadian subscription boxes. The baker in me gets so darn excited to see this box arrive in the mail. Baking is something I LOVE to do, but the recipe research and organization leaves a little something to be desired. I love that The Innocent Baker does all the prep work for me, leaving me with the best part of the job…..baking.
Subscription Details
When you sign up for The Innocent Baker you have 3 subscription options to choose from:
month-to-month
3-month prepay
6-month prepay
Each month you will receive pre-measured gourmet ingredients, easy-to-follow instructions and gifts for your kitchen, delivered to your door each month.
Have you ever wanted to bake but found yourself missing that ONE ingredient that could make it happen? Have you ever gotten excited about a recipe only to get disappointed with the complicated directions and lackluster results? Have you ever wanted to try a recipe that called for a small amount of an unusual ingredient but found that sourcing and stocking said ingredient was not worth the time, money and effort. If your answer to any of these questions is YES, then The Innocent Baker box is for you!
Here's a closer look at the items we received in the August The Innocent Baker box….
The Innocent Baker August Recipe
Oatmeal Blueberry Créme Pie: We have given these classic cookies a special twist. The dried blueberries in the oatmeal cookie adds a touch of summer and the creamy white chocolate in the filling elevates the taste.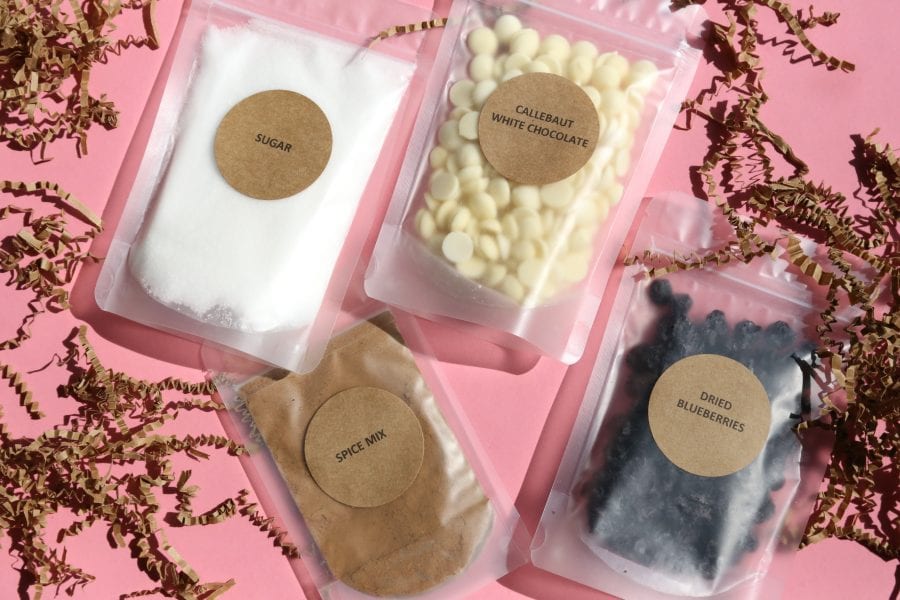 Dry Ingredients
For the dry ingredients we received the following:
Oats
Flour
Sugar
Icing Sugar
Spice Mix
Brown Sugar
White Chocolate
Dried Blueberries
Sea Salt
Baking Soda
Wet Ingredients
For the wet ingredients we received the following:
Extra Ingredients
We also received parchment paper and a piping bag.
Tools
For the tools we received the following:
Baking Rack
Ice-Cream Scoop
What We Need to Purchase
To make the recipe the only additional items we need to purchase are butter, whipping cream and eggs. I usually always have butter and eggs in the fridge so the only thing I will need to purchase is the whipping cream.
Recipe Details
The recipe was organized nicely, complete with numbered steps and photos. It also tells us the prep time (35 minutes) and the baking time (15 minutes). I found it easy to follow, with a total number of 8 steps. Here's the overview:
melt white chocoalte callets
mix dry ingredients together
cream wet ingredients together
add the dry ingredients to the mix
scoop the cookie batter onto the parchment paper and bake
cool cookies completely before filling
prepare filling
fill the cookies and sandwich together
The Innocent Baker Review August 2019 – Final Thoughts
I love the August The Innocent Baker box for a couple of reasons. It has provided us with a classic recipe (cookies) with a couple small twists. Blueberries in place of what could have been raisins, and the additional step of turning the cookies in to a sandwich. This is something I will love to bake because it's familiar and new at the same time. I've never actually made a cookie sandwich but have always wanted to. I also love the tools we received this month. Both are items I will use on a regular basis with all of my baking projects. I have company coming over this week and plan to make these cookies for desert. Another great box from The Innocent Baker……and another excuse to spend some time in the kitchen. Now….if I could only find an apron subscription to go with my baking subscription I would be set!
-AYOB
Explore.
Save.
Enjoy!
Sign up for a free account on A Year of Boxes to receive exclusive offers, be added to our monthly mailing list, and much more! We are always adding features to improve the experience for our users, from their valuable feedback!
Join Today!