The Karma Box Co. Review Spring 2019
With The Karma Box Co. each season, new and exciting products will be delivered to your home. Discover a mix of hand-picked, natural beauty brands, current fashion must-haves, fitness essentials, health-conscious eats and swoon worthy home decor. The Karma Box Co. is designed with purpose and made with love, with products that make you feel amazing and give you access to wonderful companies you might not know about otherwise. They kindly sent us this box for review.
Good to Know: A portion of the proceeds from every The Karma Box Co. sold will go to support a different charity each season.
This will be my third time reviewing The Karma Box Co. and it is quickly becoming a favorite. I really love the curation. I sometimes feel like the box is curated specifically for me. I find that some subscription boxes suit my preferences more than others, and The Karma Box Co. definitely suits my preferences.
Subscription Details
When you sign up for The Karma Box Co. you can choose a one-time purchase or you can subscribe and receive a new box each season.
Cost: $69.95 per season
Ships to: Canada, US, UK
Here's a closer look at the items we received in the Spring box…..
Brimz Official 6 Panel Black Cap Rose ($51)
With the Rosebud design representing simplicity and beauty in life and the Falmingo design representing balance in one's life, this 100% cotton, low profile fitting cap with strap back is cornering the market this season on what to wear.
Subscribers could have received one of two different styles when it comes to this first item. I received the Flamingo Cap but there was also a rose design available. Even though I would have preferred the rose design, I'm still very happy with this item in particular. As we head in to the warmer months, I will be making an effort to have a hat with me at all times. I like to keep a black hat (black goes with everything) in my car and in my travel bag. Needless to say this will come in handy.
Iremia Skin Care Soothing Lotion ($66)
This award winning skin care company will leave your skin feeling as beautiful as it will look. Blended with African Mahogany Tree Bark Extract, it is also clinically proven to improve elasticity, stimulate collagen production and reduce fine lines, pores and wrinkles. Hands down – WINNING!
At first I thought that this was more of a body lotion when it fact it is for your face. I figured that out after I saw that it helps reduce fine lines. I am always happy to test out new skincare products (now that my skin isn't being so sensitive). They say to press a small amount onto the skin after cleansing. It is lightweight enough to be used daily and it can be layered with a face oil.
Naked Snacks Hearty Tamari ($7)
The snack that believes in the 80/20 rules – 80% whole grown goodness, 20% earned indulgence. No artificial colours, flavours or sweeteners. No harmful preservatives, no fructose, corn syrup and no trans fats. This is a snack you can feel good about.
I happen to be a huge fan of Naked Snacks. They are a Canadian company and they actually have their own subscription box. They have a variety of snack mixes but this one happens to be my favourite. I've had it a few times and I love the tamari flavour.
Valentia Artisan Skincare ($30)
With Valentia's premium Turkish Rose Water, you can replenish your skin and senses with the cool, calming moisture of organic roses. Aromatic. Lightweight. Distilled. This is a perfect element to add to your skincare routine to brighten your complexion leaving your skin feeling healthy and revitalized.
I'm still not very knowledgeable when it comes to face mist but I'm still happy to see this in the box. I feel like it's a skincare item I need to become more familiar with and I am happy to test it out.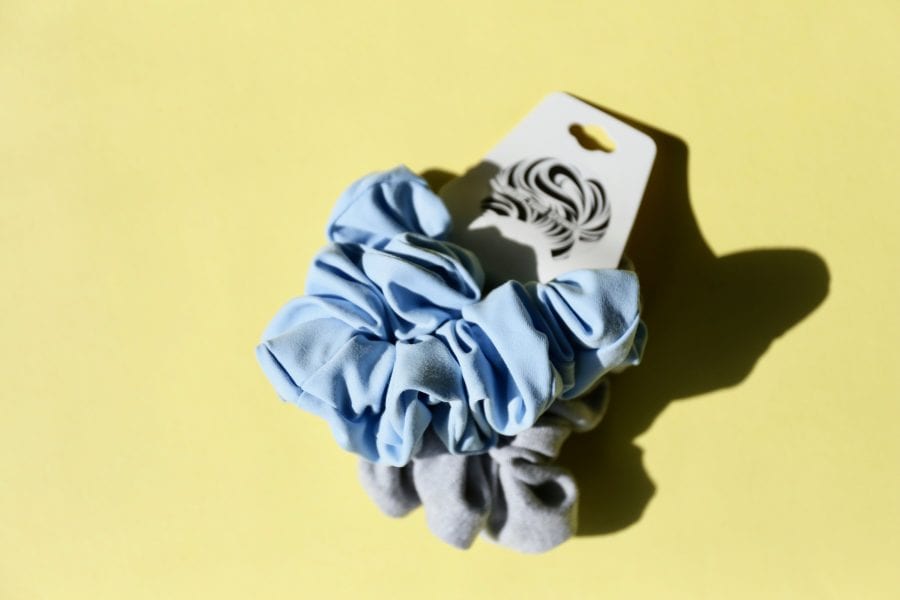 Wear Your Crown Scrunchies ($31)
These handmade scrunchies are made from local ethically sourced fabric. This company encourages you to value yourself, your skills, your mind and who you are as a person and to wear your crown. They also donate a portion of their proceeds to GEM (The Girls E-Mentorship Program) for every scrunchie sold. We're so happy to join the movement.
Yes!! I love me some scrunchies. They are just too darn cute and they bring back childhood memories. I really really love this color combo and I find that they have a good amount of stretch.
Les Coconuts Lip Balm ($10)
This handmade, all natural lip balm is ultra moisturizing to protect your lips against all the elements. Made with coconut oil, Canadian beeswax, cocoa and shea butter. No synthetic flavour. These lip balms glide on smoothly and stay creamy, never sticky or greasy. Rehydrate and stay moisturized.
Lip balm is one of my "must-haves" and I am always happy to receive it. No matter how many times I receive a new one in a box I never feel like I have too many.
Now Designs Goat Swedish Dishcloth ($6)
Made from cotton and plant-based cellulose fibres, this 100% natural and compostable cloth is a game changer for your kitchen. It offers a sustainable alternative to sponges, dishcloths and paper towels, never getting stinky. It becomes soft and pliable when wet for easy clean-up. Not to mention, how freakin' cute are these little goats!
Well isn't this just the cutest little dishcloth! I'm excited to have this in the kitchen. Not only is it environmentally friendly but it is stinkin' cute and it will make me smile every time I do the dishes or wipe down the counter.
The Karma Box Co. Review Spring 2019 – Final Thoughts
I think The Karma Box Co. did a great job with the Spring box. I will get use out of every item with the exception of the mist. But with that being said, I also feel like I should give it a try as I would love to incorporate a face mist in to my skincare routine. They provided me with a couple Spring/Summer essentials – hat and scrunchies. They also provided me with one of my favorite snacks, a purse essential (lip balm) and a new face balm that I am really excited to try. Oh…..and how FUN is the design on the Spring box! Already looking forward to the Summer box!
-AYOB