The Menswear Club Review December 2016
The Menswear Club is a monthly subscription for high-quality & unique brands, you will receive a parcel of 5-6 products delivered straight to your doorstep – every month. The parcel contains full-size grooming essentials, accessories, and exclusive Menswear Club products that you won't find anywhere else. Whether you love ties, pocket squares, cufflinks, moisturizers, body cleansers, hair pomade, beard oil, combs – you'll receive all of the above and more! They kindly sent us this box for review.
Did you see the November The Menswear Club review? Oh my goodness, it was awesome. I was so impressed. The items showed up in a dopp kit instead of the regular ol' box. It was a pretty cool surprise. I think it was my favourite box from them thus far. This month we are back to their normal packaging. I'm interested to see what they came up with for December.
December Theme
The theme for the December The Menswear Club is Black Tie Silent Night. The product card says "since we all want to look our best around friends and family throughout the holiday season, we have curated this month's parcel based on a black tie theme".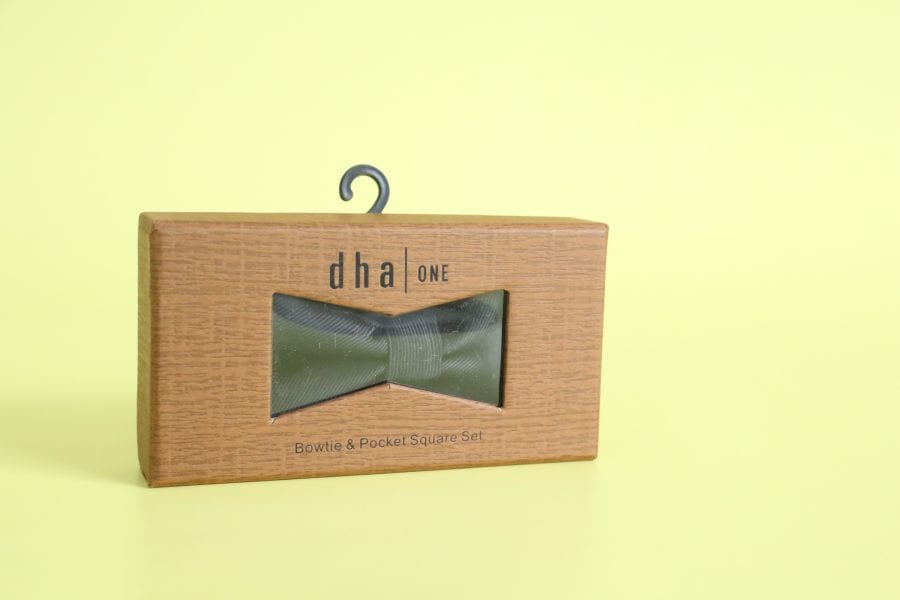 DHA Black Bow Tie
This bow tie is an essential accessory for any classy event or soiree, whether it be over the Christmas holiday's or at any other time of the year. 
I think bow ties are a great item for Men's subscription boxes. I definitely wouldn't want to receive them often. But to see a box include one once or twice a year is actually a great idea. It's a fashion accessory that men won't wear on a regular basis, but it's definitely nice to have one in your collection. December is the perfect time to receive something like this.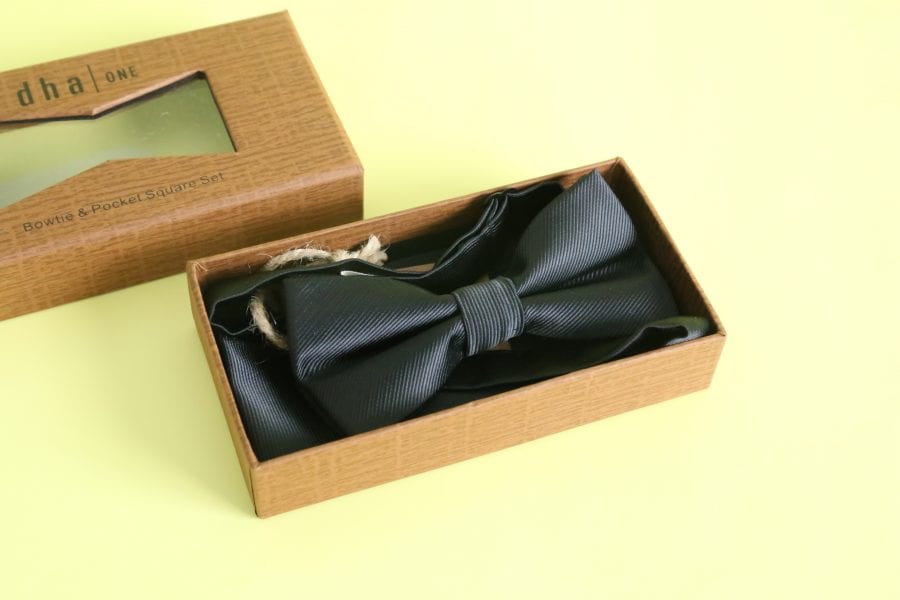 DHA Black Pocket Square
This pocket square will add some subtle class to your outfit. Pair it up with its bow tie counterpart for maximum effect. 
So, I didn't get the best photo of the pocket square because I actually had no clue that it was tucked under the bow tie. You can kind of see it in the box. It matches the bow tie perfectly. And, a solid black pocket square is a great addition to any wardrobe.
The Menswear Club Black Lava Stone Bracelet
This minimalist bracelet can be worn casually or formally. Pair it up with a nice watch, another bracelet, or simply wear it on its own. 
Men's stone bracelets are becoming a popular accessory. I like the simplicity of this one. It can be worn on its own, or stacked with one other bracelet.
Socksmith Bamboo Stripe Socks
These stripe socks are made from bamboo, and they feature moisture wicking finer. Ultimately they will add some unique versatility to your sock drawer. 
I really like that these socks are moisture wicking and I like that they have just a little bit of black on them. It ties them into the theme without being overly "matchy".
Fifteen Co. Evergreen Candle
This candle produces an aroma of cedar and spruce essential oils. 
Love, love, love! Men's scented candles seem to be a new trend. I have received a couple over the last month, and I love it! To be totally honest, I get sick of burning my girly smelling candles, as does the BF. He is going to be very happy to see/smell this. It will give him a nice little break from fruits and flowers.
Clean Classic Cologne Sampler
This high quality fragrance was designed for the modern gentleman. It contains a scent that is understated, yet distinctive. 
The Menswear Club didn't count this towards the value pf the December box, which means it is strictly a bonus item. If this would have counted as one of the regular items I wouldn't have been excited about it, but seeing as it is a bonus product I totally don't mind. It's actually kind of nice to learn about new fragrances and get to try them out.
The Menswear Club Review December 2016 – Final Thoughts
I like that the December The Menswear Box was such a contrast from November Box. November's box had a casual, outdoor theme to it, while the December box has a more formal/dressy vibe going on. I like that everything can be worn together, or individually. And the candle was a really nice touch. You can't go wrong for $35 per month.
XOXO
Explore.
Save.
Enjoy!
Sign up for a free account on A Year of Boxes to receive exclusive offers, be added to our monthly mailing list, and much more! We are always adding features to improve the experience for our users, from their valuable feedback!
Join Today!