The Naked Beauty Box Review Spring 2022
The Naked Beauty Box is the perfect subscription for those who love clean, cruelty-free, and vegan skincare products.
What You Get: The Naked Beauty Box subscribers will receive a quarterly box with up to $260+ worth of clean skincare products ranging from essential daily cleansers and oils to rejuvenating face masks. All products featured in The Naked Beauty Box are guaranteed to be 100% clean, cruelty-free, and non-toxic from only women-owned indie skincare brands. Subscribers will receive only full-sized products. Every season they donate a portion of your purchase to O.U.R and PCOS Awareness.
The Naked Beauty Box offers two different subscription options for their quarterly subscription boxes: $56.99 every 3 months or save by prepaying $206.64 for 4 boxes delivered quarterly. The Naked Beauty Box ships from Elko, Nevada, on the 25th of every quarterly month (January, April, July, and Spring) with free US shipping, $15.00 to Canada.
*They kindly sent us this box for review*
I was so excited to review The Naked Beauty Box Spring box! I am finding the products they send are so gentle and amazing for my sensitive and picky skin! Their Spring brand partners are 100% women-owned indie brands.
The Naked Beauty Box arrived in beautiful floral packaging with leaves, lovely colors, and the phrases, "Love the skin you're in" and "Beauty begins with you" written on the sides. They've recently updated their packaging colors and I am obsessed.
Let's take a look inside:
The product card was a paper pamphlet with product photos, names, descriptions, and MRSP prices.
Tropicgyal Naturals Scalp Treatment ($37)
"This oil is formulated to help problematic scalp issues such as dandruff, oily or dryness of the skin as well as help promote hair growth! This Oil contains Black Cumin Oil (known as the cure to literally everything!) which because of its anti-inflammatory benefits is able to help soothe your scalp and help with flakiness and sensitivity. It's also able to help normalize the oil production of the scalp. This treatment oil also contains Tamanu Oil which is native to Polynesia and east Asia and is known as "Green Gold". It's rich in nutrients like linoleic, oleic, palmitic and steric acids that nourish the hair deeply and contribute to hair growth. It's also able to fight scalp fungal infections and soothe the scalp."
My son has been using this scalp treatment and it seems to be doing wonders for his dandruff.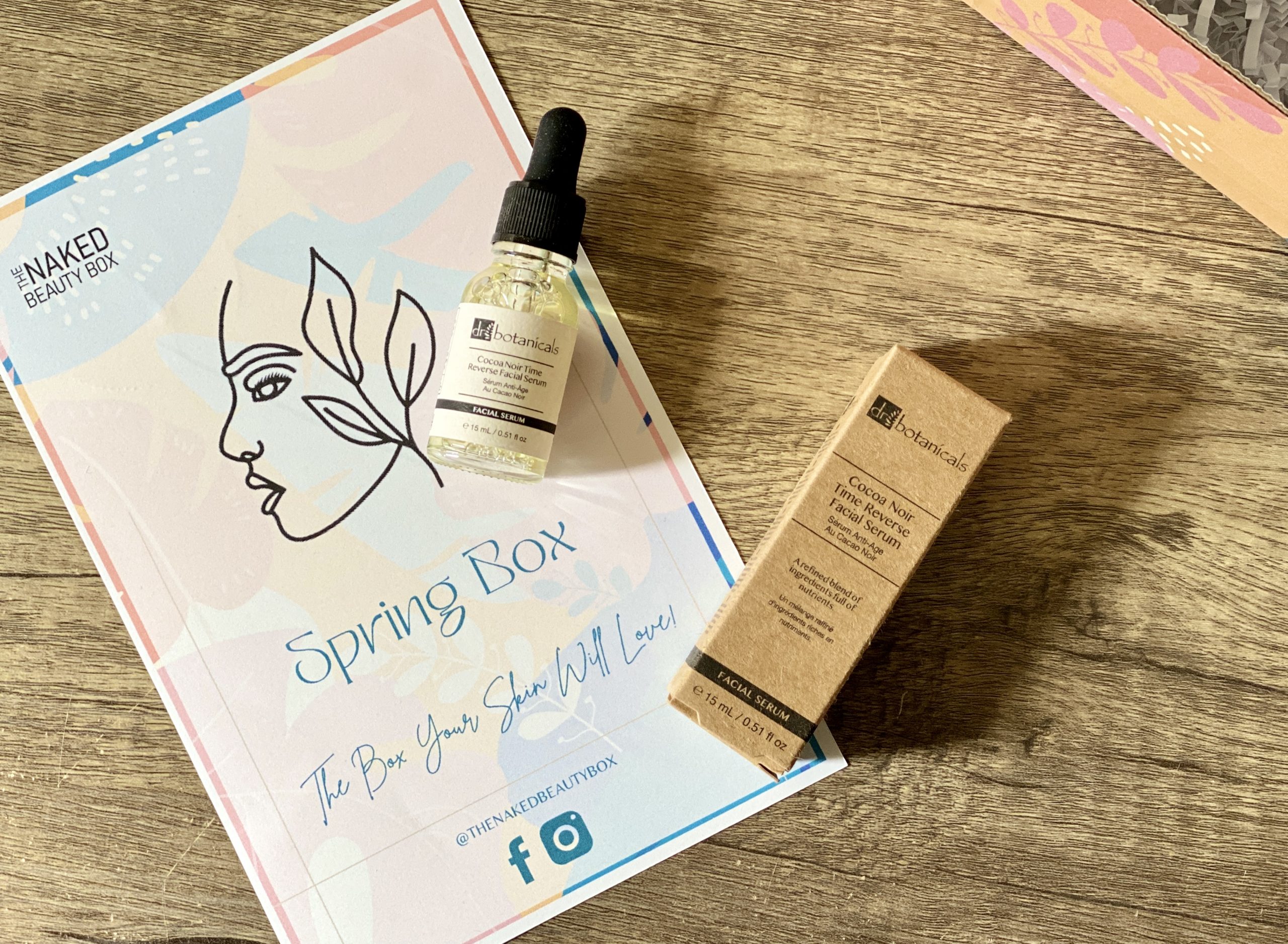 Dr. Botanicals Coco Noir Facial Serum ($80)
"Coco Noir Time Reverse Facial Serum has been formulated to ensure the complexion is left youthful and nourished. A refined blend of botanicals works to turn back the hands of time by improving skin health and appearance. Vegan certified Dr Botanicals products are made only of natural ingredients. The range is based 100% in natural ingredients all paraben and harmful preservative free. Never tested on animals, this range embodies our belief in the potent power of botanicals."
My skin is so happy since using this serum and truly, my skin is looking youthful and nourished. I love how many brands I have discovered thanks to The Naked Beauty box.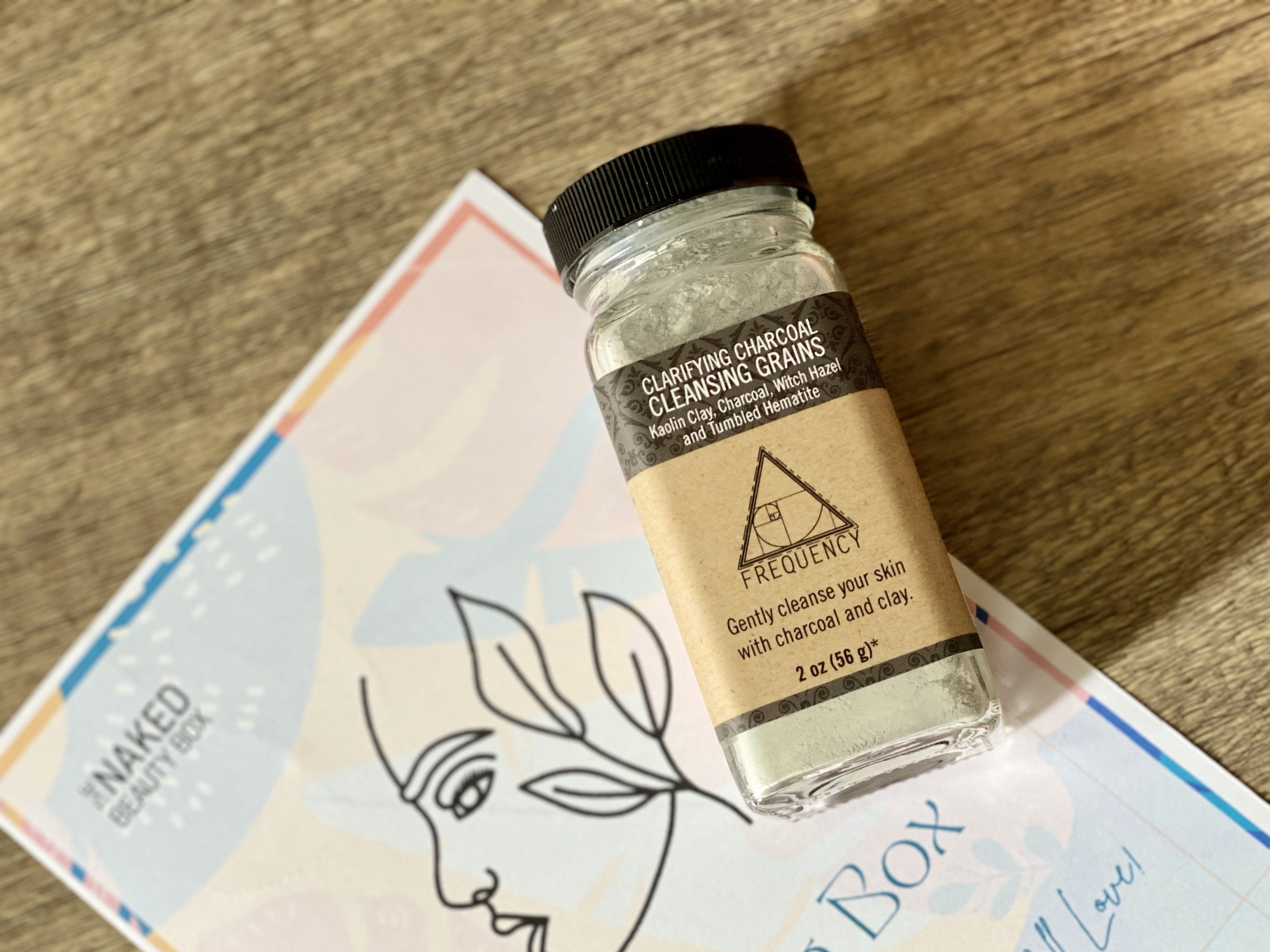 Frequency Clarifying Charcoal Cleansing Grains ($26)
"Gently cleanse your skin with charcoal and clay. Free of soaps, dyes, synthetic fragrances, and preservatives. These Clarifying Cleansing Grains are perfect for oily and acne prone skin. The Charcoal and French Green Clay help to draw out toxins and the Tea Tree Essential Oil calms the skin. It comes with tumbled Hematite in the jar for some serious earthy grounding energy.
This soap-free cleanser comes as dry grains to avoid the need for preservatives. Mix with water for a quick wash, or use it with any skin-loving liquid for a serious boost!"
I have been using these cleansing grains mixed into my regular cleanser and I swear, my skin has never been smoother. It seems to have helped immensely with my whiteheads. I am in love and also appreciate the Hematite in the jar.
The Dirty Lamb Apricot Cleansing Oil ($42)
"How It Works: Melt away excess sebum + makeup to give your face the ultimate cleanse it needs. Breathe in the aroma of exotic cardamom rounded out by calming lavender + ylang-ylang. This cleanser is meant for all types of skin including acne-prone."
Cleansing oils used to be weird to me but I absolutely adore them now. This Dirty Lamb Apricot Cleansing Oil smells incredible and leaves my skin fresh, clean and soft.
Isabella Clearly Lash Serum ($18)
"Great eyelashes need a healthy dose of nutrients and a little pampering. Clearly LASH, made with a blend of coconut, castor and vitamin E oils, helps to strengthen hair follicles, condition and moisturize lashes, and promote healthy growth. Your lashes (and eyebrows) will grow visibly stronger, longer and thicker."
I am such a sucker for eyelash serum as I had a bad runin with a set of lash extensions a few years ago. This serum only contains three ingredients and so far my lashes seem to be doing well.
Soon Skincare All Day Broad Spectrum SPF 50 ($40)
"Protect your skin from direct and indirect sun exposure, damaging effects of screen time and environmental pollutants with this smooth, non-sticky broad-spectrum SPF 50 lotion. Shield from fluorescent, blue and damaging infrared light from electronics and screen time. Prevent damage from direct and indirect sunlight. Boosted with stabilized vitamins C & E to protect from free radicals and outdoor pollution."
I am such a fan of Soon Skincare and this SPF is perfect for me! I find that a little goes a long way and I am easily able to apply it before my makeup without any issues. I also love the packaging!
Isabella's Clearly VIT-C Advanced Vitamin C Moisturizer ($25)
"When it comes to getting a brighter and more radiant complexion, vitamin C is a game-changer. Our VIT-C face cream is loaded with essential nutrients and antioxidants to revive dull skin, reduce wrinkles and fine lines, brighten the complexion and clear acne and blemishes. A unique formula made with omega-3 and 6 enriched Rosehip seed oil, antioxidant-rich organic blueberry, cranberry and raspberry extracts, clarifying willow bark and organic neem oil and soothing organic aloe vera. A recommended daily treatment for all skin types."
In the past, I have been wary when experimenting with products containing vitamin C as I have burnt my skin before. However, I first tested this lovely cream on a small area of my skin and it seemed to go well, so I have been using it every few days and my skin is glowing! I presume this mix of ingredients is much more gentle than what I tried before.
The Spring 2022 The Naked Beauty Box's third quarterly box contained seven full-size products and the estimated retail value of this box is $260! The Spring 2022 Naked Beauty Box is full of amazing skincare items to nourish my skin during the tail end of this Spring season. I am familiar with most of the brands included in the box this season but there were still two new brands for me to discover. I also love that all of the products included are non-toxic, vegan and cruelty-free from women-owned indie brands! My favorite items are the Soon Skincare All Day Broad Spectrum SPF 50 and the Anne's Apothecary Lip Treatment Mask! The Naked Beauty Box is the perfect subscription for someone who appreciates trying clean, cruelty-free, and vegan skincare products!
Hayley Savanna – https://www.instagram.com/hayleysavanna/