The Naked Beauty Box Review Summer 2022
The Naked Beauty Box is the perfect subscription for those who love clean, cruelty-free, and vegan skincare products.
What You Get: The Naked Beauty Box subscribers will receive a quarterly box with up to $260+ worth of clean skincare products ranging from essential daily cleansers and oils to rejuvenating face masks. All products featured in The Naked Beauty Box are guaranteed to be 100% clean, cruelty-free, and non-toxic from only women-owned indie skincare brands. Subscribers will receive only full-sized products. Every season they donate a portion of your purchase to O.U.R and PCOS Awareness.
The Naked Beauty Box offers two different subscription options for their quarterly subscription boxes: $56.99 every 3 months or save by prepaying $206.64 for 4 boxes delivered quarterly. The Naked Beauty Box ships from Elko, Nevada, on the 25th of every quarterly month (January, April, July, and October) with free US shipping, $15.00 to Canada.
*They kindly sent us this box for review*
I am excited to review The Naked Beauty Box Summer 2022 box! The Naked Beauty Box is easily one of my favourite boxes and the items they send are perfect for my picky and sensitive skin. I have discovered so many faves thanks to The Naked Beauty Box!
The Naked Beauty Box arrived in beautiful floral packaging with leaves, lovely colors, and the phrases, "Love the skin you're in" and "Beauty begins with you" written on the sides. This month they added a shipping bag for extra protection.
Let's take a look inside:
The product card was a paper pamphlet with product photos, names, descriptions, and MRSP prices.
Laguna Herbals – Eye Balm ($60)
"Laguna Herbals eye balm is crafted with a unique blend of 3 oils infused with a botanical infusion that promotes skin cell regeneration, reduces puffiness and reduces the look of fine lines for a bright and glowing complexion. This eye balm may be used on the entire eye area and can double as an effective yet gentle makeup remover that will not sting your eyes!"
Ohhh I had heard amazing things about Laguna Herbals products and was so excited to receive this eye balm! It smells incredible as it contains chamomile, rose and calendula and three green oils. I read other customers in addition to using it around their eyes works well on skin irritations too! I love it.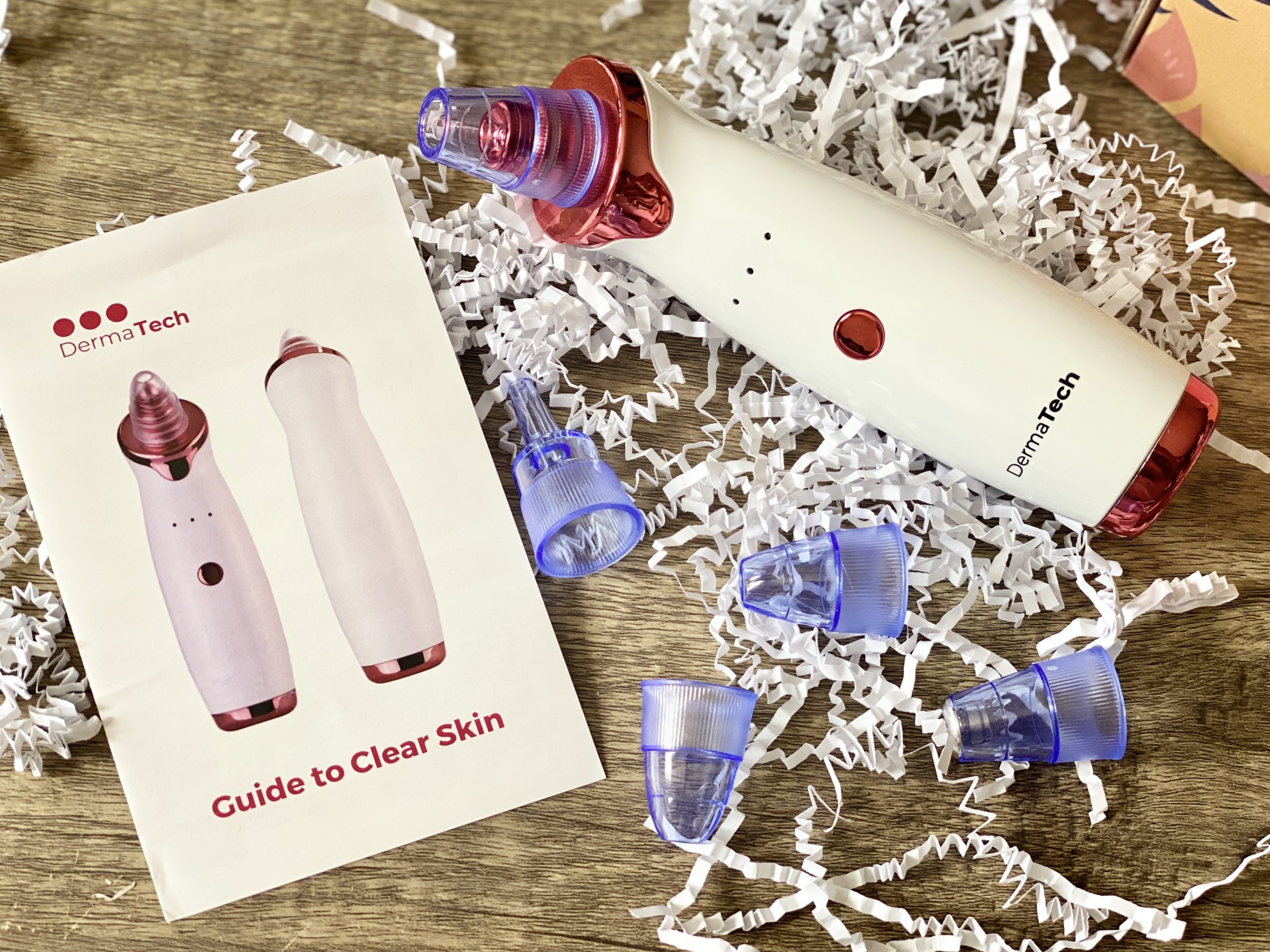 DermaTech – Microdermabrasion Kit ($129)
"The DermaTech Microdermabrasion Kit uses a popular treatment of microdermabrasion, exfoliation and smooth suction technology to gently remove dead skin cells, cleanse pores, boost collagen production, and promote the growth of new healthy skin cells. The interchangeable suction heads allow for different uses including massaging, exfoliating, stimulating microcirculation, and extracting blackheads."
Oh my goodness! This DermaTech Microdermabrasion Kit is such a treat. I suffer from an obnoxious amount of whiteheads on my chin area and let me tell you, this device has helped to clear and smooth my skin with only a couple of uses. This DermaTech Microdermabrasion Kit will save me the time and money I would have spent at the spa. Love!
Plantbased Beauty – Avocado and Algae Face Mask ($22)
"Instantly notice soft & clean skin from the nourishing superfoods of Avocado, Spirulina and Moringa that give your skin the vitamins it needs."
This mask is so green! I can't wait to use it when my skin is finicky as it brightens the complexion, hydrates damaged skin, clears skin, soothes breakouts and calms redness.
Modern Skyn Alchemy – Hair Sea Spray ($15)
"Hair Sea Spray is a hair moisturizing spray that gives a beachy look. This sea spray is infused with natural ingredients like aloe vera to intensely moisturize hair while also giving soft and sleek waves."
This Hair Sea Spray gives an easy, beachy look. It's as easy as shaking well and misting onto clean, towel-dried hair. Scrunch and tousle with fingers. Voila!
Bodhi Beverlyhills – One Decision, One-for-All Cream | $48
"Dry, damaged and dehydrated skin requires extra care. This ultra-nourishing cream delivers intensive moisture to target dryness. It blends natural oils, antioxidants and skin-essential hydration to relieve irritation and rough texture, restoring a soft, supple look and feel to the skin. Hyaluronic acid plays a vital role in helping the skin to attract—and retain—moisture. The gentle formula conditions the skin to leave it smooth and replenished."
This cream is truly a one-for-all as it brings and retains water, combats daily extremities and relieves dry skin which results in a smoother skin appearance! It has been incredible to use on all parts of my body and has helped to soften some areas, like my heels. My facial skin is plumper, hydrated and glowing thanks to this cream!
East 29th – Vital Serum ($70)
"It's essential. This serum is designed to deliver a high concentration of all-natural ingredients directly into the skin after cleansing to improve hydration, texture, and tone while also firming, promoting elasticity, and smoothing wrinkles."
Talk about a summer glow in a bottle! It is a hint odd as it suds a bit when you first start to rub it in, but that is just the ingredients reacting together. My skin is happy and others have commented on my glow-up as it has helped my dull skin transform into hydrated, glowing skin.
The Speak Collective – Cocoa + Calendula Lip Balm ($8)
"Provides instant relief to dry, cracked lips and leaves them nourished, soft and smooth with regular use. Packaged in a paper tube that's better for you and the environment."
I love the idea of a paper tube as you have to wonder how many plastic cosmetic pieces make their way into landfills each year. I have been using this fragrance-free lip balm on my lips, hands, feet/heels and elbows and my skin is happy! This lip balm will also be perfect for winter as my skin becomes so dry!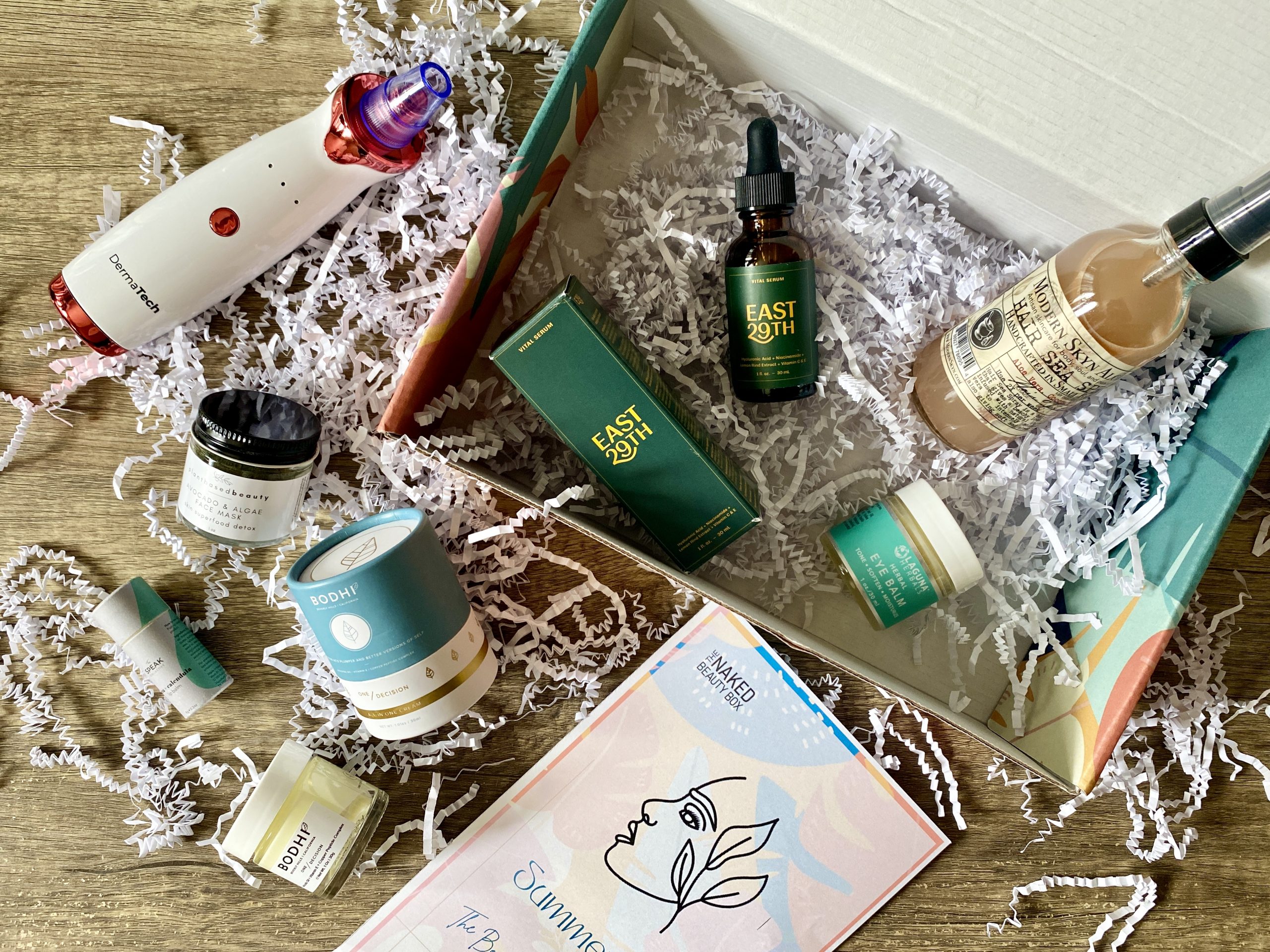 The Naked Beauty Box Summer 2022 quarterly box contained seven full-size products and the estimated retail value of this box is $352! The Summer 2022 Naked Beauty Box is full of amazing skincare items to hydrate and care for my skin during this Summer season. I am familiar with some of the brands included in the Summer 2022 box but there are still two new brands for me to discover. I love that all of the products included are non-toxic, vegan and cruelty-free from women-owned indie brands! My favourite items are the DermaTech Microdermabrasion Kit and the East 29th Vital Serum as those two items alone hold a huge value and have made a huge impact on my skin health and appearance. All the products were incredible this season and The Naked Beauty Box keeps upping its game! The Naked Beauty Box is the perfect subscription for someone who appreciates clean, cruelty-free, and vegan skincare products!
Hayley Savanna – https://www.instagram.com/hayleysavanna/