The Spark Box Review Fall 2020
The Spark Box is a quarterly subscription and gift box service for mamas and minis. Each box is designed to mindfully address age-specific developmental milestones for babies and toddlers, and to support the overall health and wellbeing of mamas. Their goal is to spark inspiration, spark exploration, and nurture growth in the home. They source the highest-quality items from local Canadian brands, award-winning lines, as well as toys and products from leading brands in childhood development.
*They kindly sent us this box for review.
I had the pleasure of reviewing The Spark Box for the first time last season. The Summer box was pretty darn amazing and VERY memorable. It included one of my all-time favorite subscription box items, a leopard print Swig mug, which I use almost daily. Aside from that it was beautifully curated, had some amazing items for baby Steven and was packed to the brim. It is currently one of my favourite Mommy & Me boxes.
Subscription Details
In each The Spark Box you'll find:
4 full-sized, high-quality mama products
4 full-sized, high-quality infant/toddler products
Age-specific guide to your child's development and play
Bonus items
Box Options
From The Spark Box website….
Expecting Mama – Pregnancy – newborn: The perfect gift for someone you love (or a treat to yourself, mamas). Packed with our favourite products to carry you through pregnancy and to welcome your little one into the world!
Look and Listen – 0-12 weeks: Introduce responsive play from birth with this collection of products and activities designed to support baby's first motor, sensory, and emotional experiences.
Whole New World – 4-6 months: Support your baby's eagerness to learn and play with this mindful collection geared towards the encouragement of meaningful interaction. Stimulate baby's tactile senses and begin to practice fine motor skills.
On the Move – 7-9 months: Focusing on fine tuning your baby's gross and fine motor skills, this collection builds on tactical senses, encourages hand-eye coordination, explores cause and effect relationships and more!
Exploration Station – 10-12 months: It's a busy world, and baby wants to see it all. This box introduces early STEM play with a variety of tools, toys and resources that encourage focus and  problem-solving.
Discovery Zone – 12-18 months: It's all about discovery!  Baby is learning so much, so fast and we are here to support that by taking play to the next level! This collection is focused on building independence through experimental play.
Little Thinkers – 16-24 months: Encourage creativity and imagination with our newest Little Thinkers box! This box is designed to prepare your little ones for Pre-K and Kindergarten by promoting critical thinking and making connections with every day life.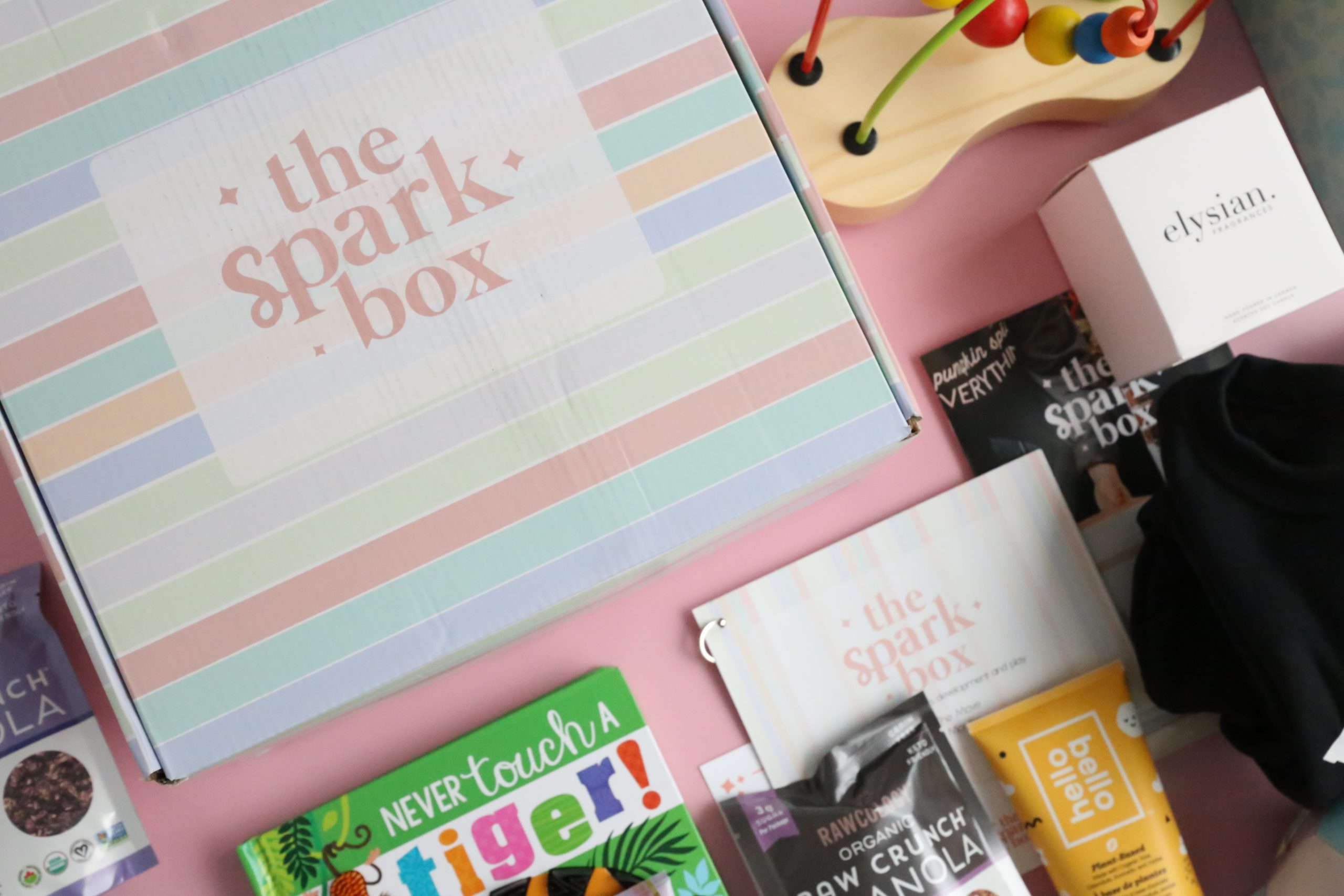 Here's a closer look at the Fall The Spark Box….
Stelly Handmade Ribbed Knit Beanie
This beanie was designed to take you through all the seasons. Handcrafted with butter-soft ribbed knit material it has a slouchy fit and will quickly become your new BFF during crisp fall strolls and park plays with your little ones.
I received two of these adorable beanies so I'm referring to them as "mommy and me" beanies. One for me and one for baby Steven. Which is actually pretty perfect because he is in need of some cozy hats. I love the neutral color as it will go with most outfits. It's beyond soft and I love the ribbed detail.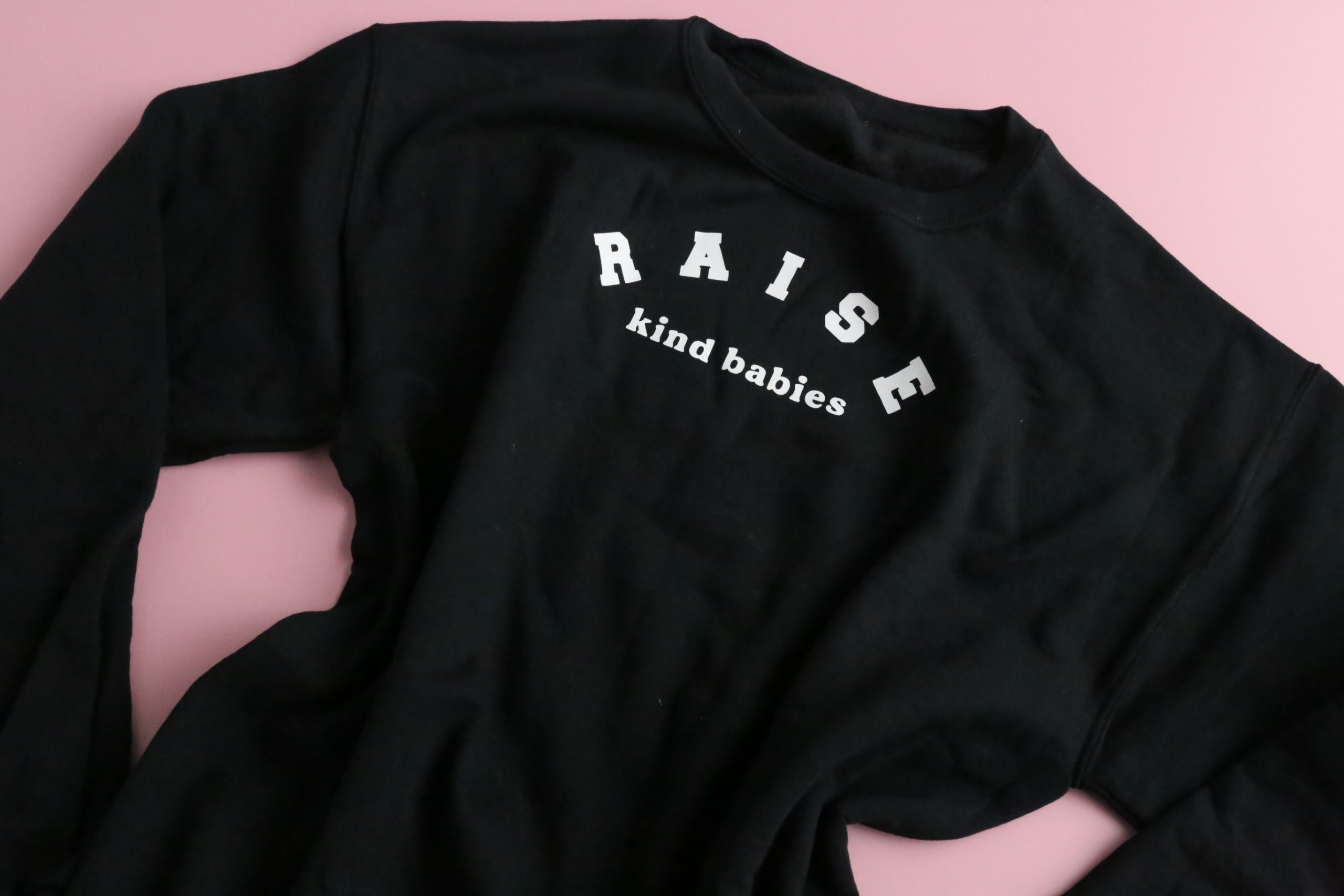 The Spark Box "Raise Kind Babies" Sweater
This super comfy sweatshirt was made in-house at The Spark Box to emphasize the most important of our goals as a mama – raise our little humans to be good and kind, to be friendly and generous, and lift others up. This versatile and pill-resistant crewneck sweatshirt is the perfect addition to your fall wardrobe. Pair it with your favorite leggings to complete your mom uniform.
I was beyond excited to see this sweatshirt in the fall box. It's absolutely perfect! I live in cute sweatshirts and leggings as of late so it is much appreciated. I love that it's black, and I of course love the saying. This is a top I will wear all the time.
I was a little worried that they wouldn't be able to top the Swig mug from last season's box but this is pretty darn close.
Elysium Fragrances Mulled Wine Candle
Ripened mandarin and tarty grapefruit entwined with aromatic cedar, English red wine and warm apple cider.
Eeek! Don't you just love candles?! And don't you just love them even more this time of year? I certainly do, and this one is the perfect scent. It's warm, and spicy, and fruity, and oh-so-good!
Cela The Very Best Cream Rose
Deliciously aromatic with notes of sweet jasmine, peach and rosewater, and enriched with Canadian botanicals. This velvety body cream hydrates and softens skin.
One thing I have discovered since becoming a Mama is that my hands are dry constantly! I wash them ten times more than I used to, not to mention the baths, extra dishes, cleaning, etc….. So, this is a Mama item at it's best. A luxurious body cream (perfect for hands also) that will keep my skin hydrated.
Hello Bello Apricot and Vanilla Baby Lotion
I've always wanted to try Hello Bello products but kept putting it off so I am very happy to see this in the box. I love the scent and love the natural ingredients. Plus, baby Steven is going through a dry phase with his skin and I need to apply lotion after every bath.
Hape Double Bubble
I squealed when I saw this toy in the box because I use to play with something similar when I was young and I remember it to this day. This will help with hand-eye coordination, classification, spatial awareness and fine motor skills. It will also help with counting. It has suction cups on the bottom which is genius because Steven loves to knock everything over. I can't wait for him to play with this.
Moulin Roty Animal Stacker
Here we have another fun toy to help with cause and effect, hand-eye coordination, and fine motor skills. We are to show baby how it works and let him try to take it apart and put it back together on his own.
Moulin Roty Soft Ball
This is absolutely perfect for the stage Steven is at. He's starting to move around, he loves things that roll, and this will be perfect for both. It's also a toy we can use together as he gets bigger.
Make Believe Ideas Sensory Book
Steven is very in to books right now so this is much appreciated. He also loves to touch the pages as I read so the different textures will make him happy.
Ohh! Foods Coconut Brownie
Bonus Item – Snacks are life, in my personal opinion, and these ones look so good! You can enjoy them as is or heat them up in the microwave.
Rawcology Organic Granola
Bonus Item – Rawcology is a granola I have been wanting to try for quite some time. It has low sugar, it is grain free and keto friendly. Both flavors sound so good!
The Spark Box Review Fall 2020 – Final Thoughts
Wow! What an amazing box! The Spark Box has stolen my heart. This is only my second time reviewing the mommy and me box and I am already over-the-moon in love. It's such a wonderful box for us Mamas. I love that it includes beautiful items for both me and baby Steven. I get to feel spoiled and he gets a fun selection of new toys specific to his age. It's a beautiful box form beginning to end, it provides me with important information about the stage baby is at, and the value is amazing. I couldn't be happier and would highly recommend this box to any new Mama! It's officially on my "must-have" list!
-AYON Sarah