The Spark Box Review Spring 2022
The Spark Box is a quarterly subscription and gift box service for mamas and minis. Each box is designed to mindfully address age-specific developmental milestones for babies and toddlers, and to support the overall health and wellbeing of mamas. Their goal is to spark inspiration, spark exploration, and nurture growth in the home. They source the highest-quality items from local Canadian brands, award-winning lines, as well as toys and products from leading brands in childhood development.
*They kindly sent us this box for review.
The Spark Box is such a wonderful Mommy & Me Subscription Box. It is one of my favourites to receive. It is always packed full, it has a lovely mixture of products for both Steven and I, and they always manage to find the best baby/toddler toys.
Subscription Details
In each The Spark Box you'll find:
4 full-sized, high-quality mama products
4 full-sized, high-quality infant/toddler products
Age-specific guide to your child's development and play
Bonus items
Here's a closer look at the Spring The Spark Box….
The Spring Collection
"Ahhh….helloooooo Spring, we've been waiting for you!
As the days grow longer and the temperatures start to warm up, Mother Nature lets us know that it is time for new blooms all around us, but also within us.
Our 2022 Spring Collection was inspired by the reminder to embrace change and see life with a fresh perspective. Join us in welcoming a new journey as we embark on this new season together."
Organic Lavender Hand Sanitizer: I love the idea of a sanitizer spray as gels can be a little messy. This seems so much more convenient and I love that it is made with ingredients I am familiar with. I also love the generous size.
Oversized Key Wristlet: I have seen these before but never actually used one. It's a genius idea if you think about it. When Steven and I go to the park or out for a walk, the only item I really need tp bring with me is my keys and this is a handy way to wear them while allowing me to keep both hands free.
Gold Sculpting Beauty Bar: I have never used a beauty bar before but I am definitely open to it. I can imagine it would be quite relaxing if used properly. It is said to stimulate skin cells, boost radiance, reduce puffiness and increase elasticity. And……I need ALL of those things!
Pore-fect Face Primer: I can't believe that I still don't use a primer prior to applying my makeup. Not that I wear makeup often, but it is supposed to be a great way to help makeup last all day and really…..what Mama has time to do her makeup let alone re-apply during the day. I must give this a try!
Strawberry Rosehip Water Kefir: This is something I have never tried before, and I'm not totally sold on it, but I do really like the idea of a probiotic beverage.
Original Blend Craft Pretzels: Oh…..I have been meaning to try these. I am trying to cut out sugar right now and need to find a replacement for my evening snack. Maybe these yummy little pretzel twists will be a good alternative.
Stoked Oats Superfood Granola: I sprinkle granola on my oatmeal almost every morning so I am very excited to see this in the box. It is made with superfood ingredients like flax seed, pumpkin seeds and chia seeds. It is also gluten-free and low in sugar.
Pür Three Spearmint Gum: I used to keep gum in my purse at all times but for the last couple of years I rarely find myself reaching for it. But this particular brand really appeals to me so I think I will throw this in my purse.
Bug Hunt Kit: This little Bug Hunt Kit is so adorable. I can't wait for Steven to play with it. I might save it for an outside activity as he is a typical little boy and LOVES making a mess so I am imagining the rice grains all over the floor. But, it will be perfect for the patio. I will get a little tupperware container to put everything it and he can play till his heart is content.
Abram Books Spring Parade: Oh my goodness, how gorgeous is this book?! I love, love, love the bright pink and the detailed images. This will be a fun book for Steven and I to read together. We can learn about the different animals on each page.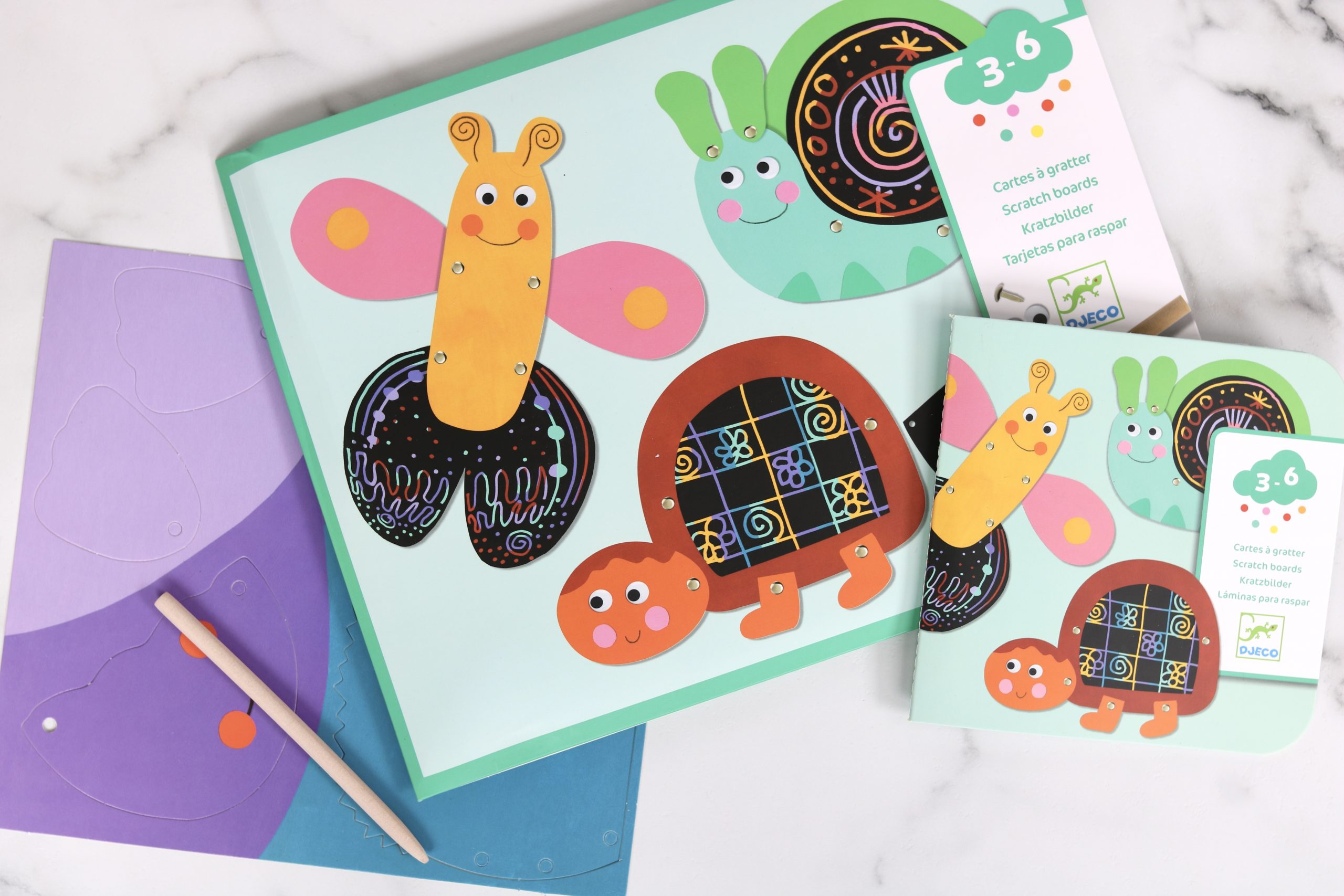 Djeco Scratch Art: This scratch art kit will be a very fun project for Steven. He might need a little help putting the bug pieces together but he will have a lot of fun with the scratch boards. I might even put a few of the bugs together myself and then give them to him for our upcoming road trip.
Fishing Game: I am beyond excited to see this fishing game in the box. This is something I fondly remember from childhood, they used to have these kind of games at school fairs and I absolutely LOVED them. Now Steven will have his very own fishing game right here at home. I will have just as much fun playing with this as he will:)
Camilia Products: We received two products from Boiron, a teething medicine and cold medicine. Both of which are great product to have on hand at any given time.
The Spark Box Review Spring 2022 – Final Thoughts
I am always amazed at how many products The Spark Box includes each season. The box itself is packed full and there are so many beautiful items to discover. They really did a great job with the baby/toddler products in the Spring Box. Steven is going to have so much fun with the bug kit, the scratch project and the fishing game. I also really appreciate the thoughtful Mama products. There's always a few little goodies to make me feel special and pampered. This really is an amazing box. The value is there, the products are quality and the box itself is beautiful.
-AYOB Sarah