The Spark Box Review Winter 2022
The Spark Box is a quarterly subscription and gift box service for mamas and minis. Each box is designed to mindfully address age-specific developmental milestones for babies and toddlers, and to support the overall health and wellbeing of mamas. Their goal is to spark inspiration, spark exploration, and nurture growth in the home. They source the highest-quality items from local Canadian brands, award-winning lines, as well as toys and products from leading brands in childhood development.
*They kindly sent us this box for review.
I missed sharing The Spark Box Summer and Fall boxes with you so I'm VERY excited to be back at it with the Winter box. This is one of my favorite Mommy and Me subscriptions. It's always packed FULL and they have options for newborn to age 4. They even have a Mama only box which I am dying to get my hands on. But for now…..let's have a peek at the Winter Collection.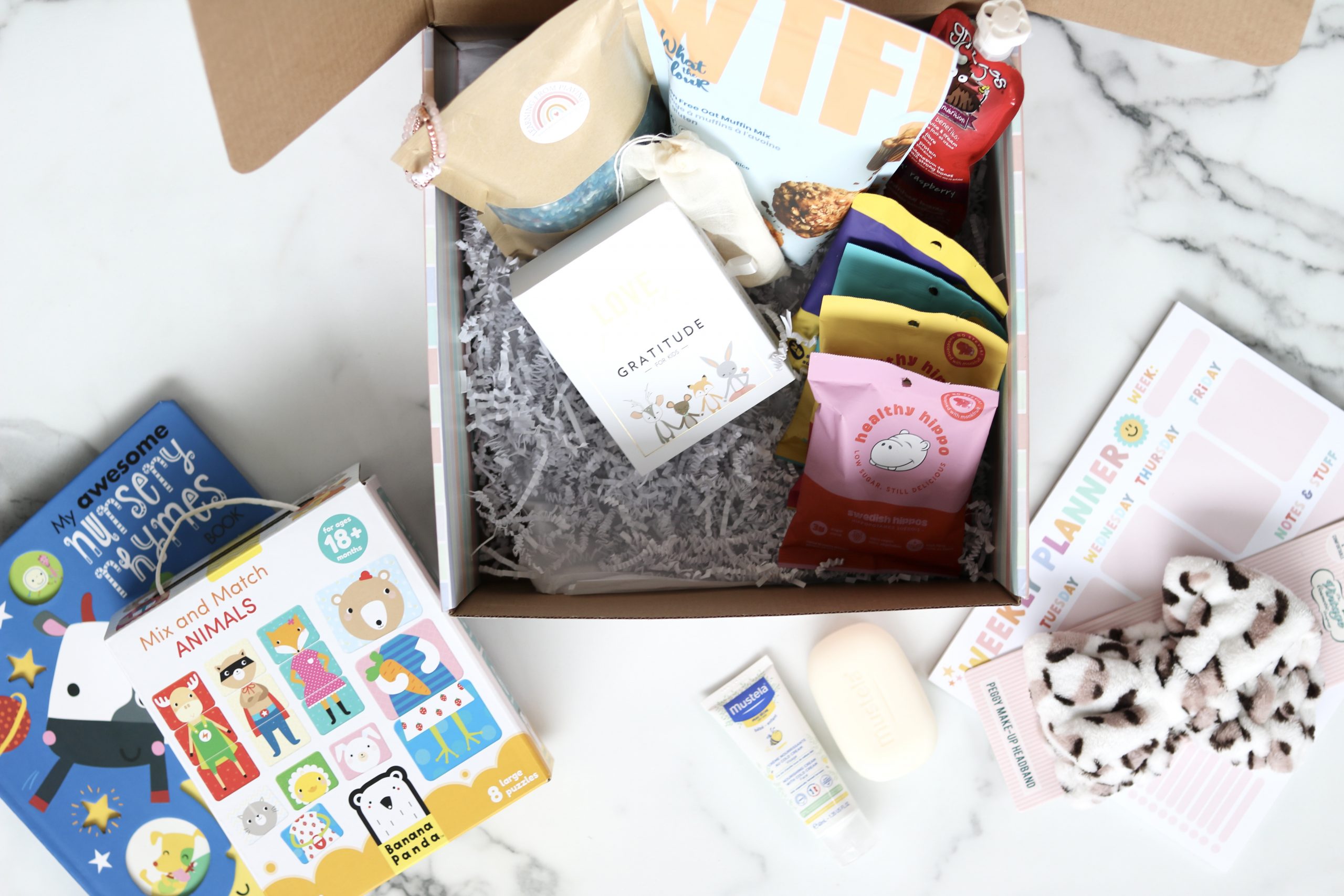 Subscription Details
In each The Spark Box you'll find:
4 full-sized, high-quality mama products
4 full-sized, high-quality infant/toddler products
Age-specific guide to your child's development and play
Bonus items
Here's a closer look at the Winter The Spark Box….
The Winter Collection
Our Winter 2022 collection is filled to the brim with practicality, functionality, and ohhh such beautiful items for you, mama! Meet some of your new favorite brands, thoughtfully sourced and custom-designed to help you feel renewed, revived and re-freshed this season. 
Pretty Little Sparkles Mama Stack
The exclusive Mama Stack bracelet was designed by The Spark Box and creator, Ashley of Pretty Little Sparkles! The bracelet is meant to honour our role as Mother.
How pretty is this bracelet stack?! I love the rose gold and pink beads, and I also really love the little heart bead at the back of the mama bracelet. The only thing worth noting is that the rose gold bracelet is bigger than the pink one.
Meryum Designs Weekly Planner
You will never want to go without your weekly notepad planner again! Whether it's for your desk at work or for your home office, this planner is a perfect size!
I desperately needed a weekly planner and here it is. Life has been crazy busy the last little while and I am finding it hard to keep track of everything. This is going to come in handy. And…..I also happened to have a little peek at the Meryum Designs Instagram page and they have the CUTEST glass cups….. of which I will be ordering:)
Leopard Make Up Headband
Keep hair under wraps with this gorgeous vintage inspired leopard print headband. Perfect for holding back those luscious locks when applying make-up or when you just want to kick back and relax with a skincare treatment.
I am in LOVE with this headband and will probably end using it on a daily basis. It will be perfect for bath time, washing my face, early morning reading sessions (lounging in my robe) and any other time I need to keep my hair out of my face.
What the Flour Stud Muffin Oat Mix
For those who like to snack (so, everyone). Add chocolate chips or your favorite shredded fruit and veggies to the WTF Oat Muffin Mix for tasty morsels to slip into lunch boxes, hiking backpacks, and boring meetings. Did we say boring? We meant morning, morning meetings.
This is the perfect snack for me to make with Steven. He loves watching me cook/bake and I might even get him to help me mix the batter. I'm thinking I could throw in some shredded carrots or zucchini. They will be the perfect little afternoon snack.
Gnubees Nutritional Kids Beverage
Lunch box friendly, on-the-go nutrition. Our resealable flexible pouches are kid proof and environmentally friendly. These picky-eater approved flavours are enjoyed just as much by parents…..and no stress, the fibre means no sugar crash.
Steven is a huge snacker…..just like his mom…..so I am always on the hunt for nutritious snack options. I especially love snacks that I can keep in the pantry and that are travel friendly. I will definitely be checking this brand out and probably purchasing more.
Healthy Hippo Candy
Healthy Hippo is non-GMO, fully vegan, with nothing artificial in its formulation. They are committed to making low sugar but still delicious candies that bring back all the best memories from childhood candy indulgences.
Here we have a fun little candy treat. I like receiving sample packs like this as it allows me test out new products before committing to a purchase. We received 4 different flavours…
Hippo Gummies
Swedish Hippos
Sour Hippo Gummies
Sour Keys
Love Powered Affirmation Cards
Oh my goodness….I am SO in love with the set of affirmation cards. Not only is it super cute but it's also a great little ritual for Steven and I to do together each morning. He won't be able to fully comprehend it just yet, but it's never too early to start teaching/incorporating gratitude into his daily routine.
Learn by Play Sensory Kit
I've been wanting to start incorporating sensory play into our daily routine so I was very happy to see this kit in the box. Steven is very much into textures so I can't wait to see how he responds to this. I will need to be prepared to clean up a huge mess when he is done, but I know that he will have SO much fun with this so it will all be worth it.
Make Believe Ideas Nursery Rhymes Book
I am always happy to receive books for Steven because we read together every day. He absolutely LOVES books so this is very much appreciated.
Banana Panda Mix and Match Animals
This cute little mix and match kit includes eight large 3-piece puzzles which are perfect for creative play. This will be great for Steven's imagination and it will help with manual dexterity.
Mustela Nourishing Cream and Gentle Soap
We also received 2 product from Mustela…..
Nourishing Cream with Cold Cream – Nourishes immediately with long-lasting results. Strengthens the natural protective barrier of the skin.
Gentle Soap with Cold Cream – Gently and effectively cleans. Moisturizes skin even against the drying effects of hard water.
The Spark Box Review Winter 2021 – Final Thoughts
One of the things I love about The Spark Box is that it is always packed full! The box is literally overflowing with a selection of wonderful goodies for Steven and I to enjoy together. I appreciate the gifts for Mama and the curated collection of age appropriate toys for Steven. I also love the fact that they include food/snack products as I am always on the hunt for healthy treats. The Spark Box continues to be a favorite!
-AYOB Sarah