The Story of Perfume Box Review February 2017
The Story of Perfume Box by Harvey Prince is a monthly fragrance subscription. Each monthly box comes with two private blend, luxe Harvey Prince perfumes available only in The Story of Perfume. These exclusive 7ml roller ball fragrances are made of only the finest essential oils & highest-quality natural ingredients. They kindly sent us this box to review.
If you are looking for a new fragrance, start here! I fell in love with Harvey Prince perfume within minutes of receiving my first roller ball fragrance. I mentioned this in the last review but Harvey Prince is one of only two fragrance brands I wear. Come to think of it, over the last month I have really only worn my Harvey Prince fragrances. Right now my favourites are Bailando and Baciami.
Any who, Harvey Prince has their own subscription box and that is what we are looking at today. My last review was the December Box in which we all received a full-size bottle of Skinny Chic. It was a special little Christmas gift for their subscribers. Pretty awesome if you ask me.
Here's a closer look at the items in my February Box:
Temptress Exfoliating Bar Soap
Temptress Bar Soap by Harvey Prince uses proven anti-aging actives, which reduce fine lines and rejuvenate your skin's overall appearance. It's moisturizing and exfoliating ingredients- green tea leaves, essential oil of lavender, pumpkin seeds and Mowrah shea butter- leave the skin looking and feeling smoother and sexier. Temptress Bar Soap is formulated with a 100% natural Ultra High Foam soap base to produce a thick, long-lasting foam. 
Eeek! How fun is this! I certainly wasn't expecting a big ol' bar of soap. I'm super excited right now. And I'm even more excited to discover that this particular bar uses proven anti-aging actives, which reduce fine lines and rejuvenate your skin's overall appearance. I am extremely picky with my soap, and that may sound funny, but it is true. I don't use regular face cleanser, I only use soap, so I pay special attention to the ingredients and it NEEDS to be 100% natural, which this is.
Harvey Prince – The Original Fango Mud Therapy
Reveal your best skin from head to toe with our Fango Mud Therapy. Blended with moisturizing Sweet Almond and nourishing Avocado oils, along with rejuvenating Green Tea antioxidants and exfoliating Volcanic Ash minerals, our Fango Mud intensely hydrates, protects and deep cleanses your skin. Bring out your body's sparkling natural luster and tone with Fango Mud.
I feel like I learn something new about Harvey Prince every time I receive a box. I had no clue they had so many different products. This one is a mask, you apply it to your skin, leave on for 5 minutes and wash thoroughly. It smells clean and fresh and I am super happy with the main ingredients – almond oil, avocado oil, green tea and volcanic ash minerals.
Cleopatra
Regal. Ravishing. Romantic. With notes of enchanting Egyptian jasmine, lush gardenia, fresh frangipani, dewy lilac, sensual sandalwood and spicy vanilla bean, it has a sweet scent. 
I find this one to be a little too floral for my liking, I usually prefer fragrances with a vanilla base and whole lot of sweetness. But here's the thing, I still like it. I think that's why I am so obsessed with Harvey Prince. I like everything I receive from them, even if it's a scent I normally shy away from.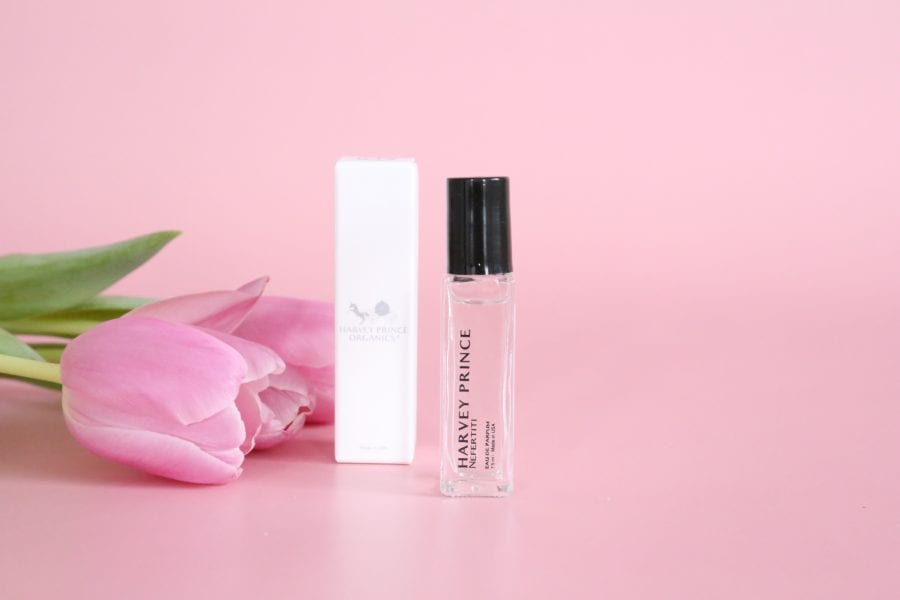 Nefertiti
Refined. Elegant. Luminous. Notes of lush Egyptian jasmine, rich cedarwood, sensual sandalwood, warm amber, spicy vanilla, deep musk and fresh bergamot.
Out of the two I definitely prefer this one. Again, it's a scent I wouldn't usually gravitate towards, but there's something about it that's pulling me in. The spicy vanilla, amber and musk balance our the jasmine and sandalwood nicely. The blend isn't overpowering, it's intriguing. It's the weirdest thing. I didn't love it at first, but the more I smell it the more I like it.
Perfumista
A fragrance designed with magically evocative notes that will immediately awaken your deepest senses. The sheer floral scent of Perfumista combines essences of Moroccan jasmine, lily of the valley and bergamot with warm undertones of sandalwood, amber and musk. A floral explosion that makes everything more positive. 
I find this one to be an interesting blend of floral and musk, with a little bit of sweetness.
Sincerely
Savor the delicate notes of South African Freesia, Japanese Orange flower, and Moroccan rose – it's like sipping a sweet, Alsatian wine in the light of the sun! Hints of spicy Indonesian Clove Bud trickle in while the deep and intriguing Australian Sandalwood transports you to a faraway land. Sincerely's relaxing and mystical powers will stir your imagination and reconnect you with your own destiny.
Wow, I was not expecting to like this as much as I do. We received the matching body cream in our December Box and I'm surprised that I don't remember the lovely scent. I spritzed it on the product card while writing the description and I can't stop smelling it. I can definitely smell the rose and orange flower, it's a really lovely combination.
The Story of Perfume Box Review February 2017 – Final Thoughts
The Story of Perfume Box is one of my favourite boxes to receive. Ashley and I both received one this month and you should have seen us when they arrived, just like two little kids on Christmas morning. I made Ashley open hers right away so we could peek inside. She likes Harvey Prince as much as I do. When she first joined the AYOB team she asked me what some of my favourite boxes were and this one was at the top of the list. I remember telling her – wait until you smell their fragrances, they are amazing!
In regards to the February box specifically, I am extremely happy. If we want to talk value, it is definitely there. The mini roller balls and soap are all $30 each if you purchase them on their own. That's more than triple the cost of the box right there. The fragrances we received this month were interesting, pretty and fresh – perfect for Spring. I absolutely love this subscription, and this brand in general. I made the mistake of snooping around on their website and found at least 5 different things I want to purchase. They have skin and hair bundles of their Hello fragrance, which is to die for. Come to think of it, I want everything on their site. Let's just leave it at that.
XOXO
Explore.
Save.
Enjoy!
Sign up for a free account on A Year of Boxes to receive exclusive offers, be added to our monthly mailing list, and much more! We are always adding features to improve the experience for our users, from their valuable feedback!
Join Today!