The Wanderlust Review Summer 2017
The Wanderlust is a quarterly box full of style, travel, beauty and fitness items from unique brands around the world. Each box's theme is based on an iconic beach destination and has over $250 worth of full-sized products and lifestyle tips for you to discover! They kindly sent us this box for review.
Boy, have we got a review for you today!! If you aren't familiar with The Wanderlust consider this the introduction of your life! This is only our first review, and we already know that this is going to become the most popular box in our directory.
Subscription Details
The Wanderlust is a quarterly subscription. You can sign up for a recurring subscription or you can purchase the annual subscription. It is a discovery box with over $250 worth of beauty, style, travel and fitness essentials every quarter!
Here's a look at the items we received in the Summer Box…..
Summer Theme: The Hamptons
Escape for a swanky summer getaway with The Wanderlust: Hamptons edition. Pack your elegant white dresses, cruise with the top down along a picturesque Main Street on your way to the pristine private beach, and savor a glass of rosé on a sailboat as you watch the sunset over the Atlantic Ocean.
Equa Active Water Bottle ($19.99)
Shaped from borosilicate glass to perfectly fit the palm of your hand, you'll never let this water bottle out of your site. Whether you're headed to the gym, out running errands, or staying hydrated during the day. Made in Europe and 100% leak-proof.
I get very excited when I see products like this in my subscription boxes, so we are off to a good start. The bottle shape is unique, the color is beautiful and it promotes earth-friendly behaviour. I refuse to purchase bottled water so this will be used often.
Starwoods Sports Massage Ball ($14.99)
After spin class or outdoor yoga, use this on your sore and tight muscles to release tension, reduce pain, and increase circulation and mobility. Keep it in your gym bag or travel bag to use any time you need a boost on the go.
I absolutely LOVE that they include fitness related items in their subscription box. I was introduced to fitness massage products a couple months back and am slightly obsessed. I have a foot massage ball at my desk and use it all day long. I am excited to give this one a try, there are a number of different ways to use it…….on your back, thighs, arms…..you name it.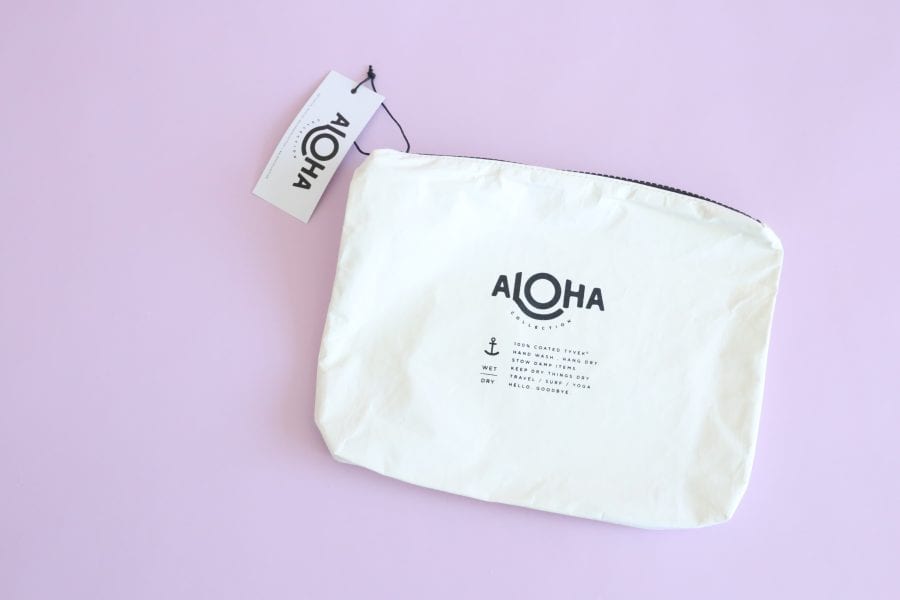 Aloha Collections Wet Bag ($28)
Never leave the pool with a soaked beach bag again. Keep your wet bikini in this splash-proof travel bag, or use it to carry your travel-sized beauty products from beach to bar, pool to plane, and boat to dock.
I am always happy to receive wet bags. I use them in my beach bag, gym bag and in my purse.
Kimberly Parry Organics Cleansing Oil ($30)
Cleansing oils are the best way to remove dirt and makeup from your face while keeping your skin hydrated and supple. With dry hands, massage this cold-processed gentle oil into dry skin for two minutes then rinse off with warm water. For deeper treatment, drape a warm, damp cloth over your face with the oil on your skin to open your pores, then remove with a cool cloth and rinse.
You all know how much I love my face oil, but until now I have only used it as a moisturizer. I am yet to use it as a cleanser but am certainly open to the idea. I've heard good things about oil cleaners and am actually really excited to see one in the Summer Wanderlust Box. It is made with the following oils: orange, olive, rosemary, clary sage, and jojoba.
Viter Energy Mints ($4.99)
Start your summer day early with help from these energy-boosting breath mints with 40 milligrams of caffeine. These mints are the perfect way to invigorate you at a moments notice, and leave your mouth tasting minty fresh.
Goddess Gardens Sunscreen ($14.99)
Made with plant-based ingredients and natural minerals, this daily use natural sunscreen gives you the protection you need. It's non-greasy organic, reef safe, and biodegradable. Not only good for your skin, but good for the world around you.
This is the perfect item for a Summer box! I am a huge fan of this brand, and am very happy to receive a natural sunscreen. I try to avoid the sun as much as possible, but I also love to run outside in the morning. This will come in very handy for my outdoor workouts over the next couple months.
Ecco Bella Tinted Lip Smoother ($21.95)
Keep your lips looking beautiful through your active day with this Vitamin E Lip Smoother that eliminates cracks and dryness and adds a hint of color and shine. Great on its own or with lipstick for ultimate moisturizing. Gluten-free and vegan.
I love a good lip balm, and I love it even more when it is tinted. I wear lip balm all day, every day. And some days my lips need just a hint of color. This is absolutely perfect.
Herbivore Botanicals Facial Mist ($16)
Created with pure plant actives (no fillers) in the USA with a based of coconut water. This mist is infused with youth-boosting hibiscus flower petals and moisture-enhancing rose to tone, hydrate and soften all skin types. After cleansing and before applying moisturizer, simply shake the bottle, spritz your face a few times, and lightly pat it in.
Facial mist is another face product I am yet to use. I know some people swear by it. I like that this one has a coconut water base.
Adoratheraphy Mood Boost Spray ($30)
100% natural and organic essential oils to boost your mood, up your confidence and leave you feeling fabulous all summer. Contains a blend of organic lavender, blood orange, ylang ylang, geranium, essential oils, and jasmine absolute.
This smells absolutely wonderful. I love mood boosting sprays. I like to keep one by my desk for long days spent in the office. They really are a great way to perk up your mood and give you a little boost of energy.
Olive + Piper Talia Y Necklace ($25)
Let this elegant necklace carry your summer outfit from daytime to nighttime. The delicate strands on this y-necklace are embellished with understated gold beads making this the ultimate layering piece.
This is simple, pretty and elegant. I could wear it with jeans and a tee, or a pretty Summer dress. It's a classic style that will suit most jewelry preferences.
Hello Hair Mask ($5)
Packed full of 100% natural ingredients, this treatment uses coconut oil, almond and argan oils to rejuvenate your sun and sea stressed, damaged hair. Simply apply to dry hair and let sit for 30 minutes before shampooing, or leave in under a shower cap overnight for maximum results.
If you haven't used an oil-based hair mask before, you MUST give it a try. I started using oil masks about 4 moths ago and my hair has responded very well. I'm not sure if everyone will see the same results I have, but since I started using oil masks my hair has gotten thicker, stronger, softer, and has more volume. I try to apply a mask like this at least once a week and I will leave it on overnight.
Transcendent Beauty Skincare Kit ($27)
This 4-piece set will get your skin summer-ready with the Empathetic Wrinkle Diminisher, Lightworker, Night Healer, and Skin Guide. You'll never even consider wearing makeup to the pool again as you watch dark spots, wrinkles, scars and fine lines disappear.
Quality skincare products are a MUST-HAVE in the Summer. If your skin is on point, you can skip excess makeup and go for the natural look. Which, in my opinion, is the perfect Summer makeup trend.
Henne Organics Rose Diamond Lip Exfoliator ($24)
Make sure your lips are silky smooth and ready for anything this summer with this luxurious lip exfoliator. Simply apply to damp lips and gently massage in a circular motion, then rinse with warm water.
This item pairs perfectly with the tinted lip balm above. Soft lips and glowing skin……the perfect combo for Summer.
Old Shanghai Kimono Robe ($24.95)
Lounge in luxury in a printed silky charmeuse robe that will keep you covered and cool all summer long. Machine wash cold, gentle cycle, hang dry.
This is where I get really excited. This gorgeous robe was the first thing I saw when I opened the box, and it was love at first sight. I've never received anything like this in any of my subscription boxes over the years, and it's about time one showed up. I am in love with this robe! This item just sealed the deal…….The Wanderlust Box is my new favourite lifestyle subscription box!!!
The Wanderlust Review Summer 2017 – Final Thoughts
This season's The Wanderlust Box has a total value of $280. I am absolutely thrilled with my first box from Bikini.com and think it is safe to say that it is a new favourite. The Summer box is beyond perfect. The theme is fun, the curation is thoughtful, and the product mixture is on point. We received a fashion item, jewelry, makeup, bath & body products and a fitness product. Where has this box been all my life! Coming in at $75 per box, the price point is reasonable, and the value is crazy. I'm actually kind of surprised that I haven't heard of this box until now. I think it's safe to say that this box is going to become quite popular, and will definitely be a contender for top lifestyle subscription box in 2017.
XOXO