The Zoe Report Box of Style Review Summer 2018
Box of Style is an exclusive box curated by Rachel Zoe and her team featuring over $400 of seasonal fashion and beauty finds for only $99.99. They kindly sent us this box for review. 
Box of Style is a box I look forward to each season. It feels like a special treat. It's full of fashionable finds, luxurious skincare items and gorgeous jewelry picks. Some boxes fit my style preferences better than others and the Summer box just happens to be one of my favourites thus far. As soon as I saw the spoilers I was sold. This season's box contains all your summer must-haves. Cover-up, towel, skincare, beach-worthy earrings and a gorgeous bag to carry them all in.
Subscription Details
Select Your Subscription Plan – Box of Style delivers the season's most coveted fashion and beauty finds to your door 4 times a year. Choose the quarterly plan and pay as you go or sign up for the year and receive a discount.
As a subscription service, Box of Style will automatically renew until canceled.
Renewal Dates
Spring renewal charges occur mid-February
Summer renewal charges occur mid-May
Fall renewal charges occur mid-August
Winter renewal charges occur mid-November
Shipping Dates
Spring boxes begin shipping mid-March
Summer boxes begin shipping mid-June
Fall boxes begin shipping mid-September
Winter boxes begin shipping mid-December
As a member, you can gift a one-time subscription using the gifting option. They currently ship to the US, Canada, Australia and the UK.
Summer Box Details
Summer is all about travel so we've curated finds inspired by some of my favourite destinations – St. Barth's, St. Tropez, the Hamptons and Positano. Each item can be mixed and matched with your existing wardrobe, styled for day or night and will look equally glamorous in your hometown or an exotic locale. We hope you love them all as much as we do. 
Here's a closer look at the items we received in the Summer Box of Style….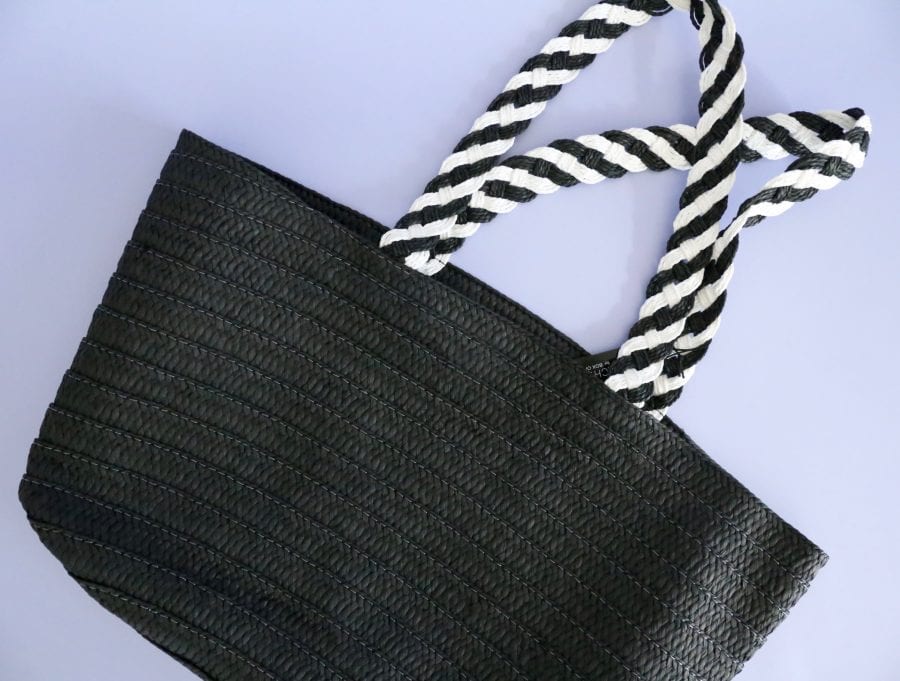 RZ x BOS Palm Straw Bag Exclusive ($99)
This optic black-and-white straw tote reminds me of summer in St. Tropez. Black and white is so timeless, it looks chic no matter what. This style is roomy enough to fit all your essentials—you can carry it all summer.
First up we have a versatile, gorgeous, summer tote. Thanks to the neutral color scheme you can pair it with basics or pretty summer patterns. The resilient weave means it can be rolled up and stashed in your suitcase which is a must for me when it comes to travel totes. This is DEFINITELY coming with me on our next tropical vacay.
For Love & Lemons LOOP Fringe Earrings ($63)
My obsession with fringe is no secret, and I love how these are playful enough for day but glam enough for evening. They're from For Love & Lemons' new jewelry line and we're so excited to introduce them to our members.
These gorgeous earring caught my attention immediately. I've been wanting to get a pair of tassel earrings but I'm super picky and until now I hadn't found a pair I liked. These little gems have my name written all over them – they are a neutral color, not too big but big enough to make a statement, and they are lightweight. You could wear these with jeans and a tee or a dress. I am in love.
Kate Somerville ExfoliKate Glow Moisturizer ($65)
My skin never can be hydrated enough. This product is one of my latest obsessions—I apply it a few times a day for an instant refresh and an immediate glow.
I have received this product before but I ended up gifting it to a friend. It wasn't until after I gifted it that I realized what an amazing product it is. Since receiving it the first time I have heard nothing but great things about this moisturizer. It includes ingredients like pumpkin, pineapple, and papaya enzymes. It claims to reduce dullness, and improve texture for a smooth, radiant complexion. Sign me up!
Bindya Lace-Up Cover-Up Exclusive ($115)
I wanted to include this cover-up because it can go everywhere and looks chic on everyone. I adore all white in the summer, and the lace-up neckline and pom-pom details make this feel so special.
I don't know about you, but I am always on the hunt for beach cover-ups. I have a couple but I'm not in love with them. The last beach vacay we went on I ended up using a plain cotton dress as a cover. Therefore, I am pretty darn excited to see this gorgeous cover-up in the Summer box. I love the color, the detail, and the loose fit. It's also pretty versatile. You could wear it over your bathing suit during the day or with a pair of jeans in the evening.
Skova Kilim Towel ($58)
I always entertain poolside, and I love decorating lounge chairs with vibrant towels. For relaxing on the beach or in the park, I think bigger is better, so we made sure these are sized for a picnic. Plus the print is so beautiful.
What Summer box would be complete without a fun beach towel. What I love about this one is the size (it's quite big), the tassel detail and the fun colors. Use it at the beach, for picnics, or just lazy days spent outside with a cool drink and a good book.
The Zoe Report Box of Style Review Summer 2018 – Final Thoughts
I am obsessing over the Summer Box of Style. Really I am! I think it's one of their best boxes to date. I love the beach/vacay theme and the versatility of each item included in the box. I also love the fact that it's not too over-the-top. It will appeal to the masses thanks to the fact that the fashion items can be dressed up or dressed down. The cover-up has a casual vibe as does the beach tote. The jewelry item is on trend and the skincare item is a beauty fave. This is what I like to see from Box of Style. The curation is on point and the value is amazing. Now I am even more excited for the Fall box. I really hope to see something similar – Fall vibes, versatile products and fashion items to get me through the season. I can't wait!
XOXO