TheraBox Review January 2021
TheraBox is a self care subscription curated by practicing therapists to inspire happier lives. Each month, you will receive a box that includes a happiness boosting activity and 6-8 wellness products to reduce stress and enhance your life.
They kindly send us this box for review.
Subscription Details
TheraBox subscribers may choose between a month-to-month plan, or 3-month, 6-month, and 12-month prepay plans. The monthly box costs $34.99 plus shipping, and TheraBox offers savings with for longer term prepay subscriptions. Each TheraBox has a value of over $120!
Every month, you will receive one happiness boosting activity inspired by neuroscience and positive psychology research in addition to 6-8 wellness products curated for the mind, body, and soul. These may include aromatherapy, natural/organic beauty, and unique lifestyle products.
Let's take a closer look at the January TheraBox!
Becalia Botanicals Hibiscus Clay Face Mask – $22
"Get clear, glowing skin in just a matter of minutes with the Hibiscus French Pink Clay Mask from Becalia Botanicals. Great for all skin types, this must have mask thoughtfully combines white kaolin clay with hibiscus powder, coconut milk powder, rosehip powder, aloe vera, and ylang-ylang essential oil which help hydrate, strengthen, and soothe the skin, as pores are being cleared. Made with the most gentle form of Kaolin clay, this mask is a powerhouse as it takes on the task of heavy-lifting by helping to draw out dirt, grime, and blackheads. Hibiscus, on the other hand, contains a natural source of AHAs that leaves the skin feeling and looking fresher, younger, and more radiant!"
I love a clay mask for my pores and blackheads. So happy to see this in the box! You can use this mask as a spot treatment for trouble areas or as an all over cleanse. Also Becalia Botanicals is a woman-owned company with a message of inclusivity and cultural awareness.
Nelson J Moisture Healing Hair Mask – $24
"Greet the new year with soft, shiny, and hydrated renewed locks. Whether you're in need of a little T.L.C. or a complete overhaul, this moisturizing hair mask will strengthen and smooth out frizzy strands in just a few minutes. Enriched with Argan Oil 7 formula that detangles, controls frizz, prevents color fading and seals split ends, Nelson J's Moisture Healing Mask smooths and strengthens the hair while creating an even surface and a hydrophobic layer that protects the hair from humidity."
This is perfect for my frizzy and brittle hair. I love using hair masks like this, and look forward to trying this one! I don't know why I never discovered hair masks sooner, but now that I have, I can't go without one.
Zoe Ayla Micro Needler Derma Roller – $33.99
"Meet your newest remarkable beauty treatment – Zoe Ayla's micro-needling derma roller! A precision instrument that is safely designed for at-home use, this spiky wonder tool uses 0.5mm long safe stainless steel long needles to gently micro-exfoliate and creates the appearance of smoother, plumper, firmer-looking skin. Gently roll the micro-needles over your skin and over all desired area to uncover renewed skin."
I see these derma rollers all over social media and am so intrigued! So excited to give it a try. I mean, plumper, smooth, and firm skin? Sign me right up!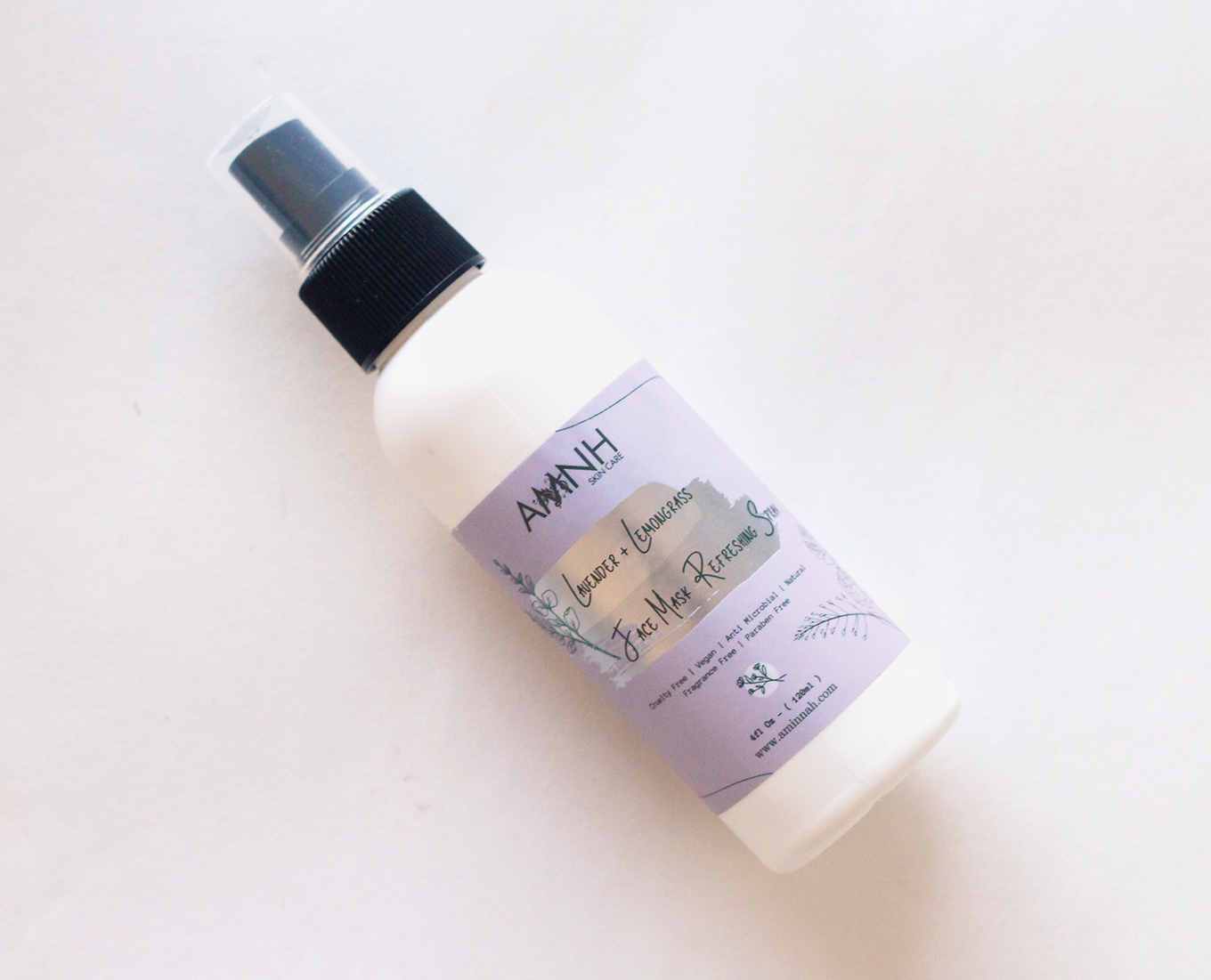 Aminnah Skincare Face Mask Refreshing Spray – $19.99
"New year, new rituals! Wearing a mask is one of the new norms right now so whether it's the coffee breath or food odors absorbed deep into your mask, this Lavender + Lemongrass Face Mask Spray will keep you nostrils happy every time you wear a face mask."
This is such an interesting product! I'm sure we can all relate to coffee-breath or food odor scented face masks and a refreshing spray is most certainly welcome.
Ariul Hand Sanitizing Tissue – $2.49
"Good hand hygiene is crucial to curtailing the spread of bacteria and viruses. And this year, we're keeping life a little more stress-free with these convenient sanitizing tissue pack from Ariul that purifies and cleanses the hands, skin, and even surfaces! Formulated with aloe to soothe and hydrate skin, it leaves a refreshing and non-sticky after feel while effectively killing 99.9% of germs and bacteria."
This is such an essential product right now! I carry around a hand sanitizer regularly in my bag now, but I love the convenience of wipes. The addition of aloe to hydrate is amazing! My hands get so dry nowadays from all the hand washing.
TYNT Beauty Phantom Liner (Black) – $18
"At times, something as simple as glamming ourselves for no apparent reason can instantly renew our moods. Now, more than ever, our eyes have become the window to our soul! This paraben and cruelty-free phantom liner is here to create eye looks from subtle to strong in a range of unique and classic colors for the perfect wing."
I can relate to that statement! Even with nowhere to go, I regularly put on a full face of makeup even if just to walk my dog because it's a routine that helps me feel more normal. A black eyeliner is a must in my makeup bag. Note: This is a replacement product for the Farmers Touch eye cream due to the vendor having to shut unexpectedly.
Willow Collective Mindful Pebble Rocks Set – $30
"Add a pinch of zen to your pantry and shake things up with a fresh take on the classic salt and pepper shaker and sauce dish combo! Accentuating function by redefining practical form, this three-piece stackable set includes a while pebble salt shaker, a matching zen grey pepper shaker, and a white base dish for sugar, syrup, or dipping sauce."
How pretty is this! I love when an item is both decorative and practical. It also took me way to long to realize that the bottom piece is not just a holder and can be flipped over to be used as a sauce dish.
Simple Self The Self-Care Planner – $30
"For everyone that's tried to get into journaling but ended up dropping it like a bad habit, we hear you. In a time where hustling is the norm, making time for yourself can sometimes seem like an impossible thing to do. Dubbed as the #1 Wellness Planner, this month's Happiness Boosting Activity uses a structured, science-based format along with plenty of different ways to document your progress. The Self Care Planner will help you prioritize activities that mean the most to you (even if you're super busy at the moment), but it'll also help you plan healthy meals, schedule workouts, track your sleep, and more."
I swear by my paper planners and love the idea for one dedicated for self-care practices! This is an undated 6-month planner that will walk you through steps to define your goals and help you reflect on your self-care practices. The planner has weekly and daily pages that will help you track sleep and mood patterns, habits, tasks, and goals. I definitely need to prioritize my wellbeing, and this planner will help me do just that.
TheraBox Review January 2021 – Final Thoughts
The January theme is "Renew" which is perfect for the start of a new year. This is my first TheraBox and it is amazing. I love the planner and will incorporate it into my current planning routine. I also love the clay mask, hand sanitizing sheets, and the pebble rocks set. If you are looking for a wellness lifestyle box, TheraBox is one worth subscribing to.
Toby & Rocket – http://www.tobyandrocket.com