TheraBox Review July 2019
TheraBox is a monthly subscription box curated by practicing therapists to inspire happier lives. Each box incorporates 1 happiness boosting activity inspired by research in mindfulness, psychology, and neuroscience to rewire the brain for more joy and positivity. Additionally, they select 6-8 wellness products sourced from vendors that produce natural, organic, and feel-good products ranging from aromatherapy, clean beauty/skincare, and unique lifestyle goodies. Themes and items change each month so it's always a delightful surprise!
They kindly sent us this box for review. Here's a closer look at the July TheraBox…….
Riddle Original Scented Roll-On Oil Perfume ($50)
This is their most popular fragrance oil formulated so that it blends with your personal chemistry to create a signature scent just for you. The scent is morphed with the warmth of your skin and is slowly absorbed and mixed with your body's natural fragrance. I tried it on and it smelled fantastic, warm and fuzzy. It is combined with musk and amber.
Lifeway Traveler's Defense + Immunity Probiotic Supplements ($24)
A probiotic supplement helps curb gas, bloating, and upset stomach, and works to boost your immune system. It is a bottle of 30 capsules with 50 billion organisms that will help your gut health. It helps the digestive system and I'm so excited to give this a try.
Kocostar Lemon slice Mask ($5)
These vitamin C lemon slice sheet masks are perfect for summer, it also calls for a cute instagram selfie with the little circular lemon slice design. You can apply it at any spot on your face or body. It has 12 slices packed with lemon extract. They are also made with Tencel fibres from eucalyptus tree which is safe for sensitive skin.
Vermillion Cosmetics Hyaluronic Lip Hydration Masks ($12)
I love using lip masks and these are packed with hyaluronic acid which will hydrate and soften your lips. It also has Aloe Vera and collagen that will soften any dryness or cracked lips. They are also cruelty-free and vegan.
Maskeraide Spotted Detoxifying Blemish Patches ($6)
I've been using pimple patches for some time now and love them and these are a great edition. Made in Canada, Maskeraide is one of my favorite brands with beautiful packaging. Two sets of 12 patches made with salicylic acid, tea tree oil and volcanic ash they will remove any impurities from your blemishes/pimples and leave the spot soft and clear. I love wearing these overnight.
Corpore Sanctum Rebalance Me Aloe Vera Moisturizing Ampoule ($19)
Rebalance Me is imported from UK and it comes in an eco-friendly bottle, it is packed with Aloe Vera and green tea to boost your skin's hydration. After applying toner and essence, ampoule is the next step before a serum to make your skin softer and more absorbing. This will balance your skin's pH level which is reduce inflammation and acne. It is a white fluid which does not have a scent and is very fast absorbing.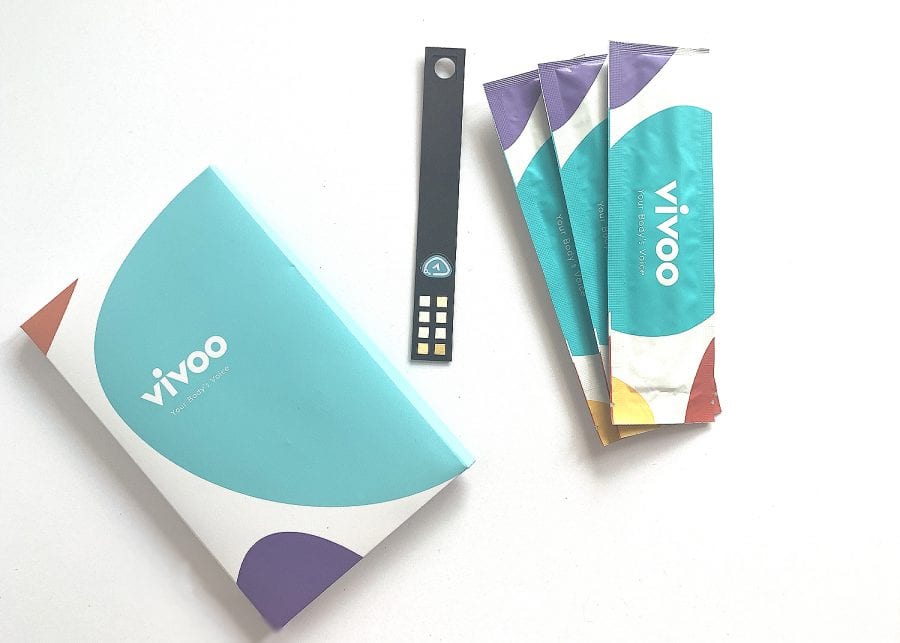 Vivoo 4-Strip Pack ($24.90)
This is my favorite product so far, I already used it and loved the outcome. It's a urine test with an app on the phone which will help to guide you to have a healthier lifestyle. The app shows your overall health, hydration level, kidney health, UTI, immune system, pH, liver health and glucose levels. I tried it and I'm happy to announce I got a 7/10 normal health with my current lifestyle. It's a must-try.
Xpand – Original No-Tie Lacing System ($9.99)
These shoe laces are made with elastic rubber so you no longer have to tie your shoe laces. Once you get the laces installed and fitted, you will no longer have to tie your shoe laces, they stay snug and won't come untied. Must have!
TheraBox Review July 2019 – Final Thoughts
The Free Spirit TheraBox edition was a fun one, I'm excited to incorporate the ampoule in my skincare routine asap, change my favorite sneaker's shoelaces, take a selfie with my lemon slice masks and hydrate my lips with the bubble gum colored lip masks.
Karen Kasbarian – http://www.mindaboutbeauty.com