Tie it On Review February 2015
I reviewed my first Tie It On package last month, and right away I fell in love with the tie they sent me. I was a little confused by their subscription offerings but I think I have it figured out this month. J is going to be pumped to have two more ties to add to his collection (I still haven't given him the one from last month's style pack).
If you aren't familiar with Tie It On it is a monthly subscription service that sends stylish accessories such as neckties, bow-ties, and socks to gentlemen looking for great items at affordable prices. This box was provided complimentary for review and may include affiliate links.
The Box: Tie It On
Cost:
Sock It To Me – $10 per month
Tie It On – $18 per month
Tie It On Style Pack – $25 per month
What You Get:
Sock It To Me – Receive a great super stylish pair of socks delivered to you every month!
Tie It On – Receive one of our amazing neckties hand-picked by our stylists for you every month (or choose the bow-tie option)
Tie It On Style Pack – Get one of our great ties plus one accessory and a matching pair of socks each month (or choose the bow-tie option)
Ships to: US
Shipping Cost: TBD
Tie It On has seven different subscription options for you to choose from, whether you want socks, a tie, a bow-tie, or a mixture, there's something for everyone. I am reviewing the Tie It On & Socks Style Pack. I was a little confused last month because I thought the package was supposed to include a third accessory but I must have been wrong, or they have changed the offering slightly. Anyways, each style pack contains one tie and a matching pair of socks………they had me at matching.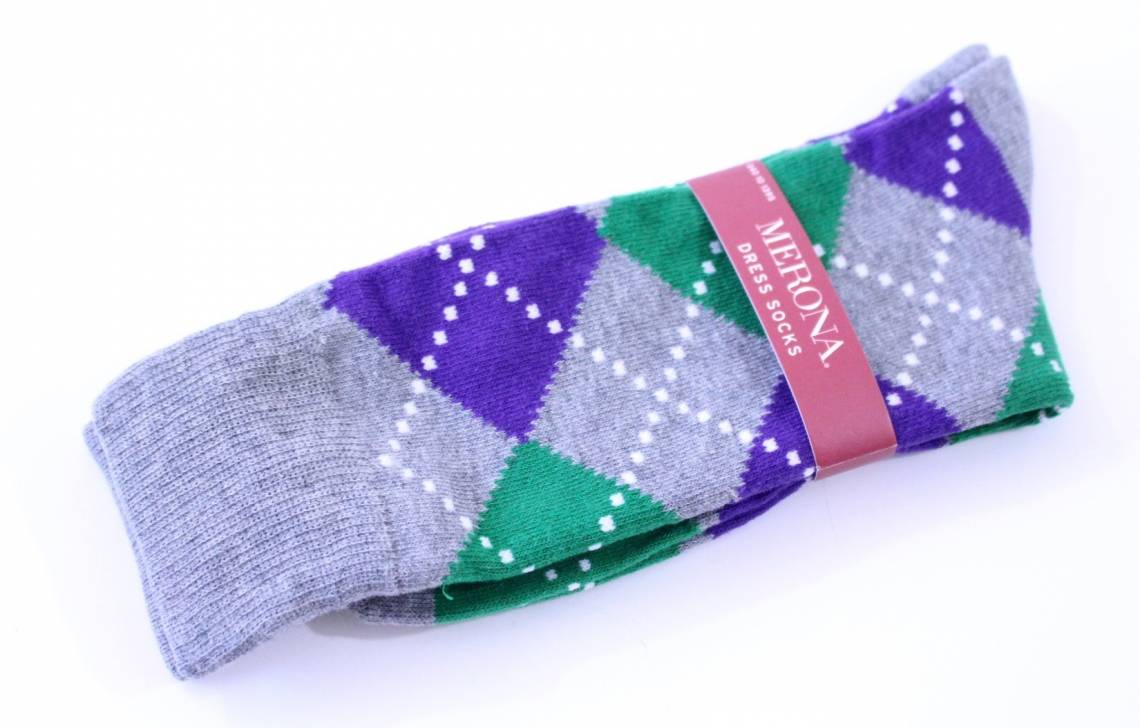 Socks – I'm definitely loving these socks but I received the same brand last month and would love to see a different brand in their packages. Merona is a Target brand so by including it every month they might take away from the perceived value….for some customers anyways.
Tie – Any guy who is confident enough to wear a purple tie gets bonus points in my books. J has been pretty good with the ties I've given him, and wears each and every one. I hope he'll rock this one because the lady customers will certainly appreciate it.
Thoughts: I am loving the idea of this box, what man doesn't want affordable ties and socks? Especially if they work in an office setting. However, they are competing with a couple other tie subscription boxes in the same price category, and those boxes include more than two items each month. Don't get me wrong, I think $25 for a tie and a pair of socks is a really great deal, but they definitely have some competition. Oh…..and I love that they match!
What do you think of Tie It On?
XOXO
Explore.
Save.
Enjoy!
Sign up for a free account on A Year of Boxes to receive exclusive offers, be added to our monthly mailing list, and much more! We are always adding features to improve the experience for our users, from their valuable feedback!
Join Today!