TokyoTreat Review April 2018
TokyoTreat is a monthly subscription box that delivers high-quality and hard-to-find Japanese snacks straight to your door! The box is shipped from Tokyo and inside, you can find premium snacks from salty, to sour, to sweet. TokyoTreat curates each box so you can experience limited edition snacks that you can't find anywhere else! They kindly sent us this box for review. This is a look at the April 2018 Premium Box.
Subscription Details
The Classic Box starts at $22.50/month and it includes 12 full sized items: 4 popular Japanese snacks, 4 sharable packs, 2 dagashi, 1 DIY kit, and 1 kinosei (health-benefit) snack.
The Premium Box starts at $31.50/month and it includes 17 full sized items: 5 popular snacks, 1 party pack, 4 sharable packs, 3 dagashi, 1 Anime snack, 1 DIY kit, 1 kinosei snack, and 1 Japanese drink.
Shipping is FREE worldwide!
This month's theme is Easter Hunt- which of course, is perfect for April! Inside this box, you will find a range of Easter-themed snacks that go wonderfully with the beautiful spring weather! These treats are sure to brighten up your season.
This booklet provides a "Snack Menu" which includes useful information and yummy descriptions about each treat you receive in the box!
Here is a closer look at the snacks: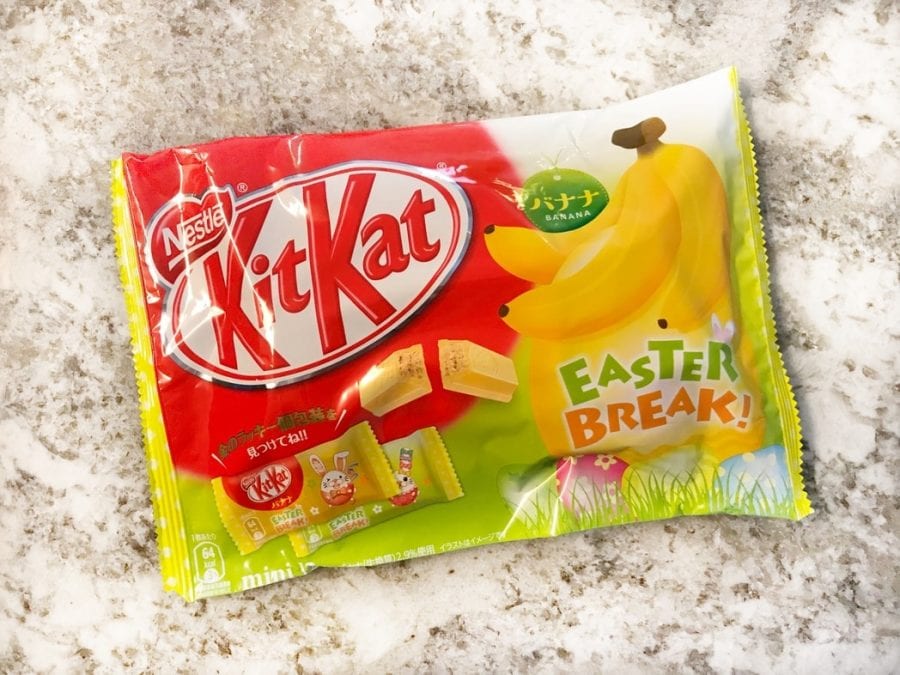 Easter Banana Kit Kats
TokyoTreat has been dropping hints all over their social media about these being in the April box, and they sure did not disappoint! I loved these Kit Kats and thought there was just the right amount of banana flavor (I'm typically not a huge fan of banana-flavored snacks, but this one was an exception). This bag contains 12 different Easter designs and 1 "golden" design, making it so much fun to share with friends!
Gudetama Candy
This tasty yogurt-flavored candy is filled with rich orange sauce! All the candies also have various Gudetama facial expressions on them!
Afternoon Tea White Chocolate Milk Tea
Taste the elegance of this rich, satisfying white chocolate milk tea brought to you by the popular series Afternoon Tea! This seasonal exclusive drink's packaging is designed to look like a piece of white chocolate too. When I first saw this in my box, I was afraid that it would be too sweet for my taste. But I ended up loving the perfect blend of white chocolate. Wish I could have seconds!
Pakkuncho Disney Custard Pudding Biscuits
Disney snacks are here to brighten your day! These snacks are a limited-time custard pudding flavor biscuit that are also in an exclusive packaging. Not only that, but the snacks themselves also have limited-time Easter designs on them!
Baby Bear Gummies
This popular dagashi snack is a fun colorful gummy snack that is shaped like cute bear cubs! The various colors remind me of the many Easter egg designs that this holiday is known for. You can definitely never go wrong with fruity gummy bears!
Colorful Seeds Soft Candy
Time to get creative with this fun mix and match snack! This soft candy snack includes a mix of ramune, grape, and orange flavors! You can also eat two flavors at once to create other fun flavors such as green apple and orange juice! Which combination will you create?
Kyoro-chan's Custard Pudding Snack
Let's celebrate the Easter season with these delicious Kyoro-chan custard pudding chocolate balls that are designed to look like fun Easter eggs. You can even hunt for Kyoro-chan and Easter eggs on the packaging!
Calbee Plum Seaweed Chips
Are you ready to experience this harmony of sweet and sour plum and soothing salted seaweed flavors? These Calbee Plum Seaweed Chips are a scrumptious experience. The packaging is also special as it is a collaboration design with Kyoto based textile brand SOU SOU.
Umaiwa Cheese
The same company who makes the popular Umaibo brings you this satisfying corn puff ring snack Umaiwa! This flavor is inspired by cheese fondue (yes please!!!). Enjoy the rich cheese flavor as you snack on these yummy ring treats!
Healthy Snacking Squishy Lemon Gummies
Want to snack guilt-free? This month's kinosei snack is delightful lemon gummies that are packed with fiber and protein to help create a sense of being full, which protects from overeating. Perfect for a filling snack while on the go!
Umaibo Teriyaki Burger
The fan-favorite Umaibo this month is a drool-inducing teriyaki burger flavor! Teriyaki burgers are an incredibly flavorful sandwich that is enjoyed throughout Japan, and this snack allows you to experience this delight as well.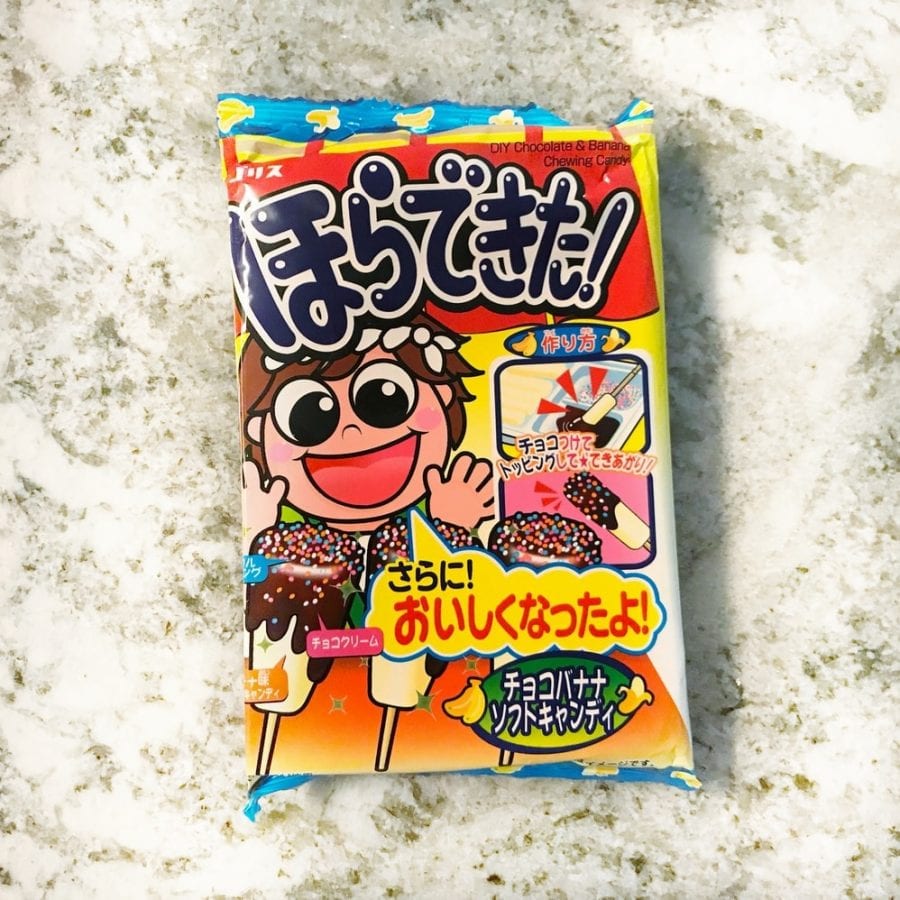 Choco Banana DIY Kit
I always look forward to the DIY kit every month, not only because they're delicious but also so much fun (especially with friends)! With this DIY, you get to have fun decorating your choco banana with chocolate cream and colorful toppings. Choco bananas are a popular snack at Japanese festivals, and now you get to experience one as well with this DIY kit.
Don Tacos Grilled Corn Flavor
Inspired by the popular grilled corn dish in Japan, this corn snack is flavored like Japanese grilled corn. Grilled corn is often topped with butter and soy sauce in Japan, and so this snack will make you taste those flavors with every bite!
Caramel Corn Share Pack
This month's share pack is the insanely popular Caramel Corn Japanese snack. This corn snack is a sweet caramel flavor with peanuts that disappear instantly as everyone wants a bite! Who will you be sharing this snack with?
TokyoTreat April 2018 Review – Final Thoughts
I give this month's box a two thumbs-up! I loved the variety of flavors I received, and there wasn't a single snack that I didn't like! The packaging on each snack was also so intricate and adorable. I really appreciated the variety of limited-edition Easter themed snacks that you can't find anywhere else! My favorites this month are the Umaiwa Cheese, Baby Bear Gummies, and of course, the Easter Banana Kit Kats!
With Love,
Cynthia – www.instagram.com/cynthia_fu