TokyoTreat Review August 2019
TokyoTreat is a monthly subscription box filled to the brim with yummy Japanese snacks. Each month you'll receive popular snacks including candy, chips, crackers, and more! They kindly sent me August's Premium box to review. So lets dig in!
Subscription Details
Box Details: TokyoTreat specially curates their monthly snack boxes with a mix of popular out-of-this-world treats as well as traditional flavors. Subscriptions come in two sizes: Premium and Classic.
TokyoTreat Packages:
Premium: 17 full-size items. (Extra items not included in Classic: 1 Japanese drink, 1 additional Japanese snack, 1 Party Pack, 1 additional Dagashi, and 1 Anime Snack)
Monthly: $35/month
3 Months Prepaid Plan: $33.50/month
6 Months Prepaid Plan: $32/month
12 Months Prepaid Plan: $31.50/month
Classic: 12 full-size items
Monthly: $25/month
3 Months Prepaid Plan: $24/month
6 Months Prepaid Plan: $23/month
12 Months Prepaid Plan: $22.50/month
Shipping: Free Worldwide Delivery
Here's a closer look at the box theme and the items I received this month….
August Theme – Slice of Summer
Included in every TokyoTreat box is a mini magazine that gives you in-depth details of each treat in the box, descriptions, upcoming news, and mini activities!
Salt and Lemon Kit Kats (Premium)
Another month, another new and exclusive Kit Kat flavor! This month's special flavor is Salt and Lemon. This flavor leans much more fruity, with sour lemon and hints of salt coated in a sweet white chocolate. I absolutely LOVE this – it's a citrusy and refreshing lemon cream that's not too sweet or overpowering. There's 11 mini packs in a bag, but trust me, you'll want to keep them all to yourself!
Tohato Caramel Corn Ramune (Premium)
Ramune is a summertime classic for Japan and the Tohato Caramel Corn Ramune combines the popular fizzy drink with sweet caramel.
Strawberry Soft Serve
Shaped like an actual ice cream cone, the Strawberry Soft Serve is actually a sweet marshmallow treat!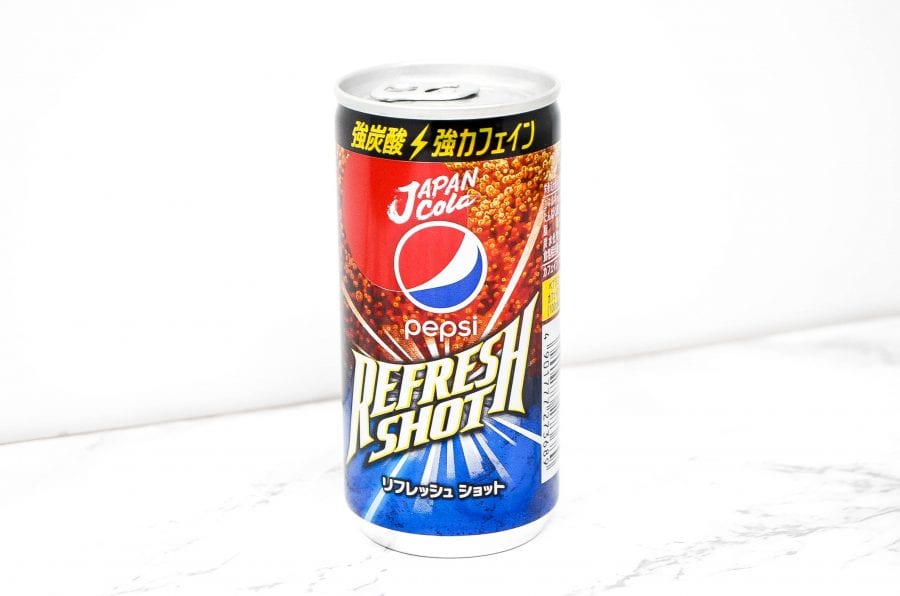 Pepsi Refresh Shot (Premium)
This mini can of soda contains twice the amount of caffeine compared to a regular Pepsi. It has a much sweeter and sugary taste that will keep your energy up all day!
Mandarin Orange Gummies
The Mandarin Orange Gummies come in the shape of miniature orange slices! They're made with real orange juice, so the flavor is refreshing, tangy, and sweet!
Fruit Gummies (Premium)
More gummies! These Fruit Gummies come in a pack with assorted flavors and shapes, including flavors like lime, pineapple, strawberry, grape, and orange.
Fruit Ramune Powder Candy
The Fruit Ramune Powder Candy is a ramune flavored tablet candy that comes housed in the adorable fruit shaped packaging! The tablets fizz into bubbles in your mouth, just like soda.
Grape Ramune Candies
The Grape Ramune Candies are another type of tablet candy, but this one is tart and grape flavored.
Pokemon Sun and Moon Gum (Premium)
This stick of gum has a delicious long-lasting grape flavor. Plus it comes in a cool Pokemon wrapper!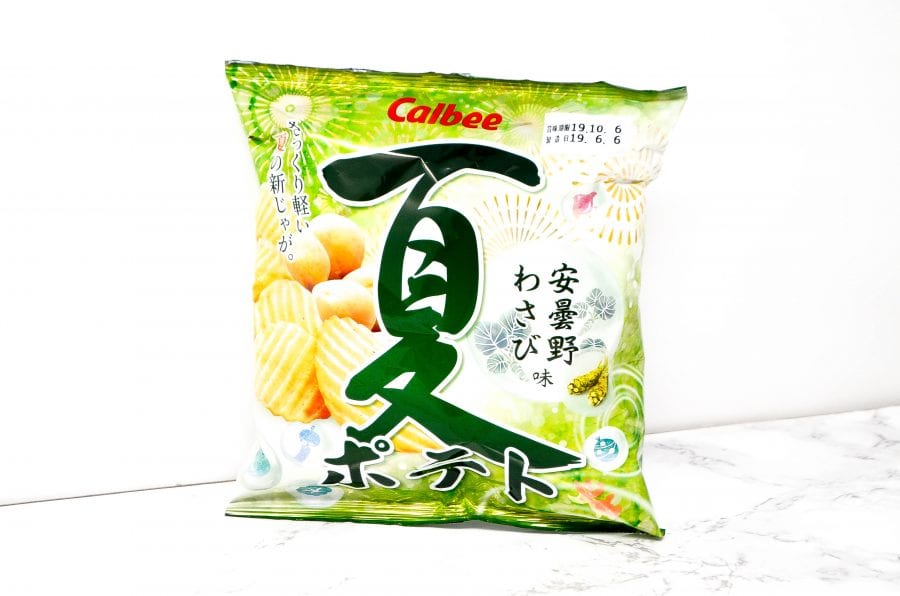 Calbee Wasabi Potato Chips
I'm usually not a fan of wasabi flavored anything, but the Calbee Wasabi Potato Chips were BOMB! The potato chips are thickly cut with ridges and are bursting with authentic wasabi flavor. It's enough to wake up my senses, but nothing too spicy!
Texas Corn Salty
The Texas Corn Salty snack consists of crunchy corn puffs full of sweet corn flavor. I know the name says it's salty, but I actually thought it was very sweet and tasty!
Umaibo Lemon
This month's umaibo flavor is lemon! I'm used to savory umaibo flavors, but this one tasted more like a dessert snack. It has a sweet and tangy lemon flavor that was tasty, but it didn't mix well with the crunchy texture. Not horrible, but not my favorite.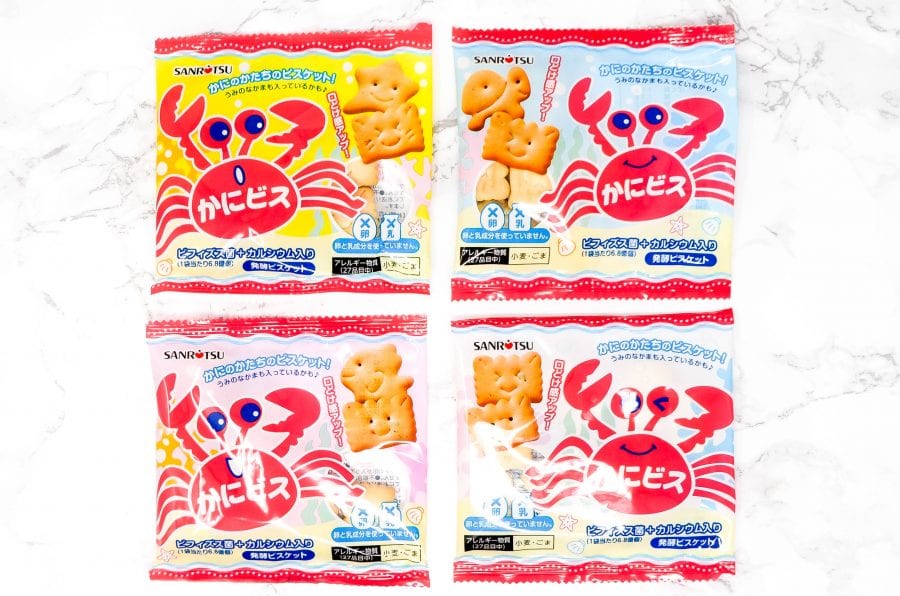 Crab Biscuit 4 Pack
The Crab Biscuit share pack comes with biscuit crackers shaped as adorable sea creatures! I was expecting a seafood/crab flavor, but these are just plain and regular ol' biscuits with a semi-sweet hint flavoring.
Coris Fruit Shop Soft Candy DIY
This month's DIY snack is a super cute mini fruit shop kit. It comes with several strips of soft candy and molds for you to create the "fruit". There's also a mini fruit stand for you to fold into place and place your fruit on!
TokyoTreat Review August 2019 – Final Thoughts
The August TokyoTreat box contained such a refreshing mix with mostly fruit flavored snacks and ramune inspired treats. I think this fits the "Slice of Summer" box theme really well, and there were also several savory snacks to balance out the mix. My favorite item this month was the Salt and Lemon Kit Kats. It's always super exciting to receive a new and exclusive Kit Kat flavor, since it's nearly impossible for me to get my hands on them otherwise. I also really enjoyed the Calbee Wasabi Potato Chips and of course, all of the gummy candies!
Mary Vu – http://thepointofvu.blogspot.com