TokyoTreat Review February 2016 – Japanese Subscription Box
Japanese subscription boxes intrigue me. I'm one of those people who can spend hours at the Walmart when I travel to the US because you guys have way better snacks than we do….why is that? Anyways, Japanese snack subscription boxes are kind of like a mini trip to random grocery stores I've never been to before, because I get to discover all these crazy snacks us Canadians don't have access to.
Today I am reviewing TokyoTreat and if you aren't familiar with this subscription box, it is a service that delivers you a box full of unique and fun Japanese candies and snacks directly to your doorstep every month. This box was provided complimentary for review.
The Box: TokyoTreat
Cost:
Small – $14.99 per month
Medium – $24.99 per month
Large – $34.99 per month
What You Get: Every box from TokyoTreat will be a surprise! Depending on what subscription you decide on, you will receive 13 to 17 full-sized Japanese candies that would otherwise be very difficult to find outside of visiting or living in Japan.
Ships to: Worldwide
Shipping Cost: FREE
One thing I can say about TokyoTreat is, the box is huge, that packaging is bright and fun, and they have one of the best product cards out of any Japanese subscription box I have reviewed…..they get bonus points for that one. Product cards are very important when it comes to Japanese subscription boxes….I need to know what I am eating.
Grain Gummy – These look like jelly beans so I consider them a "safe" treat. They come in a few different flavours, including muskat….what is muskat?
Bonus Snack – Since this is our bonus snack it's not listed on the product card. It looks like shrimp puffs but says it's caramel corn….I'm intrigued.
Nagewa Mentai Mayo Flavor – Crispy potato rings that are actually very good….they were the first thing I ate.
Dontaco's Chili Tacos Flavoured Chip – These look just like Doritos so I would consider these a "safe" snack…..just like the jelly beans.
Sweet Red Bean Soup – Ummmm…..what is this! Red beans are used in Japanese confectionaries so at least that tells me this is a sweet drink. You are supposed to serve it warm.
Pocky Fleck Strawberry Heart Full – You can NEVER go wrong with Pocky, and you can NEVER go wrong with hearts….enough said.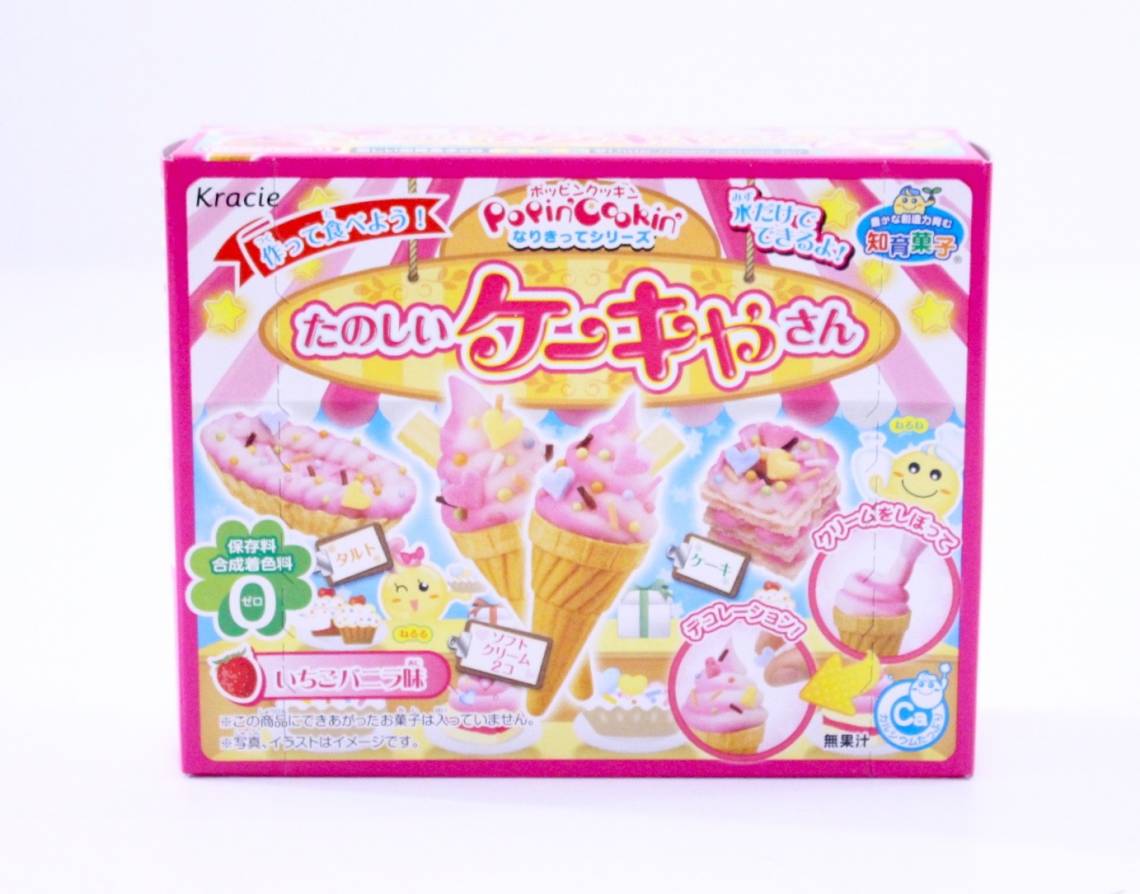 Kracie's Mr. Fun Bakery – This is hilarious! It's a DIY kit to make your own pies….my nieces will LOVE this.
Good Luck Chopsticks – Definitely my favourite item in the box!! I now have my own pair of pretty chopsticks.
Fujiya Peko Poco Chocolate – The faces creep me out but it's chocolate, so I will probably still try it.
Kiki and Lala Strawberry Crunch – This looks like strawberry flavoured rice crispy treats.
Princess's Lost Treasure – Double berry cookie crisps – these sound good.
Lotte Koume Soft Candy – These are sweet and sour, and pickled plum flavour….I'm not even sure what to say about that.
String Candy Grape & Muscat Taste – What is muscat! This is the second treat in the box flavoured with muscat.
Collins Strange Gum 2 – This is flavour changing gum, it starts off as either lemon, strawberry or blueberry and changes to grape after a little while…..how does that happen?
Looks Two Types of Strawberry – These will probably end up being my favourite treat in the box. It's a chocolate coated strawberry treat and you can never go wrong with that flavour combination.
Thoughts: Even though Japanese snack boxes aren't my favourite, I have to say that I am impressed by the way this one is put together. The packaging is great, the product card is thorough, and the snacks are really fun. I won't be eating all of them, but it was still very exciting to go through them. I think TokyoTreat has a good thing going on here. It's definitely not for everyone, but if you like snacks from Japan then this is one to keep an eye on.
What do you think of TokyoTreat?
XOXO