TokyoTreat Review February 2019
TokyoTreat is a monthly subscription that delivers a huge box of yummy Japanese snacks straight to your doorstep. Each month you'll receive popular snacks including candy, chips, crackers, and more! They kindly sent me February's Premium box to review. So lets dig in!
Subscription Details
Box Details: TokyoTreat specially curates their monthly snack boxes with a mix of popular out-of-this-world treats as well as traditional flavors. Subscriptions come in two sizes: Premium and Classic.
TokyoTreat Packages
Premium: 17 full-size items. (Extra items not included in Classic: 1 Japanese drink, 1 additional Japanese snack, 1 Party Pack, 1 additional Dagashi, and 1 Anime Snack)
Monthly: $35/month
3 Months Prepaid Plan: $33.50/month
6 Months Prepaid Plan: $32/month
12 Months Prepaid Plan: $31.50/month
Classic: 12 full-size items
Monthly: $25/month
3 Months Prepaid Plan: $24/month
6 Months Prepaid Plan: $23/month
12 Months Prepaid Plan: $22.50/month
Shipping: Free Worldwide Delivery
Here's a closer look at the box theme and the items I received this month….
February's Theme – Sweet Valentine
With all of the excitement Valentine's Day brings, February is definitely the month of love. This month features delicious sweet treats for you and your loved ones. Included in every box is a mini magazine that gives you in-depth details of each treat in the box, descriptions, upcoming news, and mini activities!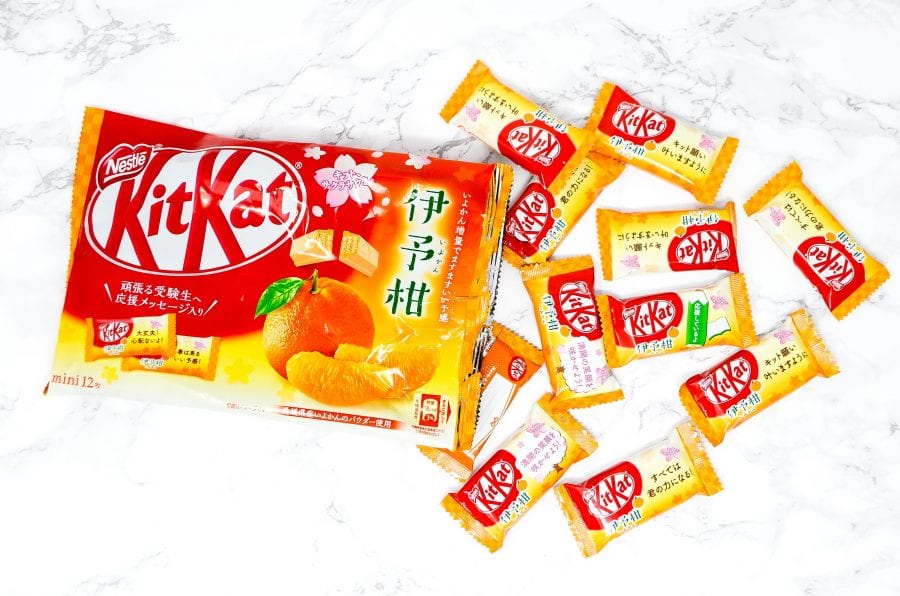 Japanese Mikan Kit Kats (Premium)
This month, subscribers received another big bag of Kit Kats! This one contains the unique flavor of the Japanese Mikan fruit, which is a citrus fruit very similar to oranges. These Kit Kats are covered in a sweet and creamy white chocolate that's infused with real tangy Mikan flavoring. It reminds me a lot of creamsicles! Not my favorite Kit Kat flavor, but they're delicious nonetheless!
Canada Dry Sparkling Sangria (Premium)
Let me preface this by saying, I've never had sangria before, but this was SO good! You get the strong bubbly carbonation from this soda, but mixed with a grape juice/sangria flavor. It reminds me a lot of sparkling grape juice (like Welch's), but with a stronger carbonated kick. I'm hoping the US starts to carry this soon, because I would pick this up in a heartbeat.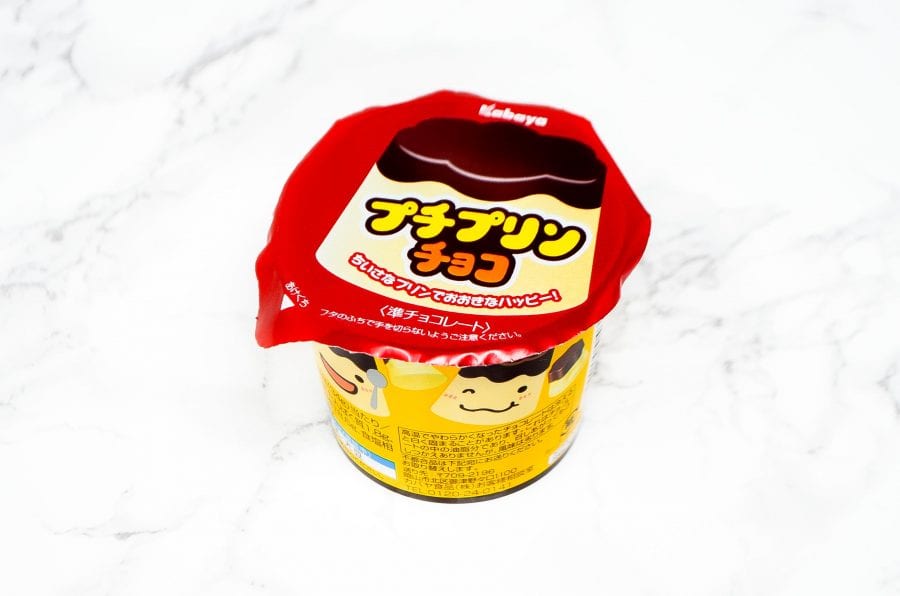 Petite Pudding Chocolate (Premium)
These bite-sized pieces of flan-flavored (caramel) pudding and chocolate is the perfect sweet treat for a valentine. These were a little too sweet for me, but they were great in moderation!
Calbee Chocolate Dipped Chips
Usually, I'm a fan of mixing sweet and salty flavors, but these chips just did not work for me. The potato chips are thickly cut with ridges and lightly drizzled with chocolate. The chip part tastes salty and maybe a little too savory, while the chocolate was sweet. I didn't feel like the flavors complemented each other well and overall, it's a pass from me.
Kimchi Rice Puffs (Top)
I did not expect much from this, but this surprised me by being my favorite snack this month! The rice puffs were so crispy and crunchy, which paired well with the spicy kimchi-flavored kick. These were so addicting and disappeared in seconds.
Super Heart Chiple (Bottom Left)
The Super Heart Chiple is a rice puffed cracker snack that's full of savory garlic flavor. These are shaped as hearts, so it's a perfect snack for Valentine's day to gift or to eat for yourself. These were very tasty I ate them all myself!
Soy Sauce Crackers (Right; Premium)
This pack of wheat crackers comes with two round pieces of airy crackers with a very faint soy sauce flavoring. I didn't really like this one because it was lacking in flavor, and the texture was too light without enough crunch.
Cat Paw Marshmallows
The Cat Paw Marshmallows are bite-sized, fluffy marshmallows with cute pink cat paws printed on them. Like typical marshmallows, these were soft and airy with a subtle vanilla sweetness to them.
Calbee Vegetable Salad Heart Chips
One of the healthier and savory snacks this month is the Vegetable Salad Heart Chips by Calbee. These are heart shaped puffed chips that come in various colors and vegetable flavors. They come in a share pack of 4, so it's perfect to gift to a valentine.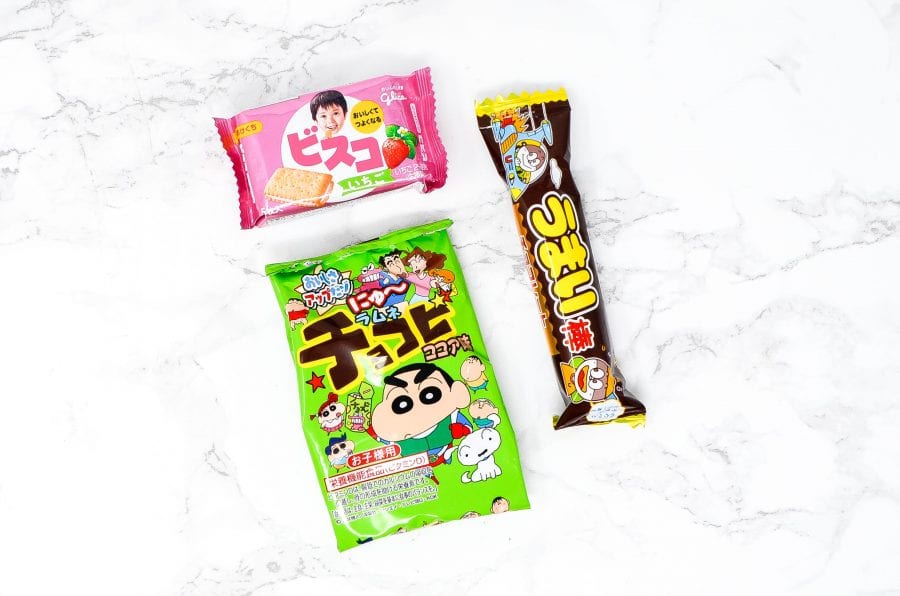 Glico Strawberry Biscuits
This convenient packet of strawberry biscuits comes with 5 sandwich cookies. They have a sweet strawberry cream filling, which tastes very similar to strawberry cream used with strawberry Pocky. I enjoyed these a lot, and the small size is perfect for snacking on-the-go!
Shin-Chan Chocolate Stars
The pack of Shin-Chan Chocolate Stars comes with 10 individually wrapped star-shaped tablet candies. They have a rich hot cocoa flavor that has just a hint of sweetness. I'm usually not a fan of tablet candies, but this one was surprisingly good.
Chocolate Umaibo
Wow! I've loved every single Umaibo flavor I've tasted so far, but this month's Chocolate Umaibo is probably the best dessert one yet! Unlike typical umaibo snacks, this version is significantly smaller, but what it lacks in size, it makes up for in taste! The umaibo consists of a corn puff stick coated and infused with a rich and creamy milk chocolate. The only bad thing is that I wish I had more!
Pokemon Chocolate Puffs
The Pokemon Chocolate Puffs are made out of a Pikachu-shaped corn puff that's infused with chocolate flavoring. These were sweet, crispy, and very airy in texture. There's also a mini collectible Pokemon sticker inside each bag!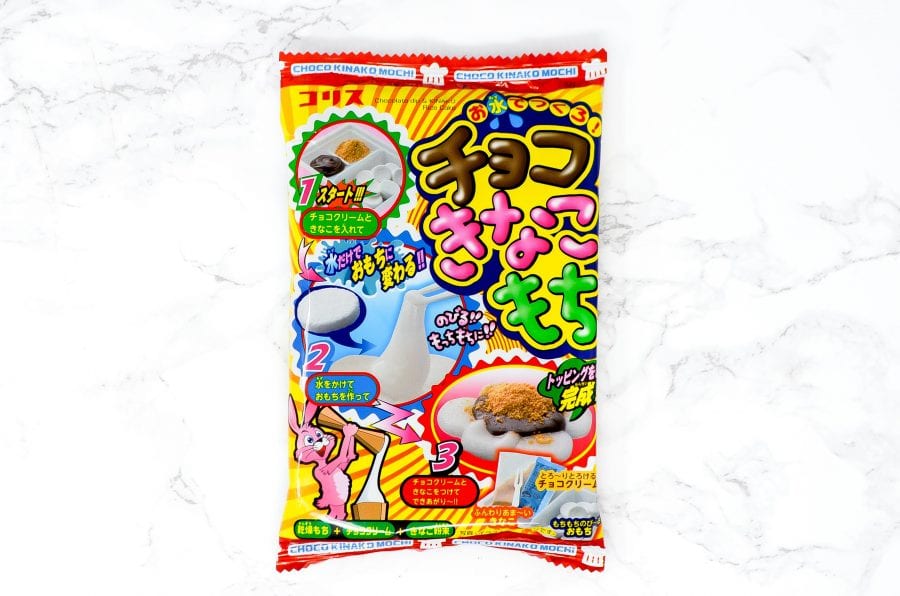 Chocolate Kinako Mochi DIY Kit
This month's DIY Kit is the Chocolate Kinako Mochi kit. This was really simple to make and came with mochi pieces, chocolate sauce, and kinako (soybean) powder. Soak the mochi in water until it softens up, then dip it in chocolate sauce and top it with kinako!
TokyoTreat February 2019 – Final Thoughts
February's TokyoTreat box was filled with a majority of sweet snacks, and many of them were Valentine's Day themed treats. This month introduced me to many unique and tasty items, but my favorites were the Canada Dry Sparkling Sangria, Kimchi Rice Puffs, and the Chocolate Umaibo! I'm already trying to search the web for these items, so I can purchase more. Without TokyoTreat, I would have never known about these delicious snacks, so I'm always thankful for this subscription making everything more accessible to me.
Mary Vu – http://thepointofvu.blogspot.com