TokyoTreat Review July 2018
TokyoTreat is a monthly subscription box that brings a huge box of yummy Japanese snacks straight to your doorstep. Each month you'll receive popular snacks including candy, chips, crackers, and more! They kindly sent me the Premium box to review. So lets dig in!
Subscription Details
Box Details: TokyoTreat specially curates their monthly snack boxes with a mix of popular out-of-this-world treats and traditional flavors. Subscriptions come in two sizes: Premium and Classic.
TokyoTreat Packages:
Premium: 17 full-size items. (Includes extra items not included in Classic: 1 Japanese drink, 1 additional Japanese snack, 1 Party Pack, 1 additional Dagashi, and 1 Anime Snack)
Monthly: $35/month
3 Months Prepaid Plan: $33.50/month
6 Months Prepaid Plan: $32/month
12 Months Prepaid Plan: $31.50/month
Classic: 12 full-size items
Monthly: $25/month
3 Months Prepaid Plan: $24/month
6 Months Prepaid Plan: $23/month
12 Months Prepaid Plan: $22.50/month
Shipping: Free Worldwide Delivery
Here's a closer look at June's box theme and the items I received this month….
July's Theme – Camping Getaway
July's box revolves around a popular summertime activity in Japan – camping! This box was curated with unique treats that are perfect for the outdoors. Roast smores with the coconut and pineapple marshmallows or relax with the cool matcha jelly drink. Whatever it is, you'll be sure to gobble this box up on your next camping trip!
Included in every box is a mini magazine that gives you in-depth details of each treat in the box, descriptions, upcoming news, and mini activities!
Uji Matcha Jelly
This month's drink is a unique one that fuses together jelly matcha chunks with a sweet vanilla cream. The drink contains a layer of jelly matcha and the drink needs to be "activated". In order to activate the drink, shake the bottle well to evenly break up the jelly pieces. If you know me, you know I'm a HUGE matcha fan and this is right up my alley. It's creamy, it's refreshing, and it's delicious. The jelly adds a fun textural touch that makes this easy to love.
Cookie and Cream & Strawberry Cheesecake Kit Kats
I once read somewhere that Japan is home to over 200 flavors of Kit Kats! I'm super excited to be able to try out two new flavors this month. The Cookie and Cream one tastes like your usual cookie and cream flavor but extra creamy and overwhelmingly sweet while the Strawberry Cheesecake was one of my favorite flavors yet – it tastes like a delicious New York style cheesecake with a hint of strawberry!
Butter Toast & Sesame Biscuits Party Pack
The party pack comes with 6 packets in total – 3 Butter Toast and 3 Sesame ones. You could even pair these with the marshmallows above to create a tropical s'more! The Butter Toast flavor tastes like a buttery biscuit with a hint of sweetness while the Sesame ones tastes just like roasted sesame seeds! Both have become my preferred morning snack of choice.
Koikeya Tempura Matcha Salt Chips
I can always count on TokyoTreat to surprise me with uniquely seasoned chips, and these did not disappoint! The brand fuses together tempura flavoring and salt with traditional matcha to create an addicting savory chip. The chips have a thicker kettle cooked texture and are tinted slightly green like matcha. The tempura and salt overpower the matcha flavor, but it isn't a bad thing because it's still delicious!
Chocolate Mint Twigs
This is a brand new flavor in the brand's candy line and boy was this delicious! The chocolate sticks contain mini crispy rice which gives them a satisfying crunch that mixes really well with the mint chocolate chip ice cream flavor. The box comes with 11 packets with 4 'twigs' each, but trust me, that won't be enough!
Pineapple & Coconut Marshmallows
I never thought I'd be eating coconut and pineapple flavored marshmallows, but these were tasty! The star shaped ones taste like a light coconut milk while the yellow fish shaped ones have a fruity pineapple flavor. These tropical flavored marshmallows were a great addition to enjoy during the summer.
Okara Cheesecake Cookies
These cheesecake cookies taste much healthier than the rest of the snacks in the box, and it's because they are! These contain okara, fiber, 5 different vitamins, calcium, and iron. These are simple, tasty, and nutritious. While they don't exactly taste like a New York style cheesecake, it does contain a lighter cheesecake flavor making this thick soft cookie easy to devour.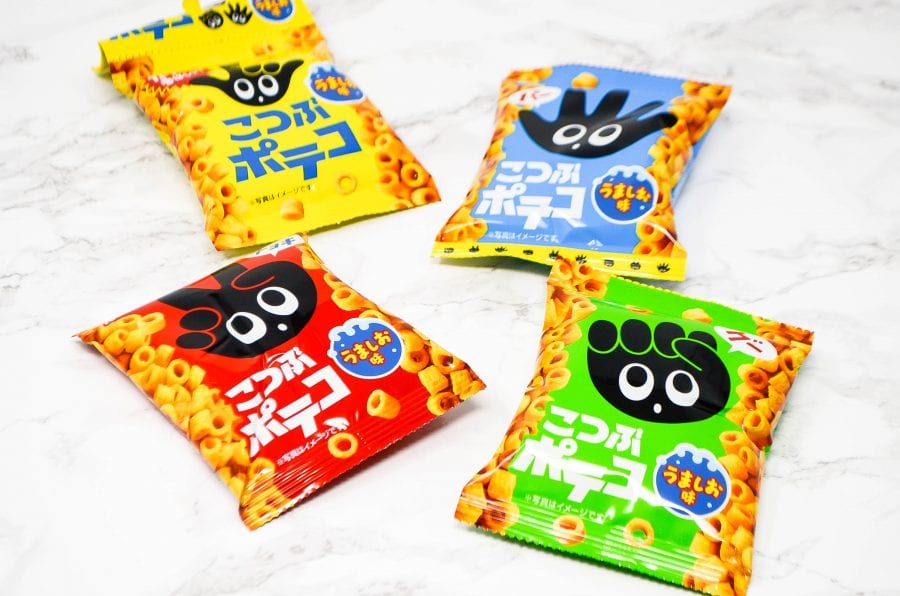 Poteko Potato Rings Share Pack
The Poteko Potato Rings comes with 4 packets that are perfect for sharing! It consists of savory potato "rings" that remind me a lot of the taste and crunchiness of fried potato skins. They're bite-sized and a perfect snack for on-the-go!
Pretty Cure Chocolate Wafer
This is a thin cookie that consists of two wafers sandwiched together by a smooth milk chocolate filling. It's a great snack to satisfy my sweet tooth, but wasn't as unique as I had hoped. I feel like there's similar wafer style cookies in the American market. But bonus – this snack comes with a mini packet of nail stickers, how cute!
Rich BBQ Potato Sticks
I loved these so much and the packaging concept too! When opened properly, the bag will only have an opening on one end which you can use to pour straight into your mouth. It eliminates messy chip fingers and makes it a great snack to bring along on a hike. The chips themselves have a thin, ultra crispy crunch with a smoked bbq flavor. I'm already craving another bag!
Cheese Umaibo
This is my second time trying an Umaibo and the cheese flavor has quickly become my favorite! It tastes just like a cheesier Cheeto puff! Between this cheese flavor and last month's tonkatsu flavor, this one takes the cake!
Grape Soda Gummy
The bottle shaped gummy comes covered in sugar crystals and tasted just how I'd imagine grape soda candy to taste. It's super delicious and I'm sad there was only one in the box!
Konpeito Candy
Konpeito is a popular Japanese candy due to its rich history. They're essentially candy crafted out of hardened sugar, which I've had the pleasure of trying before as a kid. These are brightly colored and sweet, but there wasn't much taste besides plain sugar.
Water Candy DIY
This month's DIY candy kit is a simple one that contains 3 packets of liquid candy. It comes with strawberry, ramune soda, and lemon packets that you can mix together to create your own unique flavor. My niece and I played with this one together and she had a lot of fun! The candy itself was like colorful liquid goo that was quite messy, but tasted fruity!
TOKYOTREAT REVIEW JULY 2018 – FINAL THOUGHTS
This month's box was a hit for me! TokyoTreat never fails to fill my box with a bunch of new hidden favorites as well as tons of unique goodies I've never tried before. As always, I really enjoyed the Premium box since it comes with a drink and to my knowledge, not many subscription boxes include beverages!
Though this box wasn't as adventurous or crazy as last month (I could never forget those Melon Cream Soda Chips), I still enjoyed this box just as much! Some of my favorites include the Rich BBQ Potato Sticks which come in a one-hand bag making life so much easier and mess-free, as well as the Cheese Umaibo that tastes just like a yummier Cheeto puff! I'm also a huge fan of the Koikeya Tempura Matcha Salt Chips, the Poteko Potato Ring Snacks and the Chocolate Mint Twigs! All in all, receiving the TokyoTreat box has easily become the highlight of my month.
Mary Vu – http://thepointofvu.blogspot.com