TokyoTreat Review July 2019
TokyoTreat is a monthly subscription box filled to the brim with yummy Japanese snacks. Each month you'll receive popular snacks including candy, chips, crackers, and more! They kindly sent me July's Premium box to review. So lets dig in!
Subscription Details
Box Details: TokyoTreat specially curates their monthly snack boxes with a mix of popular out-of-this-world treats as well as traditional flavors. Subscriptions come in two sizes: Premium and Classic.
TokyoTreat Packages:
Premium: 17 full-size items. (Extra items not included in Classic: 1 Japanese drink, 1 additional Japanese snack, 1 Party Pack, 1 additional Dagashi, and 1 Anime Snack)
Monthly: $35/month
3 Months Prepaid Plan: $33.50/month
6 Months Prepaid Plan: $32/month
12 Months Prepaid Plan: $31.50/month
Classic: 12 full-size items
Monthly: $25/month
3 Months Prepaid Plan: $24/month
6 Months Prepaid Plan: $23/month
12 Months Prepaid Plan: $22.50/month
Shipping: Free Worldwide Delivery
Here's a closer look at the box theme and the items I received this month….
July Theme – Life's a Beach
Included in every TokyoTreat box is a mini magazine that gives you in-depth details of each treat in the box, descriptions, upcoming news, and mini activities!
Peach Mint Kit Kats (Premium)
I love receiving new and exclusive Kit Kat flavors in the TokyoTreat box and this month features a Peach Mint flavor! Peach and Mint are two flavors that I never thought would be paired together, but somehow it works. When you bite down, you get the initial sweet peach followed by a minty freshness. It's not my preferred Kit Kat flavor, but it sure was a treat!
Sour Cream and Onion Doritos (Premium)
I LOVE Doritos chips and this Sour Cream and Onion flavor made me wish it was available in the states! It has a tangy and savory flavor that made me addicted. Cool Ranch is my #1 favorite, but this is a close second.
Melon Cream Soda (Premium)
This month's drink item is a refreshing can of melon cream soda. It's served best chilled and has a creamy, milky melon flavor, but with the fizz of a soda.
Anpanman Grape Gummies (Premium)
These grape gummies are shaped just like the character, Anpanman. They're fruity, chewy and delicious – it's hard not to finish the whole pack!
Sour Peach Gum
The sour peach gum comes with 3 pieces in a pack. These gumballs have a sweet peach flavor with a sour and tart liquid center.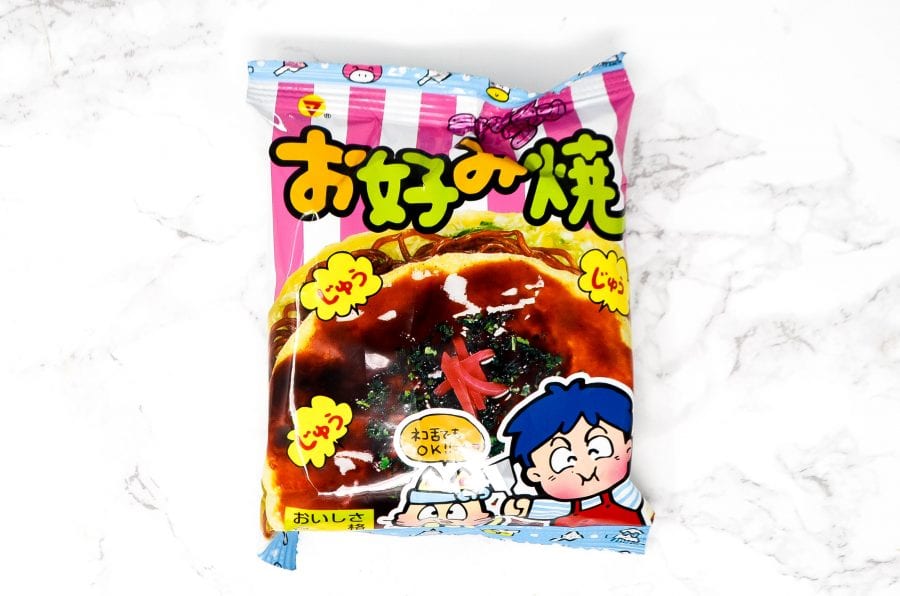 Texas Corn Okonomiyaki (Premium)
This crunchy corn snack is inspired by the popular Japanese dish, Okonomiyaki, which is similar to a savory pancake and contains ingredients like cabbage, egg, meat, onion, seafood, etc. It came shaped like mini corn puffs and encapsulated the savory Okonomiyaki flavor very well!
Chocolate Mint Candy
Mint Chocolate is probably my all-time favorite treat/dessert flavor and these hard candies did not disappoint. It features a outer mint chocolate flavored "body" with a creamy chocolatey center. The bag comes with 24 individually wrapped pieces, which is perfect for sharing (or keeping to yourself)!
Sherbet Perot Cider
The Sherbet Perot Cider is a dipping powder candy that comes with a lollipop and sour, fizzy powder.
Soda Soft Candy
This mini packet of chewy soft candy is soda flavored and comes with 6 pieces. It features a refreshing ramune soda flavor with a hint of citrusy lemon.
Umai Sugar Rusk
The Umai Sugar Rusk is basically the umaibo stick but in bite-sized pieces. This crispy and crunchy snack features one of my favorite umaibo flavors – sugar rusk! It has a very airy texture and was lightly coated in a sweet sugar.
Tonkatsu Sauce Umaibo
This month's umaibo flavor is tonkatsu, which tastes similar to Worcestershire sauce and is made from vegetables. The savory flavor compliments the puffed corn texture really well, as always!
Crushed Poteco 4 Pack
This share pack is a repeat from last July, but I'm happy about it since I love these! This savory potato snack comes in the shape of miniature rings. The flavor and crunchy texture reminds me a lot of fried potato skins.
Mini Chocolate Bat
The Mini Chocolate Bat comes in a box with 5 individually wrapped chocolate "bats". These are thick biscuit sticks covered in a smooth chocolate coating.
Cider Soft Serve DIY Snack
This month's DIY snack is the Cider Soft Serve ice cream kit. You can create your own cider flavored soft serve by just adding water to the ice cream powder. Mix it up and you got yourself a refreshing treat!
TokyoTreat Review July 2019 – Final Thoughts
The July TokyoTreat box was filled with many refreshing goodies to help cool you down this summer including a plethora of unique flavors and snacks! There were a lot of hits and misses for me this month since I don't usually like cider/ramune/soda flavored treats, but I loved trying out the new Peach Mint Kit Kat flavor and the Sour Cream and Onion Doritos. My favorite items this month were the Doritos, Chocolate Mint Candies, and the Umai Sugar Rusk!
Mary Vu – http://thepointofvu.blogspot.com