TokyoTreat Review July 2020
TokyoTreat is a monthly subscription box filled to the brim with yummy Japanese snacks. Each month you'll receive popular snacks including candy, chips, crackers, and more! Japan's postal service stopped shipping to international countries for several months due to COVID-19, but they recently opened back up! I was kindly sent the July Premium box to review. So lets dig in!
Subscription Details
Box Details: TokyoTreat specially curates their monthly snack boxes with a mix of popular out-of-this-world treats as well as traditional flavors. Subscriptions come in two sizes: Premium and Classic.
TokyoTreat Packages:
Premium: 17 full-size items. (Extra items not included in Classic: 1 Japanese drink, 1 additional Japanese snack, 1 Party Pack, 1 additional Dagashi, and 1 Anime Snack)
Monthly: $35/month
3 Months Prepaid Plan: $33.50/month
6 Months Prepaid Plan: $32/month
12 Months Prepaid Plan: $31.50/month
Classic: 12 full-size items
Monthly: $25/month
3 Months Prepaid Plan: $24/month
6 Months Prepaid Plan: $23/month
12 Months Prepaid Plan: $22.50/month
Shipping: Free Worldwide Delivery
Here's a closer look at the box theme and the items I received this month….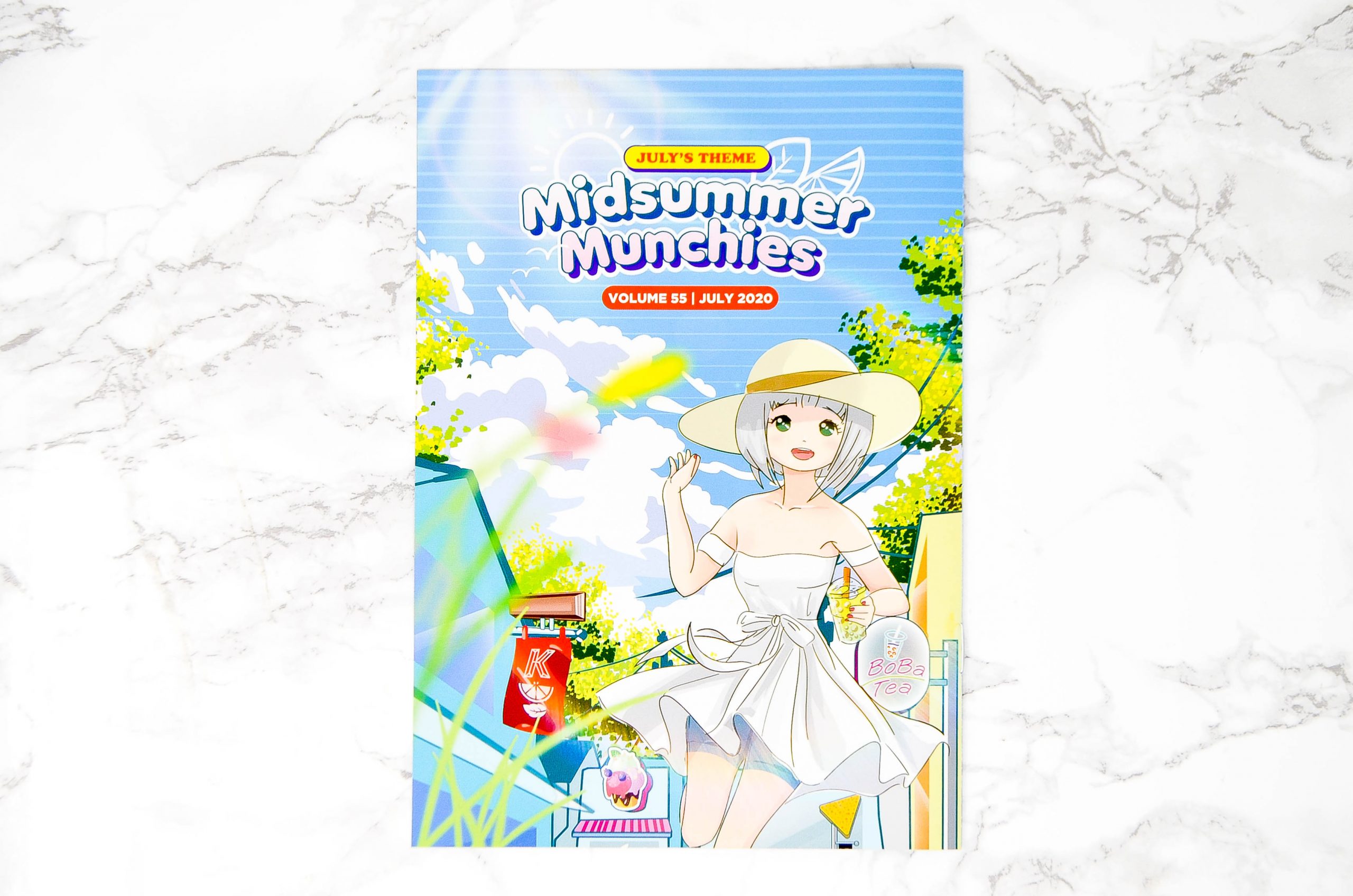 July's Theme – Midsummer Munchies
Included in every TokyoTreat box is a mini magazine that gives you in-depth details of each treat in the box, descriptions, upcoming news, and mini activities!
DIY Bubble Tea Matcha Milk
I have been craving boba tea every single week, and the DIY Bubble Tea Matcha Milk is a great substitute to satisfy my cravings right at home. Whether you prefer bubble tea hot or iced, you can enjoy it either way with this kit. It comes with tea powder, tapioca bubbles, and a plastic straw. Though it's not as yummy as boba from boba tea shops, it's still pretty delicious! Plus, it's super easy to make!
Kagome Okinawan Citrus Mix Drink (Premium)
There are not one, but TWO drink items this month! I think that's awesome since we could all use a little cooling down during the summer heat. This tropical drink consists of a mix fruits and vegetables with flavors of pineapple, passionfruit, apples, carrots, and citrus!
KitKat Citrus Mint (Premium)
What I missed the most from my TokyoTreat boxes was the new unique KitKat flavors! This month features Citrus Mint, which is a refreshing combination of creamy white chocolate, fresh mint, and a burst of lemon citrus! It's definitely a unique combo that surprised me at first, but it kind of works.
Rilakkuma Red OR Green Apply Gummy (Premium)
How cute is this gummy candy?! It's shaped as Rilakkuma having a good 'ol relaxing time. It's tasty, chewy, and tastes just like green apple.
Gummy Kiss
This lip shaped gummy is actually bright red as you open up the package. It's a delicious and chewy texture with a grape flavor!
Minty Animals
These Minty Animals candies come in a variety of animal designs. I received an adorable panda which actually contains a handful of miniature blue candy balls inside! It's not exactly a bold mint flavor as I expected, but more of a subtle ramune-flavored mint.
Marukawa Orange Gum
The Marukawa Orange Gumballs were a staple in my childhood and I'm so happy to see them featured in this months box! There are 4 miniature gumballs in each box and they're bursting full of orange flavor. They're not that long-lasting, but the taste is great!
Japanese Squid Cracker (Premium)
This bite-sized rice cracker resembles a squid and is full of fishy squid flavor, which I love! It's crunchy and savory, but I was left wanting more since there was only one tiny cracker in the package!
Umaibo Lemon (Premium)
Usually, I'm a fan of most Umaibo flavors, but Lemon left a weird taste in my mouth. The corn snack is full of crunch, but the lemon flavor adds a semi-sweet tartness that makes this treat feel like a treat and savory snack at once. It just tasted like a strange combination that wasn't my cup of tea.
Doritos
Subscribers will receive a bag of Doritos in either Nacho Cheese, Mild Salt, or Soy Sauce & Wasabi. I received Nacho Cheese, but trust me, these do NOT taste the same as the Doritos Nacho Cheese (the original red bag) that's available in most supermarkets here. The chips tasted healthier with a crispier crunch and less oil? The cheese flavoring had a sweetness to it that I wasn't a fan of, but I love the texture of these chips!
Salty Popcorn
Salty Popcorn is the perfect snack to grab during your movie nights! The popcorn is fluffy with a hint of salt that definitely compliments this month's Kagome Okinawan Citrus Mix Drink!
Corn Potage Bites
I have a deep love for anything corn potage and these Corn Potage Bites did not disappoint! Each puff is light and fluffy in texture with a sweet and creamy corn flavor.
Poriky Corn
More corn potage? Yes please! The Poriky Corn features thin pretzel sticks coated in a corn potage flavored dusting. These are crunchy and great to snack on!
Baskin' Robbins Popping Shower Chocolate
Usually Baskin' Robbins can't do wrong, but the Popping Shower Chocolate is a pass for me. Apparently Popping Shower is Japan's most popular flavor, which features popping candy! It's definitely a fun experience with the popping candy tingling in your mouth, similar to Pop Rocks. However, the fruitiness from the popping candy doesn't combine will with the creamy chocolate base.
Festival Sign Choco
The Festival Sign Choco is a small piece bite-sized piece of chocolate that comes with a fun festival stall sticker on the inside.
Strawberry Daifuku
The pillowy soft daifuku marshmallow treat comes with a sweet strawberry jam in the center.
Mystery Treat – Turtle Crackers
Despite the name, these Turtle Crackers don't have much in common with turtles at all! These crispy crackers taste lightly fried. It has a great texture and the salty flavors are a great contrast to the sweet snacks this month.
TokyoTreat Review July 2020 – Final Thoughts
Oh how I've missed my TokyoTreat box! Since it's still not safe for us to leave our homes yet, the TokyoTreat box is a great way for us to have fun snacks delivered to our doorstep! I enjoyed the fun mix of summer-inspired goodies like the KitKat Citrus Mint candies, the DIY Bubble Tea, and the fruity flavored treats! I was a little disappointed to see so many single-bite snacks this month (7 out of 17 products!), and it did feel emptier compared to previous months, but hopefully TokyoTreat can bring us more yummy goodies in the coming months!
Mary Vu – http://thepointofvu.blogspot.com