TokyoTreat Review June 2018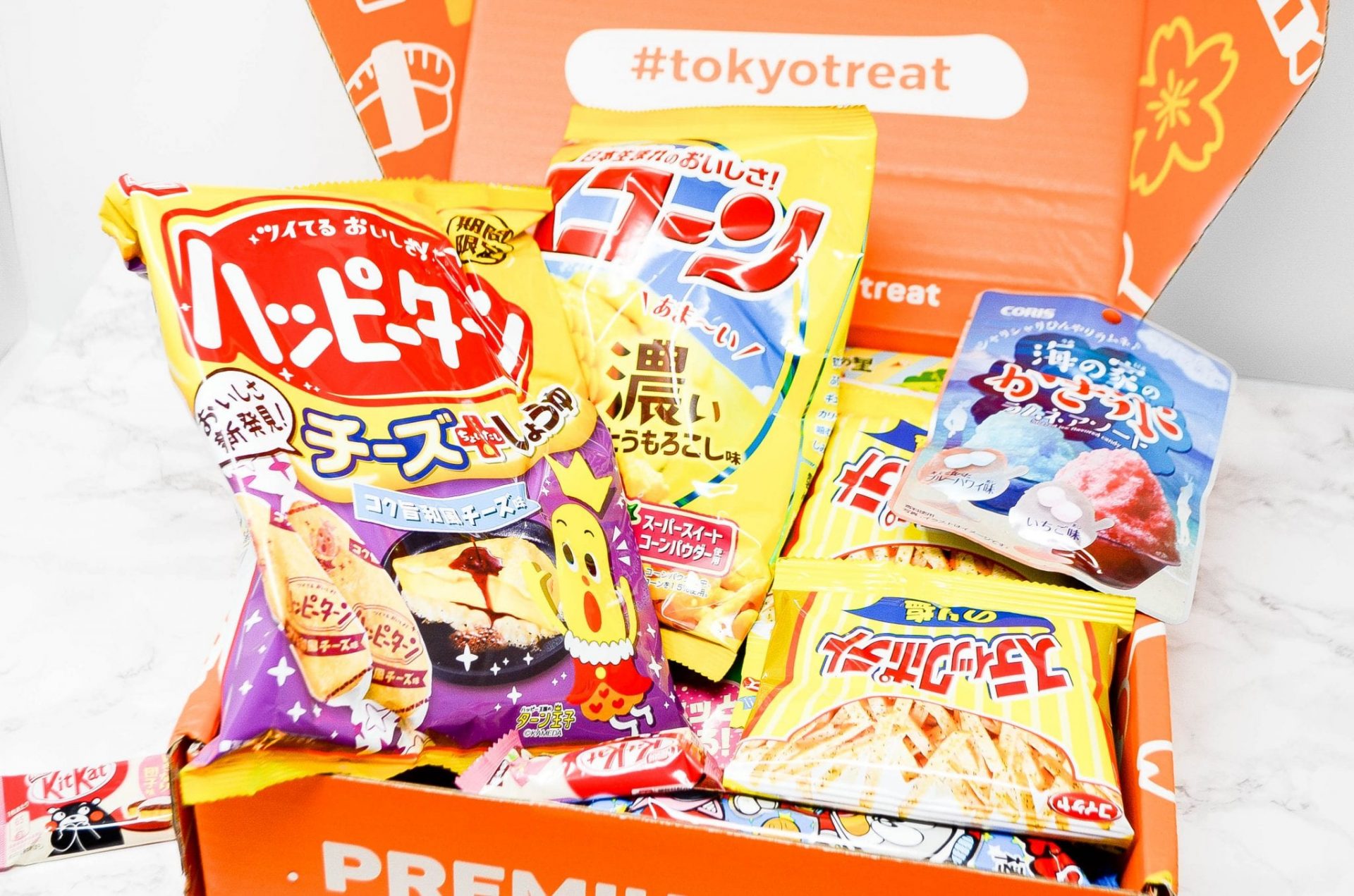 TokyoTreat is a monthly subscription that brings a huge box of yummy Japanese snacks straight to your doorstep. Each month you'll receive popular snacks including candy, chips, crackers, and more! They kindly sent me the Premium box to review. So lets dig in!
Subscription Details
Box Details: TokyoTreat specially curates their monthly snack boxes with a mix of popular treats, unique snacks, and traditional flavors. Subscriptions come in two sizes: Premium and Classic.
TokyoTreat Packages:
Premium: 17 full-size items. (Extra items not included in Classic: 1 Japanese drink, 1 additional Japanese snack, 1 Party Pack, 1 additional Dagashi, and 1 Anime Snack)
Monthly: $35/month
3 Months Prepaid Plan: $100.50 ($33.50/month)
6 Months Prepaid Plan: $192 ($32/month)
12 Months Prepaid Plan: $378 ($31.50/month)
Classic: 12 full-size items
Monthly: $25/month
3 Months Prepaid Plan: $72 ($24/month)
6 Months Prepaid Plan: $138 ($23/month)
12 Months Prepaid Plan: $270 ($22.50/month)
Shipping: Free Worldwide Delivery
Here's a closer look at June's box theme and the items I received this month….
June's Theme – Summer Carnival
Since it's now officially summer, this month's box revolves around summertime carnivals and fun nights! This box was curated with unique treats that will help you beat the summer heat while bringing unique flavors to your tastebuds!
Included in every box is a mini magazine that gives you in-depth details of each treat in the box, descriptions, upcoming news, and mini activities!
Pepsi J-Cola Midnight
This is a Japan exclusive flavor! The Pepsi is infused with cassis grape and it tastes so refreshing. It has a much more authentic grape flavor versus typical American grape sodas and it's not as overwhelmingly sweet. It does taste slightly different from regular Pepsi – it lacks about half of the "spicy" kick and tastes much smoother.
Happy Turn Soy Sauce Cheese Flavor
These come in individually wrapped single crackers perfect for sharing with others and boy were these addicting. The crackers are thick and give the crunchiest bite. They have a savory soy sauce flavor mixed with a salty cheesiness to them (though the soy sauce does overpower the cheesiness just a bit).
Doraemon Gummies
There were only four pieces in a pack and I devoured these in 2 seconds! They're super soft gummies – somewhere in the middle between your average gummy bear and jello. It was a unique texture that was so smooth and tasted like delicious grapes!
Kakigori Ramune Candy
Kakigori means "shaved ice' in Japanese and these candies come in a mix of two flavors: strawberry and ramune. These are supposed to have a cooling effect to mimic eating shaved ice, however the effect was very subtle. The candies are mini tablets, and are reminiscent of Sweet Tarts in texture.
Ikinari Dango Kit Kat
Ikinari dango is a delectable dessert from Kumamoto, Japan and these Kit Kats were specially made to taste just like the mochi filled dessert with sweet potato and red bean. They were simply to-die-for! It tastes like sweet red beans with white chocolate and I can't get enough!
Meiji Takenoko No Sato (Cookies & Cream)
There were two possible flavors included in the box, and I received the Cookies & Cream variety. These are little chocolate cone shaped cookies covered in a creamy rich vanilla coating making them the perfect snack to satisfy any sweet tooth.
Yogurt Flavored Ginza Rusk
The Yogurt Flavored Ginza Rusk comes in small crunchy cubes with a very weird mixture of flavors that I'm not the biggest fan of. When you first bite into it, it tastes like tart yogurt, and the crunchy rusk cube gives it a nice texture. But then suddenly, it tastes like a sweet and creamy cheese. It's very interesting, but not my cup of tea.
Cream Rusk
I'm quickly becoming a fan of rusk snacks! This mini snack pack comes with a crunchy rusk toast covered in a sweet cream that pairs perfectly together. It tastes a lot like a light and airy pound cake, but in a toast form. It just melts in your mouth as you chew too!
Melon Cream Soda Chips
I know what you're thinking… Melon Cream Soda chips?! YES and yes, they do taste just like melon cream soda. This chip is a mixture of fruity melon, sweet cream soda, and salty potatoes. Personally, I don't think the flavors complimented each other well. This probably isn't a chip for most people, but it was for sure the most interesting snack in the box!
Koikeya Scone Rich Corn Flavor
These sweet and savory corn chips are made from Hokkaido sweet corn. It tastes just like sweet corn from the first crunch which is a dream for a corn lover like me! These are like the equivalent of Cheetos, but all decked out in corn flavoring.
Salty Seaweed Stick Potato Snack
You get four mini packs of these which is great because you won't be able to get enough of this savory snack. Imagine if french fries transformed into ultra thin crispy french fry chips, but add a saltier seaweed kick. Definitely a new fave.
Popsicle DIY Kit
I think it's so fun that TokyoTreat includes a DIY candy kit in this box! I've seen many cool DIY treats, so it was exciting trying one out on my own. In this set you get 4 soft candy cubes, a powder pack, liquid candy, and wooden sticks to make your own popsicles. It comes in both a ramune flavor and a strawberry flavor.
Chee-ZACK
This was another unique flavor, that I was surprised to really enjoy. It comes in a cracker/biscuit form which tasted both crispy and flaky. It had a sweet creamy cheese flavoring to it that my tastebuds loved.
Tonkatsu Sauce Umaibo
This Umaibo is in a savory tonkatsu flavor, which is a pork cutlet dish in Japan. And wow, I've had tonkatsu before and this tastes just like it! It was a sweet and savory crunchy roll that was very delicious.
TokyoTreat Review June 2018 – Final Thoughts
Wow, I am floored with this month's box! It was filled to the brim with unique and fun goodies that I find myself craving more of. I liked how the Premium box included a drink to wash down all of these snacks with, and also share-sized snacks so I could give to others.
This months TokyoTreat included a few unique flavors that catered towards the Summer Carnival theme, like Melon Cream Soda Chips! This box was such an experience since my tastebuds felt like they were on a rollercoaster. I got to try so many interesting treats and flavors that I didn't even know existed! I found a lot of favorites in this box too, but my top picks are the Ikinari Dango Kit Kats, Tonkatsu Sauce Umaibo, and the Koikeya Scone Rich Corn Flavor.
Mary Vu – http://thepointofvu.blogspot.com