TokyoTreat Review March 2017
TokyoTreat is a subscription-based service that delivers the most premium Japanese snacks and candies to your door monthly. From salty, to sour, to sweet, discover limited edition Japanese treats that you won't find anywhere else! They kindly sent us this box for review.  This is a look at the premium subscription.
We have to apologize for the delay in the review of the March TokyoTreat.  We aren't sure if something happened during shipping, but this just made it into our hands.
I feel like a broken record when I say this, but it's aways worth saying.  The experience of a subscription box starts with the box itself and I love the experience TokyoTreat gives right out of the gate!  Wow, what a fun looking box.  The art and graphics are really detailed and I spent a long time admiring just the box, let alone all the goodies in side.
And look at all those goodies!  The Asian food boxes are pretty fun to unbox, as they are so colourful and in your face loud that you can't help but admire each item.  Let's take a look to see what is in the March box.
Pie No Mi – Green Tea Flavour
Pie No Mi is another staple snack found at convenience stores around the country.  The bite-size snack is basically a light and flaky crust with a squeeze of tasty chocolate in the centre.  This time, we bring you the rich green tea flavour edition which gives this classic Japanese snack a new twist!
Sakura Sakuranbo Royal Milk Drink
Be the first to try this unique Japanese cherry and cherry blossom flavoured milk tea by Coca Cola's popular tea franchise Kouchakaden.  The special, seasonal flavour that has a slight sweet and sour flavour and aroma, and comes in a pretty package that will surely delight all fans of cherry blossoms.
Peach Caramel Corn
Just in time for Doll's Day, TokyoTreat's favourite, Tohato, has released a new and limited edition peach flavour in their popular Caramel Corn snack.  These light and yummy snacks come in a super cute pink packaging that will bring to mind the festivity of both spring and Doll's Day.
Poteco Delicious Salt
Enjoy and have fun with this cute, ring shaped potato snack.  Poteco has released it's Delicious Salt flavour in a special cute package in celebration of Doll's Day.  How cute is the packaging? 
Dakura Saku Latte Candy
Enjoy the different flavours of Sakura Saku Latte Candies offer.  Each individually wrapped candy comes in a pretty cherry blossom shape and in one of the following flavours – cafe latte, green tea latte, strawberry latte and banana latte.  Which do you like best?
Dars Uji Match Flavour
Dars chocolate is one of the most popular chocolate franchises in Japan.  This series brought to you by Morinaga can be commonly found in most any convenience store across the country.  This time, Dars released a limited edition green tea flavour that has a slightly bitter green tea centre to offset the rich and sweet chocolate coating.
Sakura Konpeito Candy
Konpeito is a traditional Japanese sugar candy that comes in many different colours.  They are considered to be one of Japanese standard sweets and can even be found referenced in pop culture today.  This time we bring you Sakura Konpeito that's in pretty cherry blossom designed package which will automatically remind you that Spring is just around the corner.
Strawberry Cotton Candy
Commonly found at concession stands at carnivals, cotton candy is one of those snacks that make you feel nostalgic for your youth.  This month, we bring you strawberry flavour cotton candy in a mini plastic cup.
Cola Diamond Ring
As the saying goes, "Diamonds are a girls' best friend" – this time we bring you the cute edible type that can also be worn.  Enjoy the fun diamond shaped, cola flavoured ring by showing off the rock to your friends.
Sequoia Chocolate – Matcha Green Tea Flavour
Sequoia is a chocolate treat that has different layers of wafer and chocolate coated in chocolate.  This time, we bring you the premium green tea flavour which uses superior quality green tea from Uji,  To maximize the taste of green tea, the wafers are coated in layers of white cream and finally coated in green tea chocolate.
Animal Land Gummy – Grape
Enjoy these cute and tasty animal shaped gummy.  Each bag contains 1 gummy that is bigger in size than the rest.  How many different animals did you find in your bag?
Tirol Choco – Sakura Mochi
Sakura mochi is a traditional Japanese snack that consists of pretty pink coloured rice cake with a sweet red bean paste centre, that's wrapped in a pickled cherry blossom leaf.  With the Tirol choco, you can now imagine what the real thing tastes like.
Pickled Sakura Daikon
Give these unique pickled radish snacks a try!  These pretty coloured daikon radishes are pickled in a semi-sour brine and have a crunch texture to them.  Refrigerate the treat before eating for the best snacking experience. 
Harvest Rich Matcha Chocolate Sandwich
Popular snack franchise Harvest has released a new matcha chocolate flavour.  The new flavour uses high quality green tea from Uji in both the cookies and the chocolate.  Enjoy these bite-size cookie sandwiches with a cup of coffee for a perfect afternoon snack.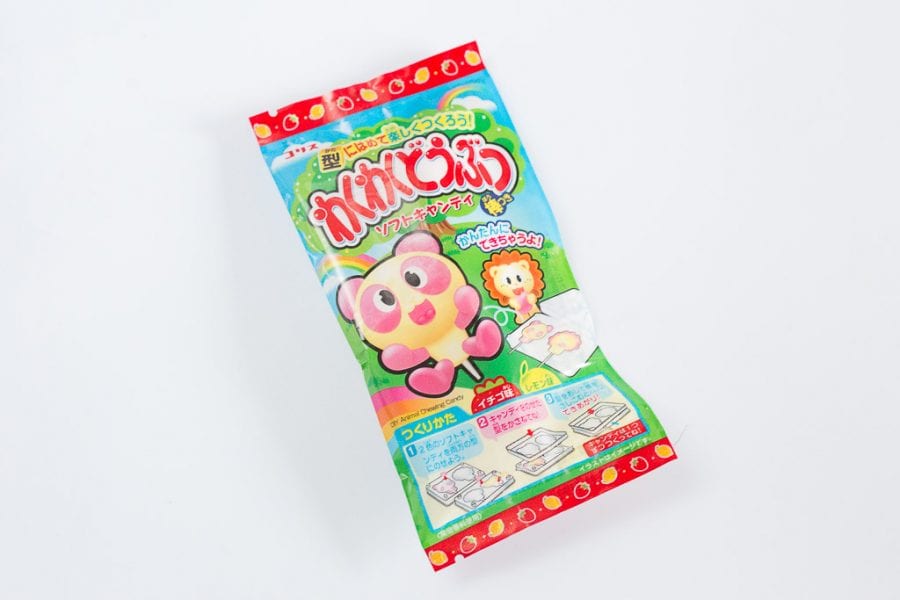 Waku Waku Animal Soft Candy DIY
Try your hands at this cute and super easy DIY.  Each one comes with strawberry and lemon flavour candies and 2 animal shaped molds.  Which animal soft candies did you make?
Sakura Chopsticks
Why not start the spring season with new chopsticks?  Each set includes 2 pairs of pink and green chopsticks, which beautiful cherry blossom designs.  The Chopsticks have indented ridges that will make it easy to pick up even the most slipper of noodles!
TokyoTreat March 2017 – Final Thoughts
Phew!  Wow!  What a box!  There is so much packed away in this I just can't believe it.  I am so impressed with the spring and Doll's Day theme carried out through almost every item.  It seemed if it was cherry, cherry blossom it was green tea.  I really loved the consistency in all the items.  It just goes to show you that so much thought and care goes into this box each month.  That's what I really love to see.  Even if you aren't excited about the items you can get excited about them when you see the effort and passion placed into picking your items and assembling a box.  Asian treats aren't my go to, but I can honestly say I would try every single item in this box.  The green tea treats sound delicious and I really liked the sound of most everything else.  I don't understand how anyone wouldn't feel impressed after going through that list of goodies.
-Shonah