TokyoTreat Review March 2018
TokyoTreat is a monthly subscription box that delivers high-quality and hard-to-find Japanese snacks straight to your door! The box is shipped from Tokyo and inside, you can find premium snacks from salty, to sour, to sweet. TokyoTreat curates each box so you can experience limited edition snacks that you can't find anywhere else! They kindly sent us this box for review. This is a look at the March 2018 Premium Box.
The Subscription
The Classic Box starts at $22.50/month and it includes 12 full sized items: 4 popular Japanese snacks, 4 sharable packs, 2 dagashi, 1 DIY kit, and 1 kinosei (health-benefit) snack.
The Premium Box starts at $31.50/month and it includes 17 full sized items: 5 popular snacks, 1 party pack, 4 sharable packs, 3 dagashi, 1 Anime snack, 1 DIY kit, 1 kinosei snack, and 1 Japanese drink.
Shipping is FREE worldwide!
The theme for March 2018 is Sakura Season Surprise. When I think of Japan, one of the first things that come to mind are the beautiful cherry blossoms that come to life during the springtime (seeing these blooms in person is definitely on the top of my bucket list). Therefore, I don't think they could've picked a better theme to ring in this new season with!
This booklet provides a "Snack Menu" which includes useful information and yummy descriptions about each treat you receive in the box!
Here is a closer look at the snacks: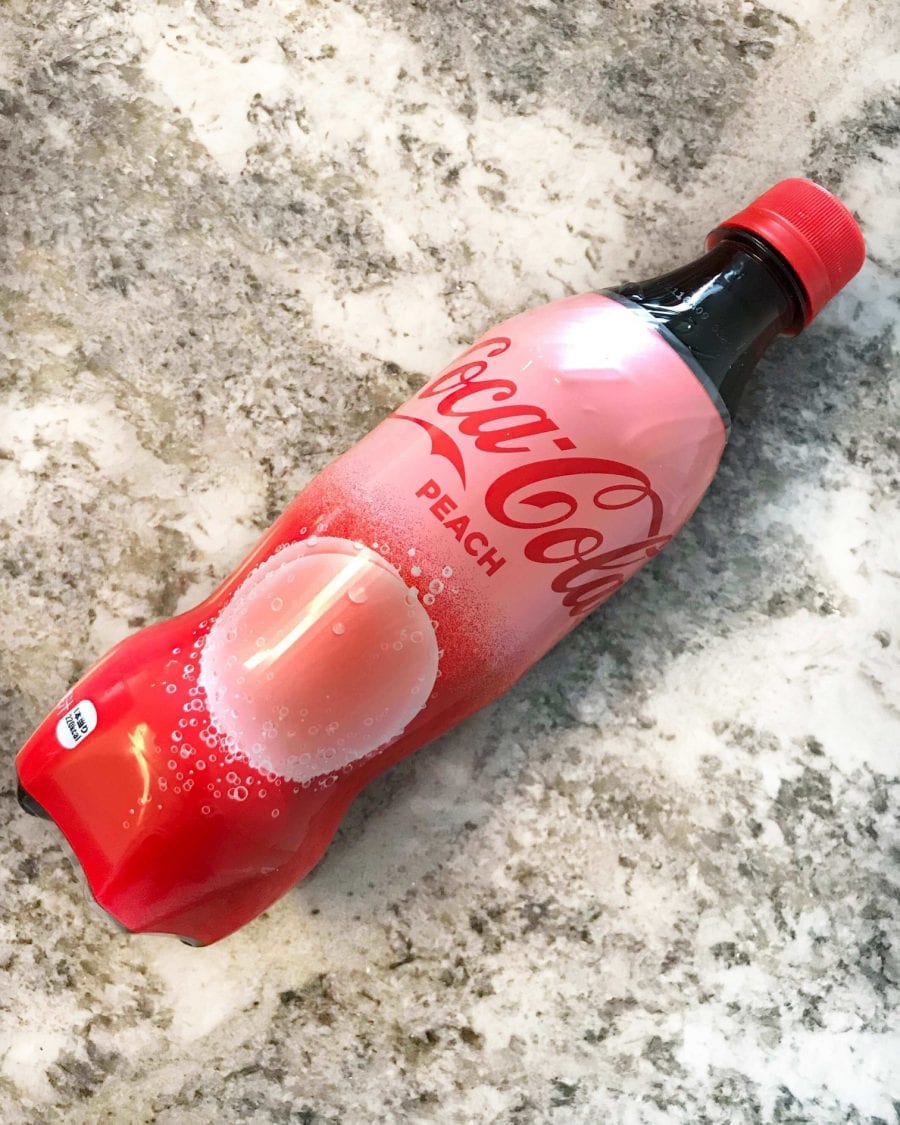 Peach Coca-Cola
Are your taste buds ready?! This month you get to try out the world's first Peach Coca-Cola available only in Japan! With a smooth peach flavor that synergies well with the classic cola taste, you won't be disappointed!
Sweet Sake Kit Kats
I was super excited to find these Kit Kats in this month's box given that I've never disliked a Kit Kat that I've tried. That being said, this was the first thing I reached for when I opened the box, and they are DELICIOUS. The sake flavor is definitely present, but very subtle and not overwhelming.
A sweet take on the classic sake flavor, this satisfying Kit Kat has found its way into your box! Sake is often drunk under the sakura trees in full bloom, so we hope indulging in this deep flavor helps bring that same sense of peace and happiness!
Sakura Shrimp Potato Ring Pack Party
In your box this month you will find a fun Japanese Hinamatsuri (Doll Festival) themed party pack! Filled to the brim with sakura shrimp flavored potato ring snacks, this party pack ensures that you will have a flavor filled spring season!
Anpanman Festival Rice Puffs
Your anime snack is this traditional Anpanman themed Doll Festival Rice Puffs! These rice puffs are often eaten during Japan's Hinamatsuri (Doll Festival) season. The snack has three colors, white, pink, and green, with two flavors, a salt puff and a slightly sweet white honey puff.
Melon Bread Cookie
A super cute melon bread cookie has appeared in your box! Shaped like a panda, with tons of possible expression variations, this crunchy, tasty cookie is perfect to fulfill that cookie craving!
Sakura Marshmallows
Your box this month is serving sakura realness! These sakura marshmallows use real sakura flower essence to add natural flavoring alongside popular traditional Wasabon brand sugar! You can add some into a warm cup of milk or cocoa for a delicious sakura infused drink too!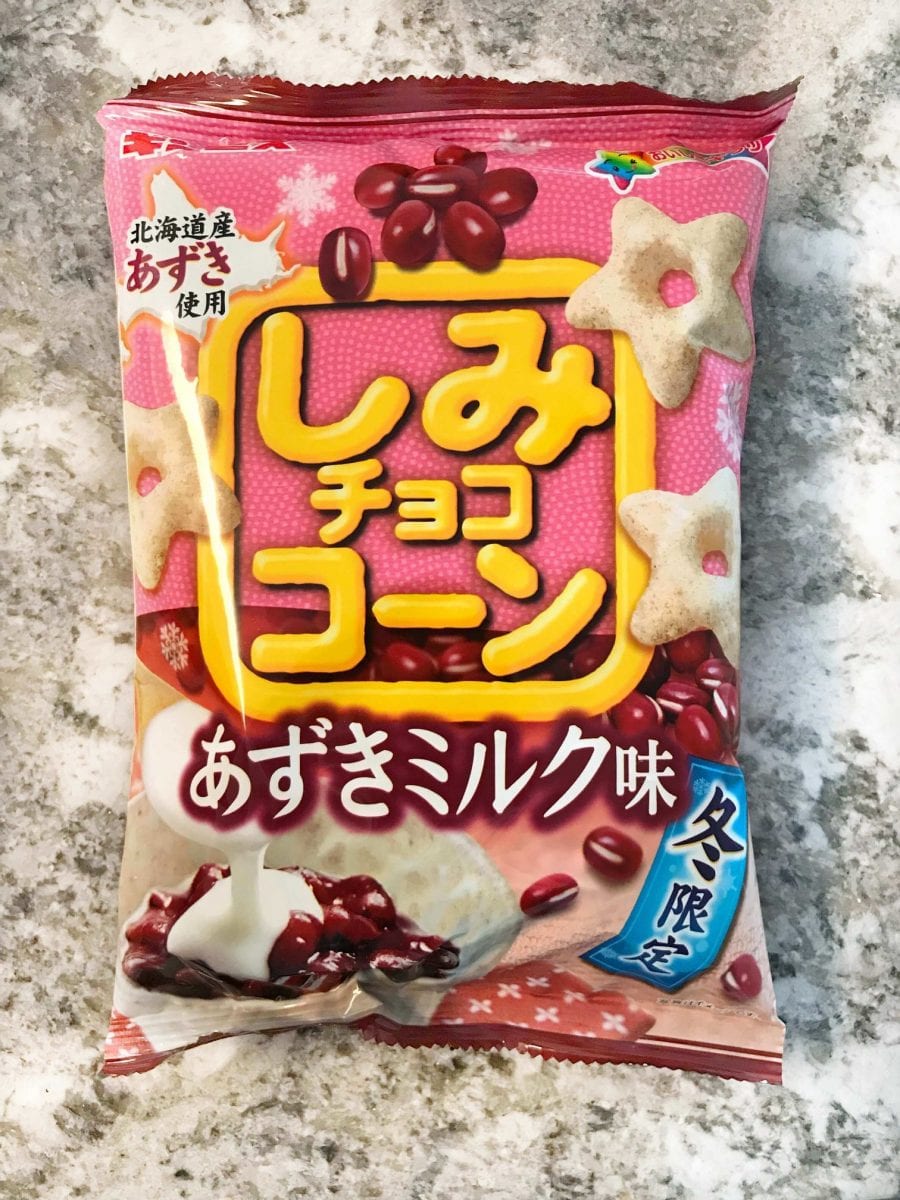 Shimi Choco Corn Milky Red Bean
Azuki, or red bean, flavor is a popular choice among fans of Japanese treats. Real Hokkaido red beans were used to make this smooth milky red bean flavored Shimi Choco Corn snack! Be careful though – once you start snacking on this you can't stop!
Chocolate Kinako Mochi DIY
This is the snack I was most excited about this month. I'm a huge mochi fan and the fun twist they put in this DIY kit made the experience all the more tasty and fun! The kit includes easy-to-follow instructions and includes photos for guidance (I had no problem making the perfect mochi)!
This month's DIY kit is a super tasty mocha delight! It is simple to make and a joy to snack on! You can dip the mochi in either chocolate, kinako (a roasted soybean powder), or both! Mix it up and have fun!
Ginger Tea Hard Candy
The kinosei snack that can be found this month is a soothing ginger tea hard candy. This sweet and slightly spicy candy is supposed to help soothe one's throat. Perfect for a season where budding flowers can often cause sore throats!
Puccho Gummy-Hoppe-Chan Cherry
Hoppe-Chan, a popular Japanese character, helps bring you this sweet and sour cherry gummy! On the inside of the cap wrapping you can find a fortune for the year! Once you have finished the snack, the cap can also be used as a fun toy!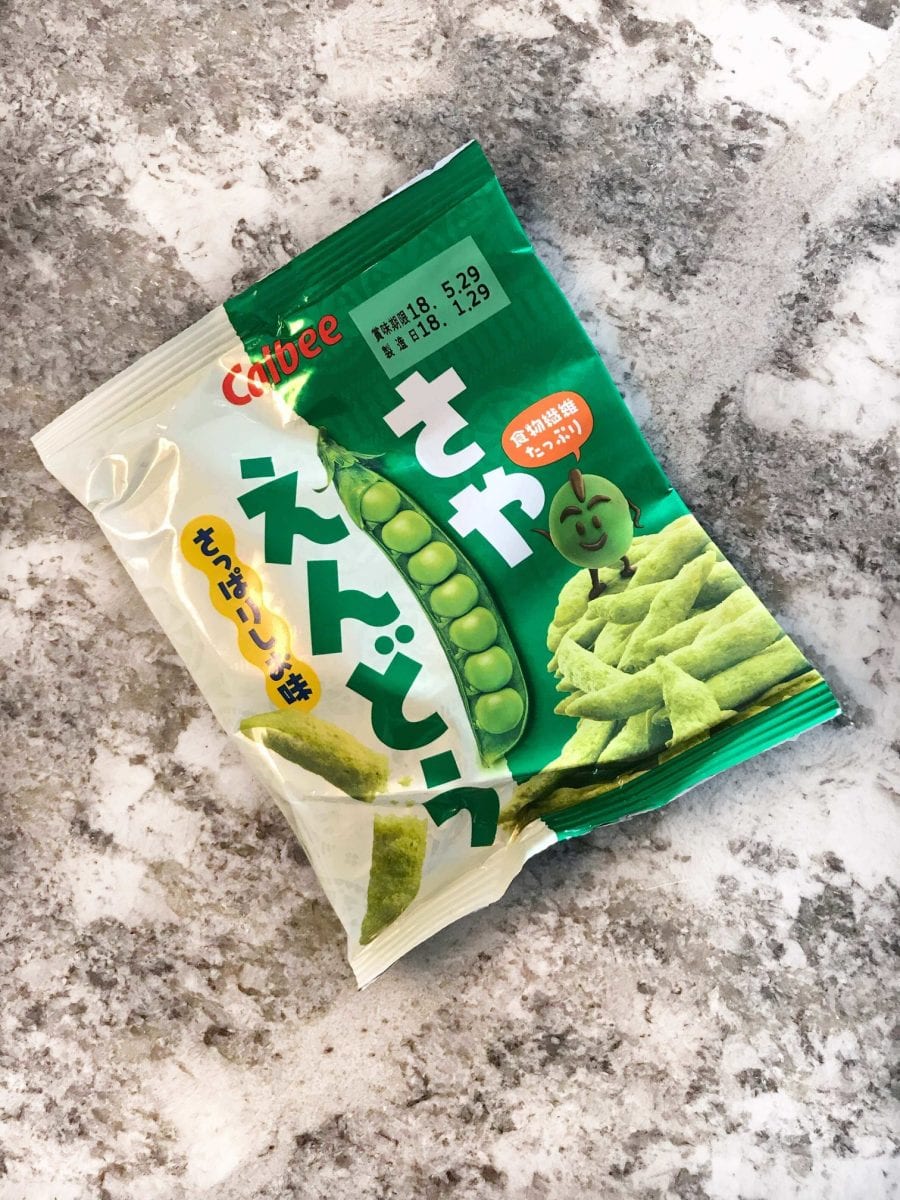 Salty Split Pea Sticks
A savory snack, these salty split pea sticks look like they were just picked off the vine! Not only that, but they taste like it too! The deep split pea taste is a refreshing experience every time you take a bite.
Sweet Soy Sauce Cracker Share Pack
The share pack this month features a traditional, popular sweet soy sauce cracker Japanese snack. The satisfying crunch and natural savory flavoring from real honey and sugar makes this share pack a great way to spread the Japanese treat love!
TokyoTreat Review March 2018 – Final Thoughts
This month's jam-packed box definitely did not let me down! The variety they provided this month was huge, and each snack had its own unique and delicious burst of flavor. The fact that it is shipped to me from Japan makes this experience all the more authentic and fun! I enjoyed all the traditional Japanese snacks in my box this month, but the ones that stood out to me the most are the Sakura Marshmallows, Sweet Sake Kit Kats, and Chocolate Kinako Mochi DIY!
With Love,
Cynthia – www.instagram.com/cynthia_fu