TokyoTreat Review March 2019
TokyoTreat is a monthly subscription that delivers a huge box of yummy Japanese snacks straight to your doorstep. Each month you'll receive popular snacks including candy, chips, crackers, and more! They kindly sent me March's Premium box to review. So lets dig in!
Subscription Details
Box Details: TokyoTreat specially curates their monthly snack boxes with a mix of popular out-of-this-world treats as well as traditional flavors. Subscriptions come in two sizes: Premium and Classic.
TokyoTreat Packages
Premium: 17 full-size items. (Extra items not included in Classic: 1 Japanese drink, 1 additional Japanese snack, 1 Party Pack, 1 additional Dagashi, and 1 Anime Snack)
Monthly: $35/month
3 Months Prepaid Plan: $33.50/month
6 Months Prepaid Plan: $32/month
12 Months Prepaid Plan: $31.50/month
Classic: 12 full-size items
Monthly: $25/month
3 Months Prepaid Plan: $24/month
6 Months Prepaid Plan: $23/month
12 Months Prepaid Plan: $22.50/month
Shipping: Free Worldwide Delivery
Here's a closer look at the box theme and the items I received this month….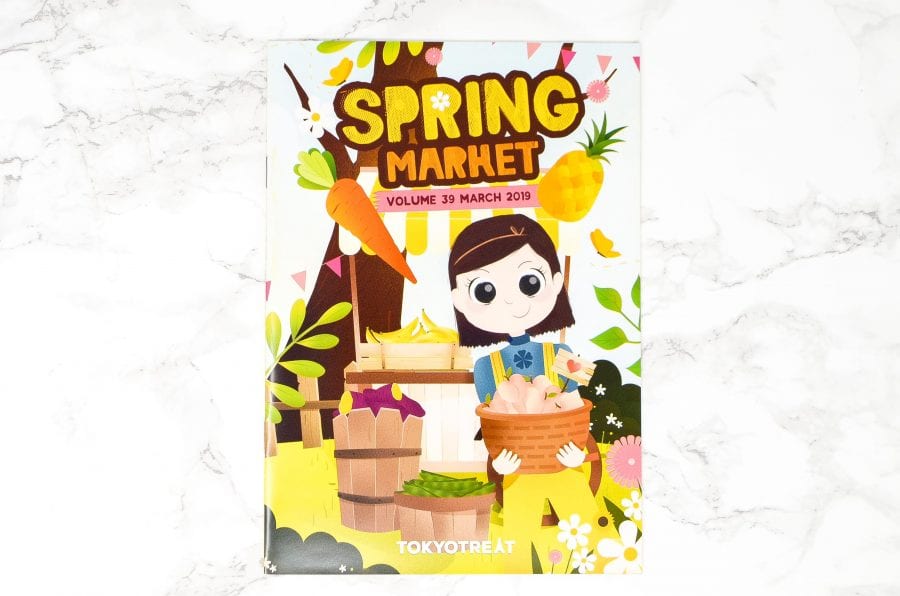 March Theme – Spring Market
Now that Spring is finally here, TokyoTreat is bringing you fresh finds including lots of fresh fruit and vegetable-inspired goodies.
Included in every box is a mini magazine that gives you in-depth details of each treat in the box, descriptions, upcoming news, and mini activities!
Peach Coca Cola (Premium)
This month's featured drink is Peach Coca Cola. TokyoTreat has previously included this as an item in the past, but this was my first time trying it. This version has an improved peach formula that utilizes white peach juice for a richer and more authentic peach flavor.
Banana Omelette Cakes (Premium)
Subscribers will receive either the Banana Omelette Cakes or Look A La Mode Party Pack. TokyoTreat doesn't usually do variant items, so I was a little surprised. I received the Banana Omelette Cakes, which were folded cakes (like an omlette) made out of banana flavoring. The texture was fluffy and the cake was filled with a sweet banana cream center. To top it all off, the edges were also dipped in banana cream. It's definitely a very sweet treat, but it pairs well with tea or coffee.
Buttery Salted Sweet Potato Chips (Premium)
The Buttery Salted Sweet Potato Chips are not your average chip. They have a natural sweetness from the sweet potato base mixed with savoriness from the butter and salt. What I loved most though was the super crunchy texture! They're thickly cut chips with a texture similar to terra chips.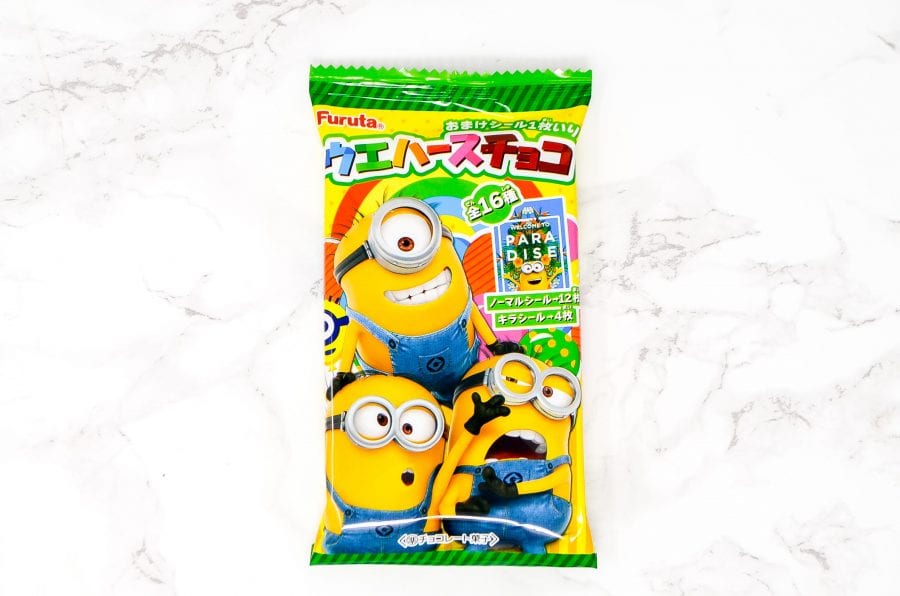 Minions Chocolate Wafer (Premium)
The chocolate wafer snack is a basic, but totally delicious, treat. It features two thin wafer pieces with a chocolate center. It also comes with an adorable Minion design and exclusive Minion sticker!
Curry Corn Snack (Premium)
The Curry Corn Snack features ring shaped corn puffs that tastes just like savory, spice-filled curry. Sadly, I thought these were pretty oily and overly fried.
Pea Stick Snacks
I'm a sucker for pea snacks and these were one of the best I've ever tried. Most pea snacks usually have a savory taste with a subtle sweetness from the peas. They're shaped like thick pea strings and tasted like a mixture between a chip and a cracker.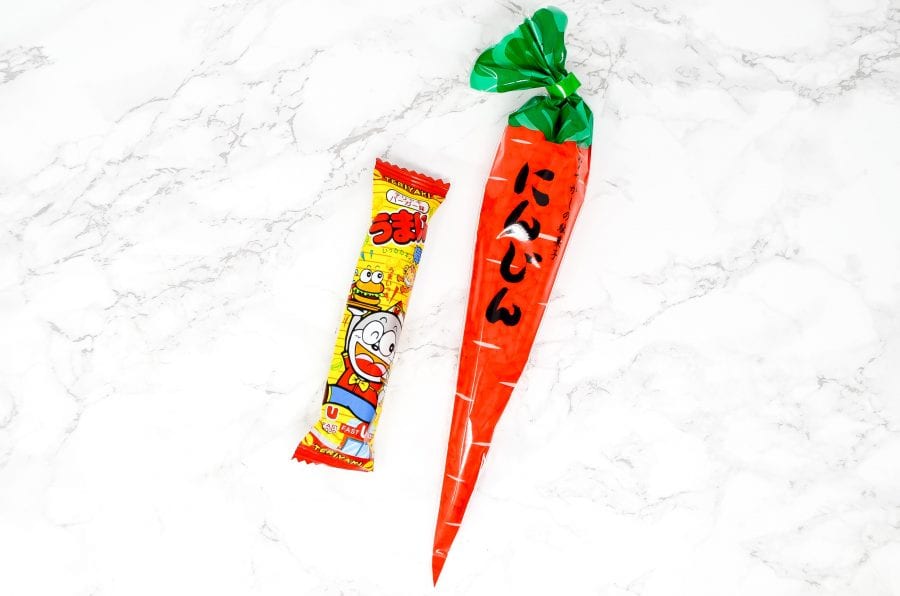 Teriyaki Burger Umaibo
I can always count on Japan to come up with unique snack flavors, especially when it comes to Umaibo! This month's umaibo flavor is Teriyaki Burger and it's exactly what one would expected. It's full of savory teriyaki sauce flavor though, I can't decipher the "burger" part. Nonetheless, it was tasty and gone in a few bites!
Rice Puff Carrot
How cute! This carrot-shaped snack is actually a baggy full of rice puffs. The rice puffs are tiny with a light and airy crunch. They have a subtle sweetness to them that makes this simple treat delicious.
Pokemon Sun & Moon Cookies
The Pokemon Sun & Moon Cookies are individually wrapped chocolate cookies featuring a variety of Pokemon characters. These are perfectly bite-sized with a crunchy outer "shell" and a soft inner texture. There's also thick chocolate chunks that gives it a richer flavor!
Pineapple Candy Gummies (Left)
The Pineapple Candy Gummies are round in shape, similar to LifeSaver gummies. However, these are very soft in texture and sticky too! It comes tightly sealed which helps preserve the fresh pineapple flavor and chewy texture.
Ramune Candy (Middle)
This Ramune Candy is quite popular and I actually see it stocked in my local Asian grocery mart all the time. The ramune flavored tablet candies are a little chalky/powdery, but once they melt in your mouth, they give off a lemon-like soda flavor.
Bear Cub Gummies (Right)
Another gummy candy this month is the Bear Cub Gummies. I liked these a lot more than the Pineapple ones because of the firmer texture. There were several flavors in the bag including orange, lemon, and cherry. The only bad part was that there were only 3-4 gummies in the tiny packet!
Calbee Veggie Potato Stick Share Pack
Another variant item this month is the share pack. Subscribers will receive either the Split Pea Snack or the Veggie Potato Stick Share Pack. I got the Veggie Potato Stick Share Pack, which I know and love, but I'm disappointed that this is a repeat item for me! Nonetheless, these are savory, light in flavor and texture, and delicious.
Exciting Animal Soft Candy DIY Kit
This month's DIY Kit is the Exciting Animal Soft Candy Kit. This is a simple kit that can be used to mold the soft strawberry and lemon candy into cute bear-shaped lollipops.
TokyoTreat Review March 2019 – Final Thoughts
The March TokyoTreat box felt a little lackluster for me. I loved the idea of the "Spring Market" theme with fresh fruits and vegetables, but I felt like I received several repeats in this month's box. It's not always a bad thing since I get to eat some of my old favorites, but I like trying new things. Plus, a lot of the items this month felt small in size and quantity. I found myself not really getting to fully experience some items.
Nonetheless, there were still a handful of major hits for me this month. Some of my favorites include the Peach Coca Cola, the Teriyaki Burger Umaibo, and the Buttery Salted Sweet Potato Chips!
Mary Vu – http://thepointofvu.blogspot.com