TokyoTreat Review May 2019
TokyoTreat is a monthly subscription box filled to the brim with yummy Japanese snacks. Each month you'll receive popular snacks including candy, chips, crackers, and more! They kindly sent me May's Premium box to review. So lets dig in!
Subscription Details
Box Details: TokyoTreat specially curates their monthly snack boxes with a mix of popular out-of-this-world treats as well as traditional flavors. Subscriptions come in two sizes: Premium and Classic.
TokyoTreat Packages:
Premium: 17 full-size items. (Extra items not included in Classic: 1 Japanese drink, 1 additional Japanese snack, 1 Party Pack, 1 additional Dagashi, and 1 Anime Snack)
– Monthly: $35/month
– 3 Months Prepaid Plan: $33.50/month
– 6 Months Prepaid Plan: $32/month
– 12 Months Prepaid Plan: $31.50/month
Classic: 12 full-size items
– Monthly: $25/month
– 3 Months Prepaid Plan: $24/month
– 6 Months Prepaid Plan: $23/month
– 12 Months Prepaid Plan: $22.50/month
Shipping: Free Worldwide Delivery
Here's a closer look at the box theme and the items I received this month….
May Theme – Tutti Fruity
Included in every TokyoTreat box is a mini magazine that gives you in-depth details of each treat in the box, descriptions, upcoming news, and mini activities!
Sakura Japanese Sake KitKats (Premium)
This month features another exciting and limited edition KitKat flavor – Sakura Sake! When I opened the bag, I was hit with an immediate sake/alcohol smell (and I don't really like the smell of any alcohol). The taste is very sweet and floral. Not my favorite flavor, but a fun one to try. Each bag comes with 12 individually wrapped candies.
Ginbis Matcha Chocolate Corn Puffs (Premium)
The Matcha Chocolate Corn Puffs from Ginbis is a limited edition flavor that's the perfect blend of earthy matcha and sweet cream. It's supposedly mixed with chocolate, but I can't detect it. Nonetheless, the star-shaped puffs are infused with rich flavor that truly melts in your mouth!
Fanta Yogurt Banana Mix (Premium)
If you're a fan of banana flavored drinks, you'll like this Fanta Yogurt Banana Mix soda. It's very fruity and full of strong fizzy carbonation, but unfortunately, I don't really enjoy banana flavored things so this was a pass for me.
Calbee Potato Pizza Mayo Mentaiko Chips
The Calbee Potato Pizza Mayo Mentaiko Chips are the kind of chips you can't just eat one of, but you have to finish the whole bag! These wavy ridged chips were so crispy and generously coated with cheesy pizza, mentaiko (fish roe?) and creamy mayonnaise flavor. I immediately went onto the web to try and locate another bag of these!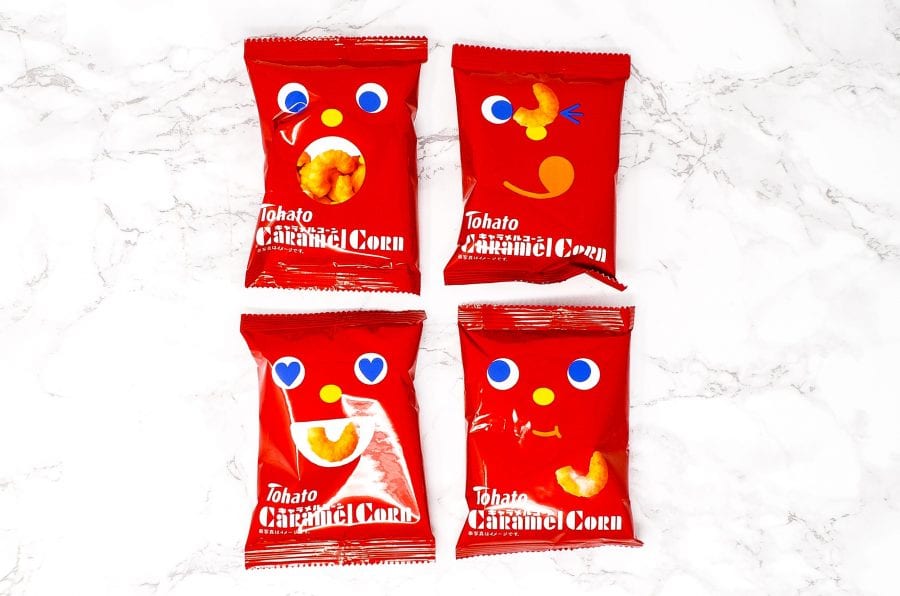 Tohato Caramel Corn Puffs Share Pack
This month's share pack is the Tohato Caramel Corn Puffs! These are a popular OG snack that have a delicious and sweet caramel crunch. Each share pack comes with four mini bags.
Ginza Rusk Pink Strawberry Biscuits
The Ginza Rusk Pink Strawberry Biscuits are packed with a sweet strawberry flavor that's infused into the rusk biscuits. The second you bite down, you're met with a creamy strawberry taste!
Dotaro Crispy Flakes
The Dotaro Crispy Flakes is similar to a ramen snack with crispy tiny ramen-like strings coated in a flavorful curry dusting. Eat these alone or use them to top off your bowl of udon or noodles!
New Mochitaro Puffs (Premium)
These rice puffs are very lightweight and easy to down in seconds. They have a savory and salty soy flavor that pairs well with the crunchy texture making them super addicting.
Chobo Chobo Cookies
The Chobo Chobo Cookies are lightweight mini cookies with a tasty vanilla pound cake flavor! They have a subtle sweetness to them that's very easy to eat.
Sugar Rusk Umaibo Bar
After a disappointing Umaibo flavor last box, this month's Sugar Rusk flavor is one of the best I've ever tasted! This particular flavor is sweet and buttery with a lightly crunchy sugar coating all around. Definitely in my top 3 flavors!
Cherry Mochi (Left)
This mini packet of Cherry Mochi is unlike your traditional mochi. It comes with 12 mini mochi squares filled with a fruity cherry flavor. They're very chewy, but more like a jelly bean rather than a rice cake!
Hello Kitty Strawberry Lollipop (Middle; Premium)
Sometimes its the simple things that taste the best, like this Hello Kitty Strawberry Lollipop! Though it may look small, it's full of sweet strawberry flavor that reminds me a lot of strawberry Starbursts.
Strawberry Mochi (Right)
The Strawberry Mochi comes with two mochi treats. They have a glutinous and chewy mochi texture on the outside, but inside is filled with marshmallow fluff and strawberry filling.
Strawberry Soft Cream DIY Kit
The Strawberry Soft Cream DIY Kit is a repeat from last year's September box, which is a little disappointing, but it's still a fun kit nonetheless. Create soft serve ice cream by just adding water to the packet of strawberry powder. Mix it together and voila – sweet and tangy strawberry soft serve ice cream is ready to eat!
TokyoTreat Review May 2019 – Final Thoughts
The May TokyoTreat box was filled with so many fruit-themed treats this month! There were a lot of hits and misses for me since I'm not a huge fan of cherry blossom or banana flavored snacks, but my favorites were the Sugar Rusk Umaibo, the Calbee Potato Pizza Mayo Mentaiko Chips, and the Chobo Chobo Cookies. There were so many limited edition flavors this month too, so I'm very happy to have gotten the chance to experience them! I can't wait to see what's in store for June!
Mary Vu – http://thepointofvu.blogspot.com