TokyoTreat Review November 2018
TokyoTreat is a monthly subscription that delivers a huge box of yummy Japanese snacks straight to your doorstep. Each month you'll receive popular snacks including candy, chips, crackers, and more! They kindly sent me November's Premium box to review. So lets dig in!
Subscription Details
Box Details: TokyoTreat specially curates their monthly snack boxes with a mix of popular out-of-this-world treats as well as traditional flavors. Subscriptions come in two sizes: Premium and Classic.
TokyoTreat Packages
Premium: 17 full-size items. (Extra items not included in Classic: 1 Japanese drink, 1 additional Japanese snack, 1 Party Pack, 1 additional Dagashi, and 1 Anime Snack)
Monthly: $35/month
3 Months Prepaid Plan: $33.50/month
6 Months Prepaid Plan: $32/month
12 Months Prepaid Plan: $31.50/month
Classic: 12 full-size items
Monthly: $25/month
3 Months Prepaid Plan: $24/month
6 Months Prepaid Plan: $23/month
12 Months Prepaid Plan: $22.50/month
Shipping: Free Worldwide Delivery
Here's a closer look at November's box theme and the items I received this month….
November's Theme – It's Fall Y'all
The theme for November is 'It's Fall Y'all!' This month features fall-inspired snacks revolving around autumn's favorite seasonal foods, like chestnuts and sweet potatoes.
Included in every box is a mini magazine that gives you in-depth details of each treat in the box, descriptions, upcoming news, and mini activities!
Chestnut Kit Kat
This month's seasonal Kit Kat combines two of my favorite things: chestnuts and Kit Kats! You get your typical crispy wafers, but this one is surrounded in a sweet and creamy white chocolate. There's a subtle caramel and nutty taste to these Kit Kats, but sadly, I wish the chestnut flavor was more prominent. Regardless, these quickly satisfied my sweet tooth!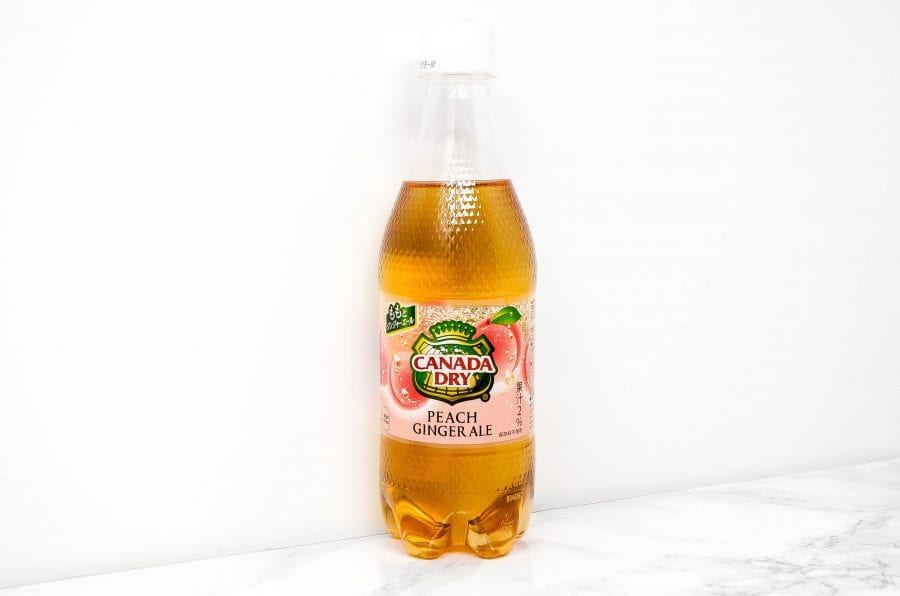 Canada Dry Peach Ginger Ale
I usually shy away from sodas, but I'm always up for ginger ale! Canada Dry created a unique ginger ale concoction with real peach juice! I get the spicy and refreshing kick from the ginger ale, but with a refreshing sweet peach twist. I'm obsessed with this and hopefully we can get our hands on this outside of Japan one day!
Apple Pie Pie No Mi
The Apple Pie Pie No Mi is a buttery and flaky biscuit with an apple flavored custard chocolate center. The flaky biscuit has a sweet glaze coating that pairs well with the yummy apple flavored custard, but I don't really taste the "chocolate". The biscuit slowly melts into your mouth and is truly a great snack to enjoy on a cold day with a cup of hot tea.
Disney Tsum Tsum Bitesize Choco
Inside this adorably packaged treat are bite-sized biscuits with a chocolate cream filled center. Each biscuit comes stamped with a Tsum Tsum character on it. It's a simple snack, but the crunchy biscuit complements the creamy chocolate center so well! These snacks come in 28 different Tsum Tsum designs and are every bit as delicious as they are cute.
King's Crown Chocolate Cookie
The King's Crown Chocolate Cookie is a pinwheel cookie made of vanilla and chocolate. It looks more like a flower or a seashell rather than a crown. Inside the cookie is a rich chocolatey filled center, which you can heat up to make it warm and gooey!
Bisco Sandwich Snack
The kinosei, or healthy benefit, snack this month is this Bisco Sandwich Snack. Don't be fooled by it's appearance and taste. Even though it tastes delicious like your average biscuit sandwich cookie, it contains lactic acid which aids your digestive system. Who knew cookies could be healthy and yummy at the same time?!
Mont Blanc Shimi Choco
The original Shimi Choco Corn is one of my all-time favorite snacks, so when I saw that they came out with a chestnut flavor, I almost jumped for joy! I don't think there could be anything better than Shimi Choco and chestnuts. Shimi Choco Corn is not your average snack. The star-shaped puffs are infused with a creamy white chocolate and Mont Blanc chestnut flavor. You get the crispiness of the puff, but the flavor really melts in your mouth. This one was definitely a favorite.
Yakisoba Taro Snack
The Yakisoba Taro Snack looks like a bunch of mini ramen pieces that are covered in a savory yakisoba flavored powder. It's super crunchy and crispy, but it has a very salty taste that was overpowering.
Vegetable Salad Umaibo
I always look forward to the monthly Umaibo, and this month's flavor is Vegetable Salad! I wasn't sure what to expect, but I was pleasantly surprised that the umaibo was very savory with a strong fish sauce or soy sauce taste. I thought it was delicious, but there' was hard to notice anything "vegetable" about it!
Puffy Sweet Potato Chips
Another popular Japanese fall food is sweet potatoes! These puffy chips are made using real sweet potatoes from Tanegashima, Japan and they taste like the real deal!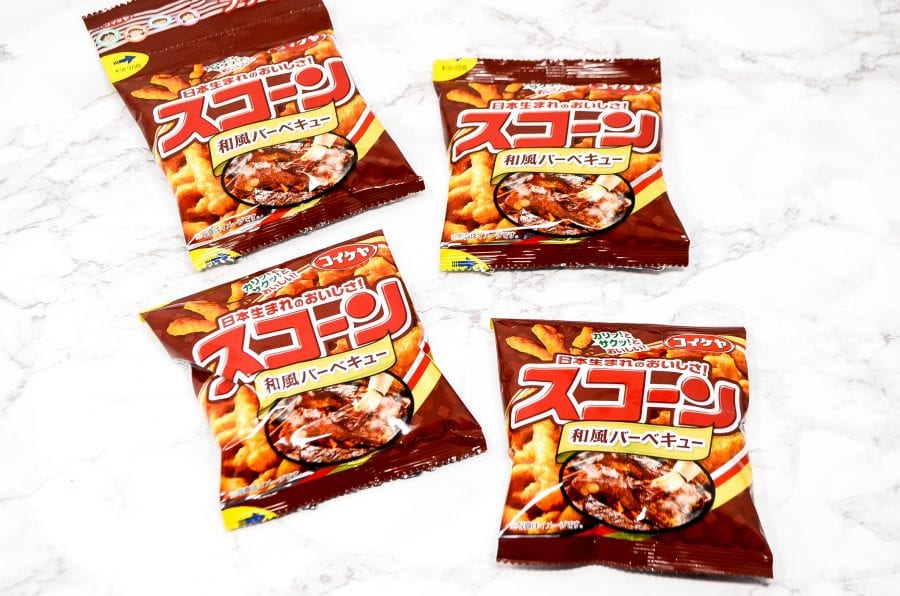 Japanese BBQ Scone Share Pack
The BBQ Scone snack is a corn puff chip similar to the texture of Cheeto puffs but slightly crunchier. These feature a tasty, sweet and savory BBQ flavor that makes it hard to eat just one bag. Luckily this share pack comes with 4 miniature bags, so share them with friends or keep them all to yourself!
Sweet Potato Caramel
This soft and sweet chewy caramel features savory sweet potato and is a Japan-exclusive flavor. The caramels come individually wrapped and it's hard to eat just one. The two flavors complement each other very well, evoking a comforting and homey feeling, just like fall!
Juicy Gummies
I'm very familiar with the candy brand Kasugai since they have a very extensive catalog of gummies, so I was excited to try these new ones! This bag contains 3 different flavored gummies: purple grape, green grape, and peach. They're made of 100% fruit juice and you can really taste the flavor bursting from these. They're soft, chewy, and addicting!
Ramune Soft Ice Cream DIY Kit
As always, I save the DIY kits for my niece and nephew to play with. This month features a Soft Ice Cream DIY Kit! You can easily and quickly whip up your own ramune soda flavored soft serve that's both sweet and refreshing!
TokyoTreat November 2018 – Final Thoughts
TokyoTreat manages to leave me impressed every month, but this month might be my all-time favorite! They included many treats with fall-favorite foods/ingredients like chestnuts, apple pie, and sweet potatoes. I don't think there was anything I disliked from this box besides the Yakisoba Taro Snack being just a bit too salty for my tastes.
As always, you get a little bit of everything from this subscription. The snacks range from drinks, sweet treats, candy, savory chips/crackers, and even a healthy "kinosei" snack. What I love most about this box is that they continuously introduce me to new snacks and unique items I could never get my hands on in America. There's a lot of Japan-exclusive or limited-edition snacks and flavors. It's really hard for me to pick favorites this month, but I loved the Canada Dry Peach Ginger Ale, the Disney Tsum Tsum Bitesize Choco, Mont Blanc Shimi Choco, and the Kasugai Juicy Gummies!
Mary Vu – http://thepointofvu.blogspot.com