TokyoTreat Review October 2017
TokyoTreat is a subscription-based service that delivers the most premium Japanese snacks and candies to your door monthly. From salty, to sour, to sweet, discover limited edition Japanese treats that you won't find anywhere else! They kindly sent us this box for review.  This is a look at the premium subscription.
A Halloween themed snack box?! Now this gets me excited. I saw a spoiler for the October TokyoTreat box and I was pretty darn excited to see that they were going with a Halloween theme. In my opinion, every subscription box should include Halloween goodies in their boxes this time of year.

Subscription Details
When you sign up for a TokyoTreat subscription you have a few options to choose from:
Small Box : 5-7 Full-size Japanese candy and snacks
Regular Box : 10-12 Full-size Japanese candy and snacks 1 DIY candy kit
Premium Box : 16-18 Full-size Japanese candy and snacks 1 DIY candy kit 1 Drink 1 Special item (i.e. drink, premium DIY, high-quality Gachapon toy)
Here's a closer look at the items we received in the October box….
Koala's March – Halloween Version
One of Japan's most famous snacks, Koala's March comes in a special Halloween packaging and design that'll make you fall in love with the chocolate biscuit all over again.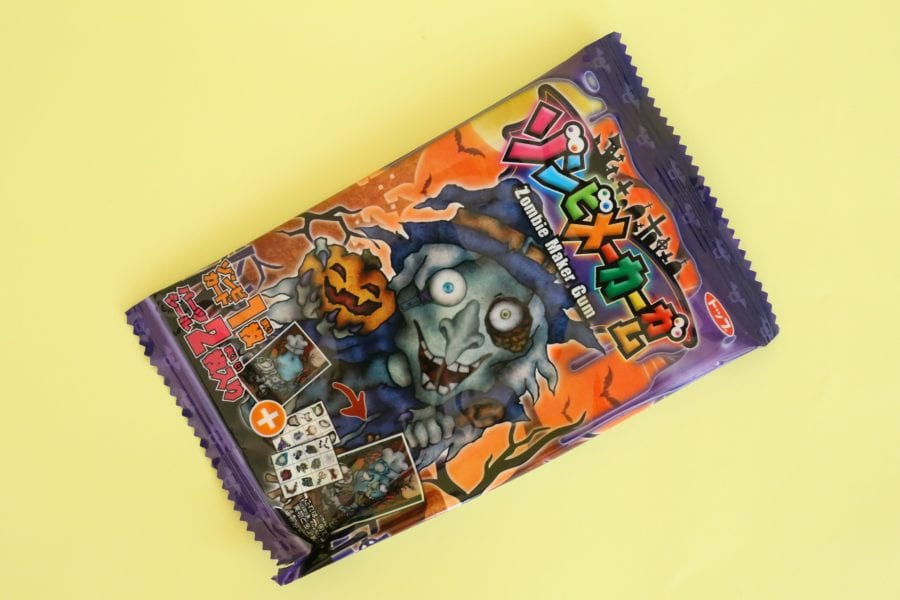 Zombie Maker Gum
Get in the spirit of Halloween with this zombie snack. Each Halloween version Zombie Maker comes with a piece of gum, a zombie card and 2 sheets of stickers allowing you to create your original zombie.
Paripipo Avocado Cheese potato Snack
A crunchy potato snack that combines everyone's 2 favourite things – avocado & cheese! Each side of the triangular snack has either avocado or cheese kneaded into them to give your tastebud a flavourful punch.
Dagashi Mix
Enjoy the combination of 4 random dagashi snacks and 1 Umaibo that's included in your box every month! Did you find them all? What dagashi snacks did you get this month?
Waraku No Sato Chestnut Yokan
Yokan is a wagashi made of red bean paste, sugar and agar. This month, we bring you the variety with sweet chestnut inside them. Enjoy with green tea for an authentic autumn Japanese snacking experience.
Toppo – Halloween Version
Enjoy one of Lotte's flagship snack Toppo in its fun Halloween packaging. The tasty snack is made up of baked biscuit sticks filled with creamy chocolate. Each box comes with 2 bags of the chocolate goodness.
Harvest Mont Blanc Choco Sandwich
Popular biscuit franchise Harvest will entice gourmet snackers with their new Mont Blanc flavour. This snack combines creamy Japanese chestnut and white chocolate to create a tasty autumn treat.

Satsumanma Sweet Potato & Apple Chips
These healthy chips are bursting with the natural sweet flavours of apples and Japanese sweet potatoes. Who says autumn snacking can't be both tasty and healthy.
Horror Mask Mint
Get spooked with this tasty apple mint snack. The blood coloured mints come with a scary DIY paper mask that you can use to complete your Halloween costume.
One Piece Wax Paper
Make any of your food look stylish with this One Piece Wax Paper. Use it to decorate your lunch box, to line your non-bake desserts or even wrap your gifts in. How will you use your wax paper?
Hana Kappa DIY Bubbly Jelly
Meito collaborated with the popular anime character to bring you a fun DIY concoction that's easy to make and cute! Each kit comes with 1 of 6 Hana Kapa design cups that you'll want to keep around.
Pie No Mi – Halloween Version
Hugely popular with our subscribers, the Pie No Mi snack is back in our box this month in its original flavour but in a cute Halloween packaging. Enjoy the light flaky pie snack that's filled with tasty milk chocolate.
Melon Soda Jelly Drink
Ready to have your mind blown with this Dydo jelly drink? The melon soda flavoured drink has a jelly like texture with a fizzy soda sensation but has bits of data de coco, chewy jelly like sweets inside to give the drink its uniqueness.
Mogimogi Fruits Gummy
How cute is this gummy? Shaped like grapes on a vine, each section has its own flavour. Try them on their own or mix it up to combine the flavours of red grape, muscat grape and melon cream soda.
TokyoTreat Review October 2017 – Final Thoughts
TokyoTreat did a great job with this month's box. I'm impressed by the number of Halloween goodies they included. I've received a couple other boxes this month that claimed to have a Halloween theme but really only included one festive goodie in the box. I say, go big or go home. If you are going to do a Halloween theme…….then DO a Halloween theme. Take advantage of the holiday and do it up right. That's exactly what TokyoTreat did this month and I couldn't be happier.
XOXO