TokyoTreat Review October 2018
TokyoTreat is a monthly subscription that delivers a huge box of yummy Japanese snacks straight to your doorstep. Each month you'll receive popular snacks including candy, chips, crackers, and more! They kindly sent me October's Premium box to review. So lets dig in!
Subscription Details
Box Details: TokyoTreat specially curates their monthly snack boxes with a mix of popular out-of-this-world treats as well as traditional flavors. Subscriptions come in two sizes: Premium and Classic.
TokyoTreat Packages
Premium: 17 full-size items. (Extra items not included in Classic: 1 Japanese drink, 1 additional Japanese snack, 1 Party Pack, 1 additional Dagashi, and 1 Anime Snack)
Monthly: $35/month
3 Months Prepaid Plan: $33.50/month
6 Months Prepaid Plan: $32/month
12 Months Prepaid Plan: $31.50/month
Classic: 12 full-size items
Monthly: $25/month
3 Months Prepaid Plan: $24/month
6 Months Prepaid Plan: $23/month
12 Months Prepaid Plan: $22.50/month
Shipping: Free Worldwide Delivery
Here's a closer look at October's box theme and the items I received this month….
October's Theme – Trick or Tokyo Treat
The theme for October is Trick or Tokyo Treat! This month features many sweet treats and limited edition items for the upcoming Halloween holiday. Think tasty pumpkin inspired snacks perfect for fall as well as yummy goodies for your Halloween sweet tooth.
Included in every box is a mini magazine that gives you in-depth details of each treat in the box, descriptions, upcoming news, and mini activities!
Caramel Pudding Kit Kat
I was so excited to be receiving a huge bag of Kit Kats, but I was sadly disappointed by the Caramel Pudding flavor. They are overwhelmingly sweet where half a bar already felt like too much for me! They do taste strongly of caramel, almost like butterscotch and the creaminess from the pudding flavor makes it too decadent and rich.
Takoyaki Ramune
Let it be known that I LOVE nearly all Ramune's, but I was terrified to give this a try. Takoyaki is a delicious fried octopus dough ball dish that I love eating, but drinking it as a soda is another thing… It has a very unusual cinnamon taste at first that turns kinda savory. I took two sips and had to toss the rest. It was just too weird for me! It doesn't taste like Takoyaki, and I'd rather much stick to eating it rather than drinking it!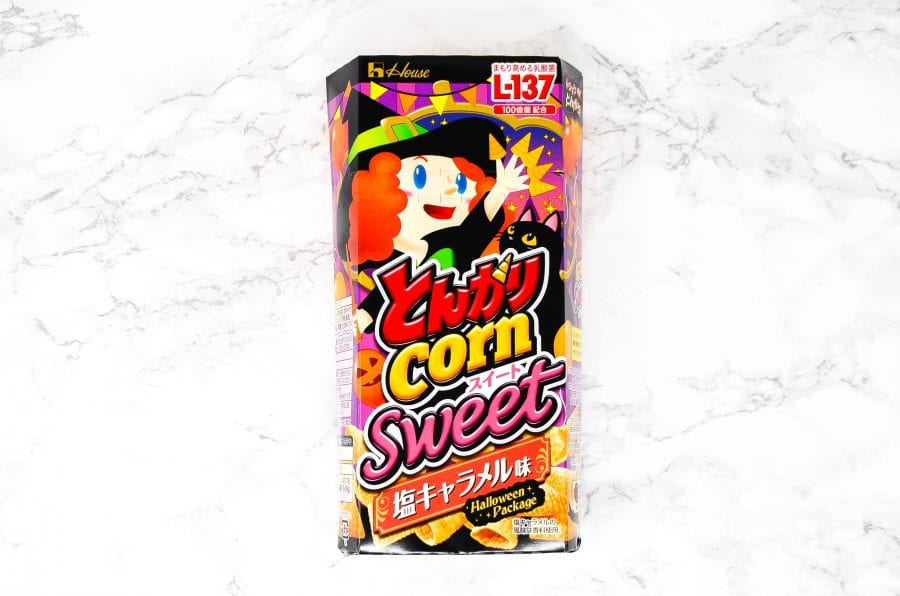 Tongari Corn Salted Caramel
The Tongari Corn Salted Caramel are very reminiscent of Bugles. They are cone shaped corn puff snacks that have a very mild caramel dusting of flavor to them. I find myself craving a little more extra flavor but it was still tasty.
Winnie The Pooh Honey & Chocolate Chip Cookies
The Happy Hunny Ween Winnie the Pooh snacks come in two different flavors: honey and chocolate chip. The honey flavor is a bite-sized crunchy shortbread cookie with a mildly sweet honey flavor while chocolate chip is your typical chocolate chip cookie. Both are equally yummy and the cute Halloween prints make these perfect for the holiday!
Butter Cream Roll Cake
This is a vanilla cake swiss roll with a butter cream filled center. The butter cream filling was sweet and tasted like yummy custard. It has a very soft texture that was easy to scarf down in just a few bites.
Balance Mini-Cake Bar
The kinosei, or healthy benefit, snack of the month is this Balance Mini-Cake Bar. It comes in a cheesecake flavor, but don't be fooled by how delicious it tastes. It also comes packed with vitamins, calcium, magnesium, and iron! I'm always surprised at how delicious yet healthy kinosei snacks can be.
Sanrio Halloween Papiro
Papiro is a chocolate roll filled with a chocolate almond cream center. The outer shell was super crispy which complemented the creamy sweet almond filling very well. This Sanrio Halloween edition box comes with a cute Hello Kitty and Cinnamonroll design and each box contains 10 individually wrapped bite-sized treats.
Mochitaro Salt Rice Puffs
The Mochitaro Salt Rice Puffs were so plain, simple, but surprisingly very addictive. The print on the bag is fun, but it's what's inside that really blew me away. They're mini rice squared snacks that are just super crispy, salty, and savory all at once. It was a great contrast to the majority of the sweet treats in the box.
Halloween Umaibo Corn Potage
OMG! Corn potage is my favorite flavor in anything (especially chips) and this umaibo did not disappoint. This might just be my favorite one yet! It tasted both sweet and creamy just like corn potage, or corn soup. If you're a corn fanatic like me, you'll love this.
Halloween Poteko Pumpkin Gratin
These miniature pumpkin flavored rings are super crispy, crunchy, and tasty! They come in a unique triangular packet which would be cute to give out as Halloween treats. It was very difficult for me to taste the "pumpkin" in these. They tasted more savory like potatoes than pumpkin.
Halloween Shrimp Crackers
These are the super popular and well-known Calbee Shrimp Crackers, but in a cute Halloween designed bag. The chips have a strong savory shrimp flavor that I think most seafood lovers need to taste. I've grown up eating these my whole life and they've become a staple in my pantry.
Pumpkin Wheat Puffs Share Pack
My favorite part of Fall is all of the pumpkin inspired treats! This one is a share pack that comes with four individual packets perfect to bring along on a trip or to give to a friend. These are made up of tiny wheat balls with a semi-sweet pumpkin flavor. The puffs really just melts in your mouth!
Candy Apple DIY Kit
As always, I save the DIY kits for my niece and nephew to play with. This month features a Candy Apple DIY Kit which comes with apple flavored balls, a sweet sauce for dipping, and colorful sprinkles to create your own candied apples!
Halloween Chupa Chups Lollipop
The Halloween Chupa Chups Lollipop is a skull shaped lollipop with a deliciously sweet strawberry skull face and tangy lime flavored brain. I'm not a huge fan of lollipops, but wow this was SO yummy!
TOKYOTREAT REVIEW October 2018 – FINAL THOUGHTS
TokyoTreat continues to leave me impressed with their selection of snacks every month! I think they did a fantastic job incorporating Halloween themed treats and limited edition snacks for their holiday theme. As always, you get a little bit of everything from this subscription. The snacks range from drinks, sweet treats, candy, savory chips/crackers, and even a healthy "kinosei" snack. What I love most about this box is that they continuously introduce me to new snacks and unique items I could never get my hands on in America. My favorites this month include the Halloween Poteko Pumpkin Gratin, Mochitaro Salt Rice Puffs, Papiro, and the Corn Potage Umaibo.
Mary Vu – http://thepointofvu.blogspot.com