TokyoTreat Review October 2019
TokyoTreat is a monthly subscription box filled to the brim with yummy Japanese snacks. Each month you'll receive popular snacks including candy, chips, crackers, and more! They kindly sent me October's Premium box to review. So lets dig in!
Subscription Details
Box Details: TokyoTreat specially curates their monthly snack boxes with a mix of popular out-of-this-world treats as well as traditional flavors. Subscriptions come in two sizes: Premium and Classic.
TokyoTreat Packages:
Premium: 17 full-size items. (Extra items not included in Classic: 1 Japanese drink, 1 additional Japanese snack, 1 Party Pack, 1 additional Dagashi, and 1 Anime Snack)
Monthly: $35/month
3 Months Prepaid Plan: $33.50/month
6 Months Prepaid Plan: $32/month
12 Months Prepaid Plan: $31.50/month
Classic: 12 full-size items
Monthly: $25/month
3 Months Prepaid Plan: $24/month
6 Months Prepaid Plan: $23/month
12 Months Prepaid Plan: $22.50/month
Shipping: Free Worldwide Delivery
Here's a closer look at the box theme and the items I received this month….
October Theme – Poke-Monster Night!
Included in every TokyoTreat box is a mini magazine that gives you in-depth details of each treat in the box, descriptions, upcoming news, and mini activities!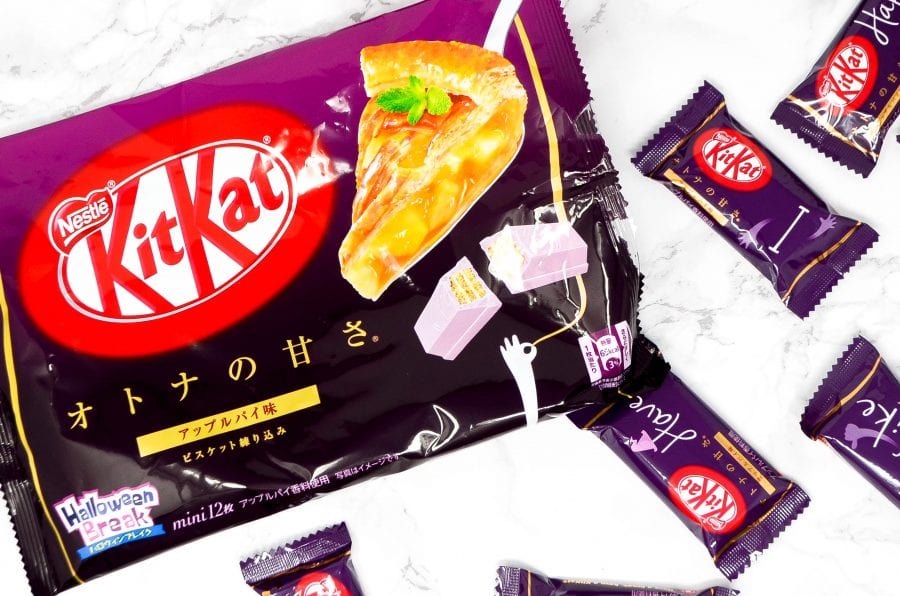 Apple Pie Kit Kats (Premium)
I always love trying out new Kit Kat flavors and this month's special flavor is Apple Pie! The candy coating comes in a spooky and fun purple hue, but the flavors are sweet and slightly tart just like real apple pie!
Pokemon Ramune (Premium)
This ever popular ramune soda is a Japanese classic! This month includes a special Pokemon packaging that's adorable and perfect for the theme.
Disappearing Taste?! Mixed Gum
The booklet has these marked as "gummies", but this bag is actually full of gum balls (please, don't swallow these)! Despite the typo, I really enjoyed these! The bag contains four different colored gum ball flavors that you can mix and match to create unique flavors.
Pikachu Gummies (Premium)
Not only is an adorable Pikachu on the packaging, but the grape gummies are shaped as Pikachu as well!
Halloween Brown Sugar Sweets (Premium)
Sadly, this treat arrived smashed to bits so I couldn't enjoy it, but the brown sugar dusting sure looked tasty!
Pokemon Halloween Chocolate (Premium)
The Pokemon Halloween Chocolate was another Pikachu shaped snack this month. These chocolatey puffs were full of sweet cocoa flavor and crunch!
Halloween Milk Senbei
The Halloween Milk Senbei is a traditional rice cracker snack that tastes a little bland on it's own. However, this special Halloween edition comes with a separate packet of Cola flavored sauce to add to the crackers.
Poteco Pumpkin Gratin
The Poteco Pumpkin Gratin is a repeat item for me, however, we haven't received this big bag version yet. I'm glad because I love these so much! Poteco is a mini ring shaped potato snack that's full of crunch and savory flavor. This pumpkin version is hard to detect, but it has a subtle sweetness. Plus these come in cute packaging with fun phrases if you plan on passing them out to trick-or-treaters. I kept them all to myself of course!
ZomB Grape Gum
This miniature box of gum comes with a creepy zombie design that's perfect for Halloween season! The box comes with 8 mini blue gum balls, but don't be fooled by the color! The flavor is actually a delicious grape.
Bloody Cola Marshmallow
This single fluffy marshmallow snack comes with a surprise center filled with a "bloody" red cola sauce!
Pokemon Cola Chewing Candy
The Pokemon Cola Chewing Candy looks a lot like gum, but it's actually just a really chewy piece of candy. The pack comes with five sticks each and is full of sweet cola flavor. I didn't like these that much since it started off a lot like gum, but slowly turned to mush.
Blue Green Soda Gum
Wow – another pack of gum this month! This one comes with two individual sticks of gum, one stick is blue and the other is green. The surprise is seeing what color your tongue turns after eating this!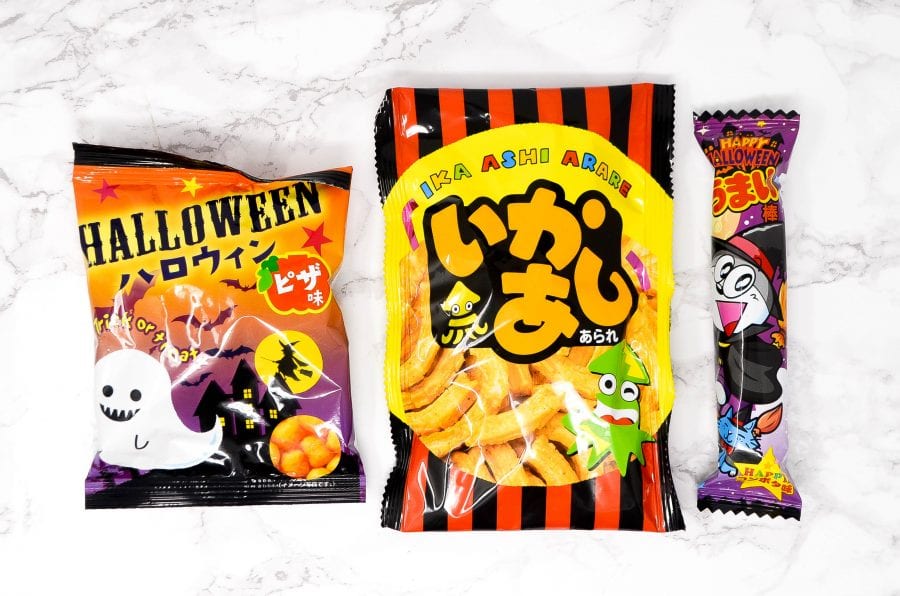 Halloween Pizza Corn Snacks
The Halloween Pizza Corn Snacks is a light and fluffy corn puff snack packed full of savory pizza flavor.
Squid Legs
Mmm, I sure do love squid! Though these crackers aren't actually squid legs, they have a very fishy umami flavor to them. If you like seafood, then this snack is perfect for you!
Corn Potage Umaibo
Another repeat item this month, but it's one I hope always gets repeated! Corn Potage is a creamy soup that consists of corn and it's a delicious comfort food, especially during this time of year. The umaibo version is spectacular and one of my favorites!
Strange Syrup
This month's DIY snack is a fruity syrup candy. I think this is another repeat item as well, but I always give these off to my niece and nephew to play with and they love it! There's three different syrups – blue soda is a thick syrup while strawberry is gooey and lemon is smooth! Mix them together to create your own fruity concoction!
Mystery Item
The mystery item is a repeat, which makes it look like they're trying to get rid of old stock again. 🙁 This DIY kit is a soft serve strawberry ice cream that comes with waffle cones. My niece and nephew love playing pretend and selling these in their "ice cream shoppe"!
TokyoTreat Review October 2019 – Final Thoughts
This month's TokyoTreat box was a big let down for me. I love sweets, but I always appreciated the inclusion of savory snacks to help balance out the box. This month there were only a few savory snacks, with many of the treats being too sweet. Plus, this box was bubble gum overload! Hopefully next month will be much better. My favorite items this month was the Corn Potage Umaibo, the Poteco Pumpkin Gratin, and the Apple Pie Kit Kats!
Mary Vu – http://thepointofvu.blogspot.com