TokyoTreat Review September 2019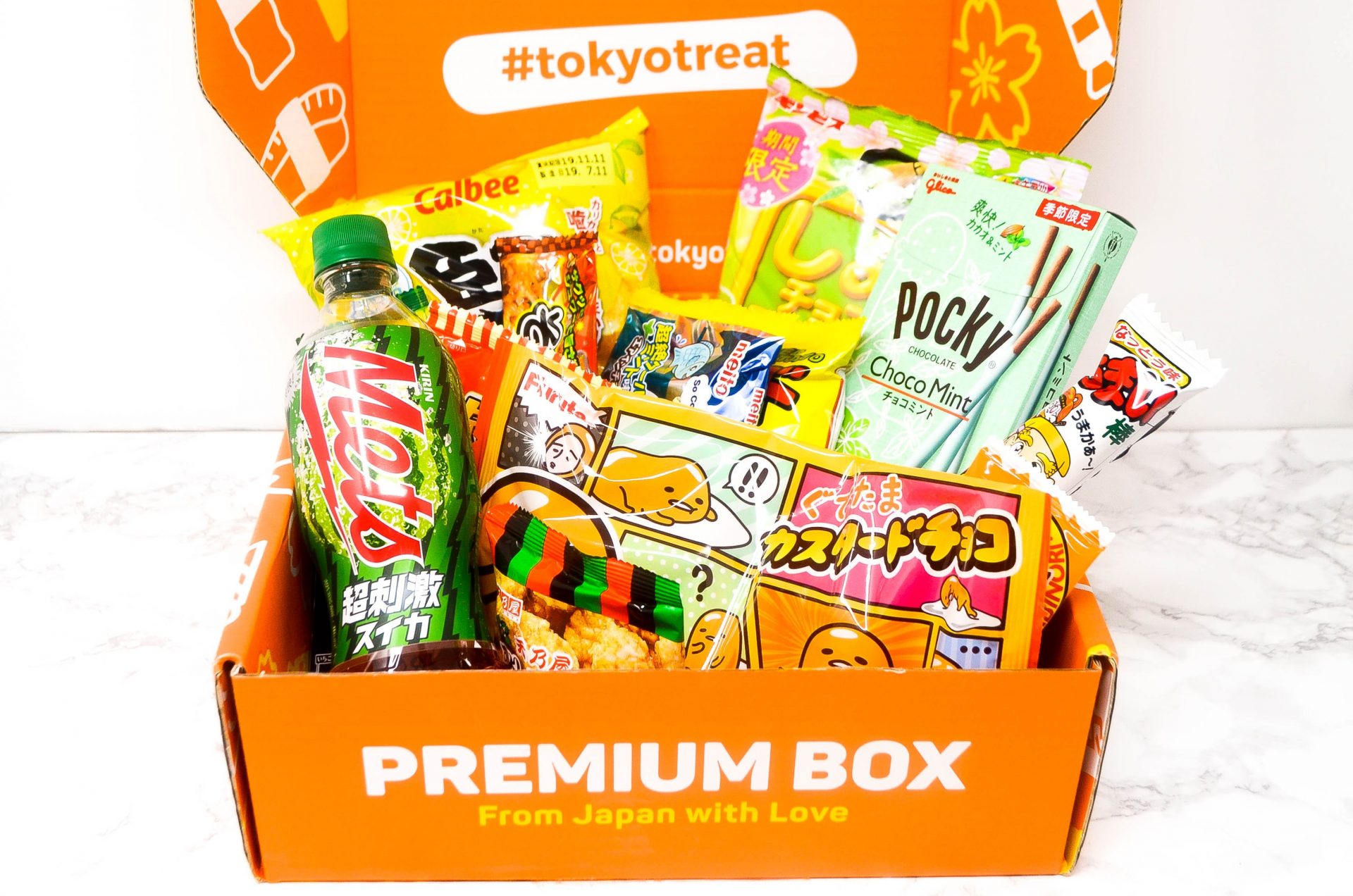 TokyoTreat is a monthly subscription box filled to the brim with yummy Japanese snacks. Each month you'll receive popular snacks including candy, chips, crackers, and more! They kindly sent me September's Premium box to review. So lets dig in!
Subscription Details
Box Details: TokyoTreat specially curates their monthly snack boxes with a mix of popular out-of-this-world treats as well as traditional flavors. Subscriptions come in two sizes: Premium and Classic.
TokyoTreat Packages:
Premium: 17 full-size items. (Extra items not included in Classic: 1 Japanese drink, 1 additional Japanese snack, 1 Party Pack, 1 additional Dagashi, and 1 Anime Snack)
Monthly: $35/month
3 Months Prepaid Plan: $33.50/month
6 Months Prepaid Plan: $32/month
12 Months Prepaid Plan: $31.50/month
Classic: 12 full-size items
Monthly: $25/month
3 Months Prepaid Plan: $24/month
6 Months Prepaid Plan: $23/month
12 Months Prepaid Plan: $22.50/month
Shipping: Free Worldwide Delivery
Here's a closer look at the box theme and the items I received this month….
September Theme – Fresh n' Tasty
Included in every box is a mini magazine that gives you in-depth details of each treat in the box, descriptions, upcoming news, and mini activities!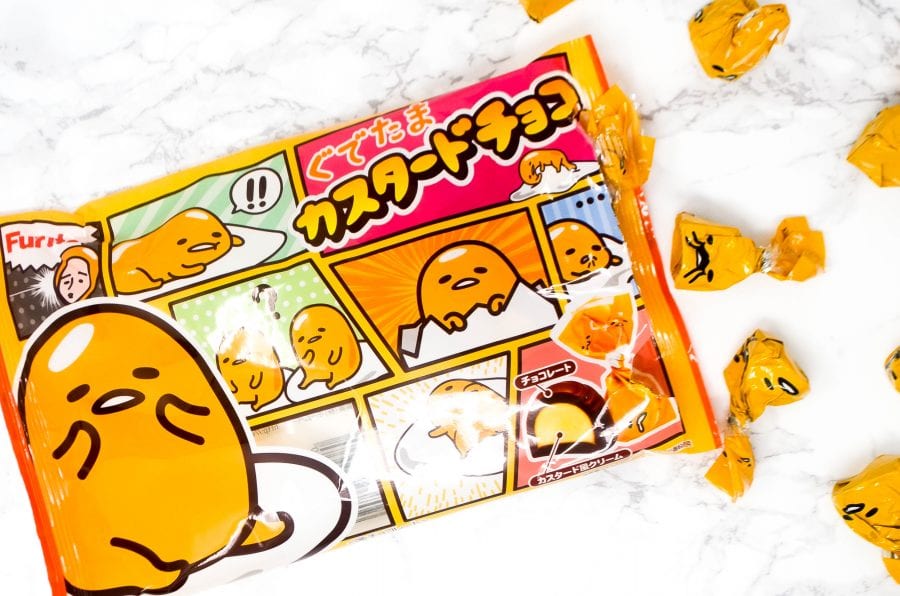 Furuta Gudetama Custard Chocolates (Premium)
This month's party pack is a big bag of adorable Gudetama chocolate! Each chocolate is individually wrapped in a bright yellow foil with a cute Gudetama expression printed on each. The chocolate features a sweet custard cream center for the ultimate melt-in-your-mouth experience. It's rich, sweet, and creamy!
Kirin Watermelon Soda (Premium)
The Kirin Watermelon Soda is a bright pink watermelon flavored soda that's sweet and refreshing. It's perfect for a hot day!
Calbee Yuzu Salt Lemon Potato Chips (Premium)
Calbee has made a lot of unique flavors of chips before, but the Yuzu Salt Lemon is a fruity concoction I didn't expect. Somehow the sour and tart lemon flavor complemented the salty and crispy potato chips really well.
Kabaya Watermelon Gummies
The Kabaya Watermelon Gummies come in the shape of miniature watermelon slices coated in a light sugar crystal dusting. These are chewy, sweet, and full of juicy watermelon flavor.
Furuta Detective Conan Chocolate Bar (Premium)
This chocolate bar reminds me a lot of a Kit-Kat – It features thin crispy wafers covered in a sweet chocolate coating. There was also a strawberry cream sandwiched between the wafer layers to give it a Neapolitan flavor.
Coris Soda Soft Candy
This soft and chewy candy is made with a sweet soda powder that fizzes in your mouth for a tingling sensation.
Petit Kabuki Rice Crackers
I've tasted these crackers in one of these snack boxes before, and I loved them! I'm happy to receive these again since they're just as good as I remember. These super crunchy rice crackers have a savory soy flavor that's simple, but addicting!
Cheese Chips
The Cheese Chips are airy puffed cracker chips with a cheesy burst of flavor.
Fried Potato Chips (Premium)
If you're a fan of fries, you'll love these chips! These come in the shape of miniature potato sticks and have the type of crisp that reminds me of fresh fries. These chips are also jam packed with spices like garlic and ginger.
Chocolate Mint Pocky
The Chocolate Mint Pocky consists of cocoa biscuit sticks coated in a light blue mint creme. It reminds me of a milder Thin Mint!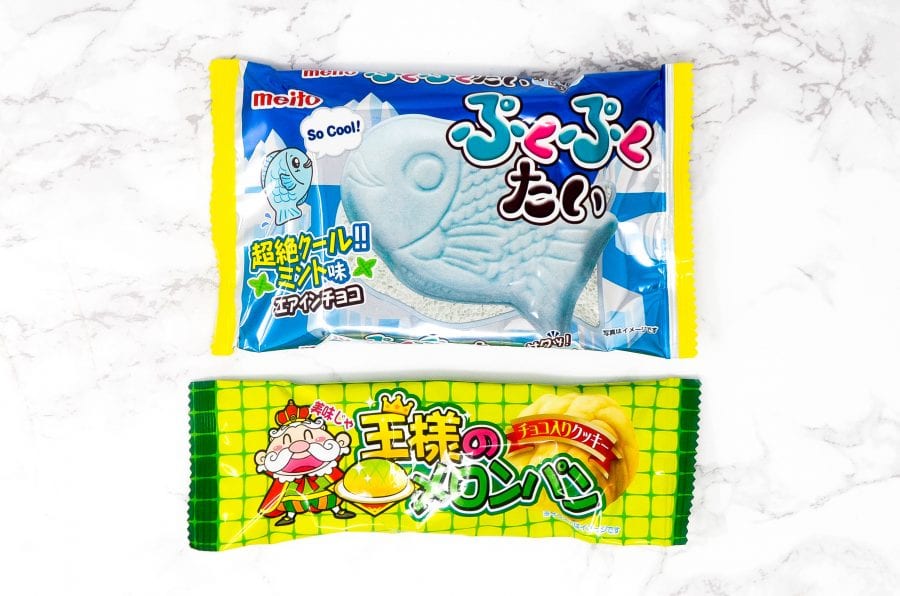 Mint Taiyaki
I LOVE these Taiyaki treats! They're essentially a crispy fish-shaped wafer sandwiches with an aerated filling. This one has a yummy and fresh minty chocolate center
Yaokin Melon Bread Biscuits
This pack of melon bread biscuits comes with three mini cookies. These are sweet and bursting of melon flavor. It's a perfect pairing with coffee or hot tea.
Wasabi Nori
The Wasabi Nori is a small "sheet" of seaweed and wasabi mixed together. Usually, I don't like anything wasabi, but the strong savory flavors mixed with a subtle hint of spice was delicious!
Yaokin Soba
This mini bag of Yaokin Soba contains crunchy pieces of dried soba noodles mixed with flavored rice crisps. Eat these straight out of the bag, or sprinkle them over noodles dishes for an added crunch.
Natto Umaibo
Natto is fermented soybean which is not for the faint of heart. It has a strong fishy/fermented smell and taste, but I enjoy that kind of umami flavor. It bit of spice that crept up on me, kind of like wasabi, but it made this very tasty!
Melon Jelly DIY
This month's DIY snack is a melon jelly drink. Just add your own water to the powdered mixture and stir it up to create your own refreshing melon jelly drink!
Mystery Item – Matcha Chocolate Corn Puffs
There's a mystery item this month and it's the Matcha Chocolate Corn Puffs from the May box! Usually I would be really happy to receive anything matcha flavored, but this is a repeat item and it tasted really stale… The expiration is in September, which is bad since this box is for the whole month of September! It just felt like they were trying to get rid of old stock.
TokyoTreat Review September 2019 – Final Thoughts
The September TokyoTreat box contained a lot of fruity, minty, and soda-inspried flavors to fit into the Fresh n' Tasty theme. I think they did a great job since a lot of the snacks were refreshing especially for these past hot summer days! As always, there were a few savory snacks thrown into the mix to give a perfect balance for the sweet treats. I was a little disappointed with the mystery item this month since it felt like TokyoTreat was just trying to get rid of old inventory. But overall, I really enjoyed this box, especially the Kirin Watermelon Soda, Calbee Yuzu Salt Lemon Chips, and the Chocolate Mint Pocky!
Mary Vu – http://thepointofvu.blogspot.com