Travelista Box Review Fall 2021
Travelista Box is a travel-themed subscription box that delivers a box full of lifestyle items with a focus on a different experience or destination every season. All items are curated by a Certified Travel Consultant to create an around the globe experience as well as provide travel tips and inspiration.
They kindly sent us this box for review.
Subscription Details
Travelista Box subscribers may choose between a seasonal or annual subscription. Each seasonal box costs CAD $99 plus $10 shipping across Canada with savings if opting for an annual subscription. Each box is curated around a travel destination or theme, and contains 5-8 travel lifestyle items such as home decor, clothing, accessories, jewellery, stationery, books, drinkware, food, and beverage.
This time around, Travelista Box is bringing us to France! I traveled to Paris during my college days as part of a backpacking trip across Europe, and this box theme brings back so many wonderful memories.
Everything is beautifully packaged and carefully wrapped in tissue paper.
Let's take a closer look at what is in the box!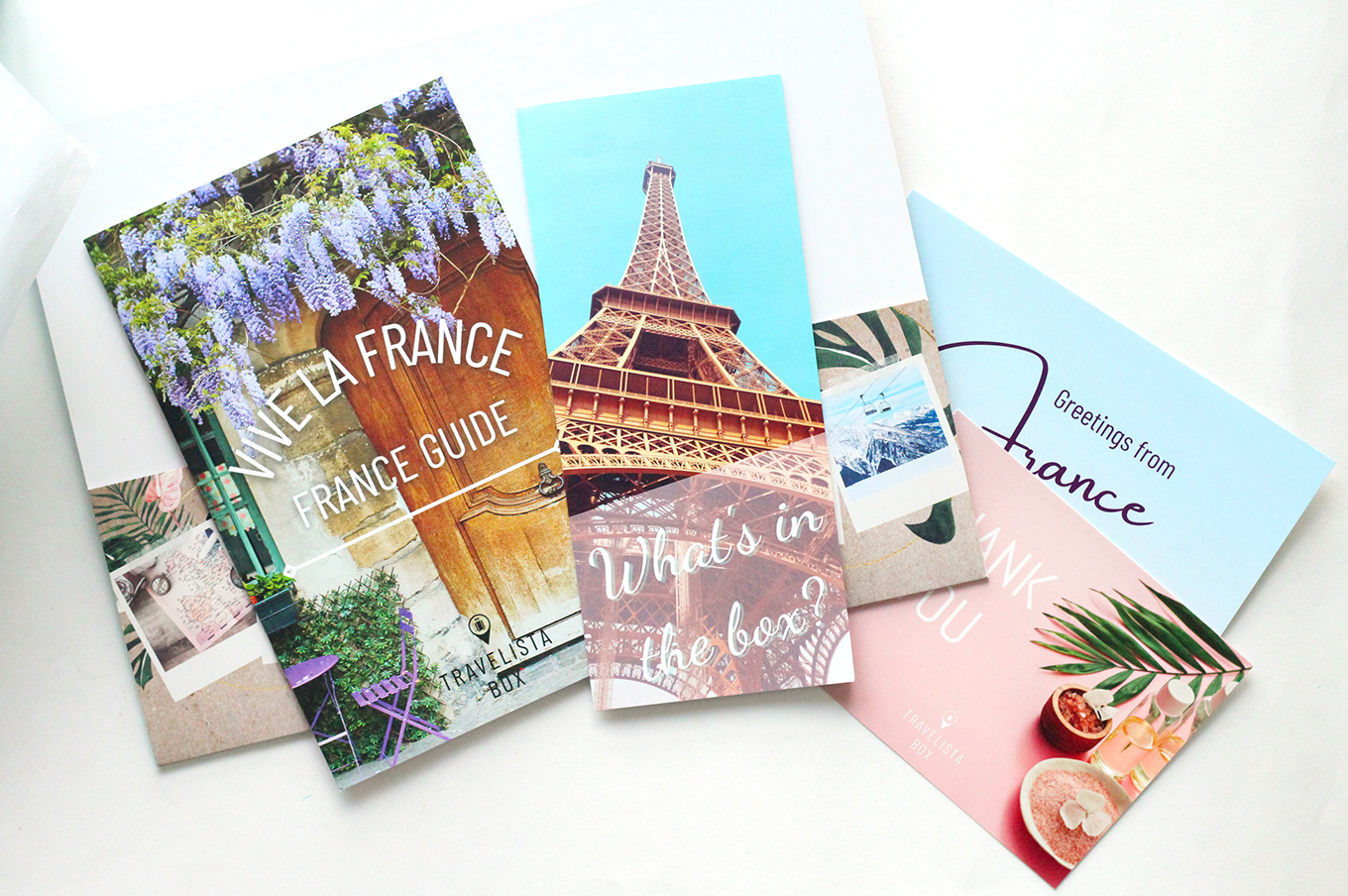 Each Travelista Box includes a little folder containing your "Travel Documents" that contains a variety of booklets, including a travel guide and a product information leaflet. I think this is such a cute touch that is so fitting to the box's theme! Opening and reading the travel guide is always half the fun of unboxing this box for me. The travel guide contains professionally curated travel tips, recipes for local dishes (this month it is French Onion Soup, yum!), and a fun destination-themed puzzle.
Nav Fiorro Stemless Champagne Flute – $16.50
"Champagne has been around since the 1600's, and was actually created by accident. Although we would have loved to have an actual bottle of champagne in the box, this is the next best thing!"
I am having so much fun sipping my sparkling waters and juices out of this little glass. Such a cute addition to my collection of mugs and glasses! The glass is dishwasher safe.
St Michel Caramel Butter Cookies – $5.50
"Made in France, we know you will love these caramel butter cookies. How could we have a France box without a France baked good?! Enjoy with a cup of coffee or tea, or maybe even bring them along to your French picnic."
These are so yummy! One of these cookies, paired with a cup of coffee, and I can sit back and imagine being in a French cafe.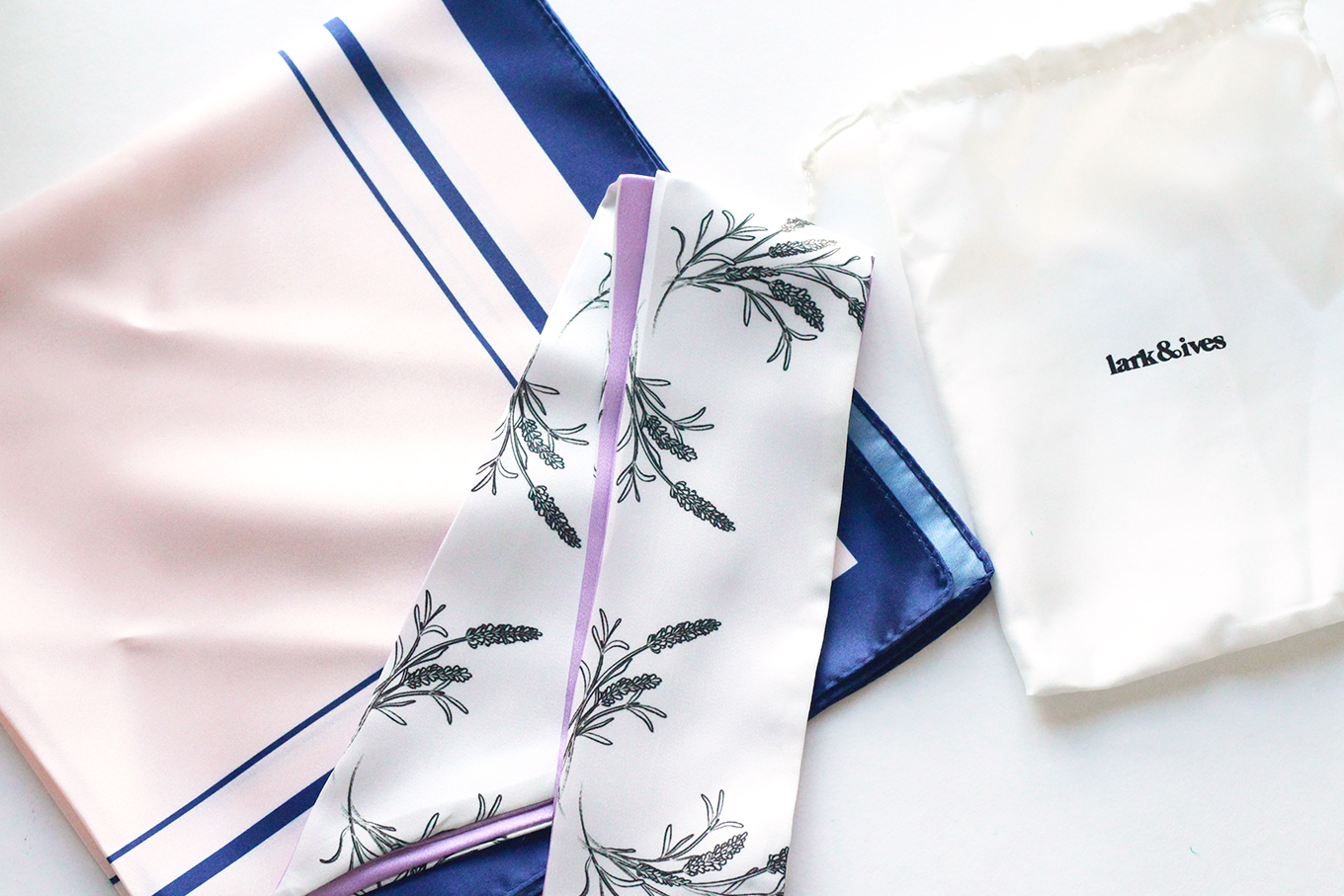 Lark & Ives Silk Scarf and Twilly Set – $60.00
"Silk scarves and accessories have been worn in France for decades, dating back to the 1930's. Famous designers such as Christian Dior, and Yves Saint Laurent were some of the pioneers of these fashionable accessories."
I love the pretty lavender print on the twilly and the simple sophistication of the bordered pattern on the scarf. These are custom designed for this box by Vancouver company Lark & Ives. I currently have them as an accent on my purse, but they can also be worn on the hair or neck.
Miandu Jewellery Eiffel Tower Necklace – $38.00
"We knew we had to get iconic Eiffel Tower in the box, and what better way we thought than on a necklace. These are handmade with love in the shadows of the Rocky Mountains by Judith at Miandu Jewellery."
Simple, delicate jewelry pieces like this are just the kind I would pick for myself! If I had to pick one, this has got to be my favourite item in the box. Subscribers may also receive variations of the necklace in rose gold or gold.
Sipping My Way Around the World Travel Straws – $6.50
"Our general travel item: 2 metal straws with a cleaner, and a cotton holder. Saving one ocean at a time, take these travel straws on whatever adventure comes your way."
Not very exciting, but so, so practical! Reusable straws are such a must nowadays with plastic straws being phased out all around us.
Les Savons de Marseille Lavender Soap – $8.50
"Also made in France is olive oil soap in lavender scent. Olive oil soaps have been made in the south of France, in Marseille, for almost 600 years. With just a few ingredients, it is great for sensitive skin and hands. You can find lavender scented products all over the country as France is world-renowned for it's lavender fields in the Provence area."
Close your eyes, and let the gorgeous scent of this soap transport you right into the middle of a field of lavender. I am super picky about scents in my skincare products, and this one smells amazing.
Maple Wood Prints France Illustration Map – $24.00
"Showcasing all of the beautiful regions in France was another of our goals for this box. Working closely with Kristie at Maple Wood Prints, in Hamilton, Canada definitely helped us achieve this. We hope this inspires you to visit all of the beautiful places on the map."
I love this print with all the landmarks highlighted on the map of France. It is in such pretty colours too! Framed, it is the perfect piece of decor.
Le Dolci Private French Macaron Baking Class – $50.00
"The classic Parisian macaron has always been desirable to master! Follow the link on the postcard for prep ingredients and instructions, and join us on Zoom!"
French macarons are among my favourite desserts! I always wanted to make my own, but can never master the techniques. A class like this is perfect! Don't worry, if you are like me and missed the live class, you can always still visit the recorded session at a convenient time.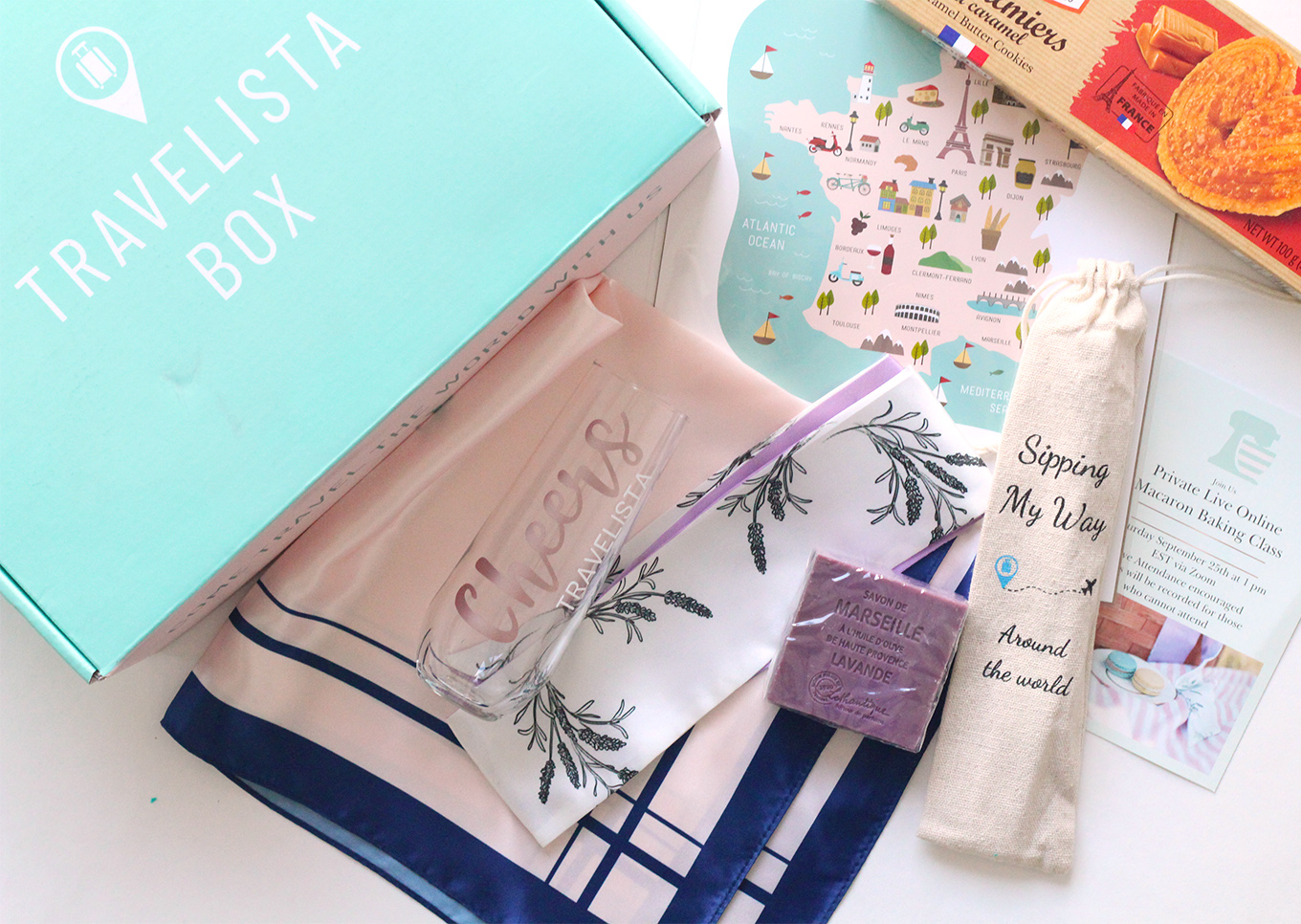 Travelista Box Review Fall 2021 – Final Thoughts
With such carefully curated items as this, is it any surprise Travelista Box is one of my favourite subscription boxes? They really lived up to expectations again with a box that truly captures the sights, scents, and foods of France. My favourites in the box are the Eiffel Tower necklace, lavender soap, and macaron baking class. My husband loved the caramel cookies, and devoured most of the box as soon as I was done taking pictures of it! Since traveling is still something that won't be in the cards for us in the near future, a box like this is just perfect to satisfy that travel lust. This is the perfect box for anyone who has a love for travel or who just wants to experience different destinations through a subscription box.
Toby & Rocket – http://www.tobyandrocket.com