Travelista Box Review Spring 2022
Travelista Box is a travel-themed subscription box that delivers a box full of lifestyle items with a focus on a different experience or destination every season. Each box is curated around a travel destination or theme, and contains travel lifestyle items such as home decor, clothing, accessories, jewellery, stationery, books, drinkware, food, and beverage. All items are curated by a Certified Travel Consultant to create an around the globe experience as well as provide travel tips and inspiration.
They kindly sent us this box for review.
Subscription Details
Travelista Box subscribers may choose between a First Class or Business Class subscription:
First Class subscription – The seasonal box costs CAD $99 plus $10 shipping across Canada or $15 shipping to the US, with savings if opting for an annual subscription. Each box contains 6-8 travel lifestyle items, with total value between $150-$300. First Class subscribers can also join the loyalty postcard program, get first access to sales and limited edition boxes, and receive other membership perks such as travel community access and product discounts.
Business Class subscription – The seasonal box costs CAD $55 plus $10 shipping across Canada or $15 shipping to the US. Each box contains 3-5 travel lifestyle items, with total value between $100-$150. Subscribers will receive membership perks such as travel community access and product discounts.
This month, the folks at Travelista Box are taking us on a trip to Ireland. I have never been there, and from the photos of the coastline in the box information booklets, the place is gorgeous! Definitely worth a trip there someday.
The first thing you will see upon opening each box is a folder aptly titled "Your Travel Documents". Inside is a little travel guide to the featured destination and a booklet describing all the items in the box. The travel guide is one of my favourite parts about this box! It contains both useful information such as sights to see and a little history of the country, as well as fun tidbits like a recipe to try and destination-themed crossword puzzles.
Let's take a closer look at all the goodies!
This time around, First Class subscribers are given a choice between two items.
Option 1: McNutt of Donegal Lambswool Scarf
"McNult is a small Irish company that has been weaving scarves and throws since 1953. They work with materials such as lambswool, cashmere, and alpaca. Since wool is such a popular Irish material as well as fashionable, we thought these beautiful Irish accessories were a perfect match for this box."
This scarf is so soft and warm! Wool scarves for me are the perfect fall/winter accessory and I am glad to add this gorgeous green and grey scarf to my collection.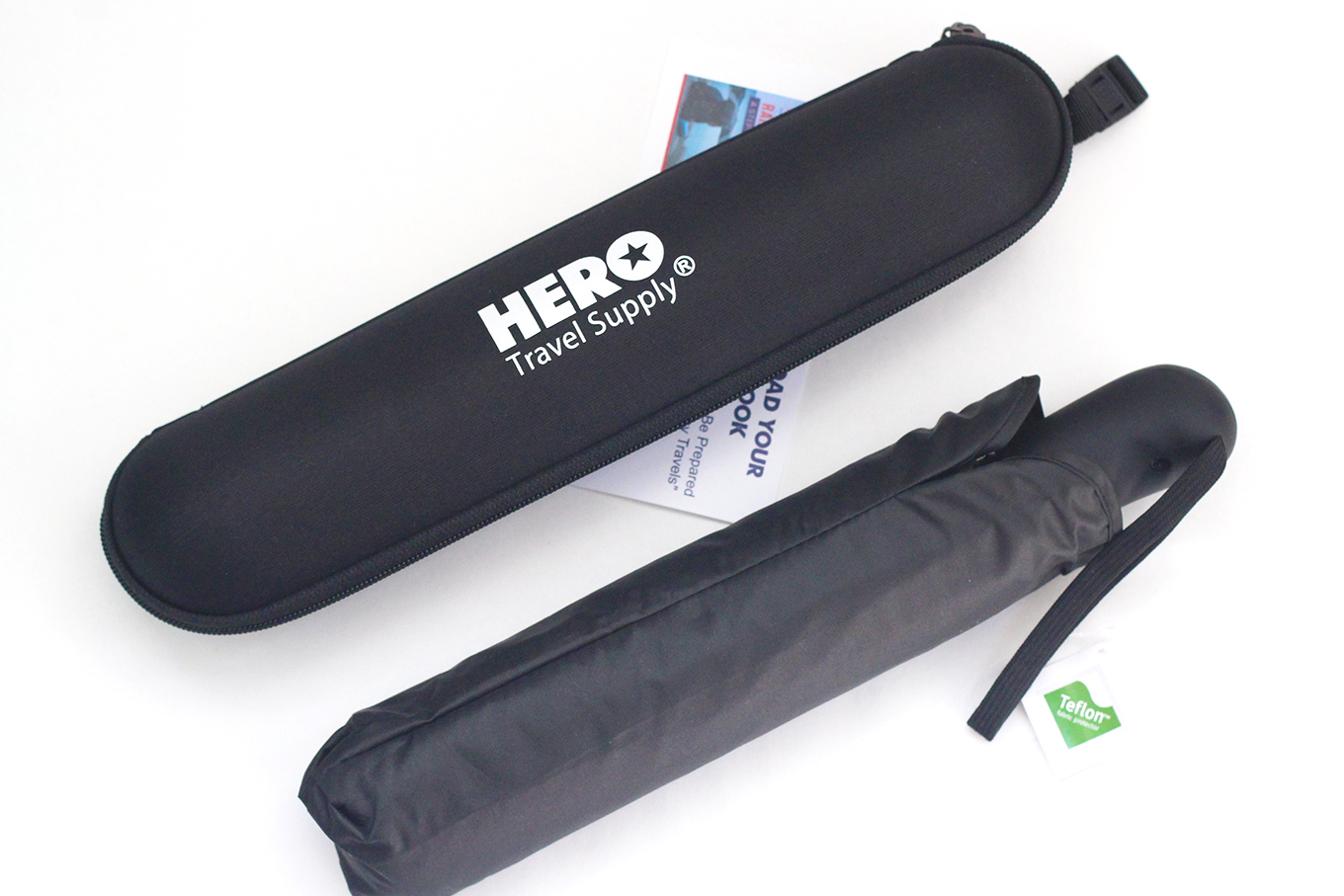 Option 2: Hero Travel Supply Travel Umbrella
"Since it rains so much in Ireland – if you go you might want an umbrella. Of course, since we are a travel box, we've found this very fitting travel umbrella. Hero Travel Supply is a company located in the United States, and is also a small business."
Umbrellas are a necessity here in Vancouver too, the city isn't nicknamed Raincouver without good reason! This one is really well made, opens with one click (great when you are also juggling a ton of bags and need to open an umbrella with one hand), and comes with an amazing case to store in.
CFX Chocolate Factory Experience Chocolate Mint Drops
"Made in Canada, this premium artisanal chocolate factory worked with us to create a custom chocolate size. Irish Chocolate is a popular confectionery in Ireland, and we knew we had to put some in the box. We hope you get into the Irish spirit, and feel "Irish at heart" with these bright green chocolate mint drops."
Can't say no to chocolate! Mint is one of my favourite chocolate flavours, so excited to get these.
Murchie's Fine Tea & Coffee Irish Breakfast Tea
"Ah, good old Irish breakfast tea. Such a delight, with such flavour. Irish tea has been around for centuries, and initially imported and drunk by the rich as a luxury. Murchies has been proudly Canadian owned and made since 1894."
Murchie's is one of my favourite tea stores, located right here in downtown Vancouver. So glad to get to try this tea from them! English breakfast tea is one of my go-to favourites, but I have never tried Irish breakfast. Looking forward to this and to see how it compares.
Universal Travel Adapter
"A handy travel item all over the world, especially in Ireland and Europe. Be sure to use the UK adapter setting. This is an upgraded version with USB plugs so you can charge more than one electronic at a time."
This sits firmly in the not very exciting but oh, so essential category. This will come in very handy for any future international trips I will take.
Stojo Travel Collapsible Cup
"Another duo product, where it fits travel, but also the destination. Stojo has missions of sustainability and believes we can all make a difference with reusable products. On a travel level, this is perfect for on the go, and so compact."
So excited for this! I have been wanting to get one of these cups for quite a while now. This collapses to a nice compact disc, that makes it really easy to just slip into my bag.
Travel Jewelry Case
"Having this compact jewelry case made exclusively for us, we designed it purposely for Ireland with the lovely green emerald colour. We know how difficult it can be to pack any type of jewelry to go anywhere, even for just a weekend."
How gorgeous is this green! In addition to packing for travel, I love using jewelry cases like this to just store and organize my jewelry at home. The little compartments help me keep everything organized and keeps my necklaces from getting all tangled. Isn't trying to untangle a bunch of necklaces the worst?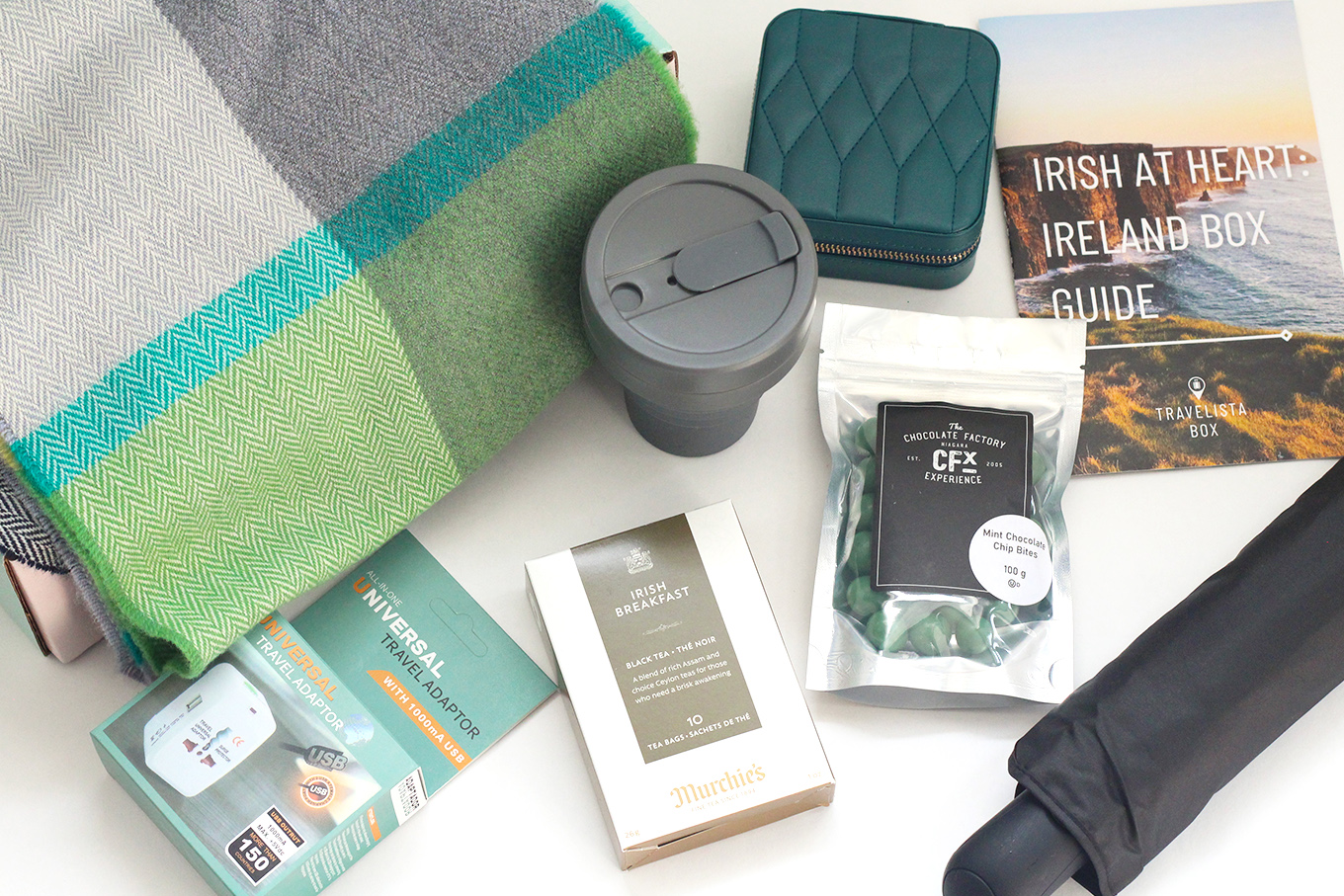 Travelista Box Review Spring 2022 – Final Thoughts
This is my favourite box from Travelista Box so far! Every item in this box is so thoughtfully curated, and I can put each and every one to good use. My favourites are the jewelry case and the Stojo mug. This is the perfect subscription for those who love to travel with each box transporting us to a brand new destination. I can't wait to see where the next box brings us!
Toby & Rocket – http://www.tobyandrocket.com