Travelista Box Review Spring 2023
Travelista Box is a travel-themed subscription box that delivers a box full of lifestyle items with a focus on a different experience or destination every season. Each box is curated around a travel destination or theme, and contains travel lifestyle items such as home decor, clothing, accessories, jewellery, stationery, books, drinkware, food, and beverage. All items are curated by a Certified Travel Consultant to create an around the globe experience as well as provide travel tips and inspiration.
They kindly sent us this box for review.
Subscription Details
Subscribers may choose between a Elite Class or First Class subscription:
Elite Class subscription – Each box contains 8-10 travel lifestyle items. Elite Class subscribers can get first access to sales and limited edition boxes, and receive other membership perks such as travel community access and product discounts.
First Class subscription – Each box contains 6-8 travel lifestyle items. Subscribers will receive membership perks such as travel community access and product discounts.
Boxes are delivered every quarter: March, June, September, December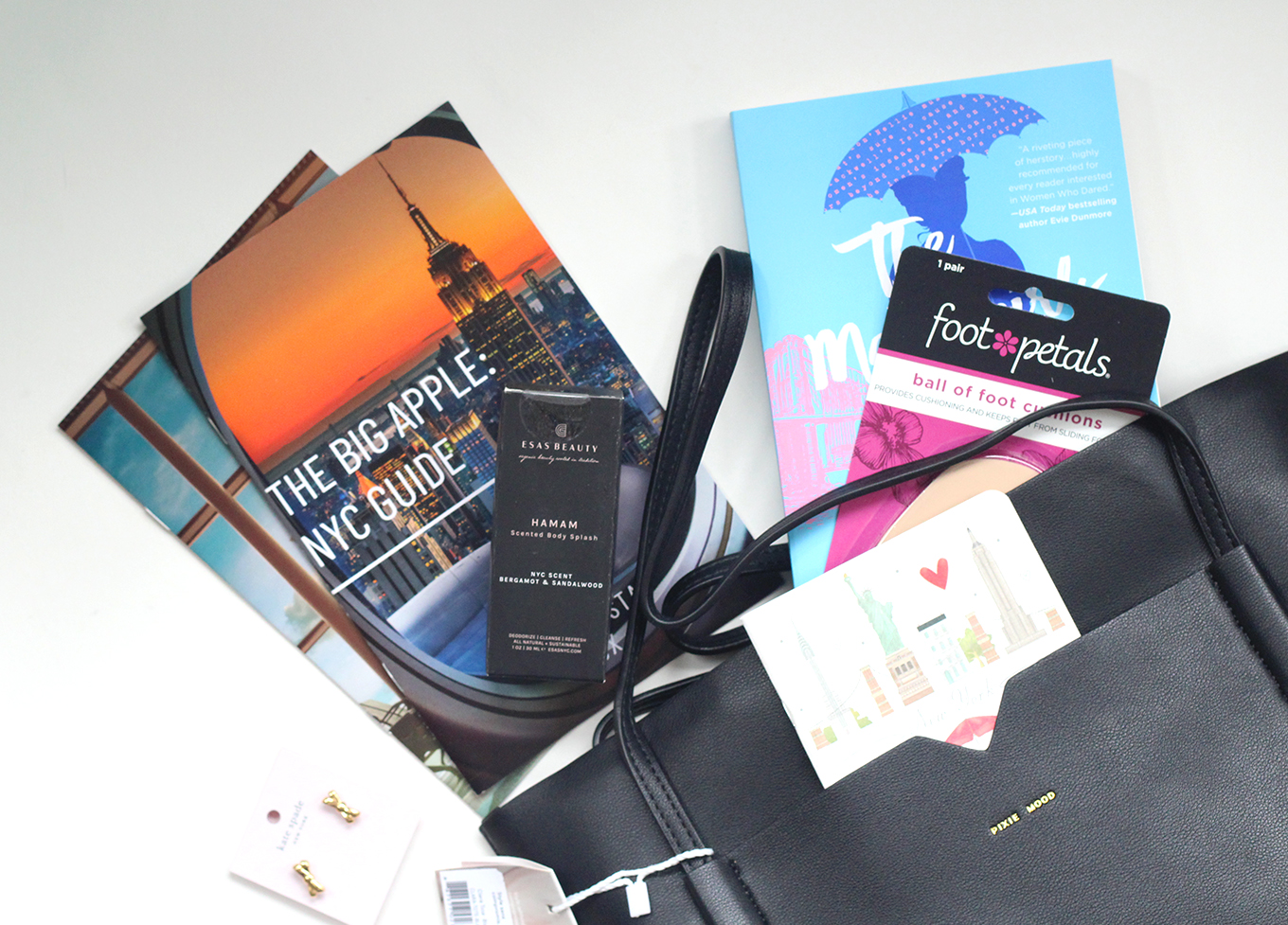 This month we will be traveling to New York City!
"The city that never sleeps and the city of dreams. The city that is known throughout the entire world for its rich history, culture and opportunity. Let's explore this diverse city together!"
Each Travelista Box comes with a travel guide that tells you all about the destination, such as must see places, local foods, and even a recipe you can try yourself.
Let's take a closer look at everything in the box…
Pixie Mood Clara Travel Business Bag Duo
"An everyday tote bag that makes carrying all of your belongings a total breeze. 100% Recycled Vegan Leather. Front and back slip pockets. Detachable pouch with detachable, adjustable crossbody strap. Can easily fit a tablet or notebook for meetings and organization."
This is such a functional tote in a classic timeless design. I love the removable pouch that comes with it's own crossbody strap – it's like getting two bags in one! I prefer using without the pouch insert to allow for more room in the tote, it makes for the perfect diaper bag.
Acre Tree New York Notebook
"Being on the go, it's super helpful to have a notebook to jot down ideas or things you see. What better inspiration than a handmade New York notebook. We know you won't find one like this in your typical New York souvenir shop."
I can never have enough little notebooks – there is always one lying around somewhere so that I can quickly write down any ideas or notes when I think of it. Bonus when the notebook has a cute cover like this one. I love all the little hand drawn icons representing New York City!
Donnamax NYC Travel Hair Brush
"Use the Spa Savvy Pop-up Brush for the stylist on the go. Features a mirror and folds in half to take on the go in your cosmetic bag or clutch."
So cute and convenient! Not one for me because my on the go hair styling consists of just running my hands through my hair, but I can see how this would be super useful for someone who uses a brush.
Foot Petals Ball of Foot Cushion Insoles
"Ball of foot cushions keep feet from sliding forward, reducing burning pain and preventing calluses. Slim design offers comfort while remaining discreet and eliminates ugly overhang and toe scrunch without compromising fit."
These are really soft and cushy, and look like they will help so much with adding comfort. Definitely going to give these a try when I come across a pair of shoes that cause calluses.
The Mad Girls of New York
"This is a fictionalized account of Nellie Bly, who carved out a career for herself as a journalist despite the odds against her. Her bravery in getting herself admitted into an insane asylum to report on the conditions put her on the map, and launched her successful career in a very male dominated career. She survived ten days in the asylum and proved the skeptics and her critics wrong."
I don't have much time for reading nowadays, but this sounds like such a fun read!
Esas Beauty NYC Deodorizing Travel Body Spray
"Luxuriate in the lights of the Big Apple with notes of electric bergamot, creamy sandalwood and velvety orris. Like a 'bath in a bottle', Esas Hamam Deodorizing Body Spray is scientifically formulated with the purest ingredients to cleanse, deodorize, and refresh wherever you go."
I generally prefer scented lotions over sprays, so this is not really something I use. The scent is citrusy and floral, and slightly woody from the sandalwood.
CALA Travel Makeup Brushes
"I don't know about you, but when we're on the go we want the most compact way to pack our makeup. We know you will be looking your most fabulous self with these travel makeup brushes!"
This is a nice little brush set, complete with a compact case to pack them up in when traveling.
Periea Liberty Pop Art Luggage Cover
"Covering your nice luggage is a great way to keep it clean for a long time. This large checked bag luggage cover obviously features New York, but at the same time will prevent your luggage from getting scratched or marked. At the same time you will always see your luggage amongst all of the others."
Ever get annoyed when collecting your checked bag because everyone seems to have identical black suitcases? This will help so much with spotting your bag right away without having to look for a name tag to make sure you don't pick up the wrong bag!
Kate Spade Bow Earrings
"We all know Kate Spade, and know that it would not be New York without them. We chose this classic style that goes well with any outfit, and great for the on-the-go classy lady!"
These are so cute! I just love how simple and classy they are. Subscribers have a choice between silver, gold, and rose gold.
Final Thoughts
Such a cute and functional Travelista Box this time around! I love the New York City themed items and just how colourful and fun it all is. My absolute favourite item in the entire box are the Kate Spade earrings. Also love and am getting so much use out of the Pixie Mood tote and NYC notebook. The folks at Travelista Box always do such a great job at curating the box, I look forward each time to seeing where they choose to take us.
Toby & Rocket – http://www.tobyandrocket.com