Travelista Box Review Summer 2022
Travelista Box is a travel-themed subscription box that delivers a box full of lifestyle items with a focus on a different experience or destination every season. Each box is curated around a travel destination or theme, and contains travel lifestyle items such as home decor, clothing, accessories, jewellery, stationery, books, drinkware, food, and beverage. All items are curated by a Certified Travel Consultant to create an around the globe experience as well as provide travel tips and inspiration.
They kindly sent us this box for review.
Subscription Details
Travelista Box subscribers may choose between a First Class or Business Class subscription:
First Class Subscription – The seasonal box costs CAD $99 plus $10 shipping across Canada or $15 shipping to the US, with savings if opting for an annual subscription. Each box contains 6-8 travel lifestyle items, with total value between $150-$300. First Class subscribers can also join the loyalty postcard program, get first access to sales and limited edition boxes, and receive other membership perks such as travel community access and product discounts.
Business Class Subscription – The seasonal box costs CAD $55 plus $10 shipping across Canada or $15 shipping to the US. Each box contains 3-5 travel lifestyle items, with total value between $100-$150. Subscribers will receive membership perks such as travel community access and product discounts.
This time around, we are taking a little trip to the tropical beaches of Thailand. This brings back so many memories! I grew up in Malaysia, and Thailand is a popular college break destination for us.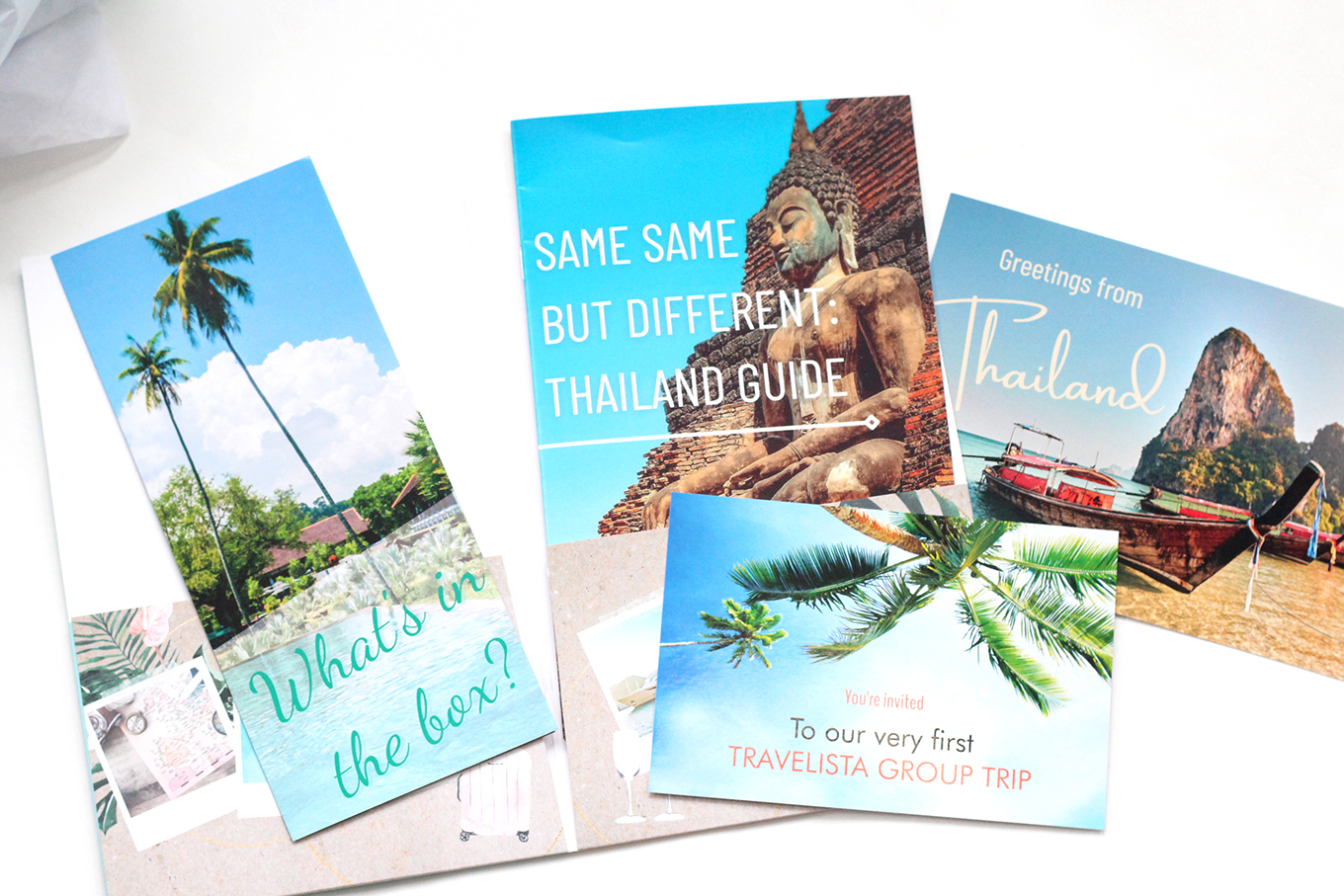 Each Travelista Box comes with a travel documents folder to guide you on your trip. Inside the folder is a little travel guide to the featured destination and a booklet describing all the items in the box. The travel guide contains both useful information such as sights to see and a little history of the country, as well as fun tidbits like a recipe to try and destination-themed crossword puzzles.
Let's take a closer look at all the goodies!
First Class subscribers are given a choice between three items:
Option 1: Gaiam Travel Yoga Mat
"Bring yoga or meditation on the go with you, or stay organized by folding it and tucking away nicely. Not only do Thai people practice yoga, they also meditate, and offer yoga teacher trainings to students around the world."
I am so excited for this! I love yoga, and love this mat so much compared to the usual roll up ones. It can be easily tucked into my gym bag or tote making for one less item to carry to my classes, and I can store it neatly on a shelf when not in use.
Option 2: IST Textile Mint Hand Woven Turkish Towel
"Handmade in Turkey, this hand woven cotton turkish towel is great for any beach day. It is easy to roll up, fast drying, and soft enough to lay on. We chose this vibrant tropical mint colour to stand out at the beach, or give you some tropical inspiration right at home."
I love Turkish towels for how multifunctional they are. Use as a beach towel, or as a light throw for cold summer nights.
Option 3: Maplewood Prints Thailand Wall Art
"Thailand has such beautiful taxi boats that we thought a nice piece of art would go well to help you remember Thailand, or dream about going there. This is a must experience once you arrive."
This artwork is custom made for Travelista Box. I love the bright and cheery beach scene!
Thai Clothing Experts Fair Trade Elephant Sarong
"Sarongs are everywhere in Thailand. They are easy to pack, comfortable, dry quickly and can be worn in many different ways. We thought this elephant print would be well suited in its traditional Thai print. This is a cotton sarong and can be machine washed, and hang dried."
Sarongs like this are a beach-going staple in Thailand. They can also be worn as comfortable lounge wear at home. Do check out some video tutorials on the many ways to wear one! I love the colour and print chosen for this box, those elephants are so cute.
Buddha Incense Holder
"We knew we had to get both a Buddha featured item and an incense holder. We could not find this exact product, so we had it made, just for us. We are so excited about this because meditation is such a beautiful thing, and we know this will bring peace in your home."
Goloka Chakra Incense
"To go with your Buddha incense holder, the wellness theme of the box, and assist in good energy in the home, we knew we had to put in a great smelling incense. After trying (probably around 100) we chose these because we found them the most peaceful, and mild in smell."
The incense holder is absolutely gorgeous. I don't generally enjoy having incense in my home though, so this set is kind of a miss for me. However, this will make for an amazing gift to someone who does enjoy incense.
Jedi Creations Handmade Batik Paper Fan
"You can find these fans all over the country, they are a very popular souvenir. With beautiful colours, and hand painted art what is not to love? Cool yourself off on a hot day, or you can actually put them on the wall splayed open as art."
Love the bright happy colours! We only use these as decoration pieces nowadays, but growing up, my grandmother always had a paper fan just like this one in her purse to cool off on the go.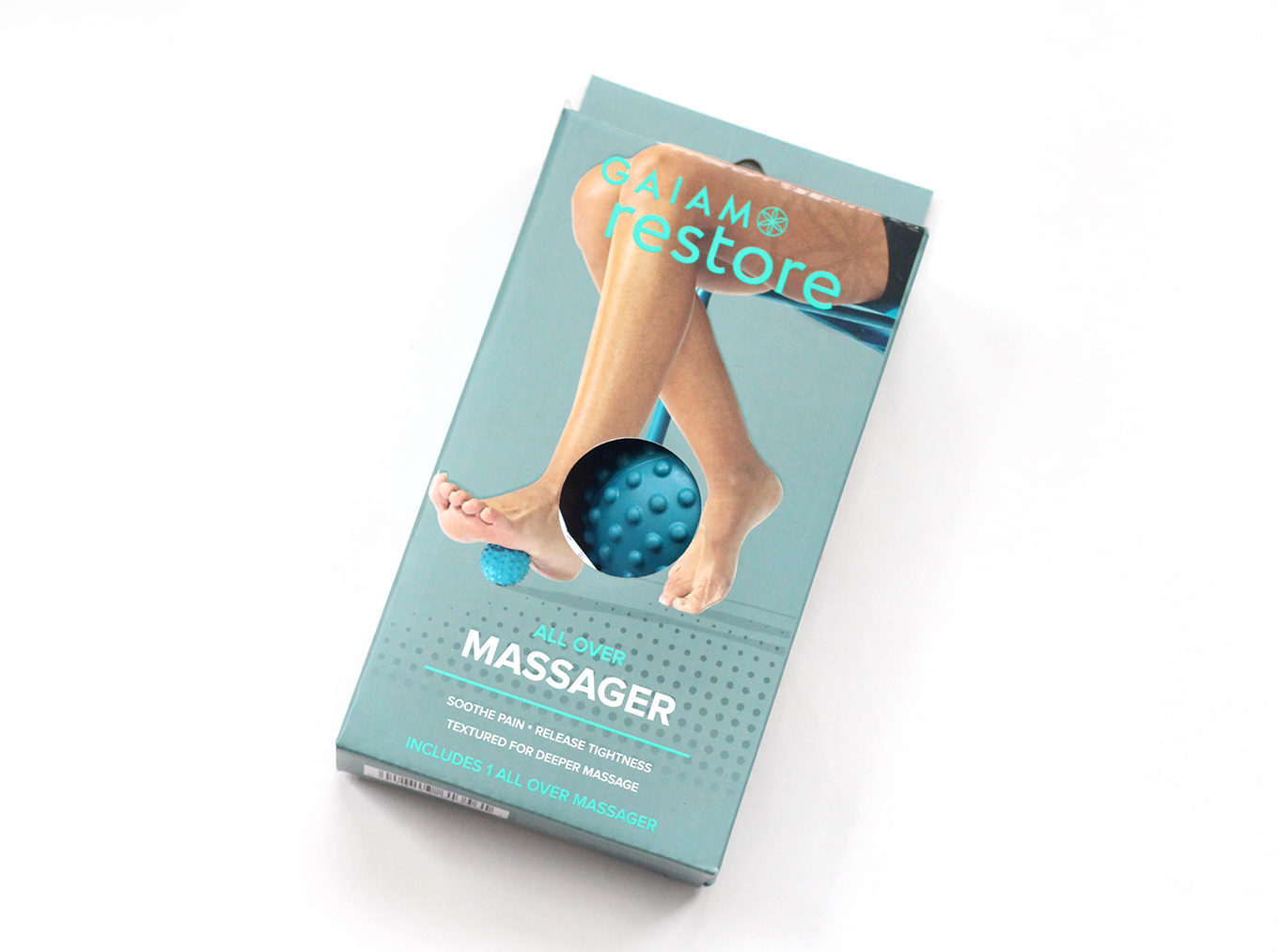 Gaiam Travel Foot Massager
"Ah, a Thai massage is a priceless experience and although we could not put a Thai massage in the box for you, we gave you the next best thing. This travel foot massager can easily be taken on the go with you, and is best used on the feet, however it's definitely safe to use on your entire body."
This is quite a useful little thing for a quick relaxing massage. We love having it by the couch, because a quick foot massage after a long day while binge watching the latest show is amazing.
Travel Collapsible Water Bottle
"As a part of our wellness theme, hydrating on the go is of utmost importance. Especially in Thailand as it is very hot. If you're in the jungle or on the beach you definitely want an easy to carry water solution. No more buying expensive water bottles once you're in the airport either. Simply collapse the bottle, and fill it up again on the other side of security."
So convenient to just store this collapsed in a bag or purse, all ready for times when you will need a water bottle on the go.
Bamboo Travel Cutlery Set
"When you're on the go, it's great to have a travel sized solution for cutlery because it helps with plastic waste, and you can ensure you're eating off of something clean."
Another great thing to toss in your bag for those just-in-case situations. I love leaving sets like this at work too in case I need cutlery for lunch or snacks.
Travelista Box Review June 2022 – Final Thoughts
Really enjoying everything in this box! I love how the Travelista Box team always put such thought into selecting items that really fit into the theme and destination. For instance, this time around, items such as the sarong, paper fan, and incense really remind me of days vacationing on a beach in Thailand. I love the travel items included too, for even though I'm currently not traveling, the yoga mat, water bottle, cutlery set, and massager are useful for day to day living as well. This is one of my favourite subscriptions, and I'm always looking forward to what the next destination brings.
Toby & Rocket – http://www.tobyandrocket.com