Travelista Box Review Welcome Box
Travelista Box is a travel-themed subscription box that delivers a box full of lifestyle items with a focus on a different experience or destination every season. All items are curated by a Certified Travel Consultant to create an around the globe experience as well as provide travel tips and inspiration. They kindly sent us this box for review.
Subscription Details
Travelista Box subscribers may choose between a seasonal or annual subscription. Each seasonal box costs CAD $99 plus $10 shipping across Canada. The box contains 5-8 travel lifestyle items such as home decor, clothing, accessories, jewellery, stationery, books, drinkware, food, and beverage.
Travelista Box is curated around a destination or theme, along with professionally curated travel tips and a destination guide. This is the first box, which is the Welcome box, and so does not feature a specific destination or theme.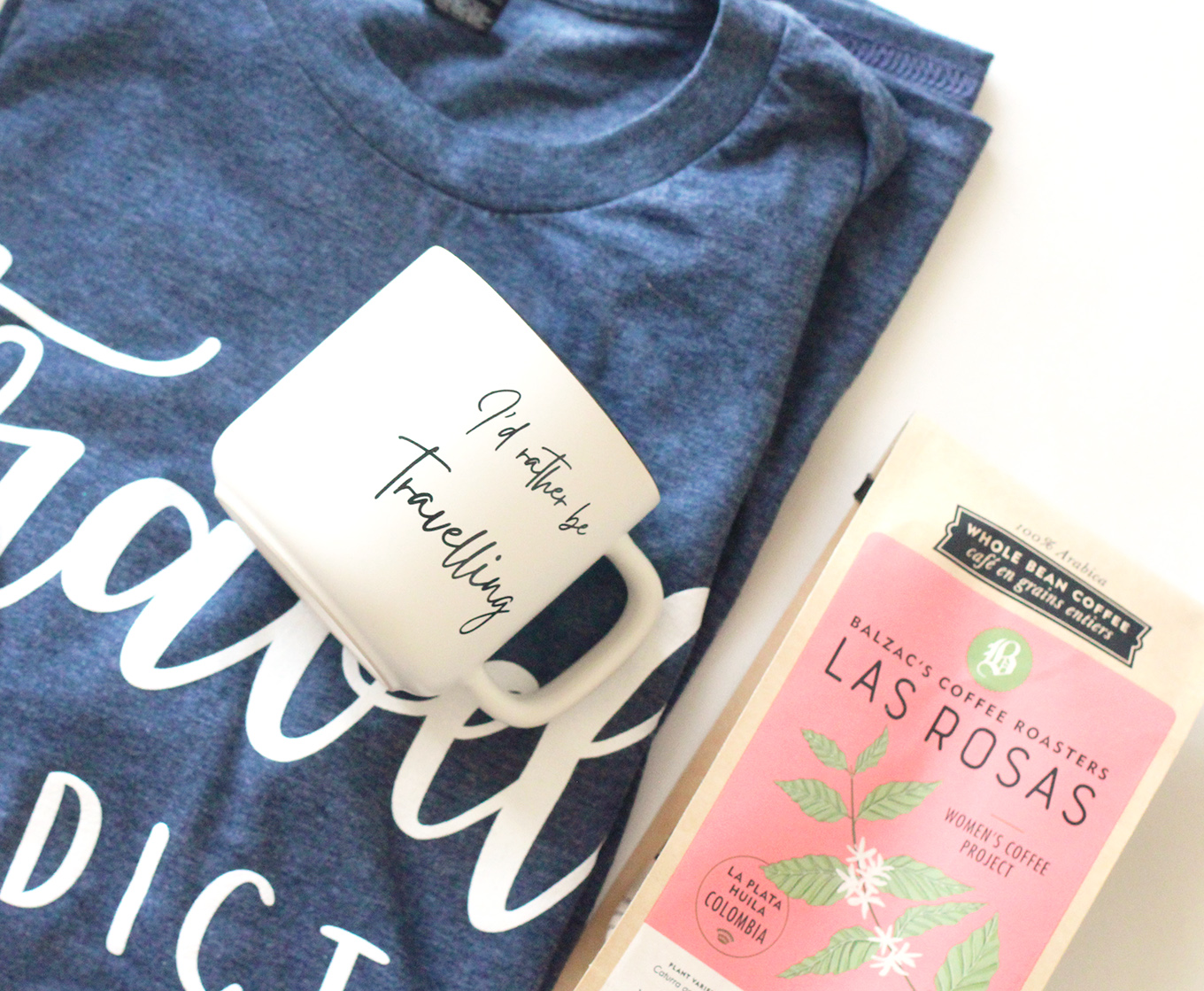 Let's take a closer look at what is in the Travelista Box!
The box came with a folder containing the "travel documents". I think this is the cutest and just fits with the whole theme!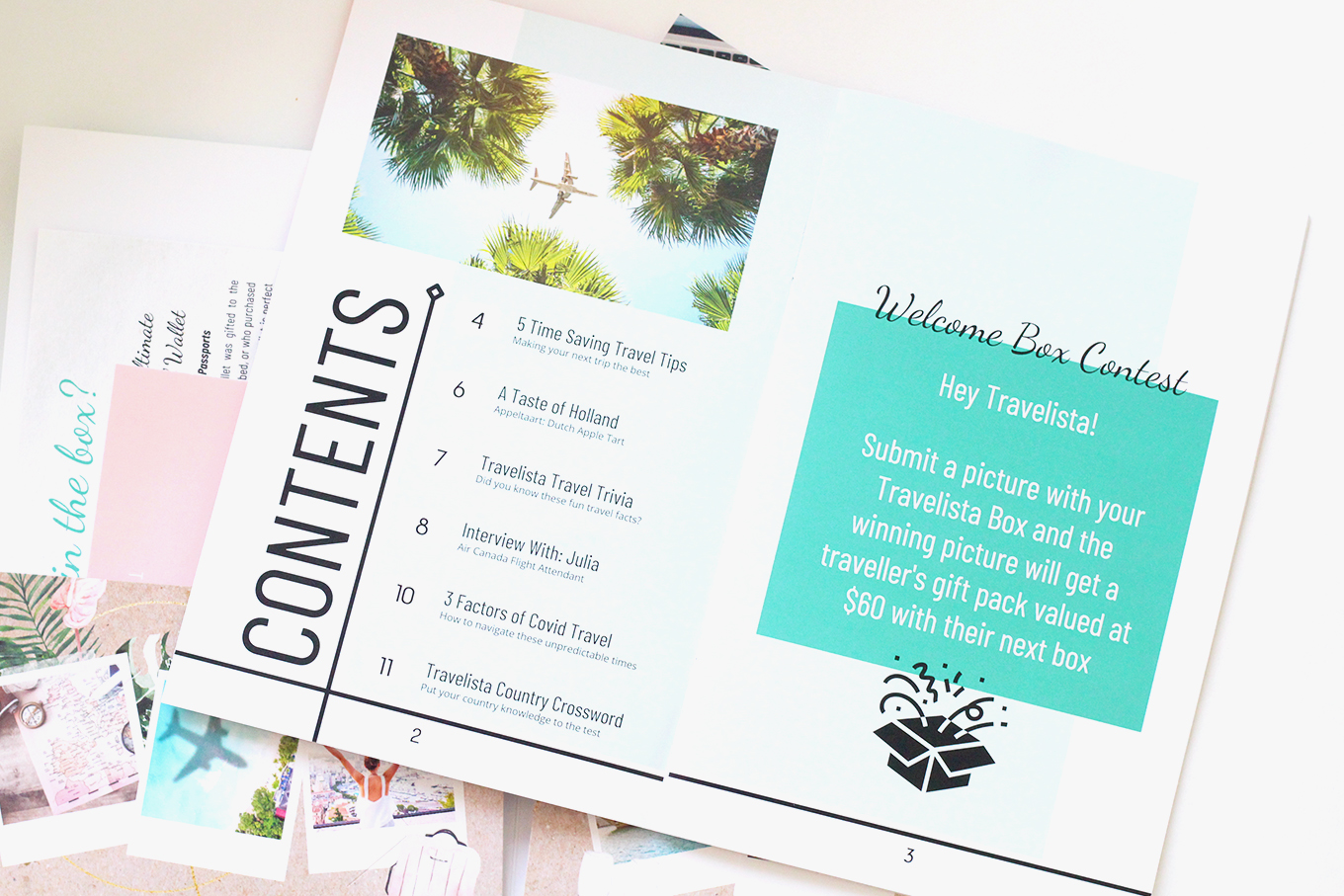 In the folder is a handwritten note welcoming me to the box, a card describing all the items included, and a Welcome Box Guide that contains travel tips and even a crossword puzzle!
Beatnik & Rustik World Scratch Map – $28.25
"Toronto, Ontario made and designed. This map comes with an airplane guitar pick to scratch off the countries that you have already been to. This is also a great way to see where you want to start planning your next trip!"
My husband and I had an idea a while back to start a map where we could mark down everywhere we have travelled to, so this is perfect! We have already scratched off the places we visited together, and can't wait to scratch off more when we can travel again.
Kassi's Passports The Ultimate Travel Wallet – $35
"This Rose Gold wallet was gifted to the first 25 who subscribed, or who purchased at a discounted rate. This wallet is perfect for anyone who needs an all-in-one solution while travelling, or even at home use. Kassi is not only an Ontario, Canada small business, she also has an Etsy store."
I love the metallic rose gold colour of this wallet. It will be perfect for holding my passport, receipts, notes, and any other documents when travelling. The wallet opens up to plenty of card slots and a zippered compartment. Right now, I am using this wallet as a notebook, receipt, and pen holder to carry around for jotting down any notes I need on the go. It is just the perfect size to toss into my purse!
Bella Buddha Beads Silver Arrow Earrings – $25
"Another very successful business in Niagara, Ontario, Jessica had started out as a small handmade business on Instagram, she now is in stores and markets across Ontario. She has now grown her Instagram to 25k followers, while caring about making fashion affordable."
Aren't these the cutest? I am really into stud earrings lately, and can't stop wearing these. So glad to be introduced to such a talented Canadian maker!
Travel Addict T-Shirt – $32.50
"This t-shirt was designed by Travelista Box and produced by a Canadian company specializing in T-shirts (Entripy Canada). We worked together to find the perfect fabric so the t-shirts have a soft feel. With the relaxed fit, you can wear it comfortable, or if tied in a knot, it can be fitted style."
This T-shirt is so soft and comfortable just as described. I love the colour, and the font and saying is so cute!
Balzac's Coffee Roasters Las Rosas Amber Roast Coffee – $20.34
"Founded by a Canadian woman entrepreneur who spent some time in Paris and came back with the idea to make her Cafe's with a European flair. This Colombian coffee is apart of the Women's Coffee Project and supports equal working rights for women in Colombia."
I am a big fan of Balzac's coffee, and am so excited to be able to try another blend! The Amber Roast is described to have notes of dark chocolate, brown sugar, and pomegranate, which sounds absolutely delicious.
I'd Rather be Travelling Mug – $17.95
"Also designed and made by Travelista Box. This 14oz mug is perfect for travel lovers (as you can see), and was inspired by the general mood right now of 'I wish I could be travelling, and not here!' Enjoy in the comfort of your own home, or somewhere like out favourite place – the cottage!"
I love this! A cute mug to drink my coffee out of. The words on it definitely describe how I feel right now. Hopefully that day will be here soon!
Travelista Box Review Welcome Box – Final Thoughts
This is the first box from Travelista Box, and I am impressed! Everything is so thoughtfully curated around the travel theme. The items are cute, but also really practical. I love everything in this box, especially the mug, earrings, and scratch map. The booklet with travel tips is so helpful and I will be sure to reference it when we can travel again. I also love that Travelista Box has an emphasis on featuring small, local businesses. While we can't travel as yet, this box will be sure to satisfy your wanderlust by bringing the destinations to your home. I am already looking forward to what the next box brings!
Toby & Rocket – http://www.tobyandrocket.com
Explore.
Save.
Enjoy!
Sign up for a free account on A Year of Boxes to receive exclusive offers, be added to our monthly mailing list, and much more! We are always adding features to improve the experience for our users, from their valuable feedback!
Join Today!