Travelista Box Review Winter 2022
Travelista Box is a travel-themed subscription box that delivers a box full of lifestyle items with a focus on a different experience or destination every season. Each box is curated around a travel destination or theme, and contains travel lifestyle items such as home decor, clothing, accessories, jewellery, stationery, books, drinkware, food, and beverage. All items are curated by a Certified Travel Consultant to create an around the globe experience as well as provide travel tips and inspiration.
They kindly sent us this box for review.
Subscription Details
Travelista Box Subscribers may choose between a Elite Class or First Class subscription:
Elite Class subscription – Each box contains 8-10 travel lifestyle items. Elite Class subscribers can get first access to sales and limited edition boxes, and receive other membership perks such as travel community access and product discounts.
First Class subscription – Each box contains 6-8 travel lifestyle items. Subscribers will receive membership perks such as travel community access and product discounts.
Boxes are delivered every quarter: March, June, September, December
This time around the folks at Travelista Box are taking us to Turkey.
"Roman ruins, exotic beaches, bustling cities and towering mountains. Turkey awaits with an adventure for everyone. Let's embark on this beautiful journey as we explore, taste and relax the Turkish way!"
Each box comes with a travel guide that tells you all about the destination, such as must see places, local foods, and even a recipe you can try yourself. Let's take a closer look at all the goodies!
Collapsible Water Resistant Carry-On Bag
"Luggage can be so clunky sometimes, we thought we would add a compact version to your luggage entourage."
This is such a spacious bag! Not gonna lie, the bag design and the logo is reminiscent of a well recognized brand around here. This bag is made of a water resistant material which I like – so much easier to clean in the event of a spill.
Travel Compact Mirror
"When you're on the go having a compact mirror is super handy! Especially when you have an LED light to make sure you're looking fabulous on the go!"
I have never seen a lighted compact mirror, it is such a handy thing to have! My only complaint is that I wish the mirror came with a cover to protect it from scratches when being tossed around a bag.
Keep Leaf Eco Food Plane Baggies
"Have the best way to bring your food on the plane with you. It's sustainable, not clunky and keeps your food fresh for hours. We are so glad we've found this Canadian Eco company to partner with."
I am so excited to get this! I have a toddler that needs lots of snacks on the go, bags like this are so useful.
Brittles n More Turkish Delight
"Ah, the Turkish delight! Possibly the most common treat in Turkey you can find. Though we were not able to successfully trade with a Turkish vendor for this food item, just know we have worked with a small, local company who hand-made them, and they are fresh. Our first priority is to always support food vendors in the destination, and if that is not possible, then local is our next best priority!"
I have heard of Turkish delights but never tried some. So excited to try these berry flavoured ones.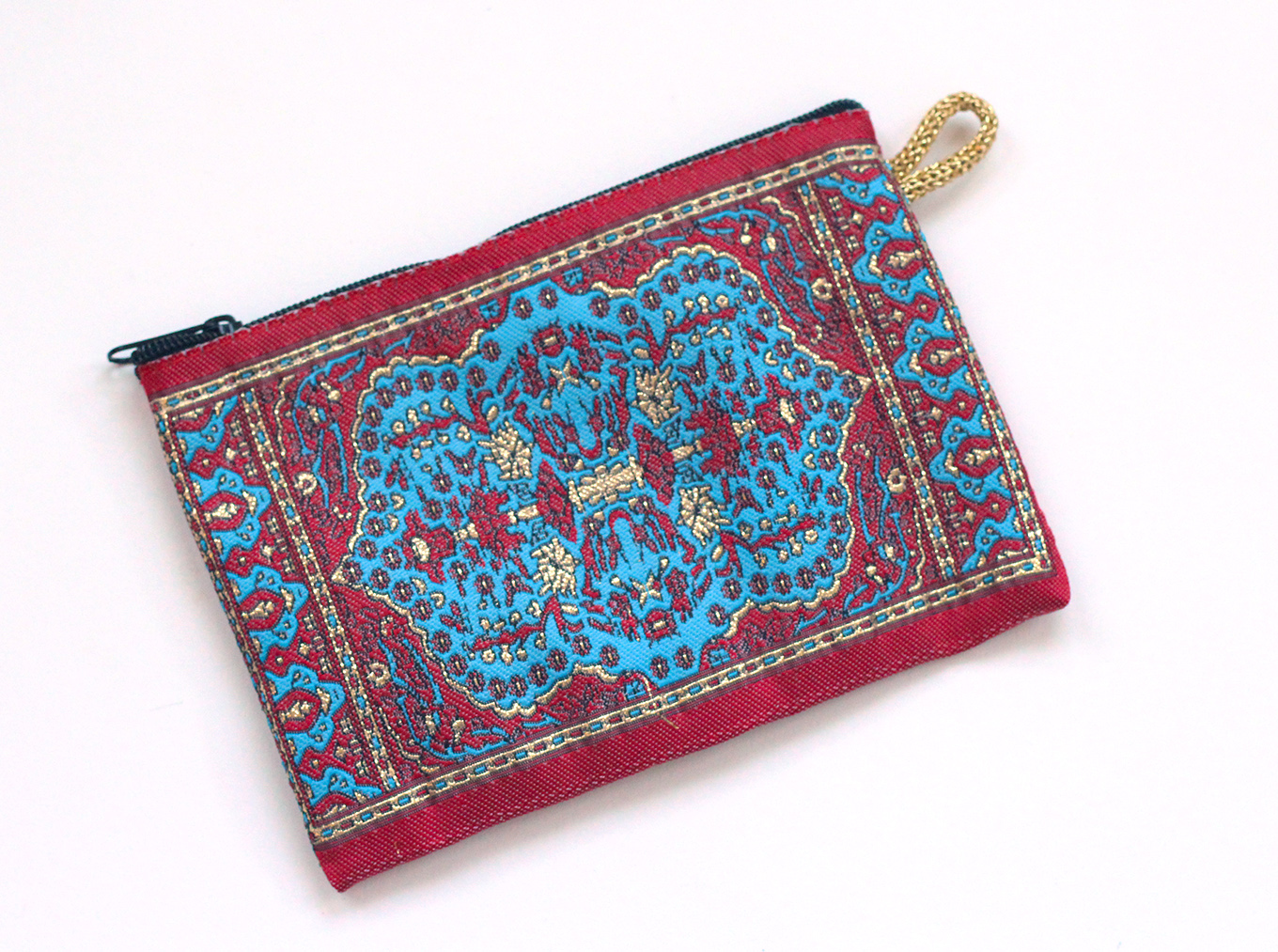 Nai Gifts Turkish Wallet
"Little hand purses and wallets are common in Turkey! Enjoy this multi-design to keep things together at home, or a wallet outside of the home. Each one has a different pattern as it was hand-made in Turkey."
Love the little woven details! I typically use little wallets like these for cards and a little bit of cash for a quick run to the store.
Nai Gifts Turkish Third Eye Bracelet
"The third eye is a common symbol in Turkey, symbolizing protection. Depending on what you believe this can mean from energy, or anything from the spiritual world."
Not quite my style, but I still think this is cute.
Turkish Hamaam Spa Set
"With Turkish spas being one of the top things to do, we knew you needed a set in your box! The towel is for your hand for exfoliation. Use the Turkish soap, along with the pumice and soap comb. Enjoy the spa from home!"
I really love how this is packaged – it makes for such a cute little gift! I have never ever used a pumice or soap comb and now that I have them will look into how to and try it out.
Souvenir Subscription: Turkish Rug Coaster Set
"The oldest Turkish carpets found, originate from the 13th century and can be found in the city of Konya, which for a long time was the center for Turkish carpet manufacturing. We could not put a whole rug in your box of course, so coasters are a way to experience the rug while perhaps having a Turkish coffee."
I love these little coasters and how they are handmade by local artisans. They are beautifully woven and will be so cute on my desk or coffee table. This item is a souvenir subscription item that you can add on to your box. You will receive a new authentic souvenir item each season with your box that will be a surprise, and special to the destination featured.
Final Thoughts
I know I say this every Travelista Box, but I loved everything that is included this time. The items showcase the destination so nicely, and the travel accessories are so practical in everyday life even when not traveling. My favourites are the rug coasters and reusable food bag. Always looking forward to where the next box will bring us!
Toby & Rocket – http://www.tobyandrocket.com