VanCity Box Review February 2017
VanCity Box is a Canadian lifestyle subscription box that sends their subscribers a box filled with fresh new finds from around Vancouver city. A craft fair and a farmer's market in a box! They kindly sent me this box for review.
Last month's VanCity Box was really great. It was the kind of box I like to see from them. They went through a bit of a slump but I feel like they are back and ready to make a name for themselves. I have always been a fan of this box, even when they were in their "off" phase because I really love the idea behind the subscription.
Here's a look at the items we received in the February box (at first glance it looks AH-MAZING):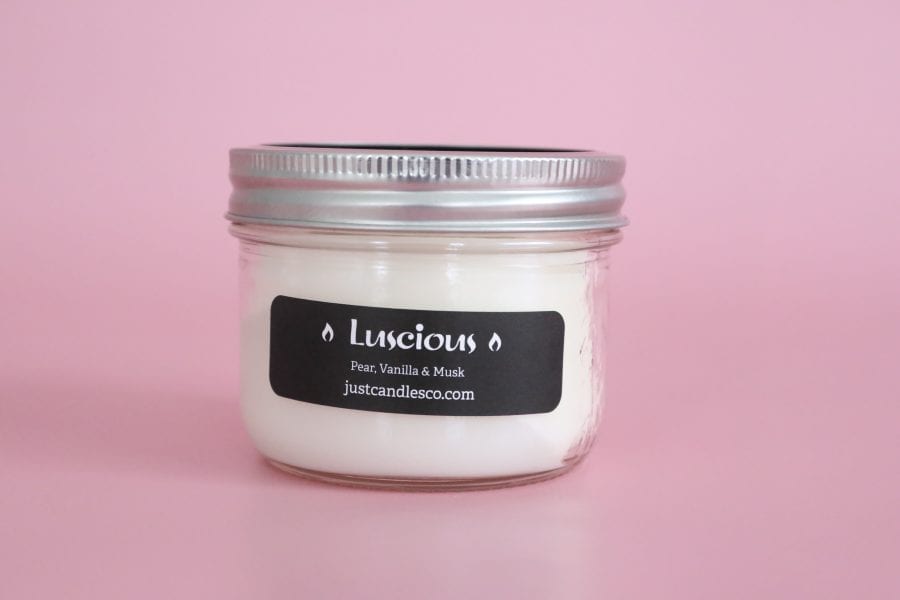 Just Candle Co. – Luscious
This won't last long!! This is our women's scent. Luscious is a beautiful white candle. Notes of Pear, Vanilla and Musk – this will make you feel like you are having a day at the Spa! Can be used as a massage oil aswell.
Candles are my weakness. I've come to realize this, and I am totally willing to admit it. I will NEVER get sick of seeing candles in my subscription boxes. I love them even more when they come in Mason Jars.
Just Candle Co. – Suit & Tie
Our men's Valentine's candle is oh so sexy!! A Scarlett red colour with notes of Black Pepper, Leather and Musk. Can be used as a massage oil aswell. 
So cool that they included a Valentine's themed candle, and one for the Men at that. It definitely has a manly scent to it, but it's not overpowering. I actually quite like it!
Hooray Truffles – Dark & Intense
Our Dark and Intense Truffle is our original and most popular variation. It is our simple, naked, unadulterated winning ganache, hand dipped in 75% dark couverture, showcasing the deep, rich undertones and the perfecr bite of our fairtrade, organic, peruvian couverture.
These little babies are vegan, gluten-free, soy-free, and sweetened with fruit. I am beyond excited right now!! I almost can't get my words out, I am that excited.
Hooray Truffles – Blackberry Ginger Balsamic Infusion
The Blackberry-Ginger Balsamic adds a wonderfully sweet, pleasingly tart flavor to our well known chocolate ganache and without a doubt imparts a pizzaz that is undeniable. It "wakes" up the couverture if you will and when it touches the tongue pleasures the senses.
The same comment from above applies here – BEYOND EXCITED. This particular truffle sounds amazing. The berry, ginger, balsamic combination sounds like it will go perfectly with a big ol' glass of red wine. I know what I will be doing on Valentine's Day.
Just Greet – Valentine's Card
JustGreet was founded in Vancouver B.C in 2015 by a group of friends seeking to restore genuine heart and a personal touch to the greeting card industry. Frustrated by tacky e-cards and the boring stock images churned out by conglomerates, we returned to the most cherished qualities of correspondence: the satisfaction of beautiful stationery, the thoughtfulness of connection, and the joy of memorable designs.
Oh my gosh, does it get any cuter than this card! Greeting cards are another weakness, so basically this entire box is a weakness of mine. And all the items go perfectly together.
VanCity Box Review February 2017 – Final Thoughts
Yes! They did it again this month! They put together a box like I knew they could. I am 100% in love with this month's box. It has 3 of my favourite items – candles, chocolate, and greeting cards. It is perfect for the month of February, and we received it in time for Valentine's Day. They nailed it! But, I might be a little biased seeing as the chocolate is Vegan and sweetened with fruit. I feel like this box has my name written all over it. I want to see more boxes like this from VanCity Box. It's taking me back to their very first box from February of last year (REVIEW HERE). That will forever be my favourite VanCity Box, but this one is a close second. We are on the right track……let's keep it going.
XOXO
Explore.
Save.
Enjoy!
Sign up for a free account on A Year of Boxes to receive exclusive offers, be added to our monthly mailing list, and much more! We are always adding features to improve the experience for our users, from their valuable feedback!
Join Today!