Vancity Box Review & Coupon Code March 2016
Vancity Box is a new lifestyle subscription box that just happens to be based in Vancouver BC, a city not too far from my hometown. I absolutely LOVED my February box, and was extremely happy to see a Canadian subscription box do so well right out of the gate. If I had to make a list of my favourite Canadians subscription boxes, this one would definitely make the cut.
If you aren't familiar with Vancity Box it is a new lifestyle subscription box that sends their subscribers a box filled with fresh new finds from around Vancouver city. This box was provided complimentary for review and may include affiliate links.
The Box: Vancity Box
Cost: $49.95
What You Get: Each month subscribers receive locally-made artisan products. 5-8 products with a value of up to $80 retail value. Soaps, snacks, drinks, handmade, knits, and much more!
Ships to: Canada
Shipping Cost: FREE
Coupon Code: Use code "AYEAROFBOXES" to get 15% off your first box – CLICK HERE
Aslan Chai Spicy Chai – I'm a huge fan of chai but rarely take the time to make it. And I always have the best intentions when it comes to ordering it at Starbucks, but coffee wins the morning caffeine battle every time. However, I think this little jar of chai goodness will give me an excuse to start drinking it more often. It says to mix 6 oz of milk, 5 oz of water, and 4 tsps of the chai in a pot and heat it until it almost boils, pour through a sieve and enjoy….but of course I am going to try making mine with coconut milk, or maybe even cashew milk.
Roasters Hot Sauce (Roasted Garlic Jalapeno) – I'm like that little old lady from the Franks commercial…I put that s*** on everything. So normally I would be very excited about this product, but I hate garlic so this one will be going to my Dad…..he also puts that s*** on everything.
BiteMe Bath & Body (Triple Espresso Now Scrub Soap) – I was super confused by this at first, is it a donut, can I eat it, can I have it with my coffee in the morning….etc. But to my surprise, it's not edible, it's for the bath! How can something that looks soooo good not be edible? Once I got over the fact that I can't eat it, I realized that it is an amazing little donut shaped soap/scrub bar and it's vegan!! It will exfoliate, and scrub away dead skin, while providing a rich lather to reveal new healthy skin underneath….I'm in love!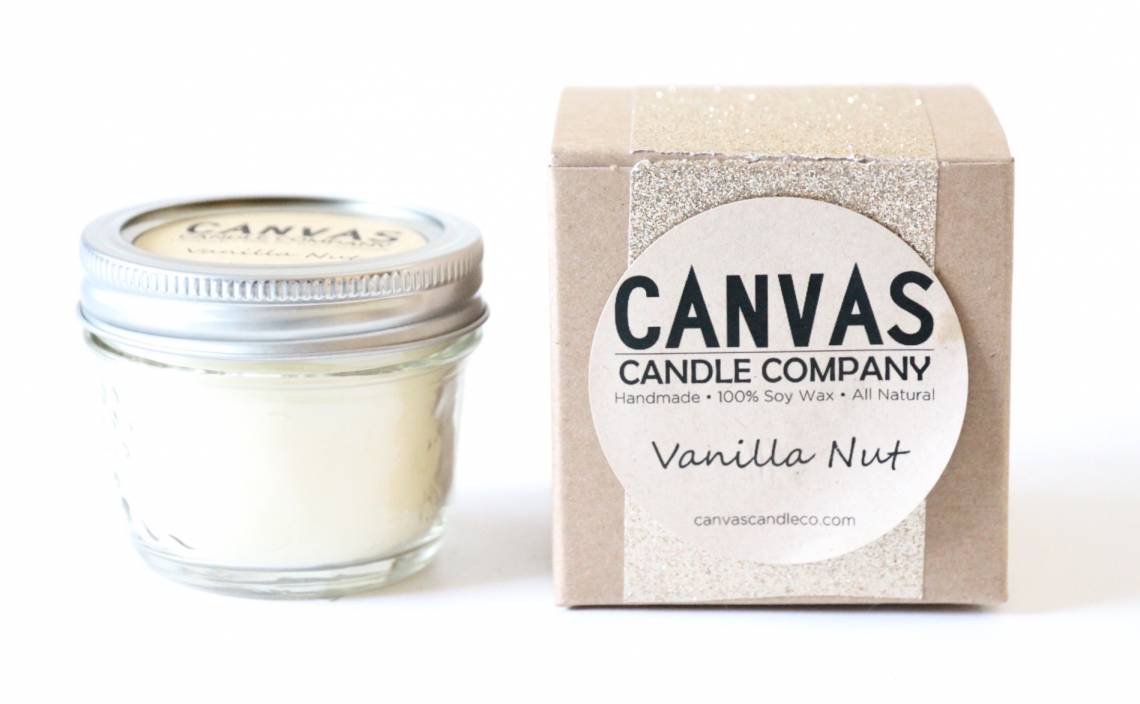 Canvas Candle Company Vanilla Nut Soy Candle – We also received a candle in the February Box but I don't care….keep'em coming! Not only did this one come in the cutest little box ever, but it smells AMAZING!! I'm talking like really, flippin' amazing. I will be burning it all day today and I will be in my happy place as a result.
C Yarn Hut Donut Keychain – How unbelievably cute is this little guy! I can only imagine how long it takes to make something like this…I would never have the patience. I probably won't use this, but I will definitely find someone who will, because it's just so darn cute.
Goodmallows Lemon Meringue Marshmallows – Vegans aren't supposed to eat marshmallows but these sound so good that I might have to taste a little piece. And who knew there was such a thing as lemon meringue flavoured marshmallows?? This blows my mind.
Mowa Greeting Card – We received a greeting card in the February box so I'm wondering if this will be a regular item. I hope so, because I can never have too many greeting cards. I'm not entirely sure what I will do with a cactus card….but I'm sure I will find a use for it at some point….any ideas?
Reusable Bag – This guy was hiding in the bottom of the box and I totally missed it when I did my YouTube unboxing. I love receiving reusable bags in my subscription boxes because I use them for everything. This was a nice little bonus.
Thoughts: The March Vancity Box has a totally different feel than the February box. I definitely preferred the February box, but that is a personal preference….it was a little more girly….and pink…..and it had a coffee cup…..I figured it would be tough to beat. The March box has more of an artisan/foodie feel to it, but still has a great mixture of products. It kind of makes me feel like I took a little trip to the Granville Island Market, and I LOVE the Granville Island Market. I also noticed that they added some packaging to the box this month, which is nice because it makes me feel like the items won't get jostled around too much during the shipping process. If you live in Canada this is definitely one to keep an eye on.
XOXO
Explore.
Save.
Enjoy!
Sign up for a free account on A Year of Boxes to receive exclusive offers, be added to our monthly mailing list, and much more! We are always adding features to improve the experience for our users, from their valuable feedback!
Join Today!