Vegancuts Beauty Box Review July 2022
Vegancuts Beauty Box is a monthly beauty subscription that brings you the best in vegan beauty. Each box invites you to discover the best skincare, haircare, bodycare, and makeup from clean, cruelty-free brands, no bunnies harmed! They kindly sent us this box to review.
Subscription Details
There are 4 subscription plan options for the Vegancuts Beauty Box – monthly, 3 months, 6 months, and 12 months. Monthly subscriptions cost $24.95 for United States subscribers, $31.90 for Canadians, and $39.90 for international subscribers, with savings for those opting for any of the longer term subscriptions. Shipping is free for US subscribers, and included in the cost of the box for all other customers.
Each box contains 4 or more deluxe or full-sized beauty products ranging from unique cosmetics to luxurious skincare, valued at $50 or more. The expert Vegancuts curator vets each beauty brand to ensure that only clean, cruelty free, and conscious brands are included in the box. Beauty products are always vegan, paraben-free, and free of harmful chemicals.
Because I also receive the Vegancuts Snack Box, both boxes ship together with the Beauty Box products packaged in a cloth bag. Love this initiative to save on shipping costs and also on extra packaging materials.
This July, Vegancuts is "Saving our Seas" by featuring planet-caring brands whose efforts play a part in saving our oceans. In keeping with the theme, proceeds from this box will go towards supporting the Marine Mammal Care Center in Los Angeles.
Let's take a closer look at all the items.
Beauty Without Cruelty Fragrance Free Hand and Body Lotion – $4
"The perfect all over body treatment that moisturizes, softens, and protects your skin. This fragrance free formula can be used right out of the bottle, or customized with your favorite essential oil. Massage over skin as needed."
I usually prefer scented lotions, and love to mix in perfumes into unscented lotions like these to create my own.
J's Natural Beauty Vitamin C Facial Cleanser – $5
"Get a refreshing boost of Vitamin C while safely cleansing your face with this mild foaming cleanser. Every ingredient in this product is hand-picked for maximum benefits."
This sounds like the perfect mild cleanser! I'm not sure if adding ingredients like Vitamin C to cleansers actually do anything since it is only on my face for minutes, but I suppose every little bit counts.
Bedrock Balm – $23
"When your skin is in distress, Bedrock Balm is your SOS. This calming cream has 4-in-1 benefits: anti-redness (razor burn to rosacea), anti-itch (bug bites to eczema), skin smoothing (dry or bumpy skin), and a sleeping mask for even skin tone."
Love when a product is multipurpose! Looking forward to try out this balm in all the suggested application methods.
Sky Organics Bug Spray – $20
"Made without any harsh additives, this organic insect repellant uses natural, plant-based ingredients to repel bugs and insects the natural way. Apply by spraying directly on exposed skin. For face, apply to hands first then gently apply avoiding the eyes and mouth."
Now this is a product I really need! I get eaten alive every summer by mosquitoes, but try to avoid using most common repellants because of all the additives. Can't wait to try out this natural version.
East 29th Vital Serum – $68
"This serum helps to improve hydration, texture, and tone, while also firming, promoting elasticity, and smoothing wrinkles. You'll notice a sudsy texture while massaging it in, which is the natural ingredients responding to each other, so keep massaging until fully absorbed."
This one I am not too sure of. It does have a sudsy texture as described, which I am not a fan of. Totally personal preference though.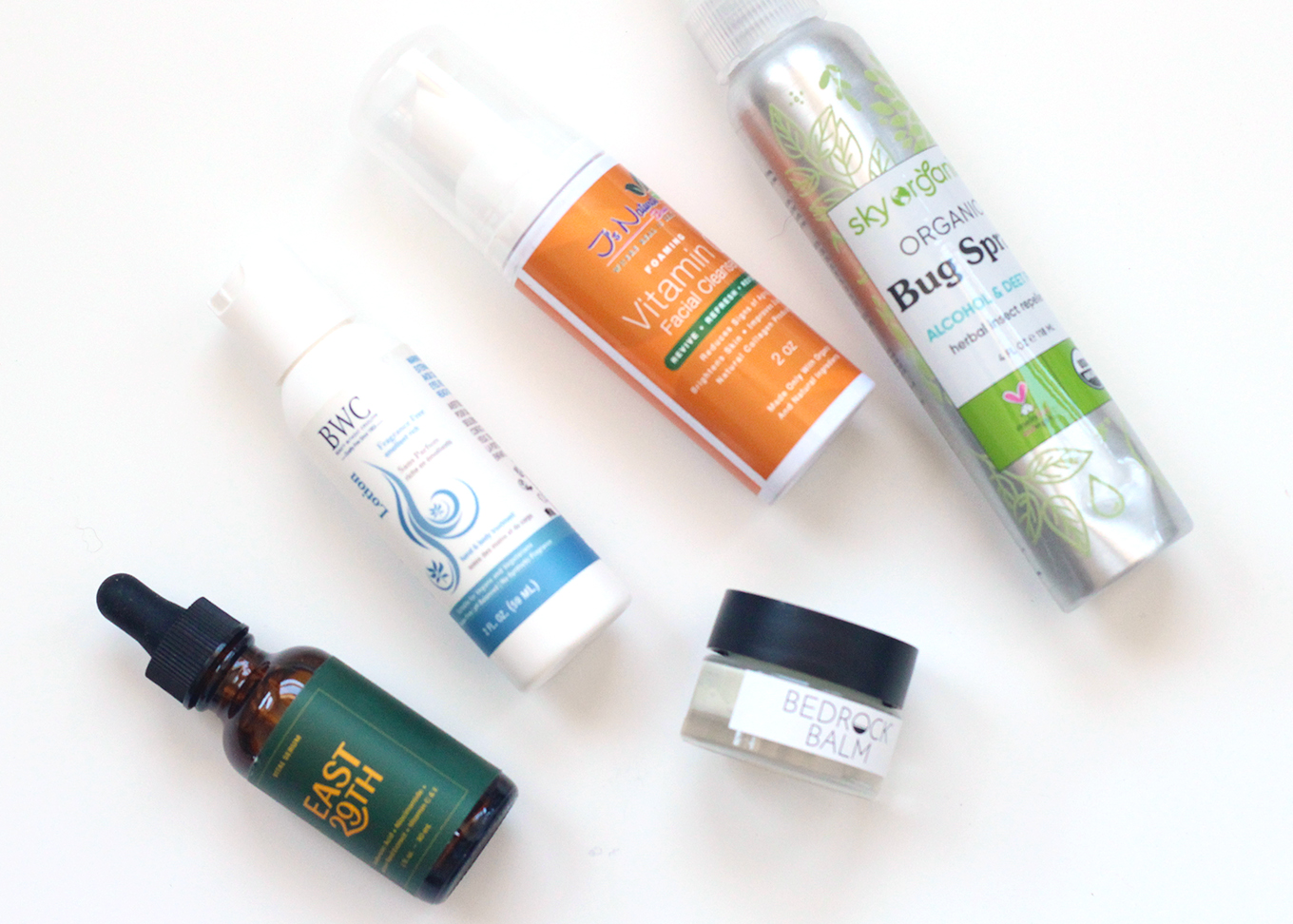 Vegancuts Beauty Box Review July 2022 – Final Thoughts
Love the variety of products in this Vegancuts Snack Box, there is a good mix of facial and body care, even unique items like a bug repellant. Most of the products are hits, with my favourites being the bug spray and lotion. I think for a beauty subscription, this is one that is well worth the price. Most of the products are full sized, no teeny tiny samples here! Really enjoy getting to try all these different products and brands.
Toby & Rocket – http://www.tobyandrocket.com