Vegancuts Beauty Box Review June 2022
Vegancuts Beauty Box is a monthly beauty subscription that brings you the best in vegan beauty. Each box invites you to discover the best skincare, haircare, bodycare, and makeup from clean, cruelty-free brands, no bunnies harmed! They kindly sent us this box to review.
Subscription Details
There are 4 subscription plan options for the Vegancuts Beauty Box – monthly, 3 months, 6 months, and 12 months. Monthly subscriptions cost $24.95 for United States subscribers, $31.90 for Canadians, and $39.90 for international subscribers, with savings for those opting for any of the longer term subscriptions. Shipping is free for US subscribers, and included in the cost of the box for all other customers.
Each box contains 4 or more deluxe or full-sized beauty products ranging from unique cosmetics to luxurious skincare, valued at $50 or more. The expert Vegancuts curator vets each beauty brand to ensure that only clean, cruelty free, and conscious brands are included in the box. Beauty products are always vegan, paraben-free, and free of harmful chemicals.
Because I also receive the Vegancuts Snack Box, both boxes ship together with the Beauty Box products packaged in a cloth bag. I love that the boxes ship together to save on shipping costs and also on extra packaging materials.
The theme for June is "Sleek Summer Skincare" to get you bright, glowing and hydrated in preparation for sun-filled days outdoors. Let's take a closer look at all the items.
Delizioso Skincare Watermelon Anti-Aging CoQ10 + Coffee Brightening Eye Gel – $31
"A potent, fast absorbing eye gel that leaves skin looking more dewy, supple and bright, making fine lines, wrinkles, under eye darkness and puffiness less noticeable. 1 product sold = 1 tree planted. Apply around the eye area and to problem areas daily."
My under eye area needs all the help it can get nowadays with all the sleep deprivation. This sounds promising and I can't wait to give it a go.
Kirk's 3 in 1 Head to Toe Nourishing Cleanser Fragrance Free – $2
"Smooth and soothe dry, irritated skin, and enjoy head to toe moisturizing with this antioxidant rich all in one shampoo, body wash, and bath coconut oil soap. Apply generously over wet hands, hair, face and body. Work into a rich lather and rinse well."
My husband is someone who will use whatever soap or shampoo or cleanser he can get his hands on in the shower and just use that as an all in one product for his hair, face, and body. I can't believe it, but here is finally a product made for someone like him LOL.
Eco Lips Bee Free Unflavored Lip Balm – $3
"This unflavored plant-based lip balm is perfect for those who want nourished moisturized lips without the flavor. 100% plastic-free lip balm tube that fully functions like a regular tube. Apply as needed to moisturize your lips."
This is another one that my husband will be claiming. He loves lip balm tubes like these, but always end up misplacing them. He will be glad to have another.
Meow Meow Tweet Geranium Palmarosa Face Toner – $24
"This subtle floral spray is packed with antioxidants and nutrients that will leave your face fresh, balanced, and toned. Spray a light mist over your entire face after cleansing. Try as a makeup setter, soothing scalp spray and aftershave."
First off, I love the packaging! It is adorable. This will be perfect for the warmer weather, I enjoy sprays like this a a little refresher throughout the day.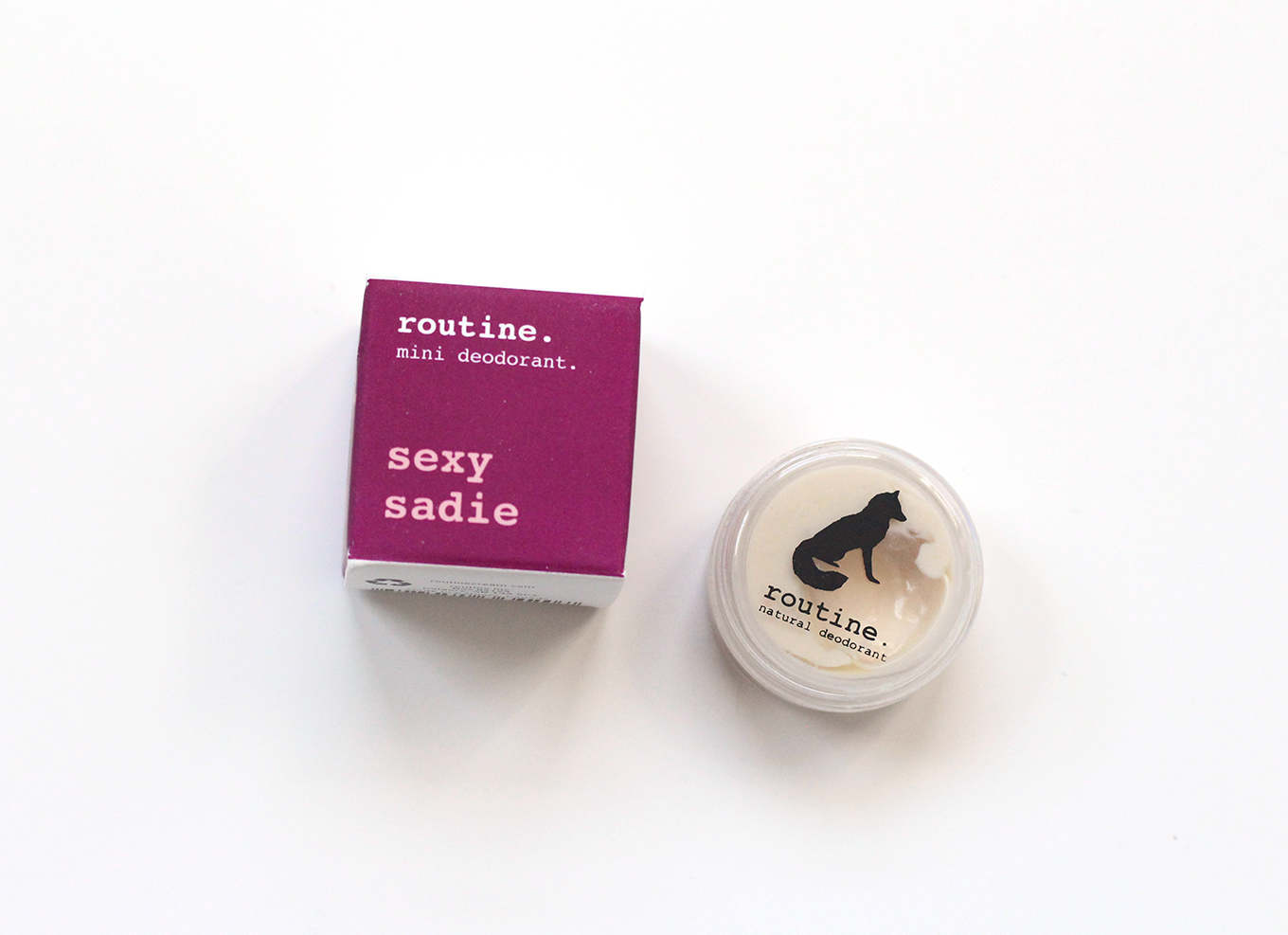 Routine Inc Sexy Sadie Deodorant Mini – $4
"A spicy, floral and sweet deodorant with a long lasting scent. There is a touch of baking soda for added deodorizing – just enough to remain gentle enough for sensitive skin. Gently smooth half a jelly bean sized amount with finger or small spatula onto underarms."
This one is unfortunately a miss for me. I have yet to find a natural deodorant that works for me but I am sure those who enjoy natural deodorants will like this.
Naturopathica Argan and Peptide Advanced Wrinkle Remedy Water Cream – $16
"This age defying water cream, featuring rejuvenating argan and reparative peptides, helps visibly firm skin and improve the appearance of fine lines for a more youthful-looking complexion. After cleansing, apply a generous amount to the face and neck."
Naturopathica is a brand I have tried and enjoyed previously, and I look forward to giving this cream a go. It is a spendy brand, so it's nice to have a sample to try out before splurging for a full size.
Vegancuts Beauty Box Review June 2022 – Final Thoughts
Some hits and misses this month, but such is the nature of subscriptions like this! My favorite this time will have to be the toner mist and Naturopathica cream. I think for a beauty subscription, this is one that is well worth the price. This month's Vegancuts Beauty Box contains a value of $80! There is a large variety of products to try, and the sizes included are always so generous.
Toby & Rocket – http://www.tobyandrocket.com