Vegancuts Snack Box Review July 2022
The Vegancuts Snack Box is a monthly subscription that brings you the best vegan snacks, meal items, and drinks. Each box is packed to the brim with sweet and savory vegan snacks to help you discover the best in plant-based living. They kindly sent us this box to review.
Subscription Details
There are 4 subscription plan options for the Vegancuts Beauty Box – monthly, 3 months, 6 months, and 12 months. Monthly subscriptions cost $24.95 for United States subscribers, $31.90 for Canadians, and $39.90 for international subscribers, with savings for those opting for any of the longer term subscriptions. Shipping is free for US subscribers, and included in the cost of the box for all other customers.
Each box contains 10 or more vegan food products such as chips, cookies, sodas, and tea. The expert Vegancuts curator selects food products that not only are made with healthy ingredients, but also on the cutting edge of the latest vegan trends. Vegancuts boxes are about 80% gluten free and include many snacks that are non-GMO project verified and certified organic.
This July, Vegancuts invites us to "Save our Seas with Snacks":
"We jumped into summer celebrating brands going above and beyond in ocean conservation. Ocean's Halo reimagined the classic seaweed snack by eliminating the plastic tray and Alaskan-based Barnacle Foods relied on sustainable practices and local ingredients with their hot sauce. We also had some fun summer snacks such as OffLimits Cereal (and glitter), Sound Sparkling Water, and Outstanding Foods Vegan 'Cheese' Balls! Whether it was at a lake, pool, or ocean- we hope you enjoyed the summer while working together to keep our waters clean."
Let's take a closer look at everything in the box.
Barnacle Foods Bullwhip Kelp Hot Sauce
"Addictive Alaskan-based hot sauce packed with nutrient dense bull kelp."
This is by far the item I am most excited about in the box – a whole bottle of hot sauce! I am a big fan of spicy foods – the spicier the better if you ask me, and am the kind of person to put hot sauce on everything. This sauce is on the milder side like tabasco, although my husband will tell you to not trust me when I say something is not spicy because my spice tolerance level is a lot higher than most people.
Waterboy Instant Hydration Sports Formula in Lemon Lime and Strawberry Lemonade
"Beat the heat this summer with this hydration mix to fuel any outdoor workout."
This is a sports drink type beverage and not for me, unfortunately. Even when working out, water is my preferred beverage, especially since I never work out to levels where I will need a sports hydration type drink to replenish any minerals.
Sound Blueberry Cinnamon Hibiscus Sparkling Water
"Refreshing sparkling water made from real, organic ingredients."
A nice sparkling water is perfect for a hot summer afternoon. Not sure about cinnamon flavoured water though… There are a few other flavour variations subscribers could get, and I think I would much prefer one of the other ones. Hopefully the cinnamon taste is not too prominent.
Ocean's Halo Trayless Seaweed Snack
"All the taste of your favorite salty seaweed snack without the extra plastic packaging."
Dried seaweed is one of my family's favourite snack, but I can't help feeling guilty eating so much of it because the seaweed is always individually packed in plastic trays. I was so excited to see a trayless version. While delicious, unfortunately the trayless idea did not work because the seaweed came pretty much broken up in tiny pieces without the tray to protect it. I ended up just sprinkling it over rice as a condiment.
Outstanding Foods Chedda Cheese Balls
"These cheese balls taste like the real deal and are filled with vitamins and minerals."
These taste just like the regular non-vegan cheese ball snacks.
Kibo Maui Onion Lentil Chips
"Light as a feather 'sour cream and onion' chip filled with tons of protein and fiber."
I have received these before in the past and enjoyed them. It tastes like tiny little crunchy rice cakes with a mild onion flavour.
Bakery on Main White Chip Raspberry Swirl Granola
"Decadent dessert worthy granola that will amp up any breakfast dish."
This is another item that will be familiar to long time subscribers. Bakery on Main granolas are frequently included in Vegancuts boxes, and I love them as a crunchy topper for my oatmeal.
Munk Pack Blueberry Almond Vanilla Granola Bar
"Tasty keto-friendly granola bar, see their Q/A for questions on allergy warning."
I don't believe in the whole keto-friendly trend, but that aside a nice granola bar is always good to have on hand for a quick snack.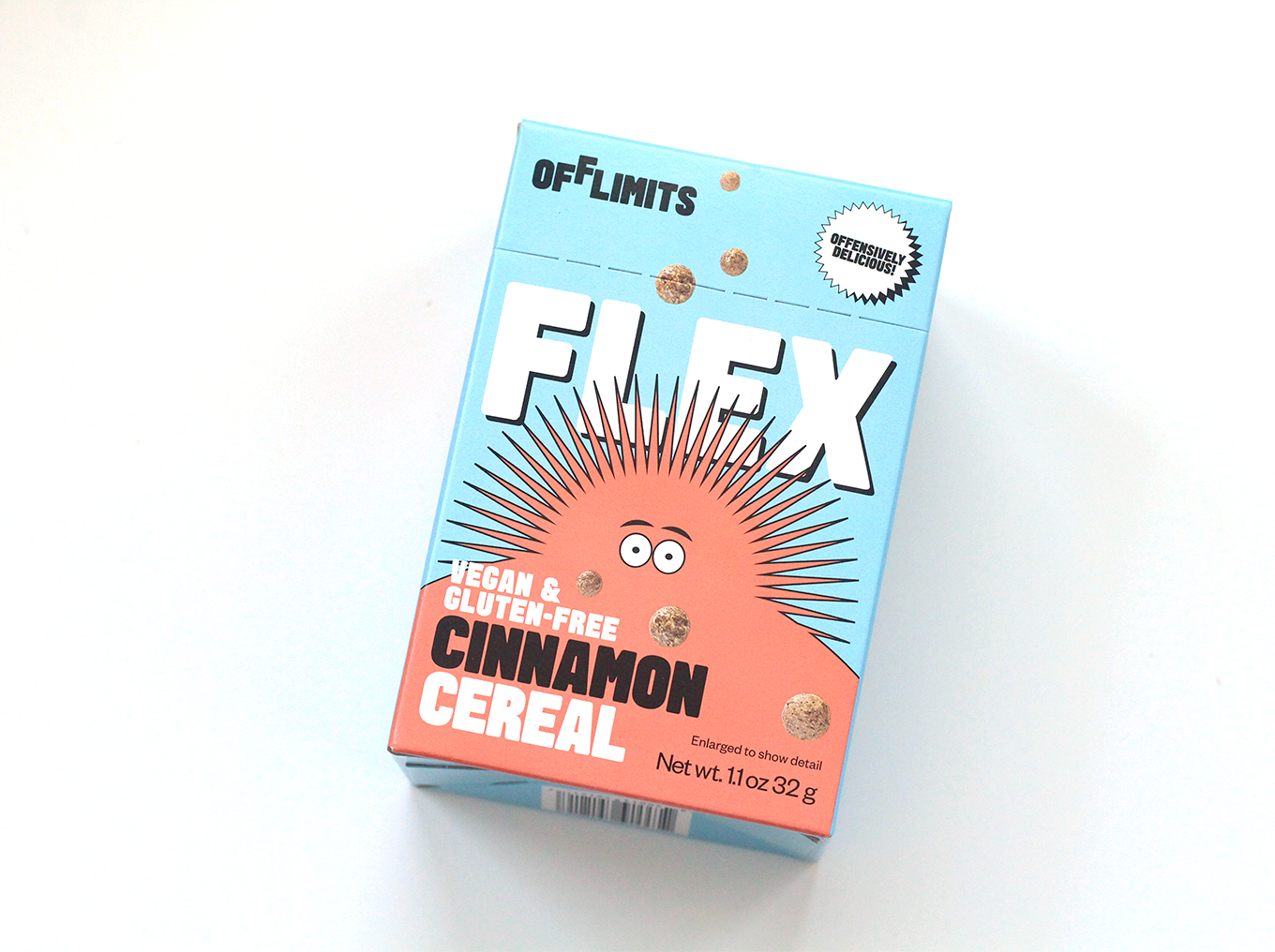 Off Limits Cereals Flex Mini Cereal Box
"These cereals scream childhood nostalgia, but without the nasty additives."
I think with this packaging you are supposed to be able to use the box as a bowl – quite a nice idea for convenience!
Off Limits Cereals Cereal Glitter
"Glitter…for your cereal? Tag us on how you use this insta-worthy breakfast topper!"
This looks to be a fun item to get some cool social media pics. We had to pass it along because I don't eat milk with my cereal (I can't stand the idea of soggy cereal) and my husband refused to entertain the idea of sprinkling glitter on his food.
Blake's Seed Based Birthday Cake Rice Crispy Treat
"Delicious rice crispy treat made from seeds and real fruits – perfect midday treat!"
This is just like your regular rice crispy treat but made with better ingredients and lots of sprinkles.
Final Thoughts
I hate to sound so negative, but unfortunately this month's Vegancuts Snack Box had a few hits but quite a number of misses. It all comes down to personal taste though. I am just not into the idea of sprinkling glitter on my food, nor do I enjoy cheese snacks, cinnamon in my water, or sports drinks. The hot sauce is a big hit though, I think getting an entire bottle of it more than makes up for all the other items. I also loved the seaweed and commend them on the idea, it would have been the most amazing thing if the contents arrived in one piece. All this being said, I still loved trying out everything and the variety of both sweet and savoury snacks included.
Toby & Rocket – http://www.tobyandrocket.com