Vegancuts Snack Box Review June 2022
The Vegancuts Snack Box is a monthly subscription that brings you the best vegan snacks, meal items, and drinks. Each box is packed to the brim with sweet and savory vegan snacks to help you discover the best in plant-based living. They kindly sent us this box to review.
Subscription Details
There are 4 subscription plan options for the Vegancuts Beauty Box – monthly, 3 months, 6 months, and 12 months. Monthly subscriptions cost $24.95 for United States subscribers, $31.90 for Canadians, and $39.90 for international subscribers, with savings for those opting for any of the longer term subscriptions. Shipping is free for US subscribers, and included in the cost of the box for all other customers.
Each box contains 10 or more vegan food products such as chips, cookies, sodas, and tea. The expert Vegancuts curator selects food products that not only are made with healthy ingredients, but also on the cutting edge of the latest vegan trends. Vegancuts boxes are about 80% gluten free and include many snacks that are non-GMO project verified and certified organic.
The June box features brands with LGBTQ+ owners. Each month, Vegancuts donates proceeds from the boxes to a selected animal sanctuary or charity. This month's box will support the Happy Compromise Farm and Sanctuary in Upstate NY. Love when subscriptions have a mission to give back.
Let's take a closer look at everything in the box:
Explorer Cold Brew Concentrate Low Caffeine
"Nothing says summertime like cold brew. Just add some oat milk, ice, and enjoy!"
This month's box includes a few beverage items. First up is this cold brew concentrate that sounds like the perfect summer drink. Can't wait to prepare this and sit out in the yard with a nice ice cold coffee and a good book!
Gruvi Non-Alcoholic Golden Lager
"Non-alcoholic beer that tastes like an IPA ready for a summer happy hour."
I will prefer the real deal any day, but this could be an amazing substitute.
Chamberlain Coffee Early Bird Blend
"Mess free grab and go coffee that can be thrown in any bag for a quick cup of joe."
I received this is last month's box and loved it. So happy to get another! It is super convenient for times when you need a cup of coffee without the fuss of getting out any coffee making equipment.
Rishi Tea Ceremonial Matcha Tin
"Sky's the limit on uses for this matcha – try in a latte, baked goods, and more!"
Potential unpopular opinion here, but I am not a big fan of drinking matcha. I love matcha desserts though, and will be sure to find some good dessert recipes to put this to good use.
OMSOM Sisig Meal Starter
"Spice up your tofu and veggie stir fry with this classic Filipino sauce."
I don't typically think of sisig as a vegan dish, it is a dish for the….adventurous eater. Definitely interesting to add this to my next veggie stir fry to see how it tastes.
Element's Truffles Chocolate Coconut Ayurveda Shakti Bar
"Whole foods based bar (only 3 ingredients!) that tastes like a chocolate brownie."
Can't go wrong with a chocolate bar as a mid-morning or afternoon snack!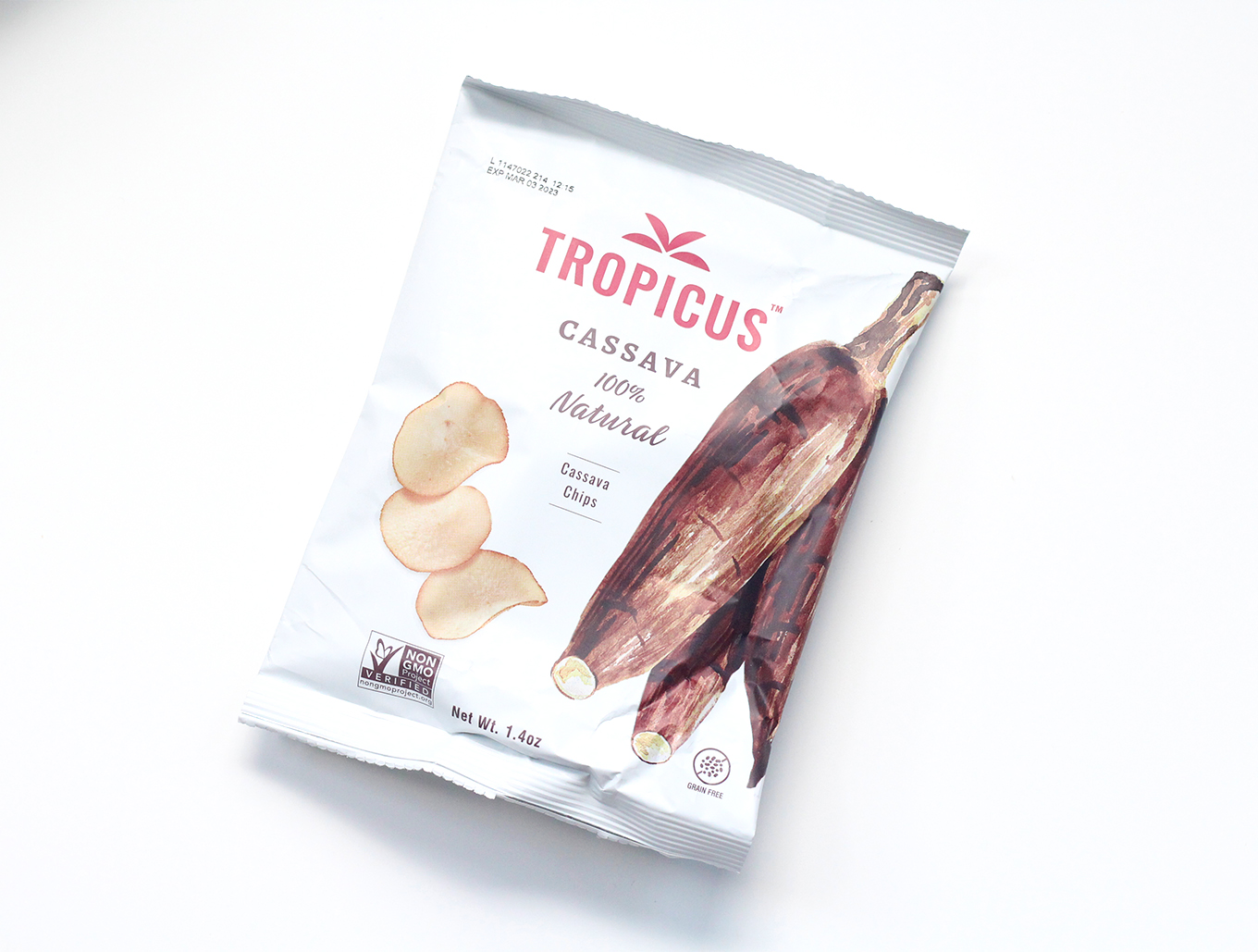 Tropicus Cassava Chips
"Salty cassava chips that contain 18 times more vitamin E than standard potato chips."
Love cassava as a more nutritious alternative to the standard potato chips. I think I'll eat almost anything if you give it to me in chip form LOL.
Tosi Cashew Blueberry Bar
"These bars are filled with plant protein to power you through a weekend hike."
Bars like these are so convenient. I always toss one in my bag when heading out, because you never know when you need a snack.
FitJoy Foods Vegan White Cheddar Pretzels
"Addicting cheesy pretzels that are grain and gluten free!"
Too cheesy for my tastes but my husband absolutely devoured this bag.
Vegancuts Snack Box Review June 2022 – Final Thoughts
A little heavy on the beverages, but still a great variety of food items this month. We especially loved the chips, pretzels, and coffees. The Vegancuts Snack Box is now one of the favorite subscriptions for us. It is so fun to sit down as a family to unbox and try everything together! Highly recommended subscription that could be enjoyed by the whole family.
Toby & Rocket – http://www.tobyandrocket.com