Vegancuts Snack Box Review May 2022
The Vegancuts Snack Box is a monthly subscription that brings you the best vegan snacks, meal items, and drinks. If you ask me, a big box of delicious snacks delivered right to my door, especially during a particularly challenging day with a teething baby, is a most welcome sight. Each box is packed to the brim with sweet and savory vegan snacks to help you discover the best in plant-based living. They kindly sent us this box to review.
Subscription Details
There are 4 subscription plan options for the Vegancuts Beauty Box – monthly, 3 months, 6 months, and 12 months. Monthly subscriptions cost $24.95 for United States subscribers, $31.90 for Canadians, and $39.90 for international subscribers, with savings for those opting for any of the longer term subscriptions. Shipping is free for US subscribers, and included in the cost of the box for all other customers.
Each box contains 10 or more vegan food products such as chips, cookies, sodas, and tea. The expert Vegancuts curator selects food products that not only are made with healthy ingredients, but also on the cutting edge of the latest vegan trends. Vegancuts boxes are about 80% gluten free and include many snacks that are non-GMO project verified and certified organic.
The May Vegancuts Snack Box celebrates female foodie founders. Proceeds from this month's box will support the Harmony Farm Sanctuary and Wellness Center in Walcott, VT. I can't get over how cute that face is on this card.
Let's take a closer look at the Vegancuts Snack Box:
Real Cookies Co. Peanut Butter Chocolate Chip Cookies
"All the taste of a drool-worthy homemade cookie, but completely grain free."
Who can say no to a yummy chocolate chip cookie? This is the perfect mid-day snack.
Green Mustache "Spicyish" Crackers
"Flavorful mustache-shaped snack with enough kick to get your taste buds rolling."
Sadly not one for me. I know this is not made with real cheese, but I can't stand anything even remotely resembling the taste of cheese. This will be one for my husband.
Chamberlain Coffee Night Owl Blend
"Mess free grab and go coffee that can be thrown in any bag for a quick cup of joe."
I am sipping this as I write this post. It is decent coffee, and what I love most about it is the convenience. Perfect when I don't want to get out the french press, and infinitely better than that instant stuff.
Pura Food by Estee Chocolate Mocha Coffee Bites
"Decadent energy bites that are the perfect pick-me-up for the midday slump."
The perfect little quick snack and it is exactly what the description above says.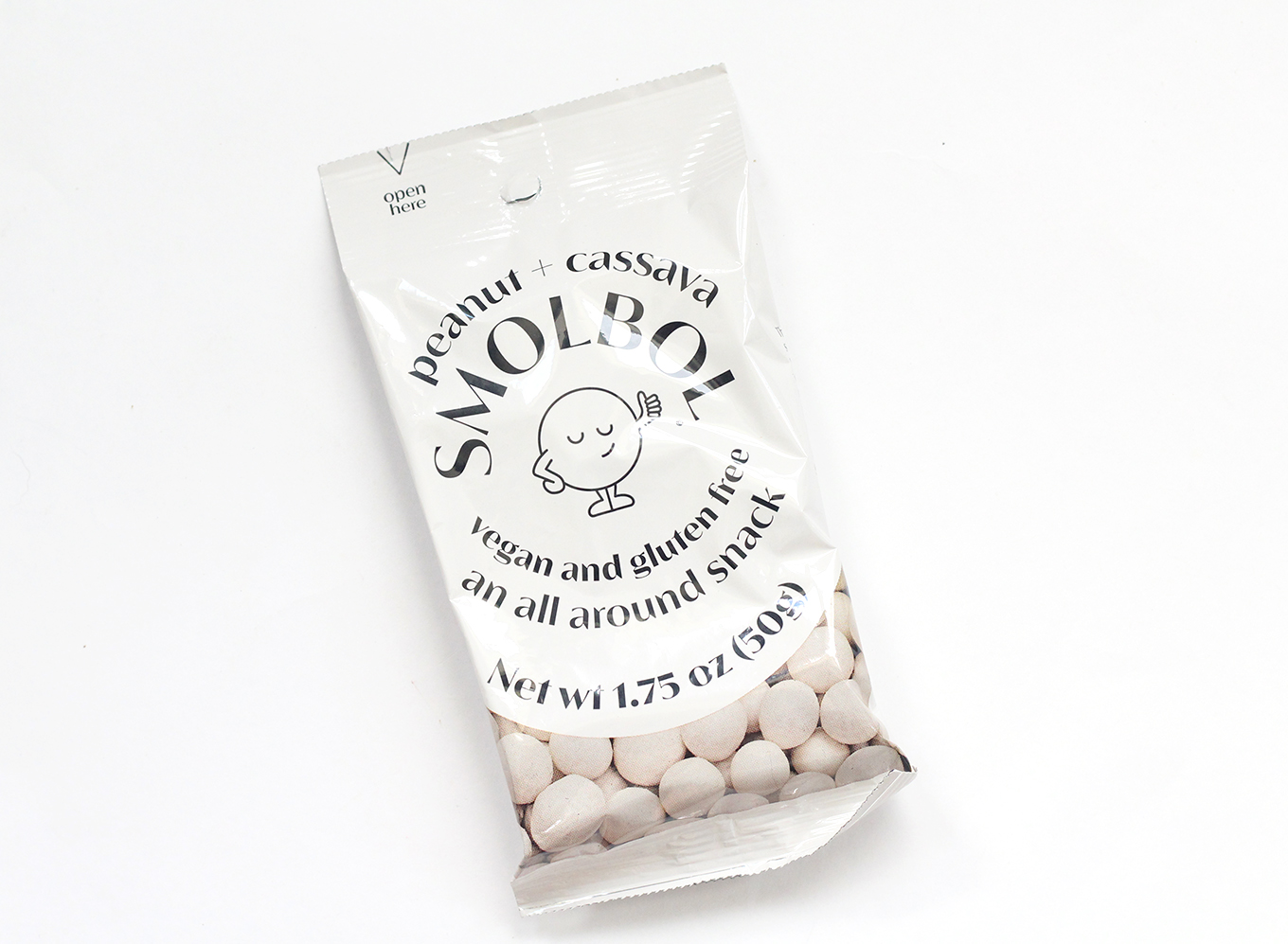 Smolbol Peanuts and Cassava Snack
"Addicting snack popular in Brazil that is the ultimate mix of sweet and salty."
These look interesting! I have had deep fried coated peanuts, but not ones coated in cassava.
Proper Good Southwest Chili
"Convenient restaurant quality soups perfect for a weekday lunch."
A bowl of hot soup with some toast is my idea of the perfect rainy day lunch. This is quite satisfying and actually good for two portions if you are having it with toast or other sides.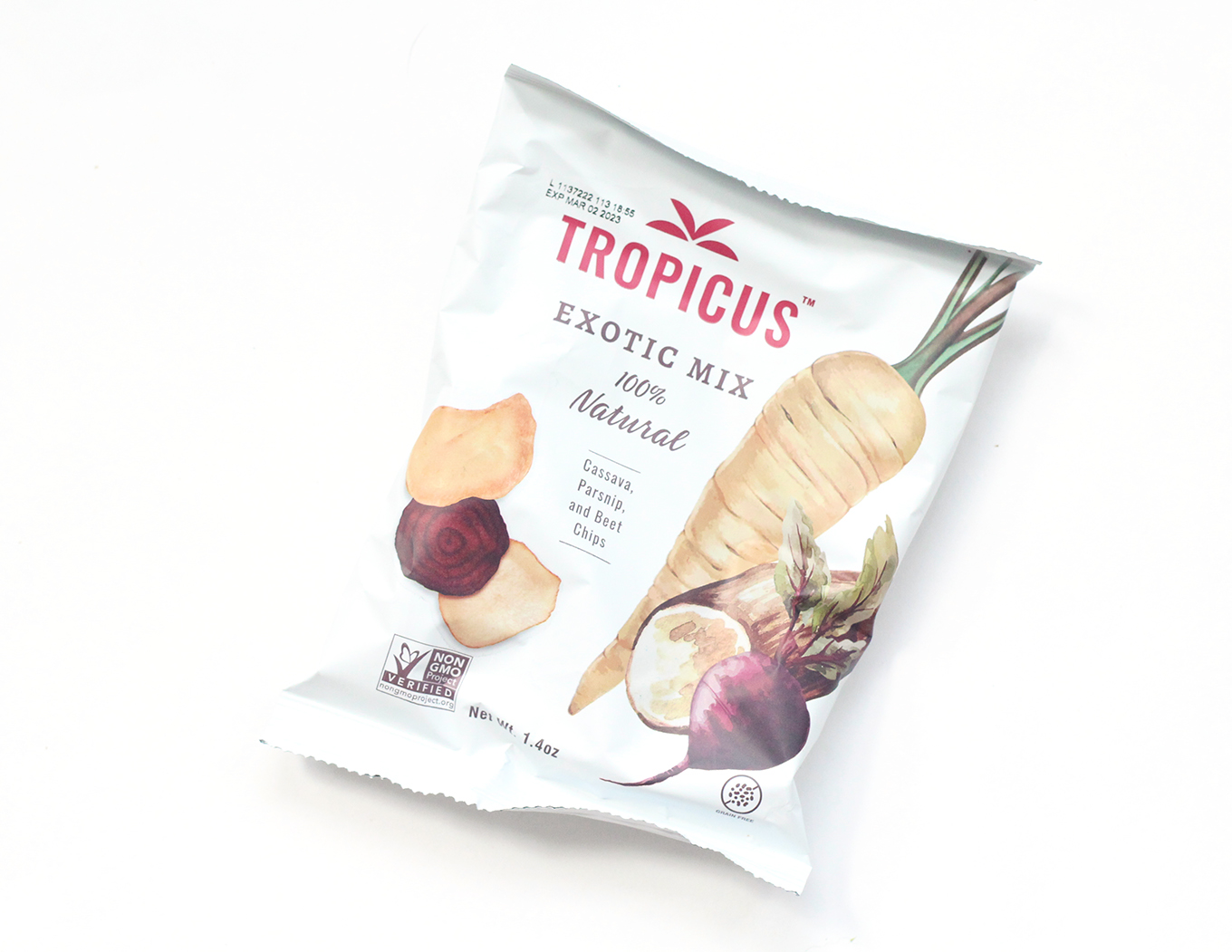 Tropicus Exotic Mix
"Not your standard bag of chips, this mix includes beets, cassava and parsnips."
Can't go wrong with chips. These are not your standard potato chips, but just as delicious.
Gruvi Dry Red Blend
"Bring this non-alcoholic wine to any happy hour for all the fun without the hangover."
Actually so curious to try this! Non-alcoholic wines I have tried in the past just really turn out to be grape juice, so hopefully this is better.
Bakery on Main Cranberry Almond Maple Granola
"Savory and sweet granola that will improve any vegan breakfast parfait."
Love stuff like this to add some crunch to my morning oatmeal.
Vegums Multivitamin for Vegans
"Enjoy the benefits of a daily multivitamin, but in a vegan-friendly gummy form."
This is going to sound weird, but I absolutely prefer taking my vitamins in pill form. I like gummies, and will snack on them, but when it comes to supplements I just don't like them with no particular reason why. My husband on the other hand hates pills, and so these will be perfect for him.
Hippeas Chickpea Snack
This is an extra item not listed on the card. I also got the exact same flavor last month. Not complaining though because these Hippeas snacks are one of my favorite things.
Vegancuts Snack Box Review May 2022 – Final Thoughts
Nothing beats the experience of unboxing a box full of goodies and getting to taste and try everything. Love the variety in this month's Vegancuts Snack Box. There are a couple of misses for me, but that is perfectly ok with a box like this! There are so many varied tastes when it comes to food, and anything I don't like is always enjoyed by someone else in my family. We love trying new foods as a family, and a box like this allows us to do it before committing to full size packs.
Toby & Rocket – http://www.tobyandrocket.com