Vegancuts Snack Box Review November 2022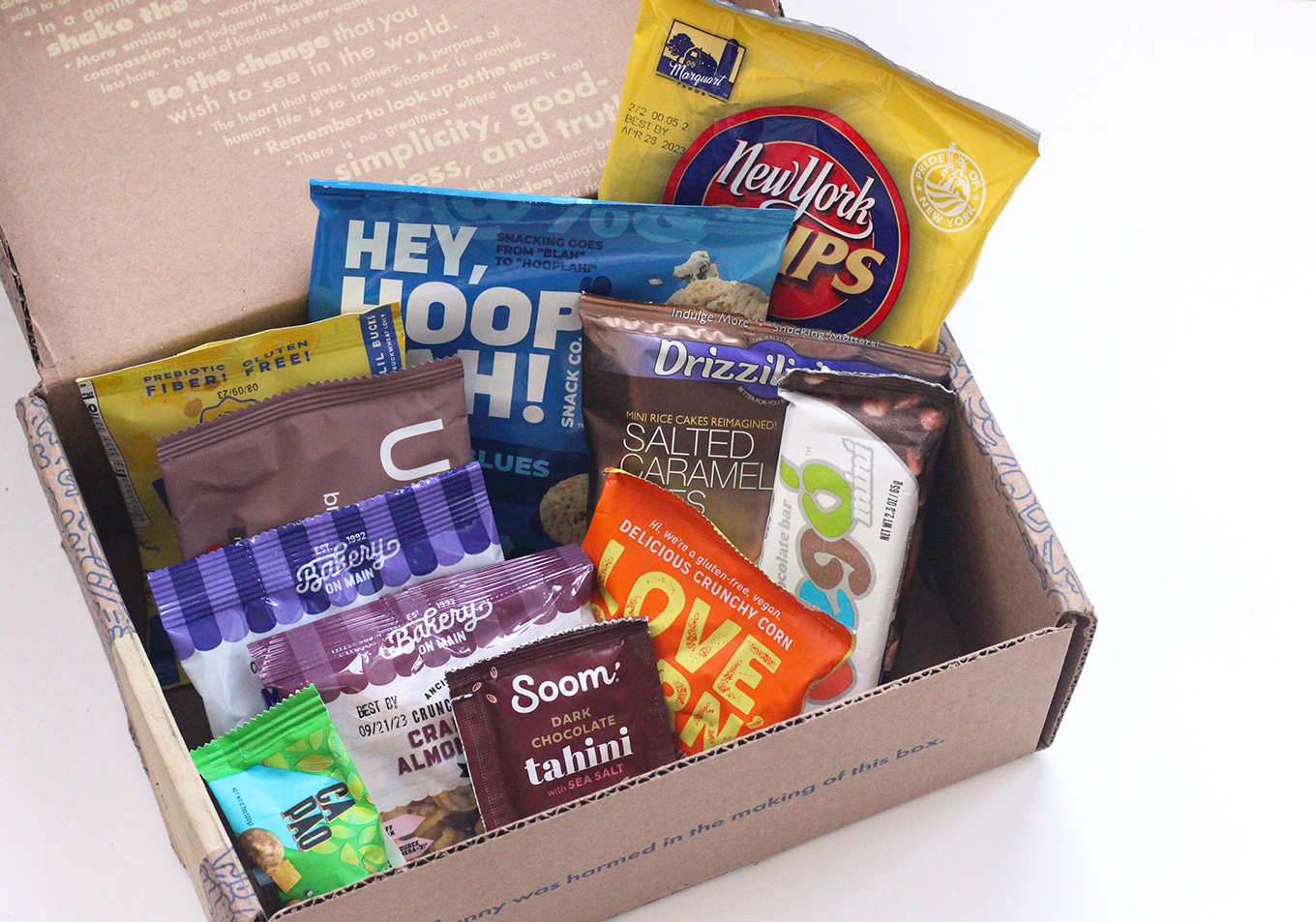 The Vegancuts Snack Box is a monthly subscription that brings you the best vegan snacks, meal items, and drinks. Each box is packed to the brim with sweet and savory vegan snacks to help you discover the best in plant-based living. They kindly sent us this box to review.
Subscription Details
There are 4 subscription plan options for the Vegancuts Snack Box – monthly, 3 months, 6 months, and 12 months. Monthly subscriptions cost $27.95 with savings for those opting for any of the longer term subscriptions. Shipping is free for US subscribers, $6.95 for Canada, and $14.95 for International subscribers.
Each box contains 10 or more vegan food products such as chips, cookies, sodas, and tea. The expert Vegancuts curator selects food products that not only are made with healthy ingredients, but also on the cutting edge of the latest vegan trends. Vegancuts boxes are about 80% gluten free and include many snacks that are non-GMO project verified and certified organic.
Vegancuts November Snack Box: "Sweet & Spiced Cozy Fall Goodies".
"As the leaves dropped and the autumn breeze got chillier, we cozied up and enjoyed some fresh fall snacks. In this box we had Lil Buck's flavor-filled buckwheat clusters, CaPao Fruit energy balls, and a cheezy snack shot from Love, Corn. We enjoyed some chocolate goodies such as a brownie cookie and a Vego hazelnut chocolate bar, as well as New York's famous potato chips and addicting salted caramel rice cakes. We hope you had a cup of tea and relaxed while binge-watching your favorite 90s sitcoms with some scrumptious snacks."
Let's take a closer look at everything in the box.
Drizzilicious Salted Caramel Rice Cakes
"Salty and sweet. Good luck putting down this bag of salted caramel goodness!"
These are mini rice cakes drizzled with caramel and sprinkled with salt. I love rice cakes for a lower calorie snack and these are amazing.
Hey Hooplah! Blue Cheese Chickpea Crisps
"Vegan blue cheese? Yep! These protein-packed crisps are filled with unique flavors."
Sorry, but just no. As someone who doesn't like cheese, blue cheese is just the stuff of nightmares.
New York Chips with Sea Salt
"Potato chips made from 100% New York potatoes – salty and tasty!"
Now these are chips I will happily eat. Not sure if New York potatoes are better, but these taste just as good as the name brand potato chips out there.
Bakery on Main Cranberry Almond Maple Granola
"Savory and sweet granola that will improve any vegan breakfast parfait."
This will not be new to long time subscribers of this box. As far back as I remember, a bag of Bakery on Main granola is included each time. I like this sprinkled on top of oatmeal for an added crunch.
Lil Bucks Golden Chai with Lemon Clusterbucks
"These buckwheat based snacks are packed with whole food goodness and flavor."
There are several flavor variations you may get here, the others being Matcha or Snickerdoodle flavored. I think these are a fun little snack.
Bakery on Main Monster Cookie Granola
"Mouthwatering gluten-free granola perfect for a quick breakfast or midday snack."
A different flavor variation of the Bakery on Main granola. I think I like this one slightly more than the cranberry almond.
CaPao Fruit Mango Cashew Coconut Cacaofruit Bites
"We love upcycling! These bites utilize cacao fruit that is typically tossed as waste."
Not sure why I thought this is chocolate, but it's actually more of a chewy snack. Still quite yummy though.
Vego Chocolate Mini Whole Hazelnut Chocolate Bar
"Chocolate and hazelnut – a match made in heaven in a bite sized bar."
Can't say no to a chocolate bar! This is just like Nutella in bar form.
Love, Corn Cheezy Snack Shot
"These corn-based snacks are crunchy, cheesy, and 100% addicting!"
I'm starting to think now that Vegancuts is trying to have us try the whole range of flavors Love, Corn offers haha. A variation of this snack shows up in all the recent boxes. I liked all the previous ones I tried, but not a fan of this flavor.
U-Luv Foods Brownie Cookies
"U-Luv cookies are top 14 allergy free and taste like homemade chocolate brownies."
This one is not bad at all, but then again it's hard to not like a chocolate brownie.
Soom Dark Chocolate Tahini with Sea Salt
I got this instead of the Awesome Granola listed on the product card. Sometimes the box offers substitutes of the items listed. I am not mad at this at all – this is a really nice chocolatey spread for toast or can be used as a dip.
Final Thoughts
A couple of misses here and there, but overall I really enjoy this month's Vegancuts Snack Box! My favorites this month are the Salted Caramel Bites and the Vego Chocolate Bar. Love getting to try some new snacks each month with this box – so often I pick up a full package of something to try from the store and end up not liking it, this way I can try a variety of things before ordering more of my favorites.
Toby & Rocket – http://www.tobyandrocket.com