Vegancuts Snack Box Review October 2022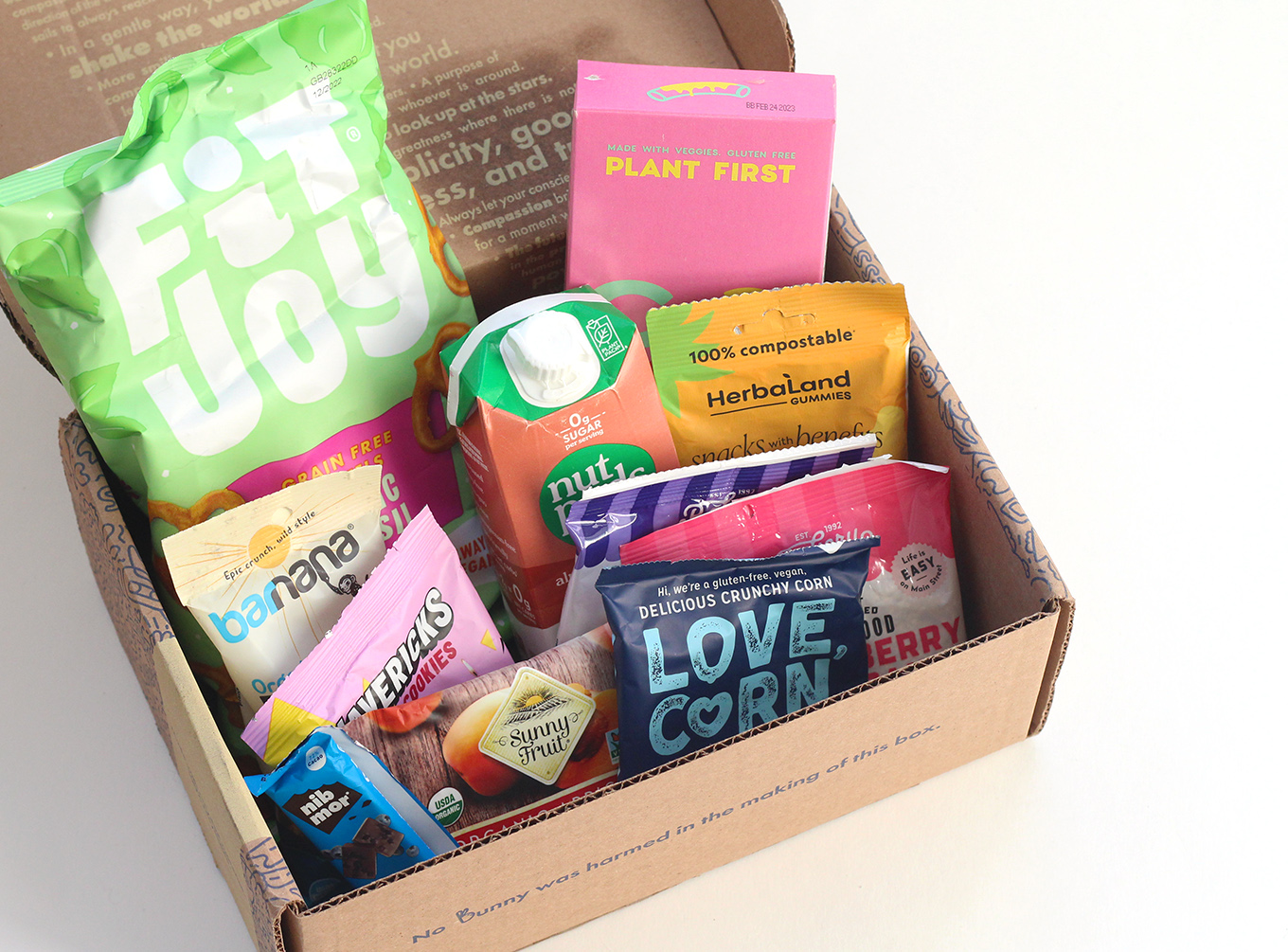 The Vegancuts Snack Box is a monthly subscription that brings you the best vegan snacks, meal items, and drinks. Each box is packed to the brim with sweet and savory vegan snacks to help you discover the best in plant-based living. They kindly sent us this box to review.
Subscription Details
There are 4 subscription plan options for the Vegancuts Snack Box – monthly, 3 months, 6 months, and 12 months. Monthly subscriptions cost $27.95 with savings for those opting for any of the longer term subscriptions. Shipping is free for US subscribers, $6.95 for Canada, and $14.95 for International subscribers.
Each box contains 10 or more vegan food products such as chips, cookies, sodas, and tea. The expert Vegancuts curator selects food products that not only are made with healthy ingredients, but also on the cutting edge of the latest vegan trends. Vegancuts boxes are about 80% gluten free and include many snacks that are non-GMO project verified and certified organic.
The October box theme is "No Tricks, Just Treats!"
"Trick-or-Treat…but we just had treats! This box was filled to the brim with goodies that cured all your snack cravings. We had better-for-you gummies from Herbaland, mac and cheese from CAMP, cookie butter Nutpods creamer, and grain-free pretzals from FitJoy. We also enjoyed birthday cake flavored cookies, ranch plantain nuggets, and more with this spook-tastic box. A lucky 300 subscribers also received an 'out of this world' bonus item. Hope you had a Happy Halloween!"
Let's take a closer look at everything in the box.
Nutpods Cookie Butter Creamer
"Nothing like a morning cup of coffee with a bit of creamy cookie butter creamer."
Not a product for me because I enjoy my coffee black. That being said, this sounds absolutely yummy!
Bakery on Main Monster Cookie Granola
"Mouthwatering gluten-free granola perfect for a quick breakfast or midday snack."
Bakery on Main Strawberry Shortcake Instant Oatmeal
"A classic dessert for breakfast with omega-3s to start your day right."
These will be very familiar to longtime subscribers. I have tried both of these before from previous boxes and really enjoyed them. Glad to get more!
Herbaland Turmeric & Ginger Gummies
"These bags are not just delicious, but each pack a punch with unique health benefits."
I love ginger anything and am so excited for ginger gummies. These do come with a nice gingery kick.
Mavericks Snacks Birthday Cake Cookies
"Birthday cake lightning bolt cookies that are perfect for a lunch box snack."
These look so fun and festive! I'm sure they will be a hit with kids.
Barnana Organic Crunchy Plantain Nuggets Ranch
"Addicting crunchy snacks covered in vegan ranch seasoning."
Unfortunately not for me – I just absolutely do not like ranch dressing.
Nibmor Blueberry Organic Dark Chocolate Bar
"Perfect snack sized dark chocolate bar with a hint of tart blueberries."
I wish there was more of this! Loved the tart blueberries and how everything is not super sweet.
Love, Corn Sea Salt Snack
"These corn-based snacks are amazing on their own or a crunchy topper for your soup."
Such a great idea to use these on soup. I enjoy corn nuts but am always worried about chipping a tooth, softening it in soup will really help!
CAMP Vegan Cheezy Mac
"Spooky how this cheezy mac has a serving of veggies while tasting like a kids classic."
Sounds like a healthier version of KD. For someone who can't stand cheese, mac and cheese is quite possibly the worst food on the planet haha, this is definitely not for me.
FitJoy Foods Garlic and Basil Pretzels
"Grain and gluten free pretzels that taste like they came out of an Italian kitchen."
I was skeptical with the flavour combo, but these are surprisingly good! Can't go wrong with a pretzel snack.
Sunny Fruit Organic Apricots
I think this is the bonus item mentioned. I'm not usually a fan of dried fruit, but will happily make an exception for dried apricots. These were devoured in no time.
Final Thoughts
Unboxing the Vegancuts Snack Box is such fun because each box is always so stuffed with all kinds of goodies. Some hits and misses this month, which is to be expected when there are so many items included. My favourites are the dried apricots, chocolate bar, and pretzel snack. Love the variety and inclusion of both sweet and savoury snacks.
Toby & Rocket – http://www.tobyandrocket.com